Join us for WOW! Politics 2015 - the Resource-Packed CPD Course for A Level Politics


Monday, February 28, 2011
There is an article in the FT by Gareth Evans entitled: No-fly zone will help stop Gaddafi's carnage Evans argues that enforcing a no-fly zone is necessary to stop mass killings in Libya and that the 'Right to protect' must be invoked to justify forcibly piercing Libya's sovereinty to do so. However, as attractive as the argument may sound - it must be born in mind that the 'golden age' of humanitarian intervenion in the 1990s has gone and that in the words of Harriet Martin [Author of Kings of Peace - Pawns of War] 'Humanitarian Intervention is dead - and we killed it'. The UN mechanisms were broken over the 2003 Iraq War and it might cynically be argued that the 2005 World Summit which promulgated the 'RTP' was doing so to assuage UN inaction over Rwanda and was a case of closing the gate after the horse had bolted. So interesting article which touches on 'humanitarian intervention' but approach with caution!
Evans asserts:"State sovereignty is not a licence to kill. No state can abdicate the responsibility to protect its people from crimes against humanity, let alone justify perpetrating such crimes itself. When it manifestly fails in that protection, it is the responsibility of the international community to provide it, if necessary – should peaceful means be inadequate – by taking timely and decisive collective action through the United Nations Security Council. This is the "responsibility to protect" principle embraced unanimously by the General Assembly in 2005. There is no clearer case for its application than the dire situation unfolding in Libya. Muammer Gaddafi's forces, on the ground and from the sky, have already massacred perhaps more than a thousand of his own people, protesting (initially peacefully) against the excesses of his regime. A bigger bloodbath seems inescapable if he does not step down. The need for timely and decisive action is overwhelming."
UPDATE:Mmmm…just found an even better article We must stand ready to intervene in Libya writes Sir RichardDalton, former UK Ambassador to Libya, in the Telegraph. He gives a very realistic assessment of the merits of armed humanitarian intervention in Libya. He very useful exerpt which sums the situation vis a vis humanitarian intervention is:
The guiding document is General Assembly resolution 60/1 of September 2005. This lays down that action may be taken through the United Nations Security Council if peaceful means have failed and national authorities are failing to protect their population from genocide, war crimes, ethnic cleansing and crimes against humanity.
These conditions have been fulfilled in respect of crimes against humanity, given the attacks on Libyans who have risen against their government. The UN High Commissioner for Human Rights thinks so.
There is a UN-charter based inhibition against intervention in the internal affairs of states. Humanitarian intervention is not yet firmly rooted as a concept or in practice. UN members are selective in the crises they wish address. They often disregard situations that are objectively worse than the Libyan one now. That can be because there is a powerful patron that blocks action that might be aimed at another state. Or it can be because the problem is simply too big for potential interveners to take on.
Friday, February 25, 2011
Today's Financial Times carries an article The Middle East awaits Obama's move by Lord Mark Malloch Brown, former Deputy UN Director General and Minister of State in FCO, in which he writes:
"This really is an Arab spring. But, at best, it is only the beginning of a liberation of minds and people. In Tunisia and Egypt, decades of suppressed workers' rights and societal inequalities are bursting to the surface."
He goes on to argue that the risk is new and weak regimes, unable to drive through the economic reforms needed.
It is the most instructive comment I've read and its analysis stretches over the entire region and recommend it highly.
Heads up too on Lord Malloch Brown's new book which is just out The Unfinished Global Revolution - in which he explores the political history of governments that have failed to match the demands placed on them by those they govern, and to lay out a much-needed agenda for the management of globalization, calling for stronger international institutions that revive rather than replace national government, an enhanced role for new actors - non-governmental organizations and business - and above all, global rather than national policies on core issues such as the environment, poverty, migration and security.
Here is an interview with Lord Malloch Brown by the Huffingdon Post: Click here.
Alluseful for extension discussions on the Global Issues front.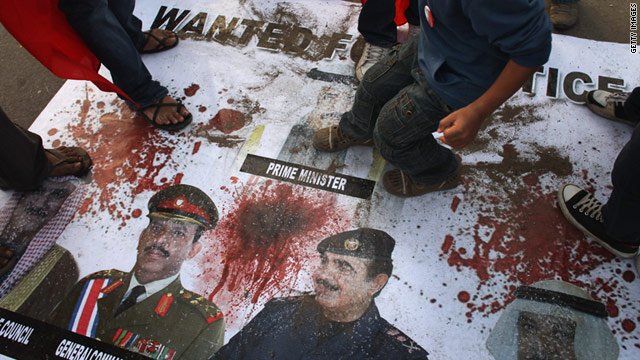 CNN has a useful bit on the difference between Sunnis and Shiites - of relevance to unravelling the Unit 4 topic on 'Clash of Civilizations' and also for gaining a handle on some of the current events in the Middle East.
CNN Explainer: Tensions between Sunnis and Shiites
The article aserts: " As unrest continues to unfold across much of North Africa and the Middle East, fears of growing sectarian tensions between Sunni and Shiites Muslims have risen.
So far the island Gulf state of Bahrain is the only nation to see popular protests divide along religious lines, but are more countries to follow and what does it mean?" However, interestingly the article also has a useful qualification - "What most of the protesters are calling for are not about religious issues. Most are demands for greater economic opportunities."—Jane Kinninmont [Chatham House].
Story Highlights:Sunni and Shiite Islam are the two major denominations of the Islamic faith
Sunnis make up the majority, with only 10% of the Muslim population being Shiite
Tensions have arisen in recent years, heightened by events in Iran and Iraq
There are fears unrest in places such as Bahrain will spark further tensions
Tuesday, February 22, 2011
The protests in Libya represent the most significant home-grown challenge ever to the Libyan system of government and to Colonel Gaddafi's leadership. Everything seems in the balance at the moment. Here is some select comment which might bring some useful analysis:
1. Sir Richard Dalton, former UK ambassador to Libya, writing for Channel 4 News gives sharp comment in Libya Uprising: Whats next for Gaddafi's Regime?He writes: "The Libyan leadership's instinct will be to rely on force to restore calm and their control in places where they have lost it. But there is a serious possibility that this will merely pour fuel on the flames and spread them to new areas."
2. Really good bit on Radio 4 where 'Patronage and Military Rule' in Libya is discussed by Sir Richard Dalton and Frank gardner [BBC Security Correspondent]
3. For some background colour it is worth seeing the Newstatesman's Profile: Muammar al-GaddafiWhich headlines with: 'The''mad dog of the Middle East'' is back in the spotlight, 41 years after he took power'
read more...»
Monday, February 21, 2011
Two quick ones from today's news:
An article in the Guardian entitled The new scramble for Africa must have the courage to curb corruption argues that European governments need to force businesses to be transparent if Africa's poor are to benefit from oil's riches. A good example to tie in with the Development and poverty topic.
Also, Foreign aid to 20 countries will be axed as part of the Government's overhaul of its development policy. Angola, Niger and the Gambia are among the African countries expected to lose out, while Ethiopia and Zimbabwe will continue to receive aid. More in the Daily Express - Click Here.

Also
Sunday, February 20, 2011
Many argue, such as Mary Kaldor, that a 'new' type of warfare has emerged, which are civil wars rather than inter-state wars often based on identity such as ethnic nationalism or religious radicalism. A further feature of these wars which essentially occur against a back drop of state fragmentation and failure is a change in legal status of combatants and a new level of atrocities as war is waged 'among the people'. A key facet in this is the involvement and effect on both women and children.
The Economist carries a harrowing article - War's overlooked victims - which looks at how rape is horrifyingly widespread in conflicts all around the world. The article is detailed and widespread in its analysis - but this page might not be entirely appropriate for further comment. Read the article with a clear focus on what it portrays about the character of 'new' conflict and its prevalence.
he Economist carries another useful article analysing the issue of aid and corruption - Cleaning up
Can the Global Fund to fight Aids, Tuberculosis and Malaria restore its reputation as the best and cleanest in the aid business?
The Economist carries an excellent article - Dim Prospects - on the current prognosis of the International Criminal Court in Africa where it is losing credibility and co-operation. This ties in perfectly with the Human Rights Topics, especially in terms of how effectively are human rights being upheld and enforced internationally. A key issue to consider is the balance between seeking justice or peace.
The debate of electoral reform with the forthcoming referendum on AV is beginning to heat up as the political wranglings and machinations of the YES and NO campaigns shift into gear. The media are not short of articles [click here!], some of which are quite useful in terms of setting out the issues on both sides which can be snaffled up by Unit 1.
Andrew Rawnsley in this Sunday's Observer has a wry article: The cynical enemies of electoral reform think we're stupid where he asserts that those against the alternative vote believe they can persuade the British that we are too dim to count up to three. The article is a highly recommended read. Here is an exerpt:
"Most voters have yet to engage with the arguments. I belong to that tragically nerdish minority who are fascinated by electoral systems and think they can make a significant difference to the quality of politics and governance. Perhaps you too are a member of this small club of saddos who enjoy teasing out the rival merits and demerits of the single transferable vote versus the additional member system. Most of our fellow citizens have, meanwhile, been getting on with their lives, blissfully unaware that debating the pros and cons of different electoral systems can be better than sex."
Friday, February 18, 2011

The Sunday Times carried a couple of good stories rich with examples and argument relating to the ECHR. Useful at AS when looking at judges and civil liberties, as well as consideration of parliamentary sovereignty. Also useful for OCR comparative papers when looking at the idea of legislating from the bench.
If you have paywall access, they can be found here.

Just over 20 days left to catch More 4's excellent behind the scenes documentary on Britain's Supreme Court.
Thursday, February 17, 2011
BBC Radio 4's Eddie Mair has a reputation for asking left-field questions of his interviewees that go right to the heart of an issue and put the interviewee on the spot. Here is a classic example, when Mair interviewed Francis Maude (current Minister for the Cabinet Office) about a project he has to drive through government - the Big Society. The Coalition has called for every adult to play their part in the Big Society by supporting voluntary organisations. You can guess what the next question might be - why wasn't Maude prepared?
read more...»
Wednesday, February 16, 2011
Prospect Magazine carries an interesting blog by Michael Weiss entitled Bakunin with a MacBook which compares Julian Assange, that Wikileaks fellow, and Mickael Bakunin the 19th Century Russian Anarchist. He muses that Assange might seem like a uniquely 21st century character, but is he simply a modern incarnation of a delusional 19th century anarchist? It is a lively and amusing piece well worth a read if you are studying ideologies.
Weiss writes:
The argument over WikiLeaks founder Julian Assange has so far taken place in a zone of ambiguity. Is he a principled genius or a megalomaniacal nihilist? A fugitive rapist or a political prisoner? The sexually charismatic shaman of web-based "scientific journalism" or the unlikely albinoid saviour of the declining newspaper industry? Much ink has been spilled trying to understand the mind and sensibility of Assange. Most profiles emphasise his resemblance to a Stieg Larsson character, a laptop-wielding crusader that only the 21st-century can have produced. Yet upon closer inspection Assange betrays a striking similarity to a 19th-century historical figure, the willy-nilly anarchist and failed Russian revolutionary Mikhail Bakunin. Click here for the full post.
Here is a reference to a past blog on a recent book on Anarchism called 'The world that never was'. Click here.
Tuesday, February 15, 2011

A couple of good articles here for students of AS Politics on stories that tend not to feature much (perhaps for good reason, in the view of some) on the main news programmes at the minute.
One by Henry Porter on the Con-Lib coalition's plans to undo Labour's attacks on civil liberties.
And another on the proposed elections referendum and the significance of changing the voting system from one columnist's perspective.
Much has been made of the fact that China is engaged in a 're-scramble for Africa' scooping out its resources and giving deals governments can't refuse, thus fuelling skewed development and corruption. However, there is an interesting article in China-Africa relations seen as mutually beneficial: analysts in China's People's Daily which gives a different picture. The gist of it is that China-Africa relations will continue to grow mutually in the coming years, benefiting the two partners without either taking undue advantage of the other, foreign policy analysts have said. A greater deal of mutuality means that XChina is not exploiting Africa and that the relationship is beneficial and aiding development - especially in funding infrastructure projects the west has vered away from or attached conditions to [such as guarantees of oil] while getting this stamped by World Bank. A recent report by Chatham house on China's 'soft Power' highlights China's emergence as an alternative economic partner and this seems to be the major source of attraction for other developing states
At a recent talk here by Gen. Jasbir Singh Lidder, Deputy UN Special Representative to Sudan, he was asked what he thought about Chinese as opposed to western investment/aid in Africa - his response was simple 'Developing countries want one thing - to develop. To them it doesn't necessarily matter where the investment comes from'.
Here is the text from the article:
read more...»
Monday, February 14, 2011

A great doc on Reagan is still avaliable on iplayer. The second half is strong on the strategies employed by Reagan as President in an attempt to fulfil the expectations that American people have of the POTUS.

The steady erosion of civil liberties in Britain has been cited in recent years by campaigners as evidence of weaknesses of the UK constitution, or the poor state of our democracy. It was said that Labour seemed to give with one hand, whilst taking with the other. Despite steps in the right direction as a result of the introduction of the European Convention on Human Rights, through the Human Rights Act (HRA) 1998, rights are still not adequately protected since they lack entrenchment in our political system. That civil liberties receive little protection was illustrated in full Technicolor by Blair's fourfold extension of detention without trial. ASBOs have created a criminal class of innocent civilians. So what of the current government?
read more...»
Sunday, February 13, 2011
Cameron's flagship idea of the 'Big Society' has been attracting comment from all sides at the moment. The Sunday papers have some useful comment.
Starting with the horse's mouth - David 'I have a plan' Cameron in the Observer has a leader Have no doubt, the Big Society is on its way. David Cameron argues that we must ignore the sceptics - he has a "compelling plan to engage us all in transforming Britain". There will be "no more of a government treating everyone like children". He goes on to assert:
"Naturally, I would prefer to see more positive headlines about the "big society", but I am very upbeat about the torrent of newsprint expended on this subject. For too long, our country has failed to have a proper debate on how we can make our society stronger and give people more power. Now it is happening."
Meanwhile over in the Independent Ed 'the wrong' Miliband counters with "The Big Society: a cloak for the small state". He argues that the cuts have fatally undermined Cameron's big idea and its backers are deserting it. He adds that "compassionate conservatism", was a "cloak" to confuse voters, and we are now seeing the "recontamination" of the Tory brand. He writes:
"Last week we saw his big idea, the Big Society, exposed. When I asked him about it in the House of Commons, Mr Cameron blustered on about how everyone should support "volunteering and philanthropic giving". Indeed we do. And Labour took important steps to support both the charitable sector and volunteering during our time in office. But no one can volunteer at a library or a Sure Start centre if it's being closed down. And nor can this Conservative-led government build a Big Society while simultaneously undermining its foundations with billions of pounds worth of cuts to the voluntary sector. Those are not merely numbers on a piece of paper; they affect real people."
Thus Miliband claims that the Big Society is faltering because David Cameron does not recognise the importance of the state, saying: "The reason why Mr Cameron's Big Society is in such trouble is not simply because the Government is making painful cuts. The way it is doing it – so far, so fast – speaks to its ideological heart. It really believes that a small state will produce a Big Society."
The news comes amid reports in the Mail on Sunday that Nick Clegg is undermining the Big Society, a phrase he has banned from being used in the Cabinet Office, because he believes the policy is a "waste of time".
All useful stuff for unit 1 Political Parties….
Friday, February 11, 2011
President Mubarak has just resigned!
The unfolding events in Egypt are of obvious interest and media coverage is giving up to the minute accounts. However, recent unrest and mass protests across the Middle East and North Africa has sparked a flurry of analysis on the implications for the politics of the aging dictatorships that pepper the region. Will there be a domino effect across the Maghreb? What should the response of the West be? Is real change possible? What are the potential outcomes? Could Pakistan be next?
In looking for analysis on these issues Chatham House's website has an invaluable page which gives links to a host of 'expert' analysis of the events and issues at stake in the region, which include useful video clips, 'expert comment' and also exerpts from recent Chatham House talks on the region. Click here!
Also for a good overview see the BBC's Q&A: Egyptian protests against Hosni Mubarak
Wednesday, February 09, 2011
The revelation that money from the City of London made up over 50% of Conservative Party funds raised last year may not come as a surprise, but it does raise some important questions about pressure groups and power.
read more...»
Since the 2005 Constitutional Reform Act and the creation of the Supreme Court, I have been teaching my students that judicial independence has been enhanced due to the greater separation of powers. Yesterday however, President of the Supreme Court Lord Phillips argued that this was not the case.
read more...»
The president of the UK's Supreme Court has given a warning that the way the court is funded threatens its independence. In a speech, Lord Phillips said the court was dependant on what it could persuade the Ministry of Justice to give "by way of contribution". He also asserted "This is not a satisfactory situation for the Supreme Court of the United Kingdom. It is already leading to a tendency on the part of the Ministry of Justice to try to gain the Supreme Court as an outlying part of its empire."
Lord Phillips speech is of clear value in terms of evaluated the role of the judiciary, looking at judicial activism and the old chestnut of how free is the judiciary from political interference.
The Press Association has exerpts from the speech and it is well worth a read. Click here!
For reference the BBC has an excellent Q&A on the Supreme Court.
The Telegraph picks up on the issue in an article: Courts must be able to question minister decisions, senior judge warns:
Lord Phillips, President of the Supreme Court, said it is the job of judges to ensure Government acts within the law and those who criticise that do not "understand the role of the judiciary". He highlighted comments by Lord Howard, the former Tory leader, who last month said judges should be reluctant to question ministerial decisions because they are "unelected and unaccountable". Lord Howard criticised the increasing willingness of courts to hear judicial reviews of government legislation or policy and said their power should be diminished. When he was Home Secretary, Charles Clarke also accused judges of being "utterly unaware of the implications of their decisions for our society". But in a lecture in London last night, Lord Phillips said: "These statements evidence a failure to understand the role of the judiciary. "When we review administrative action we do not substitute our decisions for those of the executive. We check that the executive has acted in accordance with the law, as laid down by Parliament." He said the independence of the judiciary was vital in upholding the rule of law.
Friday, February 04, 2011
Many thanks to Lisa Karlin from Channing School who has contacted tutor2u to let us know about a new web site which encourages students to write about their politics studies. Talking Politics looks like a great idea and you might like your students to have a go at writing something for the site.
Thursday, February 03, 2011
A great cartoon here which shows the two political options that Egypt seems to have!
read more...»
David Cameron's premiership is being subjected to some intense scrutiny from right-wing pundits at the moment. Owen Moelwyn-Hughes posted last week on Tim Montgomerie's Daily Mail piece. Well, in case you haven't fully absorbed that, Montgomerie has passed his message on to the New Statesman this week. Montgomerie is, of course, the editor of Cameron-sceptic website Conservative Home, and he clearly feels that his basic message - that Mr. C is failing to give due attention to his right-wing backbenchers - needs a wider audience. In addition to Mr. Montgomerie's New Statesman piece, James Kirkup, in that bastion of Thatcherism the Daily Telegraph, is also providing a detailed assessment of Cameron's style of governing. Not wholly surprisingly, Mr. Kirkup thinks it is failing. Doubtless he will tell us soon that Hosni Mubarak's in trouble too. They may have an agenda, but these commentators are providing considerable material for students and teachers to mull over as they try and consider just what type of Prime Minister Mr. Cameron is. And if you want a little icing on the cake, yet another Cameron-sceptic right-winger - Iain Martin at the Wall Street Journal - has this illuminating comment on the appointment of Craig Oliver as the new No. 10 Communications Chief. I don't want to give too much away, but Mr. Martin thinks the appointment is the wrong one. Naturally.
Tuesday, February 01, 2011

One of the main areas of consensus between the Conservatives and Labour in recent years has been on law and order policy. Essentially this has come about as Labour shifted to the right in the 1990s on the issue, following their 1992 defeat at the general election. Indeed if a Labour supporter had fallen asleep some time in the late 1980s and woken up 20 years later, he would be staggered by the transformation within his party: 28 day detention without trial, section 44 giving almost unlimited stop and searc powers to the police, a ban on protest in the vicinity of parliament, and so forth.
Among the most high profile policies was the anti-social behavioural order, or asbo.
As the Guardian stated yesterday:
"Asbos were brought in by Tony Blair as part of his Respect agenda in 1999 but they were criticised for being counterproductive because they became a "badge of honour" for some offenders."
The Home Secretary, Theresa May, stated last summer that she wanted the government to move beyond the asbo and this was mistakenly interpreted as meaning that they would be binned.
read more...»