Join us for WOW! Politics 2015 - the Resource-Packed CPD Course for A Level Politics


Monday, January 31, 2011
Great piece by the BBC's James Landale about the impact of the recent constitution bill filibustering on the House of Lords. The old certainties we might have held about the unelected second chamber are fast disappearing as it enters a new age of political confrontation, and perhaps hastens its own reform by so doing. Landale also comments on how the realities of coalition government created a much more rigid governmental framework that did not allow for the usual horse-trading which might have headed off the Lords filibuster. Illuminating stuff.
Sunday, January 30, 2011
This BBC graphic kills a whole multitude of birds with one stone. The split in Sudan as shown by the interactive map can be viewed in several ways: by geography, ethnicity, education, food security and others. All this means that it could come in useful when teaching about culture as a cause of conflict, the clash of civilisations, the difficulty of making seeping assumptions about poverty & development and a whole load more.
Saturday, January 29, 2011
Heads up on an excellent article by Tim Montgomery in the Daily Mail - A growing rebellion and a general losing touch with his troops
Essential reading for the 'PM & Cabinet' in terms of looking at 'how powerful is the PM?' - has good analysis on what are the necessary components of a great PM and goes on ot anlyze the extent to which Cameron possesses them and also comments on his style of leadership - which includes a reliance on a small coterie of reverential advisors [worth cross references with Blair's 'sofa governement'].
Montgomery, who is incidentally editor of ConservativeHome and weathervane of the Tory heartland, begins:
"Whereas the best Prime Ministers possess most of the necessary leadership skills, the really great ones possess them all. They must be good communicators - particularly, nowadays, on television. They need to have a vision for the country and an ­ability to master the detail of complex policy. They must build strong teams of advisers and ministers. And they need to excel at party management so that backbench MPs and activists are loyal in bad times, as well as good. It is the absence of this last skill that poses the most serious threat to David Cameron's chance of becoming a great Prime Minister
Friday, January 28, 2011
Tony Blair sidelined the Cabinet over the decision to invade Iraq because he feared ministers would leak sensitive material to the press, the head of the civil service. Sir Gus O'Donnell, the Cabinet Secretary, has tesfiied before the Chilcot Inquiry. In his recent memoirs Mr Blair complained that supporters of Gordon Brown, the then chancellor, frequently briefed the media about confidential government matters. The inquiry has heard that during the run-up to the 2003 invasion, the cabinet rarely discussed Iraq and ministers never received papers which were circulated between members of Mr Blair's inner circle. Sir Gus criticised the approach, which has been dubbed "sofa government," saying that cabinet minister's deliberations were undermined by the lack of trust the former prime minister had in them. "That's one of the reasons why the prime minister was reluctant at times to take as many cabinet decisions as possible: he felt that they would become very public very quickly," he said. Tony Blair felt there wasn't a "safe space" to discuss the Iraq war with his Cabinet or as part of a smaller Cabinet Committee because they were prone to leaks. But he stated that Mr Blair should have put more trust in his ministers and given them the full legal advice from the then Attorney General Lord Goldsmith before they agreed invasion plans in 2003. If a similar situation happened now he said: "I will encourage Prime Ministers to build cabinets where you are not afraid of challenge and where you build trust amongst people," adding they must have "regular frequent meetings with a clear structure and a clear set of papers."
This is of obvious relevance to the issue of looking at the balance of power between PM and Cabinet - for more detail and comment the Telegraph has the story - Tony Blair sidelined Cabinet over Iraq because he couldn't trust ministers not to leak
Thursday, January 27, 2011
The latest Davos meeting - the World Economic Forum - is of obvious relevance to the 'Poverty and Development' topic in regards to issues such as global inequality and how it might be tackled.
The BBC has a special Davos 2011 page with up to date coverage and comment.
The is an excellent article in the Guardian by Tim Garton-Ash - The optimists of Davos past now face a world whose script has gone awryHe contends that liberal capitalism's crisis has led to neither total collapse nor great reform. But others are beating the west at its own game. Here is a brief exerpt:
Western capitalism survives, but limping, wounded, carrying a heavy load of debt, inequality, demography, neglected infrastructure, social discontent and unrealistic expectations. Meanwhile, other variants of capitalism – Chinese, Indian, Russian, Brazilian – are surging ahead, exploiting the advantages of backwardness, and their economic dynamism is rapidly being translated into political power. The result? Not a unipolar world, converging on a single model of liberal democratic capitalism, but a no-polar world, diverging towards many different national versions of often illiberal capitalism. Not a new world order, but a new world disorder. An unstable kaleidoscope world – fractured, overheated, germinating future conflicts.
Napoleon once declared: 'Let China sleep, for when she wakes, she will shake the world'. So just how awake is China?
Great article in the Telegraph on China and the strategic revolution: Appeasement is the proper policy towards Confucian China
Also in the Telegraph - China's Progress is to be lauded not feared. The emerging superpower is not the threat we perceive it to be, says Jeremy Warner.

Chatham House have just published a report which explores just this - it is entitled 'Trying to Read the New 'Assertive' China Right'.
Its key points are:- In a pragmatic attempt to maintain their hold on power, China's leaders have replaced a tightly controlled ideological system with one based on an amalgam of ideas ranging from nationalism to Confucianism.
- The confusion caused by this is exacerbated by the factional jostling in the Chinese Communist Party. The resulting lack of clarity about 'what China is' leads outsiders to interpret the country's actions either as signs of increasing assertiveness and aggression or of internal weakness.
- China's unclear narrative leads it into apparently contradictory actions and positions. It claims to champion developing countries but expects to be treated as one of the major powers. It joins multilateral organizations but is unyielding on its national interests. It speaks of its harmonious rise but flexes its military muscle. It wants to be seen as a strong country but plays on its history of victimization.
- As a result, China is widely viewed as incomprehensible and is distrusted. This causes it to react defensively, setting in motion a vicious circle of mistrust. To overcome this, external actors should look beyond the political rhetoric of the Chinese elite and focus on China's actions.
Tuesday, January 25, 2011
A Californina sized hat tip to Ben on the Economics blog for highlighting the existence of this excellent graphic which compares US states to nations in terms of the size of their economies and populations.
I know this is thinking ahead, but after the AS exams any potential A2 American Politics groups I have are offered the chance to enter the post AS competition on America's geography, demography and population - regular readers may have read about this exercise in previous postings.
I thought Larry Elliot was in top form in yesterday's Guardian when discussing how Labour should reposition itself in response to Coalition spending cuts.
(Just don't keep mentioning the "R" word.)
Monday, January 24, 2011

Are politicians getting posher? This week Andrew Neil investigates whether Britain's political class is once agaim dominated by those coming from privileged backgrounds. Here he is on the One show.
BBC blurb: "David Cameron and Nick Clegg seem made for each other: Eton and Oxford meets Westminster School and Cambridge. But does the return of public school boys to the top of our politics say something worrying about the decline of social mobility in Britain?
Andrew Neil goes on a journey from the Scottish council house he grew up in to the corridors of power to ask if we will ever again see a prime minister emerge from an ordinary background like his.
In this provocative film Andrew seeks to find out why politicians from all parties appear to be drawn from an ever smaller social pool - and why it matters to us all."
A Times article on Clegg and Cameron.
Wednesday, 21:00 on BBC Two (England, Northern Ireland, Wales only)

.
Saturday, January 22, 2011
President Obama has abandoned plans to close the prison at Guantanamo Bay after Congress vetoed bringing terrorist suspects to the US for trial. New trials will now begin at the military complex on Cuba. The Guardian has picked up on the story: Barack Obama abandons Guantánamo closure plan after Congress veto
The article also touches on the fate of detainees such as Abd al-Rahim al-Nashiri, a Saudi accused of planning the suicide bombing of the American warship USS Cole in Yemen in 2000, which killed 17 sailors. He is a "high-value detainee" who prosecutors have indicated could become the first to face the death penalty. There are a few references to some of'nasty' counter-terrorism measures used by the US such as CIA 'blacksites and torture - thus raising issue of the balance between counter-terrorism measures and human rights.
A few exerpts are:
"Al-Nashiri's trial is likely to prove controversial because some of the evidence against him is based on his interrogation and torture, including waterboarding, at secret CIA "black sites", including one in Thailand. CIA tapes of the interrogation were later destroyed reportedly on the orders of the head of the agency's clandestine operations, José Rodriguez, although no charges were brought.
Al-Nashiri has told military tribunal hearings that he made a series of false statements under torture, through waterboarding and being subject to mock execution with a power drill and a gun, including confessing to the attack on the USS Cole and claiming that Osama Bin Laden has a nuclear bomb."
Wednesday, January 19, 2011
John Bercow is a controversial Speaker who seems to be rather good at alienating MPs, particularly his former colleagues on the Conservative benches. The most notorious story last week was about Conservative MP Mark Pritchard refusing to make way for him with the immortal words "You are not f**king royalty." This enlightening incident, and the raft of other accusations faced by Mr. Speaker Bercow, are covered in this article in the Independent by Sarah Sands. But while much of this is entertaining, it would be foolish to ignore Bercow's real value to both parliament and politics students, which is as a genuine and convinced reformer. His speech yesterday to the Institute for Government covered a number of key issues about the government's proposed parliamentary reform.
read more...»
The House of Lords is in the spotlight at the moment as arguments for its reform are percolating and Lords obstruction to AV reform proposals are getting column inches [especially the Lords wakefulness]. Todays papers have a number of useful articles.
Simon Heffer in the The Daily Telegraph argues that The last thing the House of Lords needs is a mass of elected members as it would be useless, dangerous and elected Lords would lack calibre. He writes:
"Some of us secretly liked Old Labour because it was so deeply conservative. Mr Attlee, for example, would go to dinner in white tie and decorations, and would sport a silk top hat at funerals, and he saw no contradiction between working-class solidarity and his acceptance of the Garter and a (well-merited) earldom. One of his apostolic successors is Baroness Boothroyd, the last good Speaker of the Commons, who in a splendidly upright interview last weekend told some long-overdue truths. Her pronouncements on expenses-fiddling MPs and the idiotic appearance of her successor deserve respect: but most telling of all were her views on reform of the House of Lords."
It is worth cross-referencing Simon Hefer's views with those of Rachel Sylvester in the Times - Fiddling with the House of Lords could prove counterproductive
Here a few bits on the Lords AV fight:
Quentin Letts in the Daily Mail has a waspish, but amusing article - He had gone completely… he was so fast asleep. He scribbles:
"By the middle of yesterday afternoon, the House of Lords could have been Heathrow's Terminal One during the recent snows. A crowd of fed-up people was trapped in stuffy air. Some grumbled. Others slept.Lord Palmer (Crossbench) leaned at a greater angle than the Tower of Pisa, eyes clamped shut like a snoozing mussel. How he didn't topple into the aisle, I cannot say. The chest of Lord Fearn (Lib Dem) rose and fell, Sleeping Beauty awaiting her prince. Someone's mobile telephone kept ringing. It went unanswered. No one had the energy to protest."
While, the Independent has Night of the long-winded: peers waffle to sabotage voting reform legislation
Tuesday, January 18, 2011
The House of Commons is regarded in comparative terms as one of the weakest legislatures in the world. Moreover it is argued that plans to cut the number of MPs will weaken it further since a higher proportion of MPs will be on the government payroll (so long as the number of ministers is not cut also).
Notwithstanding this, a major development in the ability of the House of Commons to scrutinise the executive is the introduction of departmental select committees in the UK in 1979. These non-partisan bodies can call for 'persons, papers and records' and can be seen to have resulted in more open government and act as a useful deterrent on an over mighty executive. Peter Riddell has argued that select committees have 'been a major factor in the opening up of the workings of government over the past twenty years'.
And this week, according to the BBC website:
'The scale of health reforms being made in England has taken the NHS by "surprise" and could threaten its ability to make savings, MPs say.
The Commons health committee has criticised the "significant policy shift" of scrapping primary care trusts and passing control of budgets to GPs.'
Therefore select committees continue to be a thorn in government's side and there is a strong argument for strengthening their powers, especially given that we have a coalition government which has drafted policies that voters of the Conservative and Lib Dem parties didn't know they were getting (most obviously the hike in tuition fees, which the Lib Dems pledged to oppose pre-election).
Sunday, January 16, 2011
Peers who attend the House of Lords fewer than four times a year face being "retired" from parliament under Government plans to reduce the size of the upper house, according to politicshome.com.
If you can can get behind the Times pay wall - here is more on the story - Lazy peers to be told: four debates or you're out
Also more can be found on the 'Lords of the Blog' site: Uncharted Territory for the Lords which touches on issue of late night sittings and a guillotine on sittings. They also have a really useful page simply called The Lords Explained - it does just that.
Saturday, January 15, 2011
Friday, January 14, 2011

I'm sure the Arizona shootings have provoked fierce debate about the rights and wrongs of gun ownership in the USA in classes this week, as they have mine.
Here is some data on gun laws internationally.
And in case you haven't seen it, or want to watch it again, here is Obama's speech at a memorial in Tuscon. Arguably this is Obama's best oration since he was inaugurated.
Both items are taken from the Guardian's excellent US gun crime page.
Monday, January 10, 2011

We all know Polly Toynbee isn't the most unbiased commentator around, but she has shed light this weekend on the astonishing degree to which the current Conservative led government has backtracked on many of its promises.
U-turn if you want to, this Dave is for turning.
read more...»
Sunday, January 09, 2011
A new report from the IPPR claims that the UK's FPTP electoral system is fundamentally broken and "is likely to produce increasingly undemocratic results in the future". The IPPR analysis shows that the May 2010 general election was decided in just 111 constituencies by fewer than 460,000 voters – or 1.6 per cent of the electorate.
read more...»
Friday, January 07, 2011
Are we hours away from the creation of a new state? On 9 January the citizens of Southern Sudan will vote in a historic referendum to determine whether they remain part of a united Sudan or become the world's newest independent state. Southern Sudan is one of the poorest and least developed areas of the world and sits in a volatile region so whichever choice prevails, huge challenges will remain.
Here are a few links for more on the story:
1. Chatham House's Roger Middleton in their 'expert comment' writes that the arrival of a new state will present enormous challenges to Sudan, North and South, its neighbours and the wider international community, but it could also help cement the peace of the last six years. Plus, in a video he comments on the expectations of North and South Sudan.
2. CNN has an excellent feature on the Sudan referendum on their website, which includes video clips, maps, timelines etc. All very interactive. Click here.
Here is Roger Middleton's Expert Comment:
read more...»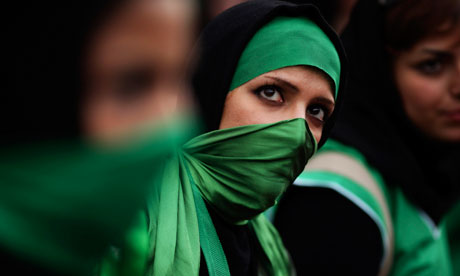 There is an exclllent article in the Guardian entitled Beware those who sneer at 'human rights imperialism' which is of direct relevance to the Global Issues 'Human Rights' topic.
Recently, the universal status of human rights has come to be challenged by critics who stress the Western, masculine, intolerant nature of this universalism. The human rights template severely limits the degree of acceptable variation in social practices. This universalism has been challenged on feminist grounds as privileging patriarchy. More generally, the liberal position on rights privileges a particular account of human dignity. Cultural critics of universal rights include proponents of 'Asian values' and 'Islamic critique' and from an economic position left wing critics see human rights as being at odds with 'communitarianism'. Are these criticisms just self serving? Also, can the 'universalism' of human rights be defended?
The article goes someway to illustrating and addressing these key issues relating to the importance of human rights and also how its 'universalism' has been challenged. The article argues: 'If universal rights are dismissed as 'western', where does that leave Iranians, Tunisians and Sudanese battling for them?' Its not a straight forward read, but incisive and some excellent scholarly references - so in short - a must read!
The Guardian has an interesting article entitled To see Muslim discourse in politics as a vicious anachronism is to see very little and it aruges that "explaining political Islam as the product of rage or sexual frustration ignores the nature of religious identity in multi-ethnic democracies". The article touches on some of the themes in the Global Issues 'Cultural Conflict' component, especially in relation to the politics of identity and the rise of religious extremism.
The article focuses particularly on the rise of Islam in SE Asia; however, but it does so against a broad canvass and gives a lot of good context. Here are a few choice snippets:
read more...»
Thursday, January 06, 2011

BBC Parliament broadcasted an excellent "The Record Europe" programme over the Christmas period. It is something of s shame that the EU has been trimmed from the AS course since I think it is a fascinating political project and in the UK there is a great deal of myth and propaganda about it.
This recording is on iplayer and features the normally controversial Nigel Farage.
If there isn't time to squeeze it into lesson delivery then I think it is worth considering as an off syllabus project as part of a Politics Society feature. It might also interest Route D followers.
Wednesday, January 05, 2011

As a follow up to Owen's earlier post, here are another couple of links to the AV issue.
I have been surprised by how many people are unaware of the referendums coming up later in the year. All the more surprising considering large numbers are (a) Politics students (b) eligible to vote in either of the polls (c) both!
Guardian overview of the IPPR report.
John Kampfner arguing the case for reform of fptp
So that's the AV vote, but what's the other one? The clue is in the picture on this posting. See here.
The UK general election system broken and unable to cope with the rise of minor parties, says think-tank The Institute for Public Policy Research. They also claim that hung parliaments are more likely - not just an occssional glitch in the matrix. Some useful stats they bandy about are:
- The general election result was determined by just 1.6% of voters in marginal Commons seats
- 31% of voters - 9 million people - lived in marginal seats which formed the main battlefields under the first-past-the-post system.
More on this report is to be found on the BBC website - click here
Tuesday, January 04, 2011
The new, 2011 edition of our popular Edexcel AS ExamBuster is now available. Comprehensively updated by author Mike McCartney, ExamBuster 2011 contains core material for the early questions, with comprehensive examples throughout. For the later sections of the Edexcel AS exams the guide provides the key arguments necessary to give candidates the toolkit required to construct answers to those questions posed in the exam hall. In addition, the pack also contains important hints and tips on answer technique based on the past performance of candidates in the Edexcel examinations. Highly recommended.
Order Edexcel AS ExamBuster 2011
Saturday, January 01, 2011
Martin Kettle in the Guardian has an interesting article - What Harold Macmillan could teach David Cameron.
In a 1980 private memo to Thatcher, the former PM warned against divisive politics. The coalition must take note, warns Martin Kettle.
Well worth a read to get perepective comparing different styles of PM and also the political circumstances against which they have operated. It was Macmillan who responded to a question 'Events, dear boy, Events' - thus highlighting the extent to which governments tend to be hostage of circumstances not of their choosing and beyond thier control. Peter Hennessy, academic pundit on British PMs, asked who his favourite PM was - has conceded to liking Macmillan.
Happy New Year.
With the calendar clicking over there have been a few useful pieces in the press giving reviews of the year that was - politically it has been an eventful one. Here are two links, both of use but also both penned by the embittered left:
1. The Newstatesman has '2010 — the year in review' - From another botched Labour coup to the election of a coalition government, this political year has been the most turbulent in decades.
2. Kevin Maguire in the Daily Mirror has: '2011 Year of the Cads'