---
IB Economics
Thursday, August 22, 2013
An intriguing take here on relative real wages in a range of developed and developing economies - using that staple resource to help teach PPP: the price of Big Macs!
read more...»
Saturday, February 02, 2013
IBID Press has recently launched a 282-page Workbook for the new IB Economics course, first exams May 2013.
For those interested, please read on...
read more...»
Sunday, January 06, 2013
Happy New Year!
Over the next few weeks, I will be posting class activities for students (and teachers) to help prepare for the May/Nov 2013 Paper 1 B&M exams based on this year's case study - Royal Danish Bearings.
Read on for the first week's activity
read more...»
Wednesday, November 07, 2012
Here is an excellent TED video which is a great aid when teaching Development Economics.
read more...»
Tuesday, May 01, 2012
This revision workbook will help students preparing for the upcoming IB Economics exams ensure they are clear about the key theory they need in preparation for their exam. Read on to find out how to download your own copy.
read more...»
Tuesday, December 13, 2011
This excellent clip from Phil Holden summaries the 6 types of market failure. An excellent revision resource, great the day before an end of topic test.
read more...»
Tuesday, October 18, 2011
A brief heads up for a new series on BBC Radio 4 tomorrow- Stephanomics. BBC economics editor Stephanie Flanders takes her popular blog to radio form. In the first episode tomorrow at 3pm she discusses the current global financial crisis with a range of experts from the field. Should be worth a listen.
Thursday, September 22, 2011
A short but fascinating TED talk entitled 'Selling Condoms in Congo' looks at a key development issue, AIDS, from the marketing persepctive.
read more...»
Thursday, September 15, 2011
To spice up the possibly mundane lesson on Production Possibility Frontier's I made use of this fantastic TED talk by Yasheng Huang.
read more...»
Tuesday, September 13, 2011
IB students should always be on the lookout for suitable articles to complete their internal assessment. This alcohol related piece from the BBC website is ideal.
read more...»
Sunday, September 11, 2011
I always try and make reference to businesses found in town. The students often find it easier to relate to and analyse. Morrisons is the the major supermarket in the town centre and last week they published promising results especially given the bleak economic times.
read more...»
Friday, September 09, 2011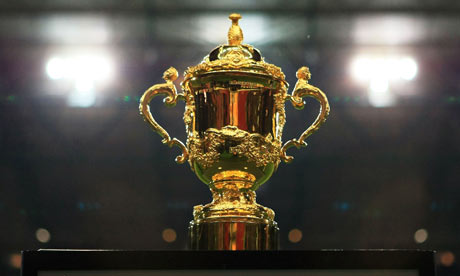 The Rugby World Cup kicked off this morning with an impressive victory for the hosts but what are the economic benefits of hosting such an event?
read more...»
Thursday, September 08, 2011
The major changes to the macroeconomics course are as follows…
read more...»
The major changes/additions to the microeconomics course are as follows…
read more...»
The Introduction
The new course has no formal introductory section but teachers are advised to spend time explaining why economics is a social science and introduce the concepts of scarcity and choice. The following four themes run through the course:
• The extent to which governments should intervene in the allocation of resources
• The threat to sustainability as a result of the current patterns of resource allocation
• The extent to which the goal of economic efficiency may conflict with the goal of equity
• The distinction between economic growth and economic development.
I aim to head on straight into the heart of micro and macro economics interweaving the above mentioned themes through the use of lots of real world examples.
I am now a couple of days into teaching the new IB Economics spec and am excited about the challenges that lie ahead.
read more...»
Tuesday, May 03, 2011
A very common topic in the short answer paper, at Higher Level, is the multiplier. If you have learnt a working example this is a question you should aim for full marks in. Make sure you understand why different values for the multiplier result in different changes to national income. I have attached a worksheet that includes a variety of past exam questions.
Multiplier_Revision_Worksheet.doc
Thursday, April 28, 2011
As with all Economics qualifications the IBO places heavy emphasis on the effective use of diagrams. It is vital in the final two weeks before the exam that you take the time to learn precisely every digram outlined in the syllabus. You should be using diagrams in all three papers (two at standard level), the data response paper explicitly tests your understanding of them. In the data response paper part b) and c) in every question will begin "using a diagram…". Given that there are 4 marks available for each part and you have three questions to answer 24 out of a possible 60 marks, in this paper, are directly available for effective use and understanding of diagrams.
Get drawing!
Monday, March 21, 2011
I will, in just over a week's time, be saying goodbye to my U6th IB Economists as they head off for their Easter break and preparation for their final papers. Over the coming days and weeks I will be making a regular series of postings to help students with this revision process.
read more...»
Thursday, January 20, 2011
Which country has topped this year's Economic Freedom Index, claiming the crown to the world's freest economy? And which country came in bottom place? Read on to find out…

read more...»
Monday, January 03, 2011
Interested in teaching in the Humanities Faculty at an excellent international school in Hong Kong? We have two vacancies for Business Education from August 2011. There is also a post of responsibility in the Faculty for a Coordinator of Theory of Knowledge and IPSE. Read on for more details…
read more...»
Friday, September 10, 2010
Sweden and Singapore have overtaken the United States in the latest rankings on international competitiveness published by the World Economic Forum. This BBC news interview gives the WEF's senior economist an opportunity to outline some of the reasons.
read more...»
Thursday, September 09, 2010
During the one of the inevitable INSET sessions that marks that start of every term one of the external presenters made use of Prezi for his session.The software really caught my eye and I very much hope to use this web based presentation creator in my teaching over the coming weeks. I will upload topic based presentations once completed. The 'Thoughts on using Prezi as a teaching tool' is a great starting point as well as highlighting its capabilities.
Monday, September 06, 2010
A great TED talk here on development economics in Ethiopia:
Economist Eleni Gabre-Madhin outlines her ambitious vision to found the first commodities market in Ethiopia. Her plan would create wealth, minimize risk for farmers and turn the world's largest recipient of food aid into a regional food basket.
Friday, August 13, 2010
In the following analysis, I have identified five multi national companies to show how they managed crisis and dealt with negative publicity. The companies are Mattel, PepsiCo, JetBlue, The Coca Cola Company and Johnson & Johnson.
Click here to download the article.
Wednesday, July 28, 2010
This BBC news video looks at demands for better pay among the three million or more workers (the majority of whom are women) who work in garment factories in Bangladesh. The country has over 4,000 textile factories and has become one of the world's biggest exporters of clothing. But for many the jobs available offer long hours and very low pay of around $25 dollars a week - the trade unions are lobbying for average wages three times this figure. Will it threaten the competitive advantage of Bangladeshi producers looking to hold onto contracts from many western buyers?
The video is a good resource to use when teaching aspects of labour markets and globalisation in developing countries
Tuesday, July 13, 2010
The U.S. trade deficit widened in May to the highest level in 18 months as a rebounding economy pushed up demand for imports of foreign-made cars, computers and clothing.
The Commerce Department says the trade deficit increased 4.8 percent to $42.3 billion, the largest imbalance since November 2008. American exports of goods and services rose 2.4 percent but this increase was outpaced by a 2.9 percent rise in imports.
American manufacturing has been a standout performer so far in this recovery, benefiting from a global economic recovery. But the concern is that export sales will be hurt by the European debt crisis, which has dampened growth prospects in Europe.
Thursday, July 08, 2010
I found a website that has pages of podcasts that could be useful for guided pupil learning over the holiday period or colleagues may want to download and listen to them on the beach!
Click here to be directed to the website.
Sunday, June 06, 2010
Coffee is a lifeline for twelve million farmers in Ethopia who are vulnerable to volatile world prices and the monopsony power of the major coffee roasting businesses. But this heart-warming report from Jonathan Dimbleby finds that a new electronic trading system is providing a superb market place for the setting of prices - connected instantaneously to the world commodities market.
Prices agreed on the Ethiopian trading floor are transmitted round the world and the farmer is guaranteed payment within 24 hours. Since the exchange was launched over $400m has been traded without a single dollar of default. Farmers are getting the price that is agreed on the open-outcry market platform. Technology as a support to the problems of real people - outstanding.
Sue Lloyd-Roberts has produced some remarkable reports for television over the years. Few can be as impressive as the ones available on BBC Our World and BBC Newsnight tracking her time in North Korea. She tries to gain an insight into the daily existence of people in North Korea and, despite the constant presence of government minders and security officials, she discovers private markets which for many can be the difference between a meagre life and starvation. The North Korean authorities refuse to acknowledge the existence of these markets but they are the inevitable result of the complete failure of the state planning system. She meets some North Korean defectors who are still coming to terms with the ultimate culture shock.
These video reports are remarkable and will make ideal teaching resources when discussing economic systems, living standards and markets.
Here are some links to Sue Lloyd-Roberts' reports
Glimpses of real North Korean life behind the facade
Sampling North Korea's version of the internet
N Korean defectors on the ultimate culture shock
Thursday, May 20, 2010
The pace and resilience of the US economic recovery has been called into question with the release of weaker than expected economic figures. There has been an increase in unemployment benefit claims for the first time in five weeks. Maybe consumer confidence is taking a battering again in the USA or is this just a blip?
Keep in mind that the labour market for all economies is a closely watched macroeconomic indicator. Poor figures on unemployment and new jobs created is a sign that the recovery in demand remains fragile. Or perhaps that the USA may be experiencing a jobless recovery - with businesses reluctant to take on extra workers for the moment.
According to the Daily Telegraph (UK)
"In the US there was a surprise 25,000 increase in jobless claims to 471,000 in the week ending May 15. The deterioration in the employment picture, coming hard on the heels of Wednesday's drop in inflation, underlined worries that the US is exposed to a possible global double-dip recession"
Read the article here
Thursday, May 13, 2010
This anlaysis shows how the Australian government has used fiscal policies to smooth out economic fluctuations and reduce its impact on consumers. Stabilizing_the_Australian_economy_through_fiscal_policies.doc
Monday, May 10, 2010
A new series begins on BBC1 tonight that will no doubt provide some excellent material for Business Management students.
read more...»
There are two excellent programs on BBC Radio 4 this evening that are likely to be full of development and macro economics.
read more...»
Tuesday, May 04, 2010
A new series begins on BBC 2 this evening that looks ideal for the department DVD library.
Dragon's Den star Theo Paphitis follows the fortunes of brave and bold British companies trying to expand in three of the world's most dynamic emerging markets - India, Brazil and Vietnam. While Britain is still stuck in a recession, these economies are booming. There couldn't be a better time than now for British businesses to seize these opportunities in some of the world's fastest-expanding but risky markets - but how easy is it going to be?
Tonight Theo begins in Vietnam and it looks like a series that will be full of development and business economics.
Click here for a two minute clip of tonight's episode.
Friday, April 30, 2010
A revision quiz for higher level candidates only that covers costs, revenues and profits.
Tutor2u_IB_Economics_Revision_Quizzes_2010_(4).doc
Wednesday, April 28, 2010
Revision quiz (3) covers Government Intervention. Make sure you have learnt all the relevant diagrams- max/min prices, indirect taxation, ad valorem tax, subsidies, quotas and buffer stocks.
Tutor2u_IB_Economics_Revision_Quizzes_2010_(3).doc
Monday, April 26, 2010
There is a slight air of panic in my boarding house with final IB exams only a week away! The Economics papers are on the 19th/20th May. To help you on your way here is the second revision quiz, many more to follow.
Tutor2u_IB_Economics_Revision_Quizzes_2010_(2).doc
Wednesday, April 21, 2010
An important moment and a great boon for teachers and students of development economics. The World Bank has made the 2010 Human Development Data available to all - here World Bank President Robert B. Zoellick speaks about the Bank's new open data initiative. And here is the link to the development data and all of the macro data contained in the global economic monitor. A remarkable and generous gesture from the World Bank.
Saturday, April 17, 2010
Social business is a cause-driven business. In a social business, the investors/owners can gradually recoup the money invested, but cannot take any dividend beyond that point. The purpose of the investment is purely to achieve one or more social objectives through the operation of the business, no personal gain is desired by the investors. The company must cover all costs and can make profit, at the same time achieving the social objective that it set out to achieve i.e healthcare for the poor, housing for the poor, financial services for the poor, nutrition for malnourished children, providing safe drinking water, introducing renewable energy.
read more...»
Businessweek features an article on the state of inflation in the Australian economy. Rising inflation looks set to see the Central Bank react for the 5th time in 6 months with a rise in the rate of interest.
read more...»
Friday, April 16, 2010
With the final IB papers for U6th students only a matter of weeks away I will be publishing regular revision quizzes that cover all sections of the course- both Higher and Standard level. A corresponding set of answers will follow a couple of days after publication. I also hope to produce some outline answers for past exam questions.
The first quiz is on An Introduction to Economics.
Tutor2u_IB_Economics_Revision_Quizzes_2010_(1).doc
Tuesday, April 06, 2010
David Smith, economics editor of The Sunday Times and author of Free Lunch has just had his latest offering published- The Age of Instability.
read more...»
Wednesday, March 24, 2010
A nice video summary of today's budget by the BBC's big three- Nick Robinson, Stephanie Flanders and Robert Peston.
Tuesday, March 23, 2010
The Economist Daily Chart is always an excellent source of data, especially in terms of development economics.
read more...»
Paddy Power have lost their battle with Tewkesbury Borough Council to make their advertising sign (the longest in the world) a permanent fixture on Cleeve Hill. The sign had been erected for Gold Cup week at Cheltenham racecourse and Paddy Power was hoping it could remain on the hillside. Will keep you posted as to whether it is erected elsewhere in the country.
Monday, March 22, 2010
Another quirky story from my home county. The Gloucestershire town of Stroud is printing its own currency, 6 months on the BBC returns to see how economically successful it has been. Local businesses have to sign up to the initiative. The local cafe owner puts forward the multiplier argument for how local currency will benefit the Stroud economy. Critics see the the currency as a 'gimmick' that is in essence a glorified voucher scheme. For it to work and benefit the local community both firms and consumers have to be on side.
Here is the link to the Stroud Pound website.
A report from Sky News this morning really caught my attention. Air pollution in the UK kills 50,000 people per year. The negative externalities of poor air conditions include increased asthma cases, heart disease and respiratory diseases. Some MPs are becoming increasingly critical of the government for their apparent lack of action, quite rightly given the huge number of victims.
Following on this morning's development theme another fascinating video clip from the BBC. One of the key factors behind economic development, from an institutional economics perspective, is the improvement and expansion of a country's infrastructure. In Nigeria the quest for infrastructure growth seems never ending, especially in the financial capital Largos. To ensure that this rapid expansion can take place large quantities of sand are needed, to meet the demand for sand constructors have turned to 'human fish', men who dive to the bottom of the sea to dredge for lucrative commodity. A clip well worth watching.
A good development economics article on the BBC website today. The Senegalese fishing industry is being hard hit by the invasion of foreign boats to their waters. Stocks are being depleted despite government regulation and local fishing towns are suffering significant drops in revenue. The classic development barrier of poor infrastructure is limiting fishermen's ability to sell the fish that they do catch in more lucrative urban markets. A topical example to use in your development answers.