Wednesday, December 11, 2013
Wednesday 11th of December is World Mountain Day. Teachers can approach this topic in terms of the Human importance of mountains.
Ask students to come up with reasons as to why mountains matter. Next show the students the video below which explains some of the reasons.
Mountain formation can now be discussed. The Himalayas for example are formed as India smashes into Eurasia causing the land to crumble and uplift. This uplift and crumble is still ongoing today as shown in the next video.
Now show students the images A & B below. Which mountains are the Pennines and which are the Himalayas. What are the physical differences between these mountains. Can they explain which mountains are older and why?
Picture A
Picture B
A final mountain teaser.
Can any of the students name the famous mountain found on this popular Swiss chocolate?
The formation of this Mountain can be studied later under the topic of Glaciation.
Tuesday, December 10, 2013
Last week the east coast of the UK was battered by the biggest storm surge in 60 years. There was a lot of coverage before, during and after the event and much talk of the "perfect storm" – almost literally in this case – which made for such high waves.
In order to understand the cause of the surge, students should watch this clip from the BBC.
read more...»
Monday, December 09, 2013
This week I have been teaching contours by getting pupils to create a knuckle mountain range.
First I ask pupils to make a fist and set it down on the table, like they are knocking on it.
Then get them to contour the knuckle mountain with felt tip pen circles. Get them to try to keep every part of each circle the same distance from the table (in other words, flat).
They can then add a triangulation point to the main summit and draw blue rivers in the finger "valleys".
When pupils put their hand flat they have a contour map and when they make a fist they have a mountain range.
Thursday, December 05, 2013
A few weeks ago, I met up with a friend of mine whom I used to teach with in one of my previous schools and he reminded me of something we used to do in our Geography lessons, the 'Random Raffle'. This is another strategy along the lines of my Bingo Questioning strategy (which can be found here) to enable more effective questioning and helps ensure all students have an equal chance of being asked a question.
Random Raffle is probably one of the simplest things you can do, but often, the simple strategies can be the most effective. Random Raffle simply involves the use of raffle tickets in lessons. These can be bought at various places for next to nothing and there are loads of different ways in which they can be used.
At the start of the lesson students select a raffle ticket from a container near the front of the class. The teacher can then select a raffle ticket and the person who has that ticket answers a question on the topic. This allows the teacher to match the question to the students ability rather than than the traditional, hands up.
Raffle tickets can also be used to randomly select groups for any group work activities. Another use is pick out 2 or 3 tickets and the students who have those tickets come to the front and provide a short summary of the lesson.
Easy peasy....
Tuesday, December 03, 2013
This animation examines how we manage or are incapable of managing our global supply of fish stocks.
It highlights how fragile our food supply is in the face of huge human demand.
After watching the video students can analyse the policies implemented by Governments to prevent and limit Overfishing. For example how effective have policies such as the European Unions Total Allowable Catch in regenerating fish stocks.
Sunday, December 01, 2013
When I ask my year 11 pupils to describe the conditions and problems in shanty towns they can write plenty. However, if I ask them to write about the social and economic opportunities in shanty towns they struggle. I am hoping that this video is going to inspire them this week.
Tuesday, November 26, 2013
Good Climate Change starter activity for students is to inform them that just 90 companies have caused 2/3 of man made global warming.
These companies can be broken down into 3 categories:
State owned
Nation States
Investor owned
Put students into teams and see if they can come up with some of the names under the 3 categories. Award 3 points for a correct answer and subtract 1 for an incorrect answer. See which team can get the most companies.
Can students name British companies on the list.
Now let the students explore the fantastic interactive on these companies from the Guardian at 90 companies climate change interactive
Students can now consider how we as individuals and nations can help to reduce the impact of these polluting corporations.
Sunday, November 24, 2013
Migration remains a key theme in many Geography GCSE and A level specifications and is often studied in the context of the broader topic of population change. The lifting of restrictions on migration from Romania and Bulgaria to the UK in January 2014 has brought the issues back into the spotlight. A University College London report released at the beginning of the month told how migrants from the European Economic area (EEA) made a "significant contribution to the UK economy" but this does not mean potential new immigrants will be welcomed with open arms by everybody.
This BBC News reports summarises the key findings.
read more...»
Tuesday, November 19, 2013
Students may be curious to know what hurricanes, typhoons and cyclones are and what are the differences between them.
Firstly a storm is only considered a hurricane, typhoon or cyclone when it reaches speeds of 74 miles per hour (119kph).
Secondly these intense weather systems are essentially the same. They are all tropical cyclones which occur at different Geographical locations during the course of the year.
Hurricane in the Caribbean
Global spread of tropical cyclones
Oceans and seas of the World
Hurricanes occur in the Eastern Pacific, Caribbean Sea and Northern Atlantic.Hurricanes rarely occur in the South Atlantic. In the Atlantic hurricane season takes place from the 1st of June to the 30th of November.
Cyclones occur in the Indian Ocean and the South Pacific.
Typhoons occur in the Northwest Pacific. Typhoon Haiyan in the Philippines was the 28th Typhoon of the year. On average there are 27 typhoons a year compared to an average of 11 hurricanes. The World Meteorological Association gives these events their names. However the Philippines possibly due to the frequency of events has its own naming system so Haiyan is known locally as Yolanda.
So what are the weather conditions necessary for these tropical storms. Warm tropical water, moisture and relatively light winds are the key ingredients. Below is an animated guide to how Typhoons form.
Animation of Typhoons
Video from the Met Office explaining hurricanes, typhoons and cyclones.
Finally students may want to know why these weather systems spiral well this is the Coriolis effect in action.
Coriolis effect explained
A new map of forest changed has been created by the University of Maryland with the help of Google Maps.
The map shows forest change from 2000-12. Green areas are forested; red suffered forest loss; blue showed forest gain; pink experienced both loss and gain.
read more...»
Thursday, November 14, 2013
The Queen has today officially opened what has been named the world's most environmentally friendly building - the Co-operative Group's new £105m Manchester headquarters.
The British Research Establishment Environmental Assessment Method (BREEAM) has given the building a score of 95.16% – the highest ever awarded.
read more...»
Tuesday, November 12, 2013
The Philippines is a country of 97 million spread over 7,000 islands although the majority of the population of the country live on just 11 of these.
It is located on the Pacific Ring of fire and so volcanic eruptions and earthquakes are common.
The Philippines: Earthquakes, Volcanoes and Storms
The diagram above shows how susceptible the country is to natural disasters. Indeed the country was hit by a 7.2 magnitude earthquake in October with 93 people losing their lives. However Typhoon Haiyan (known locally as Yolanda) looks like being the deadliest natural disaster in the country's history. The President of the Philippines has declared "A State of National Calamity".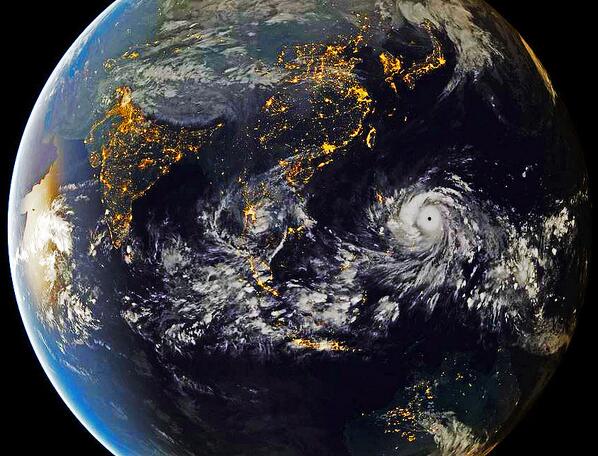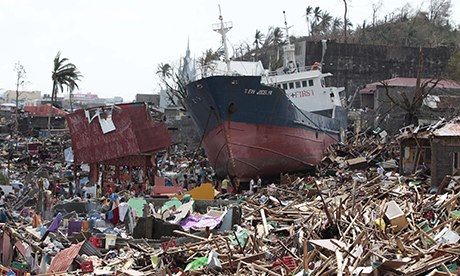 Geography teachers can help get their students to understand the effects on this region through looking at The BBC website which has well documented this disaster with before and after images, maps, latest news and videos. BBC - Haiyan Typhoon
Students could also map the region and the path of the Typhoon using the National Geographic's Mapmaker interactive site. MapMaker Interactive
Finally students can examine the international response, how quick the world has been to provide international aid and will this response significantly help the long term recovery of the Philippines.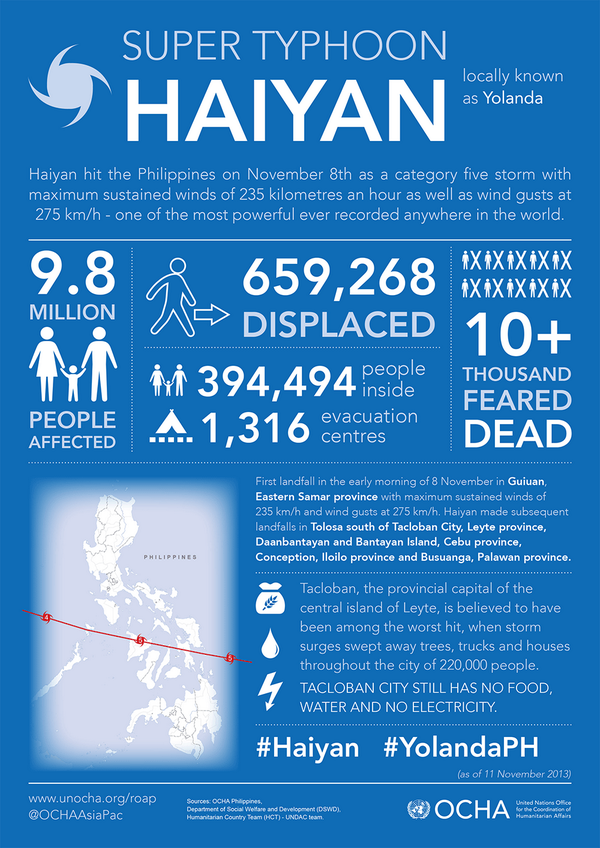 Wednesday, November 06, 2013
National Geographic has created some amazing maps showing the devastating effects that would result if all the world's ice melted.
The earth currently contains five million cubic miles of frozen water which when melted could cause sea levels to rise by 216 feet.
If this happened cities in Europe including London and Venice would be lost underwater, as would the whole of the Netherlands and most of Denmark.
read more...»
Over two years after the Japanese Tsunami, the effects are still being felt. The Independent reports here on a "floating island" of debri which is slowly making its way across the Pacific Ocean and towards landfall in the US.
read more...»
Monday, November 04, 2013
Today Medmerry in Sussex sees it's coastal realignment scheme complete.
In the past it has been one of the coastal stretches most at risk of flooding in southern England. There has been a shingle beach protecting the area but it required maintenance every winter to prevent coastal flooding during storms. With climate change and sea level rise increasing the risk the shingle beach is not a sustainable coastal protection method.
As a result the Environment Agency has bought up land the size of 300 football pitches, which it will allow to flood, and built defences further inland.
read more...»
Saturday, November 02, 2013
This week the tragic news broke of 92 Niger residents dying in an attempt to cross the Sahara desert into Algeria. Every year 1000's of Niger nationals pay to be brought across the desert to North Africa. The migrants in this particular situation died of thirst and exhaustion after the vehicles they travelled in broke down forcing them to try to find help by foot.
Map of African Migration routes
So why do so many people try the perilous journey across the Sahara?
If we look at Niger itself we can see why many are so desperate to leave. Niger is a Sub-Saharan landlocked nation with a rapidly growing population of 16 million people. The country is the lowest ranked country in the world in terms of its Human Development Index as compiled by the United Nations.
The UN uses indicators such as health, education and income to see how developed a nation is relative to others.
In terms of life expectancy people in Niger can only expect to live to 55.The Infant mortality (deaths per 1000 children under 5 years of age) is exceptionally high at 143 per 1000, in the UK the figure is 5. Adult literacy rates are only 29% while the majority of citizens survive on less than $2 a day (per capita income = $701).
Human Development Index Map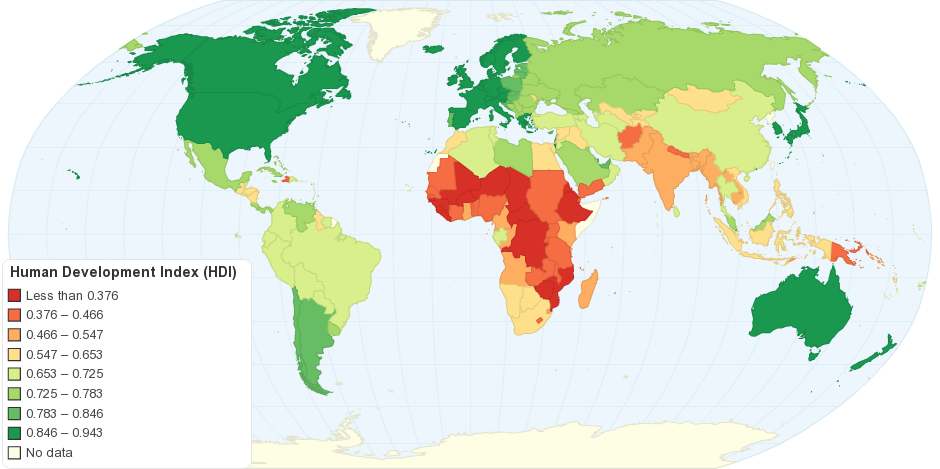 As we can see in the Map above North African countries present a greater opportunity for Sub-Saharan Nations as they are rankedhigher on the Human Development Index. For example per capita incomes in Algeria of $7,418 are multiple times more than what can be attained in Niger.
For many though the Journey to North Africa is only the first step on their journey. The final destination again fraught with danger is to gain entry to the European Union. The dream of a better life in Europe for themselves and their families can often end in tragedy as was the case in the Mediterranean on October the 3rd where 366 migrants lost their lives when their vessel sank off the Italian Island of Lampedusa while last week hundreds more where rescued attempting sea crossings in unseaworthy vessels.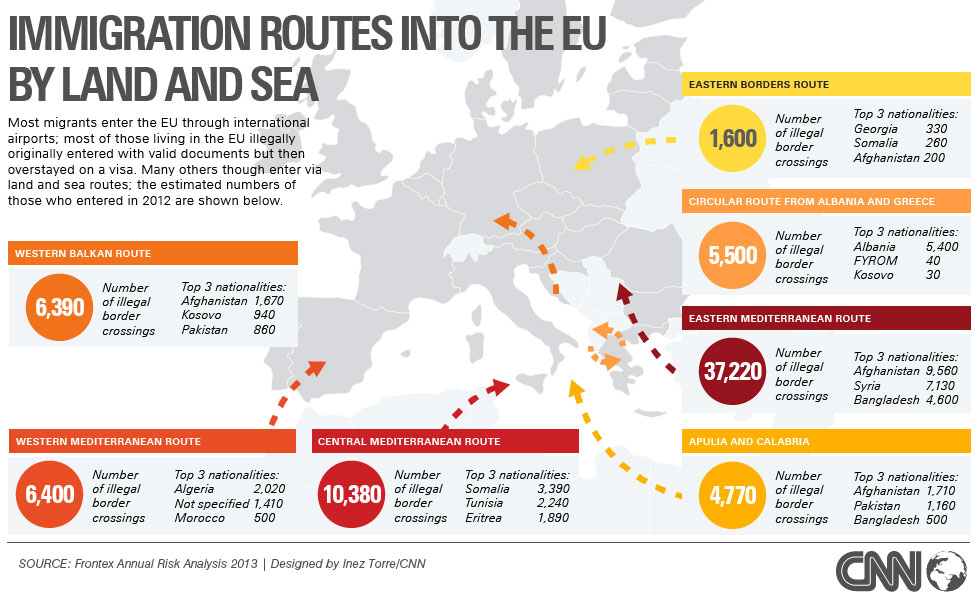 A thought-provoking video here from the BBC which reflects on some of the effects of China's rapid urbanisation programme.
China's government planning to move 100m people from rural areas to cities in the next 10 years, but many Chinese feel abandoned or intimidated by the change.
The process of industrialisation and urbanisation in China is far from complete...
read more...»
Some fascinating footage here of a tidal bore which swept up the Qiantang River in the eastern Zhejiang Province of China in August 2013. No-one was killed but 30 people were injured as crowds gathered to watch the tidal bore.
read more...»
A thought-provoking short video here which follows photographer Carlos Barria as he tries to track down some of the many lost rivers in China. Is climate change to blame or is the main cause the rapid industrialisation of China that has taken over areas that used to be arable land?
read more...»
Friday, November 01, 2013
Kahoot is an easy to use online tool for creating quizzes and surveys. Students respond to the quiz using their own device (laptop, ipad, iphone, andrioid phone or PC) and you can collate the responses centrally on your device.
read more...»
Tuesday, October 29, 2013
Ethiopia has experienced falling crude birth rates in recent years - as seen in the graph from World Data Atlas below - but there is still a significant "unmet need" for family planning in the country. An article from allAfrica explores the various causes and consequences of this gap between supply and demand.
read more...»
The World economic forum looking at the gender Gap between women and men in 2013. Great interactive map below to allow students to examine differences across countries. Countries are scored out of a value of 1 under the 4 categories below and given a positional rank relative to other countries. Good idea to get students to choose 3 countries and consider why differences exist. Here is an example.
The UK is ranked 18th overall with a score of 0.7. The UK achieves a maximum score of 1.0 in the categories of educational attainment and health. Political empowerment of women is the lowest category score (0.3). In terms of Health and survival the UK is ranked 92nd. France is the number one ranked country in this category.
Yemen is the lowest ranked country as women in this country lack many of the political and economic freedoms enjoyed by men. Iceland is the highest ranked country. 40% of the parliament in Iceland are women a much higher representation level than the 22% in the UK and the 2% in The Yemen.
Students can produce their own graphs by using the map below and suggest ways to narrow the Gender gap.
More information on the report can be found at Global Gender Gap
Great video to use as an introduction to a discussion on recycling and our environment.
read more...»
Is pollution the most important environmental issue facing China? Is it China's insatiable demand for energy or minerals? Possibly. However, as this discussion suggests, the answer is probably water.
In the past half-century, China has lost half its rivers. Today, much of China's water is wasted or polluted. In response, China's leadership have focused on trying to increase water supply, investing billions into gargantuan engineering projects to solve its crisis. Much less has been done on the demand side - water is still very cheap in China and little is done to recycle water or penalise water polluters.
The video from The Economist features an excellent analysis of the water problem in China including discussion of potential policy solutions.
read more...»
Monday, October 28, 2013
Anyone who has had to suffer the depressing quality of service and transportation on the UK's Easy Coast line (or any other British railway line for that matter) can be forgiven for weeping when they see this video.
At the start of 2013 China completed the world's longest high-speed rail, linking Beijing to Guangzhou. A journey time that previously took over 22 hours has been reduced to just eight hours.
The line from Beijing to Guangzhou is just part of a stunning programme of infrastructure investment in high-speed rail in China. The current programme (which started in 2007) has China aiming to complete 10,000 miles of high-speed rail connecting all of China's major cities by 2020. The total investment is over $300bn which puts the UK's proposed investment into HS2 into some perspective!
read more...»
This Channel 4 video takes us inside what is claimed to be China's most polluted city - Shinjiazhuang. This city has over 10 million inhabitants. Just take a look at the pollution they have to overcome every day. Why on earth would you place a coal-fired power plant right in the middle of a bustling city?
read more...»
The weather of the last twenty four hours has given a great opportunity to Geography teachers. Students love learning about recent events and always have a lot to say about them. It's even better when they have experienced an event first hand. So baring all that in mind I have put together a lesson activity.
read more...»
Tuesday, October 22, 2013
Great to show the following videos to give students a visual reference of our Atmosphere and its layers.
The first video from BBC The power of the planet -Atmosphere features an English Electric Lightning flying faster than the speed of sound as well as a skydive from the stratosphere.
Video 1
read more...»
Monday, October 21, 2013
11 million people live in the Chinese city of Harbin. But, you might find it hard to see many of them if you decided to venture out for a stroll. In recent days, Harbin, one of the most-polluted cities in China, has been in the grip of a smog which has paralysed the city.
read more...»
There are so many tried and tested revision strategies out there, as well as numerous new tools such as websites and apps that are designed to facilitate effective revision. One that I discovered last year and have since recommended to colleagues is Socrative.
read more...»
Saturday, October 19, 2013
Ten per cent of the world's population live within 100Km of an active volcano.Why?
read more...»
Tuesday, October 15, 2013
Is the Environment Secretary right to brand NGOs against genetically modified food "wicked"? In a strident piece in last Sunday's Independent the case in favour of GM crops gets a passionate airing. NGOs remain unconvinced. What do you think?
read more...»
An interesting starter activity for GCSE Geography on population.
Hand students blank world maps and a sheet with 100 stickmen.
Ask the following question: If we could compress the entire population of the world into 100 keeping the same proportions how many would live on each continent.
Students work in groups to divide out the 100 stickmen and place them on the continents.
How many would live in Asia, Europe, North America, South America, Africa and Oceania.
The map they produce should give the students an idea of population distribution and density on our globe.
Write up their answers and next show the following video.
Now let them explore what 7 billion people looks like on one page.
The final map below shows the 7 billion people on the earth divided into equal 1 billion amounts. For example The Americas and Australia in green make 1 billion so these countries are relatively sparsely populated. Compare this to densely populated areas such as the small area in orange which includes Southern India, Bangladesh and Myanmar.
Monday, October 14, 2013
On 23rd September 25 people were killed by this year's most powerful typhoon as it hit Taiwan, Hong Kong and China.
Below are some activities for teaching this very recent case study for the weather hazards topic.
read more...»
Simulation games are a great way of engaging students, making them participate rather than just listening or observing.
read more...»
Thursday, October 10, 2013
Below is an interesting map on Internet penetration by country.
Map 1: Internet penetration by Country
In the developed world the internet is part of our every day life. Britain and Ireland have over 90% internet penetration among the highest rates in the world. Yet in 2013 only 40% of the world is connected to the internet. The level of internet usage mirrors closely the level of economic development. Oceanic countries Australia and New Zealand have high levels of economic development and are also advanced economies. African nations, India and some South East Asian countries such as Cambodia and Laos which are considered the least developed countries are also the nations with the lowest rates of internet connection.
read more...»
Tuesday, October 08, 2013
Two stunning videos here which help explain the scale and effect of the largest migration of people in history - from rural to urban China.
read more...»
Thursday, October 03, 2013
The Intergovernmental Panel on Climate Change(IPCC) stated with 95% confidence that climate change is a result of human activities particularly our burning of fossil fuels.
read more...»
Friday, September 27, 2013
There was an interesting article in the Telegraph a few weeks ago about 'rowdy boys dominating questions' and suggesting teachers should devise strategies whereby pupils have an equal chance of responding to questions. The articel can be found here. Better questioning is an area that I am personally very interested in I've written a couple of blogs on questioning strategies which can be found here and here.
The article reminded me of a strategy I used to help ensure that all pupils in my Year 7 Geography class had an equal chance of being asked a question in a lesson and is simply called, Bingo Questioning.
At the start of the year, I bought a bingo machine from Argos. There are various ones available and I paid about £6.99 for mine. I then gave all my pupils in the class a number from 1 upwards which they made a note of in their books. The bingo machine has numbers from 1-99 so I removed the numbers that didnt have pupils associated with them. Then, at the end of the lesson when I was carrying out the plenary I would use the bingo machine to select the pupils to respond to questions. This made sure that all pupils had an equal chance of responding and also allowed me to differentiate my approach by ensuring my questions matched the ability of the pupil.
I also found that students loved the bingo machine as they didnt feel as though I was singling them out.
Of course, you could simply put numbers in a bag but the bingo machine adds an element of novelty to the lesson as well as adding a bit of theatre.
Tuesday, September 24, 2013
It is likely that the Arctic will be ice free within 20 years.
read more...»
Wednesday, September 18, 2013
A superb blog entry here from the World Bank data blog which provides some fascinating statistics on the world's water supply.
The 7 insights provided alongside supporting illustrations and infographics are that:
Water covers 70% of the Earth, but it's only 1/1000th of the Earth's volume
97.5% of the world's water is saltwater, just 2.5% is freshwater
There are about 6 olympic swimming pools of accessible freshwater per person
Latin America has 5-times as much freshwater per capita as East Asia
Less than 50% of Sub-Saharan Africa's rural population have access to an improved water source
70% of the world's withdrawn freshwater is used for agriculture
Inadequate water supply and sanitation results in $260 billion of global economic losses annually
Tuesday, September 17, 2013
Will the introduction of a plastic bag tax have a positive impact on the environment in England? Shoppers in England will be charged 5p for plastic bags in stores starting in Autumn 2015.
read more...»
Thursday, September 12, 2013
The discovery of a giant aquifer called Lotikipi in Kenya has potentially great benefits if managed in a sustainable way.
A fantastic article on what the discovery means for Kenya is available on the ITV website here. The story is also covered well here in the New York Times.
read more...»
Tuesday, September 03, 2013
tutor2u is recruiting Geography teachers to contribute to our growing subject blog.
We are looking for enthusiastic and talented Geography teachers who can help us provide support and resources for KS3, GCSE and A Level.
Our aim is to build a team of contributors ranging from those who are newly qualified through to experienced teachers who also have examining expertise.
Our subject blog is designed to provide a broad range of teaching & learning resources and support for Geography teachers and students. For example, blog entries might focus on a relevant news item, an approach which has worked well in the classroom or some advice on exam technique. The choice is yours! What would you like to read on a topical Geography blog?
If you've got some great ideas and love Geography, we'd like you to join the team.
To apply, please complete this brief form (including a short sample blog). Our team will review your application as soon as possible.
Each successful applicant will be offered the position of Subject Blogger and will be paid a contributor fee of £750 per year together with other benefits associated with being part of the tutor2u team. Our expectation is that each Subject Blogger will contribute at least 50 blogs per year.
Each Subject Blogger will be provided with lots of encouragement and support about how to blog!
Saturday, August 31, 2013
A economist's view of the role of cities here with some relevance for geography too! What factors now encourage and support a growing, thriving city? Why has Detroit declined so spectacularly? Which cities are benefiting from ideas-based industries? How has the changing pattern of international trade affected which cities thrive and which suffer?
read more...»
Friday, August 30, 2013
100,000 people work at Canary Wharf but only 10% of those jobs are taken by residents of Tower Hamlets, the relatively deprived borough of London next door to the booming financial complex.
So does the local community benefit from having Canary Wharf on the doorstep? Outreach programmes to schools and skills training appear to be making more effective connections between the financial institutions and local community, promoting the employment opportunities there.
read more...»
Over the last two decades, Portugal has invested heavily in building an extensive motorway network, particularly to connect north with south. Much of this investment has been funded by generous grants by the European Union (EU). However, many miles of these modern motorways now resemble ghost roads as the economic crisis gripping Portugal, coupled with additional tolls, have discouraged vehicle travel.
read more...»
Saturday, August 24, 2013
Recent population analysis published by the ONS suggests that Britain's fast-growing population is significantly linked to a baby boom! This Sky News article highlights the key findings from the ONS.
Overall, the UK population in the year to July 2012 by 420,000 compared with 2011. About 60% of that growth was accounted for by a higher birth rate than death rate. There were 254,000 more births than deaths over the year and 165,600 more international migrants arriving than emigrants leaving.
read more...»
Thursday, August 22, 2013
This GCSE revision quiz tests knowledge and understanding of glaciation covering questions such as:
Crevasses are…
The last ice age began around…
What are Ribbon Lakes?
What type of power is generated in the Pyrenees?
Roughly how many people visit the Athabasca Glacier each year?
What has the Jasper National Park in Canada been designated?
Launch GCSE Geography revision quiz on glaciation
This GCSE geography quiz looks at the topic of renewable energy and asks questions such as:
How is wind energy harvested?
What does HEP stand for?
Geothermal energy uses what to heat up the water?
What does hydroelectric power use to produce energy?
Launch the GCSE Geography revision quiz on renewable energy