---
Friday, January 03, 2014
For those that wanted to spend New Year's Eve enjoying a memorable meal at the iconic location of Times Square, NYC will surely have understood that such an experience would not come cheap, but to have to stump up $1,095 for the TGI Friday's experience...you'd have to be a real fan of that kind of fast food. But hang on a minute, I hear you ask, what did you get for your money?
read more...»
Sunday, June 02, 2013
Well according to the graphic below in the WSJ, it looks like they are, ceteris paribus. In economics, if there is a direct relationship between the change in price of one good and the change in quantity demanded of another, these goods are substitute goods. In this case, we can see that as the price of beef rises the quantity of chicken and pork demanded also rises.
read more...»
Friday, May 24, 2013
Global Warming is happening - but is it having a negative economic consequence?
Dr Lomborg's website has some very interesting views about the need to tackle climate change

read more...»
Sunday, April 07, 2013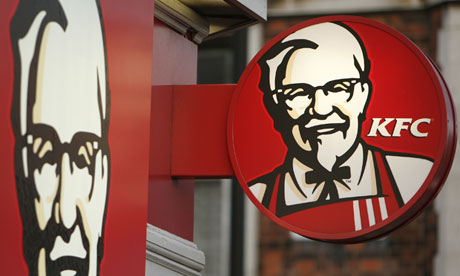 Good example of an inferior good here as KFC are opening more restaurants in response to increased demand for their food in these difficult economic times. As people find themselves with less disposable income, they opt for fast food treats rather than a la carte restaurant menus. Good news for KFC, UK job seekers and Economics students as we have a great example of an inferior good - one where demand rises as incomes fall.
"Low-cost fast food restaurants have been prospering, despite the economic slowdown. McDonalds has reported improving sales in the UK and Domino's pizza delivery service recently reported a 10% improvement in annual profits despite sales growth slowing due to January store closures caused by bad weather."

Thursday, October 04, 2012
Great BBC video here looking at some of the concepts already covered thus far in the year 11 GCSE course. After watching the video pupils could attempt the comprehension questions below.

read more...»
Saturday, September 08, 2012
Great article here from The Guardian covering the recent price changes in lots of products.
read more...»
Thursday, May 24, 2012
Sales of dry shampoo have rocketed in the past year. Sales have risen by 140% year on year, and research by industry analysts Mintel found 23% of women and 13% of men own a bottle. It is especially popular among younger women, with nearly four in ten of those aged 16 to 24 using it
So why is there such a big increase in demand for this product?
read more...»
Monday, May 21, 2012
When introducing pupils to this topic and looking for examples of free and economic goods, water often comes up as an example of a free good. Well, below (and found here) is an excellent image which illustrates the true scarcity of fresh water as the sphere represents all available water in comparision to the size of the earth.
read more...»
Saturday, May 19, 2012
I've just seen a great piece of topical demand and supply in action today. Just in case you've missed it on the news, the Olympic torch arrived in the UK and embarked on a 70-day tour in the run-up to the London 2012 games.
read more...»
Thursday, May 17, 2012
I don't want to overhype this but the Grocer magazine is brilliant for interesting business and economics articles. Some articles require a subscription but it might be worth it for interesting lesson starters.
Here is a fantastic article for debating the introduction of a fat tax to reduce health issues in the UK. I am going to use De Bono's thinking hats activity to debate this topic in class.
One group will wear the red hat meaning they have to go on their gut reaction and not read the article.
White Hat – This group will use the data to back up all of their opinions and look for more data to make a decision. (More data could be provided)
Black hat – They get to think of all of the negative aspects of a fat tax.
Yellow hat – Only positives of an introduction of a fat tax will be discussed by this group.
Green hat – The final group will try to look for alternative methods of solving the problem.
Finally the groups will present their finding and a good class discuss should follow. This would be a perfect activity for year 10's at the end of term or for a longer project style activity for returning year 12 students after their exams.
A farmer friend of mine recommended subscribing to the Grocer magazine for Business Studies stories and I am delighted to say that it has some fantastic articles for use in both economics and business classes. This example is perfect for a supply and demand lesson. It seems customers cereal tastes have changed with old favourites such as rice krispies loosing 11.8% of sales.

A great starter for a supply and demand lesson would be to get students to read the article and find as many reasons for the drop in sales as possible.
Wednesday, May 16, 2012
The BBCs economy tracker has been updated with the latest unemployment figures. This is a great resource to use in the classroom. Click here to go to it.
Particularly great for revision, students will be able to see what has happened to unemployment over time and also read about unemployment.
Hotels at Euro 2012 are increasing their prices by as much as 1000% with some pretty shoddy rooms going for over £800. Students could try to show this using a demand and supply diagram. The most able students might also be able to talk about how the elasticity of demand and supply has caused the prices to increase so much.
For an even more advanced student, you could ask whether the government setting a maximum price for hotel rooms would have solved this problem or just caused more issues
Another great video for revision. This one looks at why some firms are coming back to the UK to manufacture. It could also be a good one to do economics bingo with!
Click here to watch the video.
Tuesday, May 15, 2012
An American town has been so annoyed by people texting whilst walking that it has decided to fine anyone caught doing so. This is a perfect example for negative externalities
Students could read the article and discuss the following points
1. What are the negative externalities of texting whilst walking?
2. Do you think a fine will be successful in reducing the number of people texting whilst walking
3. Discuss the possible effectiveness of other solutions to the problem
Monday, May 14, 2012
Another great revision story this time on minimum prices. The Scottish Government has announced it wants to set a minimum price of 50p per unit of alcohol.
This will ensure that a standard bottle of wine at 12.5% volume is set at a minimum of £4.69 in Scotland. Compare this to the price of a similar bottle costing £3.49 in England.
A 70cl bottle of whisky at 40% will cost no less than £14 - while you can pick up a bottle in England for just over £10.
read more...»
Saturday, May 12, 2012
The BBC have produced another great short video that could be used for revision. Here they look at the effects of a strong pound.
Don't forget the great mnemonic for remember the effects of a strong pound:
read more...»
Here is a great sort video for revision from Business Basic that explains about interest rates.
Click here

Friday, May 11, 2012
Sales of bicycles are forecast to reach an all-time high this year. The reason is that we are gearing up for a summer of watching cycling champions Victoria Pendleton, Mark Cavendish and Sir Chris Hoy in action. Analysts at Mintel predict that bike sales will grow by 8 per cent on 2011 to £700million this year, rising to £800million by 2016.
Another great one for students to practice their diagram drawing and explanation writing.
read more...»
Here is a great story on how firms compete. Apple is planning to launch an assault against the Android tablet market by releasing an 'iPad Mini' - at a loss-making price of around £150, new claims suggest.
read more...»
After watching the video below answer the following questions:
read more...»
Wednesday, May 09, 2012
A great demand and supply in action story as your Year 11 students revise. The price of potatoes is set to rise due to the weather. The wet weather is delaying planting and slowing down harvests. The rains and floods have delayed main crop planting, with total plantings currently estimated to run to just over 70,000 hectares compared with almost 100,000 hectares this time last year.
Favourable weather in 2011 had led to unusually large crops across western Europe, which had kept prices down.
Using this information you could get your students to draw 2 diagrams one for 2011 and one for 2012.

read more...»
This is a great piece of data to help you look at cost of living and the North/South divide.
read more...»
Tuesday, May 08, 2012
After a small break I'm back doing the blogs for GCSE Economics so expect more to come through this term. I'm aiming to increase the number of blogs that provide a longer activity for a lesson.
One of my favourite activities on the business studies blog is the video case study so I'm going to start with that.
Baskin-Robbins the world largest ice-cream parlour chain is set to double the number of stores in the UK over the next three years. This video could be used for a number of topics but I will use it for income elasticity of demand. Also for business teachers this is a great topic for franchising.
Possible case study questions
For income elasticity of demand
1.Define income elasticity of demand (2)
2.Using the concept of income elasticity of demand explain why the owner of Baskin-Robbins sees his product as recession proof (4)
For franchising
1.Explain one disadvantage from the video of becoming a franchisee (2)
2.Explain why a franchisee may be attracted to Baskin-Robbins (2)
3.Explain one reason from the video why Baskin-Robbins may not be sucessful in the UK (2)
Thursday, April 19, 2012
After watching this BBC video and using the demand shifters PACIFICS and supply shifters PINTSWC, can you explain what is happening to the market for bulletproofing kit in Brazil?
Wednesday, April 18, 2012
The economic downturn seems to have caused a surge in demand for rice pudding. In the past year Muller Rice sales have grown 4% to £57.4million, data showed.
Muller put this increase down to advertising and encouraging shoppers to reappraise the brand. but other makers of pot desserts, such as Rachel's, Tideford Organics and Yeo Valley, have also seen good growth.
read more...»
Tuesday, April 17, 2012
A greater starter for some revision on unemployment here:
10 worst cities for unemployment
Sunday, March 18, 2012
Good example here of how the rising price of one good can increase the demand for (and in this case, the theft of!) another i.e. they are substitute goods (S in the acronym PASIFIC).
read more...»
Saturday, March 17, 2012
This week sees the launch of the latest IPad to scenes of overnight queues and fanfares from Apple.
read more...»
Wednesday, March 14, 2012
How much would you pay for this?

read more...»
Tuesday, March 13, 2012
Here is a great video as a starter for a supply lesson. Experts are warning an EU ban on battery hen cages could cause the price off eggs to sky rocket. Can your students draw a diagram to explain this?
A great piece of data to test your students on data description. It will also lead quite nicely in to a number of topics for revision.
read more...»
The constituent parts of the basket that makes up the measure for CPI & RPI inflation is being updated to reflect changes in trends.
read more...»
Monday, March 12, 2012
After a 7 year battle the WTO has now ruled that Boeing received illegal subsidies from the US Government
read more...»
Monday, March 05, 2012
An increase of up to 20p on a dozen eggs is likely amid shortages across Britain and Europe.
Supplies have been hit by a combination of the ban on cruel battery cages, which came into effect in January, and rising costs for free-range producers.
The wholesale price for a dozen of the cheapest large eggs has more than doubled in the past year from 45p to 97p, while the figure for medium is up from 40p to 83p.

Thursday, March 01, 2012
Some great data here on the changing market share in the supermarket sector.


Following on from this data you could ask students to think of ways which Tesco could try to gain this lost market share back.
Wednesday, February 29, 2012
A great little video to get students thinking about what products are likely to do well in a downturn and what might not.
Here is one of my favourite starters. Can your pupils guess the economics news stories from the pictures? I will be uploading a new one each week. Use the links for more detailed information about the stories.
Economics_in_the_News_29-02-12.ppt
This website has to be one of the best I´ve come across, great for making country comparisons. Data exists from 1950 and predicts age distributions to 2050…and brownie points for anyone who can come up with valid reasons for Kuwait´s strange "pyramid" shape below.
read more...»
Sunday, February 19, 2012
A great demand and supply in action story to start the new half term off. The sales of shoe polish have risen 32% in the last year. One reason for this increase is the poor state of the economy. People are really looking after what they have. If you have a £150 pair of shoes, rather than scuff them to hell and get a new pair, they are cherishing them."
It's the same phenomenon that saw Timpsons enjoy booming sales as people got their shoes re-soled in the recession, and sales of darning equipment increased at John Lewis.
read more...»
Sunday, February 05, 2012
A highlight of the year for many sports fans, the Superbowl presents advertisers with a unique opportunity to reach over 110 million captive viewers.
read more...»
Thursday, February 02, 2012
Over the past year Superdrug have seen nail polish sales rise by 37 %. L'Oreal's nail polish sales were up 24%, double the increase in lipstick and lipgloss sales.
'We live in an image-obsessed world and nail varnish has become the ultimate accessory. Women want a quick and affordable way to get the latest look. A new varnish provides an expression of individuality and the same buzz as a new outfit for 10 per cent of the cost.'

read more...»
Wednesday, February 01, 2012
The world of work has fundamentally; more part time and flexible working hours. However this is not a change which is making many of us happy, according to the Chartered Institute of Personnel and Development.
A report, published today, examines working life in 1952 – and what it is like for workers in this country 60 years later.
read more...»
Tuesday, January 31, 2012
Tesco's market share has fallen below 30% for the first time in 7 years. This time last year Tesco commanded a 30.5% market share.
Sainsbury's and Iceland both saw their market shares rise.

read more...»
Monday, January 23, 2012
This is a great short video on the widening gap between UK cities. Lots of key terms for your budding economists to listen to.

Friday, January 20, 2012
What cost $10 in 1937 and would now set you back $1 million?
read more...»
For those of us eagerly awaiting the release of the Case Study for OCR GCSE Economics Unit 593, the topic of globalisation provides a nice stepping stone to the more challenging material. Data out this week from the Society of Motor Manufacturers and Traders gives an insight into the motor industry and shows an increase of 5.8% in production by Britain's car assembly plants.
read more...»
Interesting figures released today by the Office for National Statistics show that retail sales, excluding fuel, grew 0.6% in December 2011 compared with November 2011. These figures represented a 1.7% increase from December 2010. This seems to paint a rosy picture.
read more...»
It has been suggested in a new report that Skegness should change its name to boost demand in the ailing resort. This links really well with fashion and trends in demand. Skegness has become less popular with the rise of the package holiday (substitute) and younger people seeing Skegness as a less desirable place to go on holiday.
read more...»
Thursday, January 19, 2012
Here is a great graph for using with your students to do a delicious data question.
read more...»
Wednesday, January 18, 2012
Just watching the news and I heard a great statistic that you could use with your students this week. For every job vacancy in the UK there are 5.8 unemployed people. Five years ago this figure was 2.8.
The staycation became the answer to recession blues. It was cheaper to stay here in the UK than go abroad at a time when real incomes were falling.
The cost of taking a holiday in the UK is the highest in Europe, given the price of accommodation, food, attractions and petrol.
read more...»
According to official figures, house prices declined in all areas of Britain except London, East Midlands and the North East over the last year.
House prices in Britain fell by 0.3 per cent on average in the year to November 2011.
read more...»
Tuesday, January 17, 2012
read more...»
Figures released today show that inflation has fallen to 4.2% in December. Many retailers, in particular the supermarkets launched heavy tactics to ensure sales in the run up to Christmas.
A supermarket price war broke out after Tesco announced a £500 million price-cutting campaign, Asda guaranteed to be 10% cheaper than its rivals and Sainsbury's launched its own brand price matching scheme.
read more...»
Sunday, January 15, 2012
The recent recession has led to a surge in demand for fast food. This means that 50.4% of all meals eaten out of the home are now at a so-called quick service restaurant, up from 47.3% just two years ago. The term quick service restaurant is used by the industry to describe any outlet where the consumer queues to buy take-away food so includes coffee shops.
read more...»
Monday, January 09, 2012
Some really interesting data here on global house prices.
It shows that the UK is ranked 30th in terms of how house prices have changed in quarter 3 of 2011.

read more...»
The Guardian has done it again with a brilliant interactive guide to the winners and losers on the high street this Christmas.
Here are some interesting widgets that you could get your website administrator to put on your economics page of the school website. This site has a widget for US national debt and this one shows UK national debt.
Sunday, January 08, 2012
A great article here for students to get to grips with what real terms is. Comparing the grocery shop today with what it would have cost in1862 shows that A Victorian shopper would have needed £1,254.17 in real terms to fill their weekly basket with a selected range of food, drink and house-hold items, compared with £93.95 today.
read more...»
Wednesday, January 04, 2012
A great demand and supply in action story to start the year off. Oil prices have risen by 4%. The cost of Brent crude jumped $4 a barrel to $111.4 by yesterday. The reason is the tensions between Iran and the US.
read more...»
Tuesday, January 03, 2012
This video clip is more of a business one but still great for Economists as well. Deborah Meaden on BBC news this morning talking about entrepreneurs and starting a business.
Click here to see the video
Thursday, December 15, 2011

With the news yesterday that unemployment has once again risen there is a huge number of useful articles to use with our students.
First of all here is a great short video.
read more...»
Wednesday, December 14, 2011
Another great set of interactive graphs here. This set allows you to compare all EU countries deficits, GDP, debt and unemployment. Not only is this great for starting up some discussion but also could be used for some delicious data questions.
Here is a great interactive graphic from the BBC to show the best and worst case scenarios for the EU. A good resource to be using at the end of term!
Tuesday, December 13, 2011
It can be quite hard for students to understand the European debt crisis. This interactive graphic from the Telegraph is great for showing students.
Here is a great demand and supply in action story to get students practising their diagrams and explaining them.
The price of chocolate is set to soar over the next decade. This is due to a worldwide shortage of cocoa beans.
In addition growing taste for cocoa in China, rising demand for dark chocolate and an awareness of its health benefits are forcing up demand.

read more...»
Thursday, December 08, 2011
Sticking with the unemployment theme, this article would be useful for explaining structural unemployment. Many businesses are complaining they need workers but they are finding it hard to find suitably skilled staff. After reading the article students could discuss ways in which the government could reduce this type of unemployment.
Here is a video to show season employment. Before showing the video I asked my class to think of companies that only require extra workers at Christmas.
Thursday, December 01, 2011
British people rate their life satisfaction as 7.4 out 10 in the new flagship happiness survey. The poll of 4,200 adults was carried out by the Office for National Statistics (ONS).
read more...»
This is Business Studies but it would make an interesting starter for a lesson on recruitment. GCHQ has released a matrix style code which visitors of the site are given 7 hours to crack. Anyone successfully unearthing the word will be directed to the GCHQ recruitment website. This is a clever way of ensuring they are targeting the right potential employees. Can anyone in your class crack the code!
Monday, November 28, 2011
What does Call of Duty have in common with a four-pint bottle of milk?
read more...»
For all of the delegates at the TEBBLE conferences this year I thought I'd give an update on the state of my classroom walls.
read more...»
Here is a good example of supply and demand in action from Australia where despite having a reputation as beer lovers, demand for the drink has slumped to a 60 year low. I am going to ask my class to discuss what the cause of this could be and draw a diagram to show how it might affect prices of beer.
Sunday, November 27, 2011
Heston Blumenthal's Hidden Orange Christmas pudding is expected to sell out once again at Waitrose as the last few reach the shops next week.
read more...»
Thursday, November 24, 2011
According to new research from the Bank of England young people should be prepared to rent until the age of 44. A leading member of the Bank said homeownership in Britain is set to fall sharply and the number of people forced to rent will rise. Homeownership has fallen from 70.9% in 2003 to 67.4% today with the rest of people renting.
read more...»
Wednesday, November 23, 2011
Another great interactive guide from the Guardian. This one is comparing Britain and Germany in terms of who is better off.
This could be a great starter activity, getting students involved.
This is a great tax calculator from the BBC. You could make up some fictitious households for your students to compare. A great tool to look at tax and benefits in the UK. There is also a short video to introduce the topic.
Friday, November 18, 2011
Some great interactive data from the BBC on who owes who and how much. A great way to show GCSE (and A Level) students.
Wednesday, November 16, 2011
Great graph here showing UK GDP growth between 2007 and 2011.

read more...»
Tuesday, November 15, 2011
I showed my class this really good short video on inflation this morning. It is great as a recap or a starter on inflation. Lots of the key points students need to know are in there.
read more...»
Monday, November 14, 2011
Last week I blogged about the prospect of increasing petrol prices. I have just found some useful information on the breakdown of the price at the pump. This would be really useful for teaching indirect taxes.
read more...»
The cost of the Christmas turkey could be as much as 25% higher this year. As a result you will pay about £50 for an average 12lb turkey, up from £40 last year.
read more...»
Sunday, November 13, 2011
The graphic below is a great way to help to explain to students about costs of production and value added. The iPhone 4S costs £499 in the shops. However you may be surprised to hear that the total cost of producing it is £112.89.
read more...»
Friday, November 11, 2011
When I teach the cures of market failure I always say LETS intervene. This means governments could legislate, educate, tax or subsidise to reduce the market failure. This video shows a great example of the Australian government using legislation to reduce consumption of cigarettes which are a demerit good. Do your class think this is a good solution or can they think of anything better?
A great graphic here on growth rates in the UK, Germany, France and the EU as a whole.
read more...»
Wednesday, November 09, 2011
The Treasury is scrapping an exemption on VAT for goods valued at less than £15 dispatched from the Channel Islands
read more...»
Monday, November 07, 2011
It seems that Christmas festivities start earlier and earlier each year, so this mnemonic is rather fitting at the beginning of November.
This is a great one for remembering cross price elasticity.
read more...»
News coming in today suggests that we are going to see prices at the petrol pumps rise considerably over the next few years. The reason behind this will be increasing demand from the fast growing Asian economies.
read more...»
Friday, November 04, 2011
I am sure many of us have had students coming and asking what quantative easing is. Here is a great short clip explaining it.

Thursday, November 03, 2011
Fuel prices have risen by an eye watering 49% in the last two years. Experts are predicting prices to go up another 10p next year. It begs the question - when will fuel price increases ever stop?
Data found that the cheapest region for petrol is Yorkshire and the Humberside, with the average price 132p per litre.
Whereas the most expensive area for petrol is London and the South East, with an average price of 137p per litre.
read more...»
Wednesday, November 02, 2011
This may have happened to you recently. A student asks you what caused the crisis in Europe and you try to explain but fail to make it sound particularly interesting. This quick animation from the BBC is much better at explaining the situation than me and would be a great starter for any lesson this week.
Monday, October 31, 2011
This weeks mnemonic hopefully will help students remember the factors which cause the supply curve to shift. PINTSWC
read more...»
Tuesday, October 25, 2011
On Monday we looked at the mnemonic for remembering the factors that cause the demand curve to shift. This story nicely illustrates the fashion and trends factor.
Here are the top 12 toys for this Christmas.
read more...»
Monday, October 24, 2011
So as we all embark on teaching demand and supply I thought it would be a good idea to remind ourselves of the useful mnemonics for this topic.
This week we will look at the factors which cause the demand curve to shift.
read more...»
Tuesday, October 18, 2011
The updated inflation interactive guide is here. Following the announcement earlier today that inflation has jumped to 5.2%. The interactive guide is a great way for students to get an idea of what has been going on with inflation since 2006.
Wednesday, October 12, 2011
We are expecting demand for goods and services to be dropping as the economic outlook worsens. Not so says Burberry, makers of expensive luxury items such as the trench coat and handbags. They have seen revenues rise 30% in the six months to September 30th.
read more...»
Thursday, October 06, 2011
Here is a nice example for supply and demand. Greggs have managed to fight the recession with one very successful product, the superstar doughnut. You have a choice of strawberry milkshake, triple choc vanilla, jaffa cake or coconut snowball doughnut, personally I'd have the jaffa cake.
Demand has shot up for the product due to a very successful advertising campaign aimed at Greggs 280,000 Facebook fans.
Wednesday, September 21, 2011
1,200 people queued to get their hands on a fish and chip takeaway meal for just £1. Fosters Fish and Chips shop in Didsbury, Manchester, was offering the special promotion to celebrate its first birthday.
And the £4.75 savings on the usual price appeared to be reason enough for 1,200 customers to wait hours in line.

read more...»
Monday, September 19, 2011
The recent hurricane on the East Coast of America has seriously affected the crop of pumpkins ahead of Halloween. The US is facing a shortage this year after Hurricane Irene destroyed hundreds of pumpkin patches across the region.
Wholesale prices have doubled in some places as farmers nurse their surviving pumpkin plants toward a late harvest.

read more...»
Friday, September 09, 2011
When a pound shop appears across the road there are a number of strategies that you could use to compete. Stocking better quality products or employing a more knowledgeable staff would be obvious options. Less obvious would be to try and compete on price. Do your students think this is a viable strategy?
Thursday, September 08, 2011
Liverpool, Nottingham and Glasgow have found themselves, for the second year running, with the highest level of households where no-one is in work. Liverpool and Glasgow the figures actually fell in the past year from 32.1% and 31.1% to 31.9% and 30.7%. However in Nottingham it increased from 31.3% to 31.6%.
read more...»
Monday, September 05, 2011
A new school year and I'm starting with a bit of a controversial blog. With the Eurozone in crisis Germany are looking to increase their tax income by targeting a previously tax dodging industry. This video is a great starter for any lesson on tax.
In an effort to maintain profit margins as the price of commodities rise Cadbury are cutting the number of chocolates in their tins of Roses and Heroes but keeping the price the same.
The weight of a tin of Roses is to be reduced from 975g to 850g. This means 11 fewer chocolates.

read more...»
Saturday, August 27, 2011
As we all start to think about the start of term here is a good graphic that could be used for a starter lesson for getting the students to start thinking about macroeconomics.

read more...»
Tuesday, August 23, 2011
Food and the proportion of income spent on it is a common theme in GCSE Economics often showing up in the multiple choice paper. Generally speaking the lower your income the higher the proportion of your income is spent on food. Below is a great infographic looking at the percentage of people's total expenditures spent on food in the countries of the world (source: civileats) Unsurprisingly, the more developed the country, a smaller proportion of their income is spent on food.
read more...»
Friday, July 22, 2011
This unemployment map would make a greater starter for a discussion on consequences of unemployment. It shows a real North-South divide opening up.
read more...»
Thursday, July 21, 2011
The Competition Commission have given the green light for Thomas Cook and the Co-op Travel Agent to merge. This merger will create the largest travel agents in the UK. Prior to the merger these two companies have been two of the three largest firms in this market.

read more...»
Wednesday, July 20, 2011
Normal service now resumes. Having finished marking lots of great GCSE papers I am done for another year!
So I am sure we have all noticed the price of our weekly shop is constantly rising. I was shocked when I got to the till at Tesco this week!
Well it seems that the squeeze on our incomes in pushing people towards shopping at discount shops like Aldi.

read more...»
Thursday, July 07, 2011
Look at this for a great supply side policy from Brazil. One of the biggest slums in Rio is now home to a 3.5 km cable car system. It aims to transport residents quickly into the city, saving them hours of journey time as they avoid steep and narrow roads. Hopefully this will improve the productivity of the workers shifting the countries PPF outwards.
The number of private renters in the housing market has increased by 1 million since 2005. The number of owner-occupied houses has fallen in this period. The data below would make a good delicious data piece:

read more...»
Another great piece of data on the rising food prices. The data below may require greater teacher input because the price rises are expressed in indices but it could be a great exercise to help students understand indices.

read more...»
Monday, July 04, 2011
Here is an interesting supply and demand example. Did you know smart phones contain 'rare earth' minerals which are vital for them to work? I didn't, but it turns out that these minerals were becoming scarce with China (who have 97% of the total supply) restricting supply, possibly to increase prices.
Well panic over because a Japanese company have found huge deposits of the minerals on the floor of the Pacific which could increase the known deposits by 1000 times. How would this look on a demand and supply diagram?
Friday, July 01, 2011
Firms should employ more Britons.
This would make a great discussion, especially towards the end of term. Add to it a great short video from the BBC on this topic. This could be a starter or a main course depending on your students.
Friday, June 24, 2011
If you are exploring complementary goods in economics, and also introducing USPs in business studies, these short video clips may highlight Waitrose's attempts to market their own brands and their Cookery School. It can also be used to explore ideas about non-price competition between supermarkets. A discussion could include comparision of business pricing strategies: viz. high sales, low volumes versus lower volumes with a higher margin per unit sold.
There is also some added value for the pupils, learning how to prepare, cost and price a simple meal.
Thursday, June 23, 2011
First of all sorry for the lack of blogs this month, exam marking has reared its ugly head and taken over my life again.
Even so I saw this video and thought it is so important that I should post it. One of the most important factors for long answer questions at GCSE or A level is evaluation. Here is a fantastic one for how a reduction in the base rate may not have as big an effect on demand.
You would normally say a reduction in the base rate will reduce people's mortgage interest repayments so they will have more disposable income which could lead to an increase in consumption shifting the AD curve to the right. Here is a great however...
Saturday, June 18, 2011
Strawberries and now raspberries have arrived into the shops extraordinarily early this year and the fruit itself has been larger, sweeter and juicier than any we have had in years.
This glut is a result of an unusually early spring and, essentially, good pollination.
Growers are fully expecting to outdo the 9,000 tonnes of raspberries sold last year, according to British Summer Fruits.

read more...»
So you have booked your holiday, excited about going, you have your spending money all sorted but there is a problem….... how far will it go?
Exchange rates have had a huge impact on peoples spending power when they go abroad on holiday. The weak pound has been welcomed by exporters but holiday makers do not like it. To explain this I am going to use one of my favourite and longest serving mnemonics - WIDEC.
read more...»
Some good data here on projected growth rates for China, EU, UK and Germany.


Great for a data comparison style question, such as:
read more...»
Wednesday, June 15, 2011
For all students studying international Economics this interactive data from the BBC is fantastic. You can compare GDP and income statistics with life expectancy, education, energy and health for a number of Asian countries.
This is a must for all GCSE students and even students studying standard of living at A Level.
Friday, June 10, 2011
Croatia is going to be the 28th country to enter the European Union. This likely to happen in 2013.
Click here to see a profile of Croatia.
This is particularly useful for those students taking the global ad international paper for GCSE.
Wednesday, June 08, 2011
Food prices have hit a two year high putting a big strain on family incomes. I have certainly noticed in the past 6 months my weekly food bill is rising almost week by week, even though I am buying the same things!
With the price of petrol, insurance and energy also rising alongside wage freezes in some sectors, families are facing a very tough balancing act.
read more...»
Monday, June 06, 2011
We have all seen the constantly increasing price of petrol in recent times. So you will not be surprised to hear that the increasing cost of petrol is one of the main factors causing the cost of running a car to jump by 20%. In addition insurance premiums have risen significantly.

read more...»
Friday, May 27, 2011
The earthquake in Japan has caused a shortage of cars in American dealerships. This would be a great video for introducing the effect of a reduction in supply on prices.
Official tickets for the 2011 Champions League final tomorrow cost between £80 and £300 but as usual the black market price is much higher. After watching the video, can your pupils draw a diagram that shows how this situation would look on a demand and supply diagram? A similar question has come up in an OCR past paper with a perfectly inelastic supply curve and a maximum price line
Thursday, May 26, 2011
This year I bought my first ever car. I absolutely love it, comments about it being a hairdressers car have not impact on me whatsoever but I am starting to wish it didn't use up so much petrol.
Maybe I would have bought a more sensible car if the UK had fuel economy labels like the ones being introduced in the US.
As large gas guzzling cars are demerit goods, this example could be used in a lesson to show how providing information to customers about the negative externalities of their purchase could reduce the consumption of demerit goods.
Tuesday, May 24, 2011
As a mum of small children I know all about Peppa Pig! For those that do not know, Peppa is a cartoon character who loves jumping in muddy puddles. Peppa has become big business not only is it a favourite on TV for many young children but there is a huge array of merchandise that can be bought. According to the latest industry figures, Peppa is now the fourth-highest selling character toy in Britain – ahead of Thomas the Tank Engine and Fireman Sam.

read more...»
Monday, May 23, 2011
Here is a nice video to use when explaining how large companies can benefit from technological economies of scale allowing their cost per unit to reduce. It takes you through all of the stages of making crisps, not surprisingly everything is done by machines. It could also be used for a lesson on how companies are trying to become more energy efficient.
read more...»
Thursday, May 19, 2011
Japan is braced for a summer of electricity shortages after the earthquake and tsunami. This has caused demand for energy efficient gadgets to shoot through the roof with eco-friendly fridges and energy efficient LED lights selling well. On the down side companies are cutting down on the use of electricity with lights being turned off and electric toilet seats unplugged
This video would be a really interesting starter to any lesson; I'm going to use it in PSHE with my year 7's tomorrow to discuss how dependent we have become on electricity.
Here is some absolute gold for discussing how governments can reduce the use of demerit goods. In Iraq (a country that possibly has bigger fish to fry) they are talking about banning smoking in all public areas. Apparently cigarettes cost as little as 33 cents and kill more people than terrorists. What do your students think of this idea?
Wednesday, May 18, 2011
The recent economic crisis has apparently made us all reach for the chocolate digestive. Sales of traditional favourite biscuits have been on the rise in the last year. The total market is up by 22 per cent over the past five years to some £2.2billion.
It is not just biscuits that have seen a rise in consumption due to the economic crisis, other comfort foods like sausage rolls and meat pies have also seen a rise in demand.

read more...»
Tuesday, May 17, 2011
Figures released today show that the CPI has risen to 4.5% in April. This is a larger than expected rise.


Click here for a great short video.
And for those students working on their revision ahead of their exams the BBC have produced a great short article "Inflation explained"
read more...»
Monday, May 16, 2011
Another great demand and supply in action to help you revise. The afternoon of the Royal wedding Debenhams saw sales of fake tan rise by 219% compared with the same day last year. It would seem that people saw the wonderful glow of Kate and Pippa Middleton and wanted to be like them - F in PASIFIC.

read more...»
Sunday, May 15, 2011
Here is a great set of data on the Eurozone crisis from the BBC. Graphs showing the budget deficits, GDP, unemployment and debt in the Eurozone countries and the UK. This is great for setting practice data questions and revision of some key topics.
Tuesday, May 10, 2011
Another great demand and supply in action story to help you revise. Here we see the weather affecting the supply of strawberries (W in PINTSWC). Due to the excellent weather in the UK in April there has been a bumper crop of strawberries already. This is excellent news for British firms as their sales have increased significantly.
read more...»
Friday, May 06, 2011
It would seem the porridge is the new in dish. Once again we see a great demand and supply in action story in this BBC video. It shows how fashion and trends (F in PASIFIC) have caused the demand for porridge to rise. This would be a great starter activity in the run up to exams, getting pupils to watch the video and draw a demand and supply diagram to show the change.
Thursday, May 05, 2011
The royal wedding had many winners including designer Sarah Burton and shops stocking royal memorabilia. There were a few losers of course but the less said about Princess Beatrice's hat the better!
British brand Illuminum has come out smelling of roses as Kate Middleton is reported to have worn their fragrance 'White Gardenia Petals' on the big day. It is expected that the perfume will become a worldwide sell-out as anything associated with the wedding is very much in vogue. Another great example of how fashion and taste can shift demand.
Wednesday, May 04, 2011
Here is an interesting video and article that debates whether the death of bin Laden will have any economic impact. The analyst says no but what do your students think?
Economic theory suggests that when a country has a relatively weak currency like our own, tourism should take a boost as foreigners will be attracted by cheaper prices.
The first 2 minutes of this video are great for an evaluation point as despite having a weaker currency than Europe, we are attracting a lot less tourists from China and India than Germany and France. The cause seems to be too much red tape and high visa costs.
This Easter me and a friend cycled to Barcelona for charity covering just over 900 miles in ten days. Despite a couple of scary moments including being upended by my trailer and cycling down the side of a fairly major motorway in Spain, the trip was a great success.
The purpose of the journey was to raise money to pay for a Land Rover in West Kenya which will be used as a hospital ambulance. A total of £3,500 is the target; any contribution would be really appreciated!
This is a great demand and supply in action story I have just heard about on day time tv! The It Bag is apparently out. The new craze is the Market Bag.
At a cost of £90 per bag shown below has sold out everywhere.

read more...»
It would seem not as many as previous years. Thorntons are blaming the great weather we had over Easter on the drop in demand for their chocolate. This is not the first time Thorntons has blamed the weather for poor demand and concerns over profit. Back in December they issued a profit warning due to low demand when the UK was affected by the snow.

read more...»
Tuesday, May 03, 2011
Here is a great short audio clip which looks as paper books and e books as substitutes. It make a great starter for revision of demand and supply.

Wednesday, April 27, 2011
Great example here of how the market price for lamb is affected by both demand and supply side factors.
read more...»
Tuesday, April 26, 2011
This is a great news story for budding economists. Virgin Active gyms who own 71 fitness clubs in the UK is set to buy the 51 Esporta fitness clubs for £77.6 million. A great case study to discuss the benefits and costs of growth to firms. The takeover still needs to go through the Office of Fair Trading.
Click here to read more.

Saturday, April 23, 2011
Having worked in Blackpool for 4 years this news story made me cheer. Blackpool, having recently invested £350 million into regeneration projects, is set to benefit greatly from the double header of long bank holiday weekends.
Blackpool used to be the place to holiday but unfortunately more recently its popularity has waned with the emergence of cheap holidays abroad.

read more...»
Thursday, April 07, 2011
I have just seen this on the news at 10. It is a fantastic video looking at the change in interest rates in the Eurozone.
It is packed full with some great figures, really useful for the OCR GCSE Economics Global Economy paper and also for those study OCR A Level Economics and doing the pre-released case study.

Wednesday, April 06, 2011
Can your students think of any ways in which the bank of England can reduce the price of oil?
This article clearly explains one way but it could have many negative consequences. This blog is a must for A-level and more able GCSE students as it provides a number of evaluate points that would be gold dust in exams
Tuesday, April 05, 2011
This is a great demand and supply in action story. Could white bread be on the way out? The demand for whit bread has significantly fallen over the last few years as people look to the healthier alternatives of brown and seeded bread in an attempt to become more healthy.

read more...»
Sunday, March 27, 2011
I know this is Business Studies but I still think it's worth posting. How much do your students think it costs to make a takeaway pizza? This article shows how companies such as Domino's are enjoying huge mark ups on their products. Can your students think of any other products which have such a big difference between the cost of production and the selling price?
Page 1 of 5 pages 1 2 3 > Last ›