---
Sunday, June 02, 2013
Well according to the graphic below in the WSJ, it looks like they are, ceteris paribus. In economics, if there is a direct relationship between the change in price of one good and the change in quantity demanded of another, these goods are substitute goods. In this case, we can see that as the price of beef rises the quantity of chicken and pork demanded also rises.
read more...»
Friday, May 24, 2013
Global Warming is happening - but is it having a negative economic consequence?
Dr Lomborg's website has some very interesting views about the need to tackle climate change

read more...»
Sunday, April 07, 2013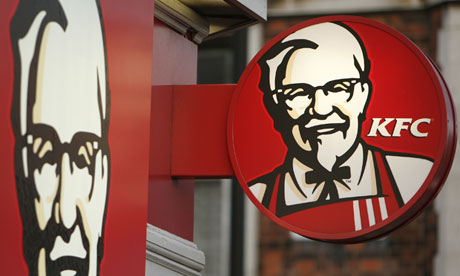 Good example of an inferior good here as KFC are opening more restaurants in response to increased demand for their food in these difficult economic times. As people find themselves with less disposable income, they opt for fast food treats rather than a la carte restaurant menus. Good news for KFC, UK job seekers and Economics students as we have a great example of an inferior good - one where demand rises as incomes fall.
"Low-cost fast food restaurants have been prospering, despite the economic slowdown. McDonalds has reported improving sales in the UK and Domino's pizza delivery service recently reported a 10% improvement in annual profits despite sales growth slowing due to January store closures caused by bad weather."

Thursday, October 04, 2012
Great BBC video here looking at some of the concepts already covered thus far in the year 11 GCSE course. After watching the video pupils could attempt the comprehension questions below.

read more...»
Saturday, September 08, 2012
Great article here from The Guardian covering the recent price changes in lots of products.
read more...»
Thursday, May 24, 2012
Sales of dry shampoo have rocketed in the past year. Sales have risen by 140% year on year, and research by industry analysts Mintel found 23% of women and 13% of men own a bottle. It is especially popular among younger women, with nearly four in ten of those aged 16 to 24 using it
So why is there such a big increase in demand for this product?
read more...»
Monday, May 21, 2012
When introducing pupils to this topic and looking for examples of free and economic goods, water often comes up as an example of a free good. Well, below (and found here) is an excellent image which illustrates the true scarcity of fresh water as the sphere represents all available water in comparision to the size of the earth.
read more...»
Saturday, May 19, 2012
I've just seen a great piece of topical demand and supply in action today. Just in case you've missed it on the news, the Olympic torch arrived in the UK and embarked on a 70-day tour in the run-up to the London 2012 games.
read more...»
Thursday, May 17, 2012
I don't want to overhype this but the Grocer magazine is brilliant for interesting business and economics articles. Some articles require a subscription but it might be worth it for interesting lesson starters.
Here is a fantastic article for debating the introduction of a fat tax to reduce health issues in the UK. I am going to use De Bono's thinking hats activity to debate this topic in class.
One group will wear the red hat meaning they have to go on their gut reaction and not read the article.
White Hat – This group will use the data to back up all of their opinions and look for more data to make a decision. (More data could be provided)
Black hat – They get to think of all of the negative aspects of a fat tax.
Yellow hat – Only positives of an introduction of a fat tax will be discussed by this group.
Green hat – The final group will try to look for alternative methods of solving the problem.
Finally the groups will present their finding and a good class discuss should follow. This would be a perfect activity for year 10's at the end of term or for a longer project style activity for returning year 12 students after their exams.
A farmer friend of mine recommended subscribing to the Grocer magazine for Business Studies stories and I am delighted to say that it has some fantastic articles for use in both economics and business classes. This example is perfect for a supply and demand lesson. It seems customers cereal tastes have changed with old favourites such as rice krispies loosing 11.8% of sales.

A great starter for a supply and demand lesson would be to get students to read the article and find as many reasons for the drop in sales as possible.
Wednesday, May 16, 2012
The BBCs economy tracker has been updated with the latest unemployment figures. This is a great resource to use in the classroom. Click here to go to it.
Particularly great for revision, students will be able to see what has happened to unemployment over time and also read about unemployment.
Hotels at Euro 2012 are increasing their prices by as much as 1000% with some pretty shoddy rooms going for over £800. Students could try to show this using a demand and supply diagram. The most able students might also be able to talk about how the elasticity of demand and supply has caused the prices to increase so much.
For an even more advanced student, you could ask whether the government setting a maximum price for hotel rooms would have solved this problem or just caused more issues
Another great video for revision. This one looks at why some firms are coming back to the UK to manufacture. It could also be a good one to do economics bingo with!
Click here to watch the video.
Tuesday, May 15, 2012
An American town has been so annoyed by people texting whilst walking that it has decided to fine anyone caught doing so. This is a perfect example for negative externalities
Students could read the article and discuss the following points
1. What are the negative externalities of texting whilst walking?
2. Do you think a fine will be successful in reducing the number of people texting whilst walking
3. Discuss the possible effectiveness of other solutions to the problem
Monday, May 14, 2012
Another great revision story this time on minimum prices. The Scottish Government has announced it wants to set a minimum price of 50p per unit of alcohol.
This will ensure that a standard bottle of wine at 12.5% volume is set at a minimum of £4.69 in Scotland. Compare this to the price of a similar bottle costing £3.49 in England.
A 70cl bottle of whisky at 40% will cost no less than £14 - while you can pick up a bottle in England for just over £10.
read more...»
Saturday, May 12, 2012
The BBC have produced another great short video that could be used for revision. Here they look at the effects of a strong pound.
Don't forget the great mnemonic for remember the effects of a strong pound:
read more...»
Here is a great sort video for revision from Business Basic that explains about interest rates.
Click here

Friday, May 11, 2012
Sales of bicycles are forecast to reach an all-time high this year. The reason is that we are gearing up for a summer of watching cycling champions Victoria Pendleton, Mark Cavendish and Sir Chris Hoy in action. Analysts at Mintel predict that bike sales will grow by 8 per cent on 2011 to £700million this year, rising to £800million by 2016.
Another great one for students to practice their diagram drawing and explanation writing.
read more...»
Here is a great story on how firms compete. Apple is planning to launch an assault against the Android tablet market by releasing an 'iPad Mini' - at a loss-making price of around £150, new claims suggest.
read more...»
After watching the video below answer the following questions:
read more...»
Wednesday, May 09, 2012
A great demand and supply in action story as your Year 11 students revise. The price of potatoes is set to rise due to the weather. The wet weather is delaying planting and slowing down harvests. The rains and floods have delayed main crop planting, with total plantings currently estimated to run to just over 70,000 hectares compared with almost 100,000 hectares this time last year.
Favourable weather in 2011 had led to unusually large crops across western Europe, which had kept prices down.
Using this information you could get your students to draw 2 diagrams one for 2011 and one for 2012.

read more...»
This is a great piece of data to help you look at cost of living and the North/South divide.
read more...»
Tuesday, May 08, 2012
After a small break I'm back doing the blogs for GCSE Economics so expect more to come through this term. I'm aiming to increase the number of blogs that provide a longer activity for a lesson.
One of my favourite activities on the business studies blog is the video case study so I'm going to start with that.
Baskin-Robbins the world largest ice-cream parlour chain is set to double the number of stores in the UK over the next three years. This video could be used for a number of topics but I will use it for income elasticity of demand. Also for business teachers this is a great topic for franchising.
Possible case study questions
For income elasticity of demand
1.Define income elasticity of demand (2)
2.Using the concept of income elasticity of demand explain why the owner of Baskin-Robbins sees his product as recession proof (4)
For franchising
1.Explain one disadvantage from the video of becoming a franchisee (2)
2.Explain why a franchisee may be attracted to Baskin-Robbins (2)
3.Explain one reason from the video why Baskin-Robbins may not be sucessful in the UK (2)
Thursday, April 19, 2012
After watching this BBC video and using the demand shifters PACIFICS and supply shifters PINTSWC, can you explain what is happening to the market for bulletproofing kit in Brazil?
Wednesday, April 18, 2012
The economic downturn seems to have caused a surge in demand for rice pudding. In the past year Muller Rice sales have grown 4% to £57.4million, data showed.
Muller put this increase down to advertising and encouraging shoppers to reappraise the brand. but other makers of pot desserts, such as Rachel's, Tideford Organics and Yeo Valley, have also seen good growth.
read more...»
Tuesday, April 17, 2012
A greater starter for some revision on unemployment here:
10 worst cities for unemployment
Sunday, March 18, 2012
Good example here of how the rising price of one good can increase the demand for (and in this case, the theft of!) another i.e. they are substitute goods (S in the acronym PASIFIC).
read more...»
Saturday, March 17, 2012
This week sees the launch of the latest IPad to scenes of overnight queues and fanfares from Apple.
read more...»
Wednesday, March 14, 2012
How much would you pay for this?

read more...»
Tuesday, March 13, 2012
Here is a great video as a starter for a supply lesson. Experts are warning an EU ban on battery hen cages could cause the price off eggs to sky rocket. Can your students draw a diagram to explain this?