---
Friday, February 04, 2011
Obesity seems to becoming a bigger concern for the government as the number of overweight people in the UK rises and causes knock effects on health and work. The government are now considering placing a 'fat tax' on takeaways. Burger bars, kebab houses and fish and chip shops would be forced to pay the £1,000 before being allowed to open their doors to the public. This would also hit High Street fast food giants like McDonald's, KFC, Burger King, Pizza Hut and Dominos.
read more...»
Monday, January 24, 2011
Here is a great set of notes from the BBC Newsbeat for teaching GCSE students about VAT and the recent increase in it.
This is a great short video from Declan Curry on petrol prices and where the money goes. It would make a great starter for indirect taxes.
Tuesday, January 04, 2011
There are some great articles and short video's out there at the moment about the VAT rise from 17.5% to 20% today. These would make excellent resources for teaching and revising the topic of indirect taxes.
BBC short video
Article 1
Article 2
Article 3
Tuesday, October 19, 2010
This is a great task for students ahead of tomorrows announcement of spending cuts.A great resource from the Guardian which will hopefully spark some debate with your students.
Thursday, May 13, 2010
With an imminent emergency budget there has been a lot of information in the news about taxation and spending. This BBC article is particularly good for a revision lesson on taxation.
Thursday, April 22, 2010
This video makes a great revision tool, there are lots of key economic concepts talked about. Students could be asked to watch the video and jot down as many concepts that are in the video as they can and then they could make a glossary with the definitions.
Thursday, March 25, 2010
Perhaps this one is more for the teachers reading, do you remember the Wurzels? They had hit singles in 1976 with "I am a cider drinker" and "Combine Harvester". They are leading the revolt over
Alistair Darling's plans in his budget to place a 10% increase in the tax on strong cider.
read more...»
The Guardian have produced another great interactive guide to the governments finances. It would make a great discussion starter.
Also the BBC have a great set of data on the UK economy at present.
Monday, February 08, 2010
This BBC video explains how increases in VAT and food prices are affecting people, in particular those on low incomes. It would make a great starter on VAT (why are some goods exempt?) and also on inflation.
Thursday, February 04, 2010
This is a great 3 minute video on the UK's national debt. It would make a great starter for talking about fiscal policy.
Friday, January 08, 2010
As we all know the VAT rate went back up to 17.5% having been at just 15% since December 2008. When I was out shopping earlier in the week I saw a notice in White Stuff saying that they were not going to increase their prices with the VAT rise. This led me to thinking how many other shops are doing the same?
read more...»
Thursday, December 10, 2009
Well there is so much about the Pre Budget Report I thought I would add to it with this great Q&A from the Times. It makes some of the changes much easier to understand for GCSE students. There is also a great little video at the top of the page which would act as a great starter.
Thursday, November 19, 2009
The BBC have produced a fantastic visual interactive map of budget deficits across the world between 2007 and 2010. It would make a great starter activity or a main part to a lesson on government budgets.
Wednesday, November 04, 2009
As the amount the government have pumped into the banking system in the UK continues to rise, the Guardian looks at what else this huge sum of money could be spent on.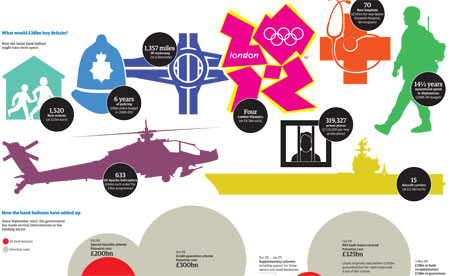 read more...»
Friday, September 11, 2009
Another fantastic interactive guide, this time from the BBC. Since the markets began to tumble in 2008, governments around the world have spent almost $11 trillion bailing out failing banks and trying to repair the financial system. This interactive guide shows where the money went and what it means for the tax payer.