---
Wednesday, May 16, 2012
The BBCs economy tracker has been updated with the latest unemployment figures. This is a great resource to use in the classroom. Click here to go to it.
Particularly great for revision, students will be able to see what has happened to unemployment over time and also read about unemployment.
Wednesday, January 18, 2012
Just watching the news and I heard a great statistic that you could use with your students this week. For every job vacancy in the UK there are 5.8 unemployed people. Five years ago this figure was 2.8.
Thursday, December 15, 2011

With the news yesterday that unemployment has once again risen there is a huge number of useful articles to use with our students.
First of all here is a great short video.
read more...»
Thursday, September 08, 2011
Liverpool, Nottingham and Glasgow have found themselves, for the second year running, with the highest level of households where no-one is in work. Liverpool and Glasgow the figures actually fell in the past year from 32.1% and 31.1% to 31.9% and 30.7%. However in Nottingham it increased from 31.3% to 31.6%.
read more...»
Friday, July 22, 2011
This unemployment map would make a greater starter for a discussion on consequences of unemployment. It shows a real North-South divide opening up.
read more...»
Wednesday, January 19, 2011
As unemployment rises once again new figures reveal that 20.3% of 16 to 24 year olds are out of work. The unemployment rate now stands at 7.9%
This is a great short video
read more...»
Wednesday, January 12, 2011
Burton's biscuits, the makers of Jammie Dodgers and Wagon Wheels have announced they are to close their factory on the Wirral. This will cause a loss of 342 jobs. They are also making 70 people redundant at their Newport factory.
This article would make excellent reading and could be used to ask pupils some exam style questions:

read more...»
Wednesday, December 08, 2010
At this time of year it is great to have one or two video's up our sleeves. This short video from the BBC is jam packed with economic concepts. John Micklethwait, editor in chief at the Economist, is talking about the UK economy. Perhaps you could get your students to write down all the economic concepts they hear in the video. It could also spark some interesting discussions. Also you could play concept bingo with this, by preparing grids with concepts and when a student hears a concept in the video which they have on their grid they can cross it off.
Tuesday, November 02, 2010
We have always been told go to university and you have a much better chance of getting a job. Well it would seem that at present this is not true as unemployment among graduates reaches the highest levels since the early 90's. 8.9% of last years graduates were still unemployed 6 months after graduating.
Here is a great short video which could get a discussion going on the problems of high unemployment amongst graduates.
and one here from BBC news
Thursday, January 21, 2010
As unemployment dropped this month to 2.46m people concerns remain about the large number of young people who are out of work. Total unemployment stood at 2.46 million for the three months to November, down 7,000 on the figure for the previous three months.This is a great video on youth unemployment.
read more...»
Saturday, November 14, 2009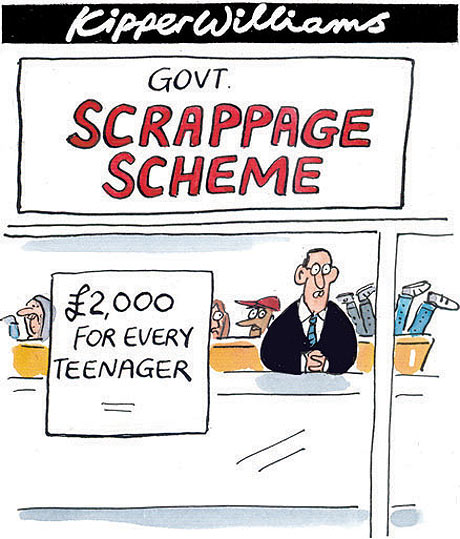 read more...»
Friday, October 16, 2009
Following the announcement that unemployment is still rising but at a slower rate, the Guardian have produced a great interactive graph with data on both the claimant count and the LFS dating back to 1971.
Sunday, October 04, 2009
An Italian supermarket has come up with an interesting way to help its unemployed customers. Along with buying your groceries you can enter a lottery, where the prize is a job. This video would make a great starter.
Wednesday, September 23, 2009
Is this what the job market has come to?
read more...»
Tuesday, September 15, 2009
16-18 years olds not in education, employment or training, otherwise known as NEETs are continuing to rise in numbers. In Gloucestershire there are now 599 NEETs a rise of 14% on last year. The West Midlands has the largest number of NEETs in the UK.
read more...»
Sunday, July 19, 2009
Spain is an interesting economy for GCSE students to look at. In Spain tourism accounts for 10% of gross national product and one in eight jobs. Construction is also a very important industry. And both sectors are now struggling with the pain of recession.
Many hotels have temporarily closed even during the summer season and the bars, restaurants, hire cars and airports are being affected by the downturn in demand. Economists have a term for this - a negative multiplier effect.
This BBC news video looks at the Canary Islands where one person in four is unemployed (an unemployment rate of 25% is nearly four times the jobless rate we have here in the UK).
Tuesday, May 26, 2009
How many more will lose their jobs in this recession? Retiring Monetary Policy Committee member David Blanchflower predicts at least one million more people will lose their jobs before unemployment peaks.
read more...»