Get Summer 2014 Right First Time with tutor2u Exam Coaching & Revision Workshops
AS & A2 Economics | AQA AS & A2 Business and AQA & Edexcel GCSE Business


---
Monday, March 03, 2014
Incomplete notes? Unsure of exactly what you need to know? Only a few weeks left before the exam?. Don't worry - you've come to the right place. Tutor2u's Q&A format is the rapid revision route to success.
Tutor2u Q&A's focus on the essentials of each subject covered. A comprehensive glossary summaries key terms and concepts. Test your understanding against 100's of questions designed to cover all aspects of the syllabus.
You can cover the syllabus in rapid time, knowing that you are focusing your effort on the essentials for success. No wonder, tutor2u's Q&As are the best-selling online rapid revision guides available for AS and A2 economics.
Details can be found here
Wednesday, February 26, 2014
The UK's biggest companies remain biased when appointing women to their boards, according to new research by Dr Ian Gregory-Smith and colleagues, published in the February 2014 issue of the Economic Journal
read more...»
Saturday, February 15, 2014
This blog brings together some of our resources on information failures in markets.
Click below for:
Mo Tanweer's superb revision notes on aspects of information economics
Try our short Zondle revision quiz on information failure
read more...»
Friday, February 14, 2014
Boris Johnson, The Mayor of London, has been happy to extend the use of bicycles in London; and the pattern of use has thrown up some interesting points. There were 7.4 million cycle hire trips last year but an estimated 71% of cycling use was by men. Most of these journeys would have been made on foot (31%) or by public transport (47%). Coverage of the study published in the BMJ looked at the health effects is found here.. The notes in the article, provide good examples of the strengths and weaknesses of cost benefit analysis.
read more...»
According to a report published by the Parliamentary Public Accounts Committee, the Government are currently underestimating how many students will actually pay back their university loans over the coming decades. Currently, the Government estimates that between 35 and 40% of loans to Higher Education students are never paid back - the Committee believes that the rate on non-repayment is much higher and reflects a weakness in the loan collection method. The primary reason for non-repayment is that student details get lost over a period of time particularly if the graduate moves and works abroad or was an EU citizen who has returned to their own country. The method of using the income tax registration process as a way of locating former students has been criticized for not being an effective method of collecting information. It is estimated that the shortfall could be as much as £80 million by 2042.
read more...»
Thursday, February 13, 2014
A great case study on the BBC about what has been driving up the price of almonds. Plenty of topics to explore in here: agricultural supply, determinants of demand, derived demand (almond milk), monopoly power, capital intensive production and maybe more.
read more...»
Tuesday, February 04, 2014
Here is the first weekly revision quiz for AS economists who would like to keep their revision of AS Micro up-to-date whilst they are covering AS Macro!
10 questions from across the AS Micro specs to keep you focused:
Launch AS Micro - Weekly Revision Quiz - Week 1

If you attended the recent tutor2u revision conferences for up-coming micro-economic exams (look out for the macro workshops and combined micro and macro to come in March) you will have seen how fuel-pricing was used as an example of market failure, government intervention strategies and government failure.
Fortunately, the energy market is a gift that keeps giving to us in the economics world (every cloud has a silver lining) as a report out today (see this link for the BBC version of the story) indicates that Parliament is about to intervene to try and stop the energy companies charging more to customers who pay by cash rather than by direct debit (£114 per year, according to the report).
read more...»
Friday, January 31, 2014
Here are ten revision questions covering income elasticity and cross price elasticity of demand
read more...»
Thursday, January 30, 2014
Here are ten multiple choice revision questions covering the topic market demand and market supply
read more...»
Here are ten questions for students wanting to check their understanding on markets in action
read more...»
It was announced yesterday that the Government is planning to abandon its use of expensive software such as Microsoft Office (see article in the Guardian here) partly as a way of reducing costs but also as a means of breaking some of the software company's 'oligopolistic' stranglehold on the market.
As well as offering an example of Government policy to combat market failure, this story gives us a little insight into the issue of contestability in the software industry.
read more...»
Here is a short video on the challenges and opportunities facing cocoa producers across the world but especially in sub Saharan Africa which accounts for 70% of global production. Supply is struggling to keep pace with rising world demand and there have been some structural declines in production in several countries.
The FT's Emiko Terazono reports from Ghana on how chocolate manufacturers and traders are striving to boost cocoa supplies, which are coming under pressure from climate change and urbanisation amid growing demand for confectionery in emerging markets. Farmers are being encouraged to develop supplementary incomes and invest in sustainable production methods.
read more...»
Wednesday, January 29, 2014
Here are ten questions for students wanting to check their understanding on government intervention in markets
read more...»
Monday, January 27, 2014
We are often (quite rightly), talking about Britain's disappointing export performance. There are lots of good reasons to promote exports – an injection into the circular flow of income and the X in C+I+G+(X-M).
But don't fall for the trap of thinking that exports=good and imports=bad. In the final analysis, one of the main reasons for exports is to pay for imports. Imports play a crucial role in making our economy more efficient.
read more...»
Friday, January 24, 2014
Saudi Arabia's position as one of the largest players in the global oil market, producing more than a tenth of the world's output and owning a quarter of the world's proven reserves, has negative effects on other market participants. Writing in the Economic Journal, Anton Nakov and Galo Nuño document two features that have made the Kingdom different from other oil producers:
read more...»
Thursday, January 23, 2014
The NHS gives us so much value, as Economics teachers, as it serves as a great example of so many areas of theory. The story which heads up the BBC News site this morning is another useful one: NHS waiting time data for elective surgery has been found to be 'unreliable'
read more...»
Sunday, January 19, 2014
Here is a great overview from the Economist of some of the ideas behind lean start-ups and the shift in focus towards frequent / hi-speed reaction to customer feedback as minimum viable products are launched into the market-place. Conventional views of entrepreneurs are evolving fast but they still need to have that driving energy and a willingness to challenge orthodoxy! The Eric Ries book - The Lean Entrepreneur - is given extensive mentions here and rightly so.
This report which the Public Accounts Committee published on Friday, entitled Supporting UK exporters overseas, gives a useful piece of background reading, as it marries up AS and A2 level theory, and micro and macro topics. It looks at the combined efforts of the Foreign and Commonwealth Office and UK Trade and Industry to help UK firms, particularly small and medium sized businesses, boost their exports and so contribute to UK GDP recovery. The summary of the report on the PAC website could be used by students to consider a couple of questions:
How many examples of government failure can you identify?
Given that the UK does not currently use monetary policy to influence the exchange rate, what mix of government policies might be used in order to meet the target of doubling exports by 2020?
Wednesday, January 08, 2014
Here's another weather blog. It's cold and atmospheric conditions are right for exceptionally severe local air pollution; smoke, micro particulates and sulphur dioxide combine into a greasy 'smog'. The health impact is severe. People start talking about a 'killer fog' and even an 'environmental disaster'. Thousands die over the next few days and weeks, many more face serious long term consequences.
Where am I describing?
read more...»
Proposing Government intervention strategies for dealing with externality market failure is a common enough exam question. Many of my students will concentrate on the use of indirect taxation, subsidies, pollution permits or regulation as a method of reducing consumption - often forgetting that the Government can use good, old-fashioned advice as a way of altering purchasing patterns.
read more...»
Tuesday, January 07, 2014
It's a weather blog. Rain and flooding can be a cue into the public goods debate. Why is it likely that most spending on flood defences will have to come from the public purse? The picture I've used above is described as what London would look like without the Thames Barrier. Here are a few more links:
read more...»
Sunday, January 05, 2014
This short you tube clip published by the World Bank looks at some salient facts and figures on the extent of extreme poverty in the world
The extreme poor live on less the US$1.25 a day. Many lack basic sanitation and clean drinking water; they're malnourished and suffer from lack of education. The facts speak volumes
read more...»
Do consumers of carbonated soft drinks really know how much sugar is in their regular fix? This five minute Newsnight clip is ideal for showing when teaching aspects of the economics of information failure. Will "getting the information in people's hands" help them to adjust their lifestyles? What are the economic arguments for and against direct intervention in the market for carbonated drinks such as a tax on high sugar content products? What are the alternative options or should we simply let consumers make their own choices?
read more...»
Thursday, January 02, 2014
The NHS is part of the British establishment just as much as tea, talking about the weather and sarcasm. This view through rose-tinted spectacles has prevented serious debate and clouded our judgment. Foreign visitors are now being charged to use our A & E services, yet they can still see GP's for free. This ludicrous half measure is just one example that we are blinded by love for our NHS. A situation has arisen in which any attempt from politicians to discuss much needed improvements for the current healthcare system is political suicide. This is hindering development.
read more...»
Saturday, December 28, 2013
Most first year Economics students consider government intervention and government failure as key topics in their introductory microeconomics course. Finding compelling examples of state blunders is not that difficult but understanding how the complexity of the government apparatus lies behind failures of project and policy requires digging deeper.
read more...»
Tuesday, December 17, 2013
You may have seen news reports today about the Competition Commission announcing that it will continue its investigation into the car insurance market having decided that there are concerns to be addressed. The headlines concentrate on the market failure caused by the current system of non-fault claimants organising their own replacement vehicles (and then charging the at-fault insurers) but I thought it was just as interesting that the CC are looking at the relationship between the insurers and price comparison websites.
read more...»
Monday, December 16, 2013
We can get such a lot from maps and infographics - far more than one blog can cover. Before I set to work putting a few favourites together, here's a great one for UK earnings.
read more...»
Friday, December 13, 2013
With London's Victorian sewage system struggling to cope, the 25km Thames Tideway tunnel is intended to boost capacity. But the £4.2bn Super Sewer project has run into considerable and vocal opposition. London's main sewers are over 150 years old and built for a city for 2.5 million people. The population of London is now over 8 million and when heavy rainfall arrives, there are frequent and sizeable discharges of raw sewage into the river Thames. 39 million tonnes of untreated sewage flushes into the Thames in a typical year - that's enough to fill the Royal Albert Hall 450 times. The sewage discharges puts the UK in breach of the EU Urban Wastewater Treatment Directive.
Critics of Thames Water argue that they have under spent on sewage system maintenance over the years despite recording persistently high profits. Thames Water announced £150 million profits in 2012.
Residents around the 21 proposed construction sites have protested about the externalities connected to the project. Other opponents argue that the money would be better spent on cheaper sustainable urban drainage techniques.
Future generations will benefit but today's water users will pay most of the construction cost with higher water bills imminent for a number of years to come. The Thames Water proposes adding £70 to £80 a year indefinitely to the average bill of Londoners to fund the 16-mile sewer from Acton in west London to Abbey Mills in east London. But a report by Bloomberg New Energy Finance calculates that the tunnel could be built for between £30 and £35 per household per year
Guardian: London super sewer 'should be scrapped in favour of cheaper projects'
read more...»
Monday, December 09, 2013
Hopefully the UK economy will turn a corner in 2014 and return to robust growth and good health, raising living standards for some of the poorest people in the UK. It would be very odd if you hadn't reflected on the plight of the poor in the UK over the last few years, and in the build up to Christmas.
Much discussion of poverty in Economics is of a normative nature. What do we mean by poverty anyway? Isn't it all just a matter of opinion? Is poverty a lifestyle choice, picked up by people who have been given the wrong incentives by the welfare system? Perhaps it's the fault of immigrants, or greedy business, or dishonest politicians.....
Some relatively impartial data would be very welcome in this very heated debate.
read more...»
Sunday, December 01, 2013
An eight page practice paper for the structured MC question section of EdExcel Unit 1 Economics - answers in the grid below. Download the practice paper as a pdf: Structured_AS_Micro_MC_Question_Practice.pdf
read more...»
A streamed presentation on aspects of the price mechanism with links to three revision quizzes
read more...»
Friday, November 29, 2013
Here is an updated revision glossary covering key terms on markets and government intervention
read more...»
Tuesday, November 26, 2013
The cost of renting property in many parts of the UK continues to rise - would rent controls make any difference? Here is an updated Unit 1 economics revision presentation.
read more...»
The Tutor2u slideshare channel has just notched up over a million hits and we continue to add new resources each week. Here is the link to the site.
Monday, November 25, 2013
Here's a simple resource to introduce the concept of inflation over a period of time. This was inspired by a marvelous example given by Mark Mitchell at a recent Tutor2u TBBLE teacher CPD event - Mark used a wonderful back-catalogue of issues of the Beano to illustrate changes in prices over time as a way of introducing the concept of inflation.
This resource is not quite as much fun but does allow you to input any date from February 1971 (the date of decimalization in the UK) and find out the price of a First Class stamp in the UK (assuming a standard weight of under 60g). A simple image then materialises indicating the cost of the stamp at that given time.
You could ask students to give you significant dates during their life time (e.g. birth, start-date of primary school/secondary school, siblings birth dates and possibly parents birth dates, last time their football team won a significant trophy) and track how prices have changed.
The file also has a single chart showing how stamp prices have changed compared to inflation in any one year - perhaps an interesting thing to look at and discuss given the current flotation of the Royal Mail.
Click here to download the Powerpoint presentation.
Sunday, November 24, 2013
Tim Harford explores the frustrations of using lifts. How much economics can you find in this BBC Newsnight report from November 2013?
read more...»
Wednesday, November 20, 2013
"The market will define our future" - the words of an organic farmer growing produce in Mexico City's water farms and which - according to this excellent video report from the Financial Times - have the potential to feed huge numbers of people living in the metropolis. Careful husbandry of the canals and surrounding farm land creates the opportunity for farmers to complete between seven and nine harvests a year, an interesting link to the concept of price elasticity of supply. The video reinforces the importance of human capital - detailed, specific knowledge of the growing conditions and calendar of crops that is handed down from one generation to another.
read more...»
Tuesday, November 19, 2013
That's an odd question. A £20 coin is 'worth' £20, isn't it? Surely that's the whole idea? I know from experience that one of the hardest jobs of an economics teacher is to communicate the idea of token money. Stated simply, most modern money is worthless. It's just monopoly money. Several of you will already be puzzled by that statement.
A new £20 coin is being issued, and apparently the Bank of England is having considerable difficulty persuading people that it's really 'worth' £20.
Here's the story, and several other links to that strange concept: money.
read more...»
Thursday, November 14, 2013
I've recently looked at the issue of a smaller slice of GDP going to wages, and here are a couple of links and updates on the minimum wage discussion. For those of you who follow this topic, you'll also perhaps be familiar with the idea of a living wage, which is based around the argument that minimum wages are too low anyway.
read more...»
Friday, November 08, 2013
Here is an example of direct intervention in markets to address some of the information failures associated with the obesity epidemic. US food authorities have taken the first step towards banning artificial transfats, substances that are found in processed foods. They say it is a move that could prevent 20,000 heart attacks and 7,000 deaths a year. According to the BBC website
"Artificial trans fats are used both in processed food and in restaurants as a way to improve the shelf life or flavour of foods. The fats are created when hydrogen is added to vegetable oil, making it a solid."
read more...»
Do consumer choice and competition between suppliers improve the quality of outcomes for consumers? The answer might seem so obvious that it is hardly worth asking. But a powerful strand of political opinion is building up to an attack on the concept.
read more...»
Thursday, November 07, 2013
The Edinburgh Fringe is widely regarded as one of the world's biggest launchpads for new creative arts talent. Artists whose careers have taken off at the Fringe have commented recently, however, that up-andcoming performers are being priced out of the market as oligopoly power has started to bite.
read more...»
We are delighted to host on our blog this article from Alex Macarthur an upper-sixth student at Altrincham Grammar School for Boys. Alex enjoys is especially interested in 'Behavioural Economics'. In this feature he looks at pricing anchoring in markets. This article was originally published in the student magazine www.lucigmag.co.uk
read more...»
Tuesday, November 05, 2013
Here is an updated revision presentation covering price volatility in commodity markets and the economics of buffer stock "price stabilisation" schemes. designed for unit 1 micro course
read more...»
Thursday, October 24, 2013
An autumnal hat tip to Jonathan Portes, Director of the National Institute of Economic and Social Research for spotting this textbook example culled from the Daily Mail of the problem of social cost and how application of the Coase theorem might be a solution! Click here for the article.
If you would like to know more about the Coase Theorem and the work of Ronald Coase who died earlier in 2013 at the ripe old age of 102 then click here for a superb blog entry from Mo Tanweer.
Energy prices are in the news. The recent actions of some of the energy companies can plausibly be described as provocative, no matter how well founded their decisions might be. They run the risk of provoking the ire of both the Opposition and the Government.
One interesting aspect of the debate is that it has become even clearer that decisions taken by Ed Miliband himself in the Brown government are partly to blame for our high energy bills. The plethora of green taxes and subsidies has become very expensive for consumers.
But how effective have such policies been? Not very much, seems to be the answer.
read more...»
Tuesday, October 22, 2013
Where would you expect a Starbucks latte to be cheaper - in a coffee store in downtown New York or in a Starbucks store in China? Keep in mind that per capita incomes in China are around one tenth of those in the United States.
The answer may come as something of a surprise!
In a report on coffee prices that has caused something of a stir across social media platforms, the state-owned broadcaster CCTV reported that a medium-sized latte cost Rmb27 ($4.43) in China compared with Rmb19.98 in Chicago, Rmb14.6 in Mumbai and Rmb24.25 in London.
Starbucks responded that its pricing strategy was based on local market costs, including infrastructure investment, real estate and labour costs. It also added that its Asia-Pacific profit margin was for 14 countries, not just China. They added that each Starbucks market is unique and has different operating costs and that it would be inaccurate to draw conclusions about one market based on the prices in a different market.
The prices of imported goods in China are often raised because of the effects of import taxes (tariffs) - in this case the customs duty on roasted coffee beans is 15%. Add to that a sales tax of 17%.
read more...»
Monday, October 21, 2013
UK nuclear energy is painfully burdened by regulation. Energy prices are at an all time high, so much so that politicians are desperately trying to find policy solutions to utilise this dissatisfaction for votes. There are widespread complaints that energy companies' profits are too large. The Prime Minister encourages us to look for a cheaper energy deal. Surely there could not be any clearer signals from the market and society that now is the time for suppliers to enter the energy market. But unfortunately this is not the case; a detriment to us all.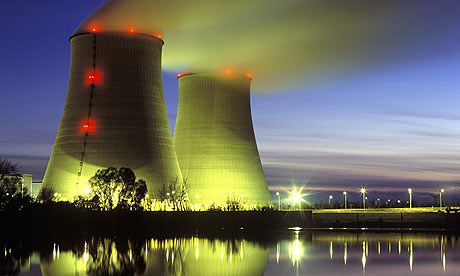 read more...»
After more than a year of relatively low prices, rising global demand for cocoa is a key factor behind a surge in the international price of cocoa beans, prompting fears that the traditional consumer splurge on chocolate treats during the Festive season will be noticeably more expensive this year! In this short BBC news video, some of the background to the rise in cocoa prices is explored. You can download the cocoa price chart below.
read more...»