Get Summer 2014 Right First Time with tutor2u Exam Coaching & Revision Workshops
AS & A2 Economics | AQA AS & A2 Business and AQA & Edexcel GCSE Business


---
Wednesday, November 20, 2013
"The market will define our future" - the words of an organic farmer growing produce in Mexico City's water farms and which - according to this excellent video report from the Financial Times - have the potential to feed huge numbers of people living in the metropolis. Careful husbandry of the canals and surrounding farm land creates the opportunity for farmers to complete between seven and nine harvests a year, an interesting link to the concept of price elasticity of supply. The video reinforces the importance of human capital - detailed, specific knowledge of the growing conditions and calendar of crops that is handed down from one generation to another.
read more...»
Sunday, November 03, 2013
The FT video clip below provides a short interview with Dame Ellen MacArthur - the former ocean yachtswoman - and her idea of building a circular economy - this idea might be a fruitful area for student exploration when studying environmental economics. To quote from the web site:L
"The linear 'take, make, dispose' model relies on large quantities of easily accessible resources and energy, and as such is increasingly unfit for the reality in which it operates. Working towards efficiency—a reduction of resources and fossil energy consumed per unit of manufacturing output—will not alter the finite nature of their stocks but can only delay the inevitable. A change of the entire operating system seems necessary"
read more...»
Thursday, October 24, 2013
Energy prices are in the news. The recent actions of some of the energy companies can plausibly be described as provocative, no matter how well founded their decisions might be. They run the risk of provoking the ire of both the Opposition and the Government.
One interesting aspect of the debate is that it has become even clearer that decisions taken by Ed Miliband himself in the Brown government are partly to blame for our high energy bills. The plethora of green taxes and subsidies has become very expensive for consumers.
But how effective have such policies been? Not very much, seems to be the answer.
read more...»
Monday, October 21, 2013
UK nuclear energy is painfully burdened by regulation. Energy prices are at an all time high, so much so that politicians are desperately trying to find policy solutions to utilise this dissatisfaction for votes. There are widespread complaints that energy companies' profits are too large. The Prime Minister encourages us to look for a cheaper energy deal. Surely there could not be any clearer signals from the market and society that now is the time for suppliers to enter the energy market. But unfortunately this is not the case; a detriment to us all.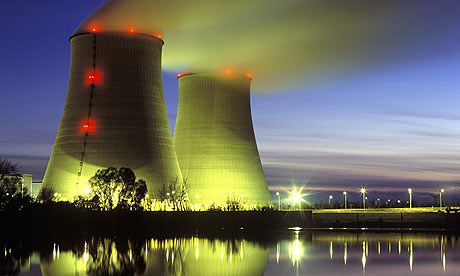 read more...»
A huge reminder about the shifts in economic power arrived with the news about the development of Hinkley C nuclear power station.
read more...»
Sunday, October 20, 2013
Air pollution is widely regarded as a negative externality arising from consumption and production. New research from the World Health Organisation finds that exposure to air pollution increases the risk of cancer - this 2 minute news report looks at their findings. You can find extensive revision notes on externalities and market failure by clicking this link.
read more...»
Saturday, October 19, 2013
The market for retail gas supplies is mired in controversy and threats of direct government intervention to freeze prices should a new Labour government be elected in 2015. This week we have seen a classic example of the type of price leadership we expect to see in an oligopoly.
read more...»
Sunday, October 13, 2013
On the World Bank twitter account, President Jim Kim is quoted as saying that "Properly managed, new minerals wealth could transform Africa's development." Back in June 2013, a new report from the African Progress Panel looked at this important issue and set out an agenda for maximising Africa's natural resource wealth and using it to improve well-being.
My own students have been researching the economics of natural resources and whether they can be a blessing and/or a curse to countries seeking sustained growth and development. I just wanted to share one or two of these essays with you because I was delighted with the depth of the independent research on show and the quality of evaluation in their arguments.
read more...»
Tuesday, October 08, 2013
Here is an updated presentation on aspects of the natural resource trap or natural resource curse issue facing low (and also high) income countries
read more...»
Wednesday, September 25, 2013
AS economics student Ed Hardy offers his interpretation of this question: "Within a few years the common problems we associate with scarcity will be a thing of the past." Do you agree?
read more...»
Monday, September 23, 2013
As soon as students encounter the idea of GDP they are guided towards thinking about the possible drawbacks to growth, especially for the environment.
read more...»
Wednesday, September 18, 2013
'Factors of Production' is a bit of a mouthful, but it's a better term to use than 'resources' when describing the ingredients needed to produce goods and services. I realised that when my students were finding the word 'resources' quite misleading at the start of their Economics course.
read more...»
Tuesday, September 03, 2013
One of the greatest economists of the last 100 years has died at the ripe old age of 102. This blog entry will feature an updated listing of obituaries and other resources on Coase's work. Coase was awarded the 1991 Nobel in economics "for his discovery and clarification of the significance of transaction costs and property rights for the institutional structure and functioning of the economy." His final book, 'How China Became Capitalist,' was published last year, when he was 101.
read more...»
Sunday, August 25, 2013
Here is a great example of factors of production at work in the mining industry. The BBC's Linda Yueh has been on a tour of Mount Whaleback - an iron ore mine in the Pilbara region of Western Australia. The mining is taking place on an epic scale and the commodities industries have been a major source of economic growth for Australia in recent years.
read more...»
Monday, August 12, 2013
Environmentalists say we must change our behaviour to save the planet and pass on something to our children. They often pick symbolic targets designed to raise our awareness, even where they make an insignificant impact on the problem. The behaviour they favour is less materialistic, in that we are supposed to moderate our wants and live simpler, slower lives. Although many environmentalists ally with the Left against 'materialistic capitalism,' their prescription is profoundly conservative, disdaining the pace and complexity of the modern world.
read more...»
Friday, August 09, 2013
Green was traditionally the colour of money, but with UK and EU energy policy, it is increasingly the colour of cost.
read more...»
Wednesday, August 07, 2013
The UK Energy and Climate Change Committee has stated that shale gas will not be a "game changer" in the future of UK energy, but they are wrong; it will be. The recent British Geological Survey report pointed to 1,300 trillion cubic feet of reserves, twice previous estimates. A recent study by the Institute of Directors found that the shale gas industry could generate 74,000 jobs and could supply up to half the country's gas needs by 2030. Furthermore it could also trigger an investment boom worth £3.7 billion a year. Given the location of most of the reserves, it could also be hugely beneficial in reducing the north-south economic divide.
read more...»
Monday, August 05, 2013
A new World Bank report says rising temperatures in the next few decades will cause food shortages and increased poverty in Africa. This short video provides some background on some of the key sustainability challenges facing the continent.
read more...»
Thursday, July 11, 2013
If this research is accurate the results are truly shocking. Coal related air pollutants have been shown to reduce lifespans in China by over five years, according to a new study conducted by researchers at Massachusetts Institute of Technology and three other universities.
It is a compelling example of the human consequences of the externalities created by intense air pollution in one of the world's fastest-growing countries. Almost half of the world's coal is burnt in China - rapid development in the north of the country has increased the incidence of strokes and lung cancer, in part connected to the distribution of free coal for burning in millions of homes.
The Chinese government has announced plans for a new carbon emissions trading scheme as part of a strategy to lower pollution and achieve more sustainable development. It has ordered firms in heavy-polluting industries to cut emissions by 30% by 2017
read more...»
Thursday, June 20, 2013
Another RES short video from Bob Denham at Econ Films. The size and location of cities follows a clear pattern -- you just need to look at them from far enough away. Wen-Tai Hsu of the National University of Singapore shows this with the help of economics. This research received the Austin Robinson Memorial Prize at the Royal Economic Society annual conference in April 2013. Some important themes mentioned here for students of economic geography.

read more...»
Wednesday, June 12, 2013
Miners made redundant from Maltby Colliery in Yorkshire many of whom with decades of experience faced years on the unemployment register when the mine closed earlier in 2013. But some have been thrown a lifeline with the rising demand for miners in the UK potash industry.

read more...»
Friday, June 07, 2013
The pricing of carbon emissions needs to be sensitive to both long-run climate outcomes and short-term concerns about the macroeconomy. Research by Reyer Gerlagh and Matti Liski reconciles these two timeframes and comes up with optimal prices of between €20 and €130 per ton of carbon dioxide.

read more...»
Thursday, June 06, 2013
A new analysis of the allocation of carbon emissions between developed and emerging economies

read more...»
Tuesday, June 04, 2013
The rapid growth and development of economic activity in Dubai has put enormous pressure on the water and sewage infrastructure available in the Emirate. Six years ago there was only one sewage works open there but big investment in new plant has increased the capacity and reduced externalities from a sewage system working at full tilt. As this short BBC video shows, there have been some profitable by-products from investment and innovation in state of the art sewage treatment plants.
read more...»
Saturday, June 01, 2013
This streamed revision presentation looks at the economic impact of carbon trading schemes and effects on business costs and profits. It also focuses on an evaluation question for an exam on the effectiveness of carbon trading as a way of cutting emissions.
read more...»
Tuesday, April 16, 2013
The European Union's carbon emissions trading scheme is under huge pressure at the moment and there are many who believe that the market-based system of carbon pricing has effectively collapsed.
There is a fundamental over-supply of carbon permits in the market - on some estimates, an excess of supply of over 840 million permits (one permit = one tonne of CO2)
This has caused a sharp fall in the market price of carbon to below Euro 5 per tonne
At such low prices there is an incentive to use coal rather than cleaner natural gas for electricity generation

Latest figures show that greenhouse gas output in Europe fell in 2012 by 1.4% - but this is largely the result of very weak economic growth in the EU
Carbon trading is an important intervention at a European level but the system appears to be flawed and there are very powerful vested interests in the debate - for example the interests of Polish coal mining companies, airlines, producers of renewable energies. What are the alternatives to carbon trading?
One is a carbon tax.
(Source: The Economist) -
click here
read more...»
Thursday, April 11, 2013
A newly constructed Social Progress Index has been unveiled for the first time with the hope that over time, it might become as widely quoted and recognised as the Global Competitiveness Index as a benchmark of progress made by individual countries in achieving sustainable, balanced and inclusive growth and development. In the 2013 rankings, Sweden comes first and the United Kingdom is second.
read more...»
Sunday, April 07, 2013
Here is another film to add to our collection of films with an economic dimension. Promised Land from Oscar-nominated director Gus Van Sant stars Matt Damon and is an anti-corporate thriller that centers on the controversial natural gas process of fracking.
read more...»
Friday, April 05, 2013
What if Africa were to become the hub for global science? This is a deeply optimistic piece which stresses the low base of higher education opportunities in Africa at the moment but which reveals the potential of cross country collaboration and the gains that will come from reversing the brain drain. A great example to use when discussing human capital and long-term development. More on the Square Kilometre Array
Sunday, March 17, 2013
Oxfam senior researcher and former co-author of the UN's annual Human Development Report Kate Raworth visits the RSA in London to explain 'doughnut economics' -- the bold new theory that is sweeping the development world. A really clear seventeen minute video covering some of the key environment challenges that threaten sustainable growth and a call to make central to the debate the protection of natural capital and social capital.

read more...»
Thursday, February 21, 2013
Bringing innovations to the market is crucial for countries wanting to focus on green industries as a source of economic growth. This blog will provide a number of short news videos on innovation in environmental products.
read more...»
Sunday, February 17, 2013
In many countries, governments have regulated the use of plastic bags with some countries banning them and others imposing a tax on their use. From an economic point of view, the reasons for a tax seem pretty clear - spillover costs including pollution on land and at sea, the lack of biodegradable materials being a major problem.
read more...»
Friday, February 01, 2013
Government and business in India's capital are struggling to cope with the environmental consequences of the city's economic growth. The dirty air has returned to Delhi, making it once again one of the most polluted cities in the world.
In this short video, the FT's Victor Mallet examines the cost to human health.
read more...»
Friday, January 18, 2013
Land Grabs have become an important and controversial issue in development economics in recent years.
read more...»
Thursday, December 20, 2012
In many countries, resource nationalism has become more frequent in recent years, indeed it has been one of the key stories in 2012 as several countries have introduced new resource taxes, natural resource licence reviews and expropriation of assets from private sector companies. This Financial Times news video looks at the trends including resource nationalism within countries as provinces and regions look to exert great control on the revenues from oil, gas and mining projects.
See also: Economist: Foreigners beware - oil and mining in Indonesia
Resource insecurity: New report from Chatham House
Interactive resource: New political economy of natural resources
read more...»
Tuesday, November 13, 2012
Those of you who felt angry or let down by the recent proposals for a Pasty Tax, or those that have been imposed on static caravans or toasties (turning the mighty Subway in to a new lobbying organisation) in the UK should spare a thought for the poor French citizens who are potentially about to have a new surcharge placed upon Nutella - that famous hazelnut and chocolate spread.
Unlike the previously mentioned British taxes, which were imposed or proposed to generate revenue or close apparent loopholes, this tax has been put forward for market failure reasons. The tax, of course, is not directly on the brand but upon one of its main ingredients - palm oil. The proposed increase by the French government is nearly 300%. The French are arguing that palm oil is a product with negative externalities - poor for the health of its consumers and a large burden on the health system. There is also a claim that the high production of palm oil in South East Asia has resulted in large-scale deforestation.
Read a short article on the issue at the Huffington Post. The cost of your morning crepe in Brittany may be about to increase!
Tuesday, November 06, 2012
The "tragedy of the commons" is a metaphor used to illustrate the potential conflict between individual self-interests of producers and consumers and the common or public good.
In the original version of the term, the example is used of a stock of common grazing land used by all livestock farmers in a small village. Each farmer keeps adding more livestock to graze on the Commons, because the marginal cost of doing so is zero. But because the commonly own resource is then over-used or over-exploited, the result is a depletion of the soil and a fall in the value of the resource for all users. The resource may become irretrievably damaged.
The cause of any tragedy of the commons is that when individuals use a public good, they do not bear the entire social cost of their actions. If each seeks to maximize individual benefit, he ignores the external costs borne by others.
read more...»
Saturday, October 13, 2012
My A2 students have been researching and writing about the economics of natural resource curses - some of their perspectives are provided below.
read more...»
Thursday, September 27, 2012
Former Labour Deputy Prime Minister John Prescott was once (perhaps) quoted as saying: "The Green Belt is one of Labour's greatest achievements, and we intend to build on it!". Danny Boyle's dramatic and wonderful London 2012 Olympic opening ceremony "Isle's of Beauty" began with an unforgettable rural landscape which was soon to be transformed by an altogether harsher industrial landscape during the pandemonium.
For many years we have regarded our greenbelt protected land as a bulwark against urban sprawl and over-rapid commercial and industrial development. But this is about to change with a change in planning laws and regulations that will make it easier to turn farmland into business parks and new housing?
read more...»
Tuesday, September 25, 2012
Using agrichemicals is directly correlated to infant mortality in India. This is the central finding of research presented by Nidhiya Menon (Associate Professor of Economics, Brandeis University) at the International Growth Centre's Growth Week 2012.

read more...»
Monday, September 24, 2012
Mining should not be subject to special fiscal treatment, argues research presented by Robert Conrad (Associate Professor of Public Policy and Economics, Duke University) at the International Growth Centre's Growth Week 2012.

read more...»
Sunday, September 16, 2012
As Geoff's earlier
blog entry on the Kwale Mineral Sands Project in Kenya
used the term
natural resource curse
, I thought it apposite to develop the idea with application to both
high income countries
(HICs) and
low income countries
(LICs). In both cases, it would seem, the idea that 'all that glitters is not gold' is a persuasive one.
read more...»
Monday, August 06, 2012
By 2050, the world's growing population will use 55% more water in their homes, to grow food, and to produce electricity and manufactured goods. To ensure enough water to meet this demand, we will need to stop wasting it and find new ways to make sure there's enough to go around.
The world's demand for water will continue to grow in the years ahead because of a rising global population and changing lifetsyles and wealth. More people using more and increasingly polluted water represents one of the most severe environmental, economic and humanitarian challenges facing the world. Here are some video resources on the issue of water scarcity.
read more...»
Tuesday, July 17, 2012
Here is an updated selection of videos featuring renowned development economist Paul Collier. Professor Collier is speaking at the Tutor2u Economics Event - Teaching the Global Economy -on Monday 19th November at the RSA in London. Details can be found here
read more...»
The European Union is bringing in tough new laws covering the collection and recycling of the growing mountain of electrical waste - also known as e-waste. From 2016 - for every hundred tonnes of electrical items put on the market during the previous three years member countries will have to collect and recycle 45 tonnes of e-waste. The EU directive provides an opportunity for businesses that can recycle and reuse electrical products and their many component parts - the high global prices for essential raw materials gives added impetus to the challenge to tackle the e-waste problem. This news video also looks at entrepreneurial activity in recycling waste in India.
read more...»
There is a huge agenda for China with green development. The key point is that China is now fully committed to reshaping her growth in the years ahead, indded success in promoting green growth and development may be crucial to lifting China from being a middle income country to a high income economy.
read more...»
Saturday, July 14, 2012
Here is an example of a fast-growing developing country in Africa making important investment to help meet ambitious targets for supplying energy from renewable sources. Katrina Manson films and reports for the Financial Times from the Great Rift Valley on Kenya's latest plans to exploit geothermal energy to produce electricity.
The fixed costs of finding geo-thermal sources, build the turbines and then connect to Keyna's energy grid are huge. But a move towards smaller geo-thermal energy plants provide a more cost efficient approach. Successful investment will help to reduce energy imports, provide a viable alternative to uncertain hydro-electric power, create new jobs and contribute to Kenya's search for sustainable growth.
read more...»
Wednesday, July 11, 2012
The English water and sewerage industry was privatised in 1989 and since then household and business consumers have received water services from a regional monopoly business. Companies such as Thames Water or Severn Trent are vertically integrated, water companies, which provide a 'source to tap' service: obtaining water from source through abstraction, treating it to an appropriate standard, and providing it to customers' taps via company-owned infrastructure. Only very large business customers are able to choose their supplier.
In Wales, Glas Cymru is a single purpose water and sewerage company with no shareholders run solely for the benefit of customers. Scotland and Northern Ireland have retained the state-owned model.
Post privatisation, an industry regulator OFWAT was created. Like other regulators OFWAT has a number of roles including the aims of promoting the public interest and increasing cost effectiveness of the water and sewerage suppliers. The water industry has been subject to price controls over the last twenty three years with each price-control regime lasting for a period of five years. The current price control lasts until 2015.
read more...»
Monday, July 09, 2012
Over 1,000 people a day are arriving to live and work in Dhaka - the world's fastest growing city. Rural-urban migration is putting huge pressures on the local environment as this news report shows. Can foreign investment in eco-friendly brick manufacturing factories help to the cut the dangerously high level of toxins from Dhaka's construction industries? How does the EU carbon trading system link into this video resource?
read more...»
Saturday, July 07, 2012
The Earthrise series from Al Jazeerah news provides some super short case studies relevant to AS and A2 economics courses that cover environmental market failures, innovations in government interventions and many vivid examples of threats to sustainable growth and development for many countries around the world.
Our Storify series below provides a regularly updated selection of news videos from the Earthrise series.
read more...»