Economics CPD Courses Coming up this Term!- Book Your Places Now!
WOW! Economics 2015 | Quantitative Methods (New Spec)
---
Friday, December 05, 2014
Every so often I read an article and start to tot up the number of economic concepts being covered in just a few words. This occurred to me again this morning when reading this BBC news article on train fare rises. Train fares are pegged to July's inflation rate and, as inflation is quite low at the moment, this means that the average rise of 2.2% is also relatively low (although regular train users may still feel aggrieved).
Have a read yourself and see how many concepts crop up or give them same exercise to your A2 students. My thoughts are below:
read more...»
Monday, December 01, 2014
If you're looking at government intervention to correct market failure then you may find this 5 minute resource of value. Using statistics compiled from Professor Tony Travers of the LSE, highlighted in this article, it asks students to predict which local government budget areas will see the largest cuts by 2018.
read more...»
Monday, October 27, 2014
The world seems to want, and need, plenty of advice on ways to boost macroeconomic performance. I was drawn to one piece on Project Syndicate that was especially interesting because the author, Jeff Sachs (one of the most famous development economists) introduces his comments by saying:
"I am a macroeconomist, but I dissent from the profession's two main schools of thought … the neo-Keynesians, who focus on boosting aggregate demand, and the supply-siders, who focus on cutting taxes. Both schools have tried and failed to overcome the high-income economies' persistently weak performance in recent years. It is time for a new strategy, one based on sustainable, investment-led growth".
read more...»
Friday, October 24, 2014
The Local Government Association (which represents local councils in the UK) have joined the debate about term time holidays for pupils this week. They argue that current rules banning term time holidays or imposing fines on those families who take such breaks do not recognise the complexities of modern families and also prevent poorer families from affording vacations that are invariably dearer during the holiday period.
It struck me whilst reading one of the reports that the suggested policy is to allow head teachers that most quantifiable of options, 'common sense', to make decisions on a case-by-case basis would be the sort of argument that would make me scream if a student wrote it in an assessment answer. Economics students, unlike Local Government officials, need to take a much more analytic approach to this question!
read more...»
Thursday, September 11, 2014
The transport economists amongst you will be giving considerable thought to the question of tackling road traffic congestion. I've picked up on two stories here because they take contrasting approaches. The first is to use technology and regulation to tackle the problem – the so-called command and control approach. The other relies on price signals, so might be described as a market led approach.
read more...»
Sunday, September 07, 2014
A great example to start you off looking at how economists understand markets: after a run of rain-wrecked years, British farmers are bringing in the last of what looks like a bumper cereals harvest. 2014 could be the biggest yield ever for wheat. Good news. But for whom?
read more...»
Friday, August 15, 2014
A new study finds that incentives to switch to green vehicles produce big health benefits
read more...»
Friday, July 25, 2014
A report out yesterday from the Health and Social Care Information Centre shows a dramatic fall in the consumption by young people (aged 11 to 15) of our favourite demerit goods – alcohol, cigarettes and drugs. The report suggests that over the last decade regular smoking fell from 9% to 3% of 11- to 15-year-olds. Regular alcohol drinking dropped from 25% to 9%. Drug use has halved from 12% to 6% over this 10 year period.
This, of course, is very good news with regards to the relative health of our youth. As an economics teacher the first question I would ask my students is how this downturn has been achieved? What has happened either within the market or with government intervention to shift consumption in this way? It could be argued that this represents the most successful example of government intervention into markets to change behaviour and can be attributed to regulation, restriction of use and good old education! Information failure does not appear to have had an impact and the political will to succeed has been fairly uniform among the major parties in power.
For me, of course, it also offers the opportunity to do the next in my series of numerical activities in preparation for the arrival of the new specifications in 2015!
read more...»
Friday, April 18, 2014
Investigating and understanding price fixing and collusion are an important part of analysing behaviour in oligopolistic markets. Not all of these corrupt practices are headline grabbers: most are in such unglamorous areas as ball-bearings and cargo rates, which go on unnoticed for years, quietly bumping up the end cost to consumers of all manner of goods and services.
What steps can be taken to undermine the incentives for business to engage in these illegal activities?
read more...»
Wednesday, April 16, 2014
Here are twelve more questions covering markets and market failure - test your understanding with this zondle-powered quiz!
read more...»
Tuesday, April 08, 2014
Anti-smoking measures, such as taxes and bans, eventually lead people to eat better and lose weight. That is the central conclusion of research by Luca Savorelli, Francesco Manaresi and Davide Dragone, to be presented at the Royal Economic Society's 2014 annual conference. The three economists overturn the conventional wisdom that kicking the smoking habit is healthy but results in weight gain.


read more...»
Friday, March 28, 2014
In 2007 a ban on smoking in enclosed public places was introduced in England - Scotland had introduced a similar measure a year earlier. Fresh evidence published in the medical journal The Lancet finds that enforced bans on smoking are now having a discernible effect on measures of public health.
read more...»
Sunday, March 23, 2014
I thought it worthwhile sharing my resources which I have been collecting for students (and teachers alike). I have been promoting them on Twitter (@Economics_KSF) through scoop.it but for those of you not on there, the link for the scoop.it boards are here:
http://www.scoop.it/u/economics-kcsf
read more...»
Wednesday, March 05, 2014
Regulation of prices through price capping has been a feature of regulation of the utilities in the UK for many years – although this is now being phased out as most utility markets have become more competitive.
Price capping systems
Price capping is an alternative to rate-of-return regulation, in which utility businesses are allowed to achieve a given rate of return (or rate of profit) on capital.
In the UK, price capping has been known as "RPI-X". This takes the rate of inflation, measured by the Consumer Price Index and subtracts expected efficiency savings X. So for example, if inflation is 5% and X is 3% then an industry can raise their prices on average by only 2% per year
In the water industry, the formula is "RPI - X + K", where K is based on capital investment requirements designed to improve water quality and meet EU water quality standards. This has meant increases in the real cost of water bills for millions of households in the UK.
Advantages
Capping is an appropriate way to curtail the monopoly power of "natural monopolies" – preventing them from making excessive profits at the expense of consumers
Cuts in the real price levels are good for household and industrial consumers (leading to an increase in consumer surplus and higher real living standards in the long run).
Price capping helps to stimulate improvements in productive efficiency because lower costs are needed to increase a producer's profits.
The price capping system is a tool for controlling consumer price inflation in the UK.
Disadvantages
Price caps have led to large numbers of job losses in the utility industries
Setting different price capping regimes for each industry distorts the price mechanism
read more...»
Saturday, February 22, 2014
Did you know that most train operating companies will refund 50% of your ticket for a delay of 30 minutes or more, and will double that if the delay is for an hour or longer? And that, if you are travelling by tube, Transport for London offers refunds if your journey is delayed by 15 minutes or more (although you won't get a refund if the delay is caused by a security alert, "third party action" such as a strike or bad weather)? Most probably you didn't, as a survey by the Office of Rail Regulation has found that more than 75% of rail passengers know "not very much" or "nothing at all" about what they are entitled to when services are disrupted.
The report also found that 74% of passengers felt that train companies do "not very much" or "nothing at all" to proactively provide information about compensation when there are delays. As Simon Gompertz found in this video report, there are plenty of ways in which the train operating companies could make the information available, whether through instructions on the back of the tickets and announcements on trains to apps.
read more...»
Tuesday, February 04, 2014
If you attended the recent tutor2u revision conferences for up-coming micro-economic exams (look out for the macro workshops and combined micro and macro to come in March) you will have seen how fuel-pricing was used as an example of market failure, government intervention strategies and government failure.
Fortunately, the energy market is a gift that keeps giving to us in the economics world (every cloud has a silver lining) as a report out today (see this link for the BBC version of the story) indicates that Parliament is about to intervene to try and stop the energy companies charging more to customers who pay by cash rather than by direct debit (£114 per year, according to the report).
read more...»
Wednesday, January 08, 2014
Here's another weather blog. It's cold and atmospheric conditions are right for exceptionally severe local air pollution; smoke, micro particulates and sulphur dioxide combine into a greasy 'smog'. The health impact is severe. People start talking about a 'killer fog' and even an 'environmental disaster'. Thousands die over the next few days and weeks, many more face serious long term consequences.
Where am I describing?
read more...»
Proposing Government intervention strategies for dealing with externality market failure is a common enough exam question. Many of my students will concentrate on the use of indirect taxation, subsidies, pollution permits or regulation as a method of reducing consumption - often forgetting that the Government can use good, old-fashioned advice as a way of altering purchasing patterns.
read more...»
Thursday, January 02, 2014
The NHS is part of the British establishment just as much as tea, talking about the weather and sarcasm. This view through rose-tinted spectacles has prevented serious debate and clouded our judgment. Foreign visitors are now being charged to use our A & E services, yet they can still see GP's for free. This ludicrous half measure is just one example that we are blinded by love for our NHS. A situation has arisen in which any attempt from politicians to discuss much needed improvements for the current healthcare system is political suicide. This is hindering development.
read more...»
Tuesday, December 17, 2013
You may have seen news reports today about the Competition Commission announcing that it will continue its investigation into the car insurance market having decided that there are concerns to be addressed. The headlines concentrate on the market failure caused by the current system of non-fault claimants organising their own replacement vehicles (and then charging the at-fault insurers) but I thought it was just as interesting that the CC are looking at the relationship between the insurers and price comparison websites.
read more...»
Friday, November 08, 2013
Here is an example of direct intervention in markets to address some of the information failures associated with the obesity epidemic. US food authorities have taken the first step towards banning artificial transfats, substances that are found in processed foods. They say it is a move that could prevent 20,000 heart attacks and 7,000 deaths a year. According to the BBC website
"Artificial trans fats are used both in processed food and in restaurants as a way to improve the shelf life or flavour of foods. The fats are created when hydrogen is added to vegetable oil, making it a solid."
read more...»
Thursday, November 07, 2013
Ed Miliband's promise at the Labour Party conference to cap energy prices for 20 months if Labour were to win the next election, has raised many questions about what we pay for domestic energy, how it compares with other countries, and what the energy companies do with their profits. Pondering those points has led me to an over-riding question, which is whether the price paid by consumers is really the most important issue for government intervention in the energy market.
read more...»
Monday, October 21, 2013
UK nuclear energy is painfully burdened by regulation. Energy prices are at an all time high, so much so that politicians are desperately trying to find policy solutions to utilise this dissatisfaction for votes. There are widespread complaints that energy companies' profits are too large. The Prime Minister encourages us to look for a cheaper energy deal. Surely there could not be any clearer signals from the market and society that now is the time for suppliers to enter the energy market. But unfortunately this is not the case; a detriment to us all.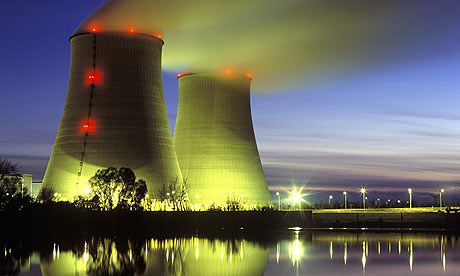 read more...»
Sunday, October 13, 2013
The entrepreneur is considered crucial in economics: so crucial that they are even described as a factor of production, listed alongside land, labour and capital. Supply side economic approaches often recommend policies that will encourage and support entrepreneurs, as a way of stimulating the economy.
read more...»
Tuesday, September 17, 2013
Many of you starting out on Economics programmes will quickly hit on this topic. Is it wise to take a 'free market' or Laisser Faire approach to organising the economy? Or should the government be controlling key parts of the economy? This theme is likely to run through the course, as you go on to consider the ways in which government intervention in the economy can make things better - or worse.
Here's the ideal topic to get you thinking. Are industries best managed when they are in the hands of the government (which is often described as nationalised)? Or is it better for them to be run as regular private businesses - that is privatised?
read more...»
Thursday, September 12, 2013
It occurred to me recently that the way the government tries to control the population, by encouraging and discouraging certain activities, is rather like the way in which I, as a parent, try to control my child.
For instance:
Legislation – Setting rules
Imprisonment – Grounding
Fines – Reducing pocket money
Providing information – Using examples from experience, educating
Subsidising – Helping towards payment
State Provision – Buying things for my children
For example, I don't want my daughter to smoke, drink or take drugs, so what do I do to prevent this? I will provide her with plenty of information as to why she shouldn't partake in these activities, should she do it anyway, I'll probably ban these products from my house and also reduce her pocket money in order to prevent her from buying them.
How does the Government try to prevent its citizens from smoking drinking and taking drugs? Well, it provides us with information, legislates against it, setting age limits and laws to try to prevent excessive consumption, and places large levies on alcohol and tobacco products to try to discourage consumption, something akin to what I am putting into place.
Will it work?
In some cases, yes, in others, no and the combination of controls will probably vary for each individual, but as a parent I only really get one chance to get it right for each child, the Government, however, can play the percentage game.
Bringing up children is not all about steering your child away from negativity, much as the Government also wants us to do positive things with our lives. For example:
I see education as quite important in a child's life and as such, I will try my best to ensure that my daughter takes advantage of the best education available to her and embraces it. How will I do that? I will insist that she goes to school, as will the Government. I will monitor her progress carefully, as will her schools. I will encourage her to work hard, as will her teachers, and I will provide information as to the positive future that will ensue from her hard work, as will Government initiatives.
So, all in all, I am my daughter's Government, trying to persuade her to make the correct decisions, in her own best interests. I'm sure that along the way, I'll make some horrendous mistakes, as I'm sure most students would agree, parents don't always know the best way to deal with situations, much as Governments don't, largely down to information failure! I'm sure Sophie will make some choices that I won't necessarily agree with, but as long as I look at the long term and have a clear direction, hopefully I'll raise a happy, positive individual, much as the Government wants to do with all of us.
read more...»
Sunday, September 08, 2013
Tomorrow the UK will see its newest High Street bank open 631 branches. However, this new bank will be called the TSB (Trustee Savings Bank) which is a brand that was first created over 200 years ago. The creation of the bank comes from EU directives to split up the Lloyds TSB group and create greater competition in the banking market and counteract any advantage Lloyds TSB might have from being Government-owned.
This link will take you to a short Powerpoint stimulus presentation to be used in class. The presentation gives a brief explanation of the TSB story and has links to a few interesting video clips as well as the branch finder web page so that you can show your students where their nearest TSB is located.
Monday, July 29, 2013
As of today, any employee wishing to take their employer to an unfair dismissal, unequal pay or sexual discrimination tribunal will have to pay a fee. This fee will not be automatically refunded on a successful tribunal outcome meaning that employees who are making choices about such an action have to be aware of the potential financial cost of such an action.
The government argue that this removes some of the burden of tribunal costs away from tax payers and should also reduce the number of frivolous claims made (and thus reduce a further burden on businesses). As such, you could claim that the tribunal fee represents a supply-side policy by the government - an attempt to improve the efficiency of the operation of businesses by reducing some of the red-tape that can stop a business working effectively (particularly small businesses).
Trade Unions are unhappy about the fee introduction. They argue that it reduces the opportunity for poorer workers (or unemployed people who have lost a job) to seek justice for what may have been unfair treatment. An evaluative argument here, therefore, might suggest that the tribunal fee acts as a barrier to fair pay, particularly in cases of discrimination.
Follow this link for some details as illustrated by the New Statesman.
Saturday, July 27, 2013
A major news story this week has been the attack made on the pay-day lending industry by the Archbishop of Canterbury Justin Welby. He claimed that he wanted to compete the likes of Wonga out of existence by encouraging the Church of England to offer more support for credit unions. Whether this is likely is open to question.
The commercial pay day loans businesses have grown rapidly in recent years but concerns over some of their practices has led to an investigation into the industry by the Office of Fair Trading. Payday lenders have been accused of a variety of poor practices, including aggressive debt collection and failing to work out whether repayments are affordable.
Pay day loans industry by numbers (Telegraph)
read more...»
Friday, July 12, 2013
Okay, hands up, how many of you economics teachers use cigarettes as one of your primary examples of a demerit good? Well, it does fit the bill and it gives you the opportunity to give teenagers a bit of a lecture about healthy living (if only the Ofsted inspector was there for that lesson).
The government's announcement today that they are to postpone the introduction of standardised packaging for cigarettes is bound to meet with some criticism - many will claim that they are giving in to pressure from a tobacco industry which feels that it is already heavily regulated. The concept is that a standard, plain package will put some people off from purchasing cigarettes as there is some research that says that people are attracted to the branding. Personally, until they put the phrase 'don't listen to your peers, they smell' on the box I'm not convinced the plan would have much impact anyway.
What intrigued me more about this story, is the fact that the government have postponed the plan until the impact of standardised packaging has been more closely studied in Australia (where the policy already exists). So there you go, not only is this a story about cigarettes as a demerit good but it is also an example of the government attempting to avoid policy failure. The government argues that it shouldn't spend money on implementing policies and then policing the tobacco firms and retailers if the impact of the programme is minimal. In a sense, the government are arguing that taking its time over this plan may save money in the long run or enable it to spend its scarce resources on a policy that has more impact.
read more...»
Friday, June 07, 2013
As an example of collusion, this news article showing alleged price fixing by Canadian chocolate manufacturers and their wholesale distributors illustrates how highly-dominant firms can impact against the public interest.
Reading this article and admitting that chocolate is the closest product that I consume which exhibits addictive qualities (apart from coffee and salt-laden crisps that is) it struck me that this perhaps could be used as an evaluative argument when considering the case for legalisation of slightly stronger narcotics.
One argument for legalising cannabis is that tax revenue can be accrued and there would be a reduction in crime given the lowering of prices (and consequential drop in burglary and stealing to pay for the relatively expensive habit).
This reduction in price, it could be argued, might only occur if the newly formed legal market for cannabis is highly competitive and doesn't suffer from oligopolistic distribution conditions like chocolate does in Canada (or in the UK, for that matter).
Just a thought. Now, where's the other half of that Twirl?
Tuesday, March 12, 2013
Schools and College up and down the country are preparing for all sorts of different activities for the Comic Relief Red Nose Day this Friday (15th March). Are you doing anything with your class?
Here is a ready-made Powerpoint game to run for approximately 20 to 25 minutes in your class this Friday. Whilst being a fun, team-based challenge, the multi-choice questions are all about facts and figures related to the causes that Comic Relief are attempting to support. As such, the information contained within the game should prove a useful stimulus for discussion within your class about the causes of poverty in Africa, as well as alcohol-abuse and other social issues within the UK. It could also prove a useful tool with discussing why these problems exist and what government solutions could be implemented (as well as asking why they haven't already been put in place!).
Click on this link to go to the Powerpoint file that contains the game.
read more...»
Monday, February 18, 2013
The subject of obesity is an increasingly important topic in the study of market failure. Its consequences are severe and go right to the heart of the 'inefficient allocation of resources' economic concept of market failure. Overconsumption of a number of demerit goods are one of the many causes of this growing epidemic and worrying trends and statistics can be found here with this BBC video clip also providing a useful overview on the facts behind global obesity. The UK is one of the most obese nations in the world with about a quarter of adults classed as obese and that figure is predicted to doubly by 2050.
read more...»
Sunday, February 17, 2013
In many countries, governments have regulated the use of plastic bags with some countries banning them and others imposing a tax on their use. From an economic point of view, the reasons for a tax seem pretty clear - spillover costs including pollution on land and at sea, the lack of biodegradable materials being a major problem.
read more...»
Sunday, January 20, 2013
Students taking their Business Economics unit exam this week might like to use online file-storage as an example of a contestable market. This comes during the week of an announcement by the colourfully-named internet tycoon Kim Dotcom of a re-launch of his file-sharing cloud-site Mega - which offers up to 50 Gb of free file storage and out-trumps its big and more established competitors at Dropbox, Microsoft and Google. According to Mr Dotcom he already has a quarter of a million registered users and over a million hits on his website within the first day.
read more...»
Thursday, January 03, 2013
Hard sell and low standard - a new report on the UK cosmetic industry has found deep-rooted problems in the selling of plastic surgery services and highlights class market failure issues of miss-selling and information failures. Many vulnerable consumers complain of being pressured into surgery and the report argues that some providers use cut-price and time-limited deals to sell cosmetic treatments in a similar way to the flogging of double-glazing. Free consultations also seen to cause consumers to feel pressurized into having surgery. The review, led by the medical director of the NHS, Sir Bruce Keogh, was set up because of the safety scare involving breast implants made by the French firm, PIP.
Here are some news videos on this controversial issue - it is a fast growing market but one with huge risks for those with cosmetic needs and wants.
read more...»
Wednesday, January 02, 2013
An updated glossary of key terms for the Unit 1 Economics paper
read more...»
Saturday, December 22, 2012
Apologies for the reference in this Blog's title to the Human League's 1981 Christmas number one single – it betrays my age. I'm sure if you come to use this example of competition regulation and contestability you will use something much more contemporary.
The back catalogue of all of the Human League songs of that era, along with many thousand more recent songs (such as those of Take That and Duffy) have just been bought by BMG – one of the world's largest music publishing groups. BMG have purchased these rights from Universal who have been forced to sell them as part of their own takeover of EMI earlier in 2012.
read more...»
Tuesday, December 18, 2012
OK, as it seems the markscheme to go with my recent blog post is in popular demand, I've made it available online.
read more...»
Sunday, December 16, 2012
The other day I asked my year 13 Economists, which topics they wanted to revise before heading off for the Christmas holidays. Monopsony came up as being something they'd found particularly difficult recently, and so I've created some example exam questions to hopefully improve their understanding of this topic.
read more...»
Monday, December 10, 2012
An A-Z glossary for the Unit 1 Micro course
read more...»
Friday, November 02, 2012
Now, tutor2U is an organisation dedicated to supporting and building communities for teachers and lecturers. So, if I post a blog that criticises the report released today by Ofqual which suggests that some teachers over-graded coursework (particularly in English) during this summer's GCSE assessments you might accuse me of bias. To paraphrase Jeremy Clarkson: "You would say that - you drive a Citroen Picasso." However, in my never-ending pursuit of trying to find examples that resonate with young students of economics, is it possible to draw parallels with what happened during the GCSE assessment this year, and the mistakes made within the banking industry that lead to the current recession?
read more...»
Tuesday, October 16, 2012
Listen, I'm an old curmudgeon. I don't wear patches on my jacket elbows nor do I wear corduroy trousers but that's because I don't like newfangled things. So when I said to my students today that I think that tattoos may be an example of a demerit good they responded with "well, you would say that, wouldn't you!"
read more...»
Thursday, October 11, 2012
Assessment failures were 'clearly responsibility of officials and not ministers', Philip Rutnam tells former transport secretary
Further material from Tomorrow's Guardian on the West Coast Mainline Franchise troubles, which can be added to Jonny Clark's article from last week.
If the Department of Transport is too incompetent to run a supervised franchised system, how viable is the alternative of a fully nationalised system?
Wednesday, October 03, 2012
Every cloud has a silver lining! News reports out today confirmed that the original decision to award the next 15 year franchise of the West Coast Rail line to FirstGroup instead of the incumbent Virgin Rail has been rescinded and the bidding process re-opened at a potential wasted cost of £40 million (by the way, have they fixed that leaky roof at your school yet?). This may seem like a fiasco to train users and the general public alike but to us Economics teachers it's a super example of government failing to intervene correctly in a market.
read more...»
Sunday, September 30, 2012
You might find this news report from KL.FM (a radio station in King's Lynn) about the self-regulated sales of 'strong booze' in Ipswich an excellent example of a policy to deal with de-merit goods. Alcohol is a prime example of a de-merit good and a common student response regarding government policies to reduce its consumption often centres around the use of taxation and age-based prohibition. A good evaluative answer to questions relating to government policy would mention the fact that alcohol remains a popular product despite its obvious issues and might also discuss how the over-consumption of alcohol could be linked to something more cultural (compared to, say, France) - hence the need for something a little more creative than blanket bans or high duties. I would want to ask my students questions such as 'what are the costs to society' mentioned within the report and why might the targeting of high-strength alcoholic drinks be a more affective policy then banning sales of all alcohol?
Tuesday, August 21, 2012
For millions of regular rail users, the fare system in operation in the UK is almost impossible to understand! Annual changes in a complex system of rail fares bring about anger and hostility and there are regular claims that the increasing cost of travelling by rail is a disincentive to use the train instead of the car.
read more...»
Tuesday, July 17, 2012
The European Union is bringing in tough new laws covering the collection and recycling of the growing mountain of electrical waste - also known as e-waste. From 2016 - for every hundred tonnes of electrical items put on the market during the previous three years member countries will have to collect and recycle 45 tonnes of e-waste. The EU directive provides an opportunity for businesses that can recycle and reuse electrical products and their many component parts - the high global prices for essential raw materials gives added impetus to the challenge to tackle the e-waste problem. This news video also looks at entrepreneurial activity in recycling waste in India.
read more...»
Wednesday, July 11, 2012
The English water and sewerage industry was privatised in 1989 and since then household and business consumers have received water services from a regional monopoly business. Companies such as Thames Water or Severn Trent are vertically integrated, water companies, which provide a 'source to tap' service: obtaining water from source through abstraction, treating it to an appropriate standard, and providing it to customers' taps via company-owned infrastructure. Only very large business customers are able to choose their supplier.
In Wales, Glas Cymru is a single purpose water and sewerage company with no shareholders run solely for the benefit of customers. Scotland and Northern Ireland have retained the state-owned model.
Post privatisation, an industry regulator OFWAT was created. Like other regulators OFWAT has a number of roles including the aims of promoting the public interest and increasing cost effectiveness of the water and sewerage suppliers. The water industry has been subject to price controls over the last twenty three years with each price-control regime lasting for a period of five years. The current price control lasts until 2015.
read more...»
Monday, July 02, 2012
Alcohol-related accidents are the leading cause of death and serious injury for victims of car crashes in France and the government has decided to introduce a strong behavioural nudge by making it compulsory for every car to have a portable breathalyser kit in their vehicles or risk a fine. This applies to every vehicle including those driven by tourists. Vehicle owners will have until November 2012 to get used to it before the fines are imposed.
Having a breathalyser in the glove box or on the front passenger seat might well be an effective reminder for people before they turn on the ignition. Reminders of our mortality and/or our morality can often prime us to make safer, better choices. I applaud the French government for introducing this new law. All motorists must also have with them a high-visibility safety vest and a warning triangle.
read more...»