Get Summer 2014 Right First Time with tutor2u Exam Coaching & Revision Workshops
AS & A2 Economics | AQA AS & A2 Business and AQA & Edexcel GCSE Business


---
Saturday, February 15, 2014
This blog brings together some of our resources on information failures in markets.
Click below for:
Mo Tanweer's superb revision notes on aspects of information economics
Try our short Zondle revision quiz on information failure
read more...»
Friday, February 14, 2014
According to a report published by the Parliamentary Public Accounts Committee, the Government are currently underestimating how many students will actually pay back their university loans over the coming decades. Currently, the Government estimates that between 35 and 40% of loans to Higher Education students are never paid back - the Committee believes that the rate on non-repayment is much higher and reflects a weakness in the loan collection method. The primary reason for non-repayment is that student details get lost over a period of time particularly if the graduate moves and works abroad or was an EU citizen who has returned to their own country. The method of using the income tax registration process as a way of locating former students has been criticized for not being an effective method of collecting information. It is estimated that the shortfall could be as much as £80 million by 2042.
read more...»
Tuesday, February 04, 2014
This will be an excellent case study to use when you're discussing the issues around minimum prices to solve the problem of externalities.
read more...»
If you attended the recent tutor2u revision conferences for up-coming micro-economic exams (look out for the macro workshops and combined micro and macro to come in March) you will have seen how fuel-pricing was used as an example of market failure, government intervention strategies and government failure.
Fortunately, the energy market is a gift that keeps giving to us in the economics world (every cloud has a silver lining) as a report out today (see this link for the BBC version of the story) indicates that Parliament is about to intervene to try and stop the energy companies charging more to customers who pay by cash rather than by direct debit (£114 per year, according to the report).
read more...»
Thursday, January 23, 2014
The NHS gives us so much value, as Economics teachers, as it serves as a great example of so many areas of theory. The story which heads up the BBC News site this morning is another useful one: NHS waiting time data for elective surgery has been found to be 'unreliable'
read more...»
Tuesday, January 14, 2014
The pharmaceutical (medicines) industry poses interesting questions for economists.
read more...»
Wednesday, January 08, 2014
Here's another weather blog. It's cold and atmospheric conditions are right for exceptionally severe local air pollution; smoke, micro particulates and sulphur dioxide combine into a greasy 'smog'. The health impact is severe. People start talking about a 'killer fog' and even an 'environmental disaster'. Thousands die over the next few days and weeks, many more face serious long term consequences.
Where am I describing?
read more...»
Proposing Government intervention strategies for dealing with externality market failure is a common enough exam question. Many of my students will concentrate on the use of indirect taxation, subsidies, pollution permits or regulation as a method of reducing consumption - often forgetting that the Government can use good, old-fashioned advice as a way of altering purchasing patterns.
read more...»
Tuesday, January 07, 2014
It's a weather blog. Rain and flooding can be a cue into the public goods debate. Why is it likely that most spending on flood defences will have to come from the public purse? The picture I've used above is described as what London would look like without the Thames Barrier. Here are a few more links:
read more...»
Sunday, January 05, 2014
Do consumers of carbonated soft drinks really know how much sugar is in their regular fix? This five minute Newsnight clip is ideal for showing when teaching aspects of the economics of information failure. Will "getting the information in people's hands" help them to adjust their lifestyles? What are the economic arguments for and against direct intervention in the market for carbonated drinks such as a tax on high sugar content products? What are the alternative options or should we simply let consumers make their own choices?
read more...»
Thursday, January 02, 2014
The NHS is part of the British establishment just as much as tea, talking about the weather and sarcasm. This view through rose-tinted spectacles has prevented serious debate and clouded our judgment. Foreign visitors are now being charged to use our A & E services, yet they can still see GP's for free. This ludicrous half measure is just one example that we are blinded by love for our NHS. A situation has arisen in which any attempt from politicians to discuss much needed improvements for the current healthcare system is political suicide. This is hindering development.
read more...»
Saturday, December 28, 2013
Most first year Economics students consider government intervention and government failure as key topics in their introductory microeconomics course. Finding compelling examples of state blunders is not that difficult but understanding how the complexity of the government apparatus lies behind failures of project and policy requires digging deeper.
read more...»
Tuesday, December 17, 2013
You may have seen news reports today about the Competition Commission announcing that it will continue its investigation into the car insurance market having decided that there are concerns to be addressed. The headlines concentrate on the market failure caused by the current system of non-fault claimants organising their own replacement vehicles (and then charging the at-fault insurers) but I thought it was just as interesting that the CC are looking at the relationship between the insurers and price comparison websites.
read more...»
Sunday, November 24, 2013
Here is a revision presentation on the economics of producer and consumer subsidies as forms of government intervention in markets. There are a number of up to date examples highlighted together with an evaluation of the benefits and costs of subsidy payments. This is designed as a revision aid for unit 1 students taking their microeconomics papers.
read more...»
Sunday, November 17, 2013
Long term youth unemployment is a persistent structural problem for the British economy - this BBC news article provides a ray of hope as Nestle announces extra investment in their training / apprenticeships schemes for younger workers. A more pro-active approach from larger businesses would be welcome - offering paid experience to help break the catch-22 of no job without experience, no experience without a job. Nearly one million young people (16-24) are unemployed in the UK, while youth unemployment in Ireland is 28 per cent with more than 65,000 young people out of work.
read more...»
Thursday, November 14, 2013
A currently fashionable pessimistic topic is the lifetime prospects of children born into the middle class. Graduate debt, lack of finance to buy homes and job insecurity after they graduate, the list goes on. Alan Milburn, the government's 'social mobility tsar', put the seal of approval on this prevailing angst last month. His Social Mobility and Child Poverty Commission pronounced that children from families with above-average incomes are now set to enjoy a worse standard of living as adults than their mothers and fathers.
read more...»
Friday, November 08, 2013
Here is an example of direct intervention in markets to address some of the information failures associated with the obesity epidemic. US food authorities have taken the first step towards banning artificial transfats, substances that are found in processed foods. They say it is a move that could prevent 20,000 heart attacks and 7,000 deaths a year. According to the BBC website
"Artificial trans fats are used both in processed food and in restaurants as a way to improve the shelf life or flavour of foods. The fats are created when hydrogen is added to vegetable oil, making it a solid."
read more...»
Sunday, November 03, 2013
The FT video clip below provides a short interview with Dame Ellen MacArthur - the former ocean yachtswoman - and her idea of building a circular economy - this idea might be a fruitful area for student exploration when studying environmental economics. To quote from the web site:L
"The linear 'take, make, dispose' model relies on large quantities of easily accessible resources and energy, and as such is increasingly unfit for the reality in which it operates. Working towards efficiency—a reduction of resources and fossil energy consumed per unit of manufacturing output—will not alter the finite nature of their stocks but can only delay the inevitable. A change of the entire operating system seems necessary"
read more...»
Wednesday, October 30, 2013
Suyash Raj Bhandari profiles the Founder of the Grameen Bank, Mohammad Yunus
read more...»
Friday, October 25, 2013
Here is an updated revision presentation covering aspects of the growth of microfinance and the role that it can play in driving development. We have also linked to some suggestions for background reading on the microfinance issue.
read more...»
Thursday, October 24, 2013
An autumnal hat tip to Jonathan Portes, Director of the National Institute of Economic and Social Research for spotting this textbook example culled from the Daily Mail of the problem of social cost and how application of the Coase theorem might be a solution! Click here for the article.
If you would like to know more about the Coase Theorem and the work of Ronald Coase who died earlier in 2013 at the ripe old age of 102 then click here for a superb blog entry from Mo Tanweer.
Energy prices are in the news. The recent actions of some of the energy companies can plausibly be described as provocative, no matter how well founded their decisions might be. They run the risk of provoking the ire of both the Opposition and the Government.
One interesting aspect of the debate is that it has become even clearer that decisions taken by Ed Miliband himself in the Brown government are partly to blame for our high energy bills. The plethora of green taxes and subsidies has become very expensive for consumers.
But how effective have such policies been? Not very much, seems to be the answer.
read more...»
Monday, October 21, 2013
UK nuclear energy is painfully burdened by regulation. Energy prices are at an all time high, so much so that politicians are desperately trying to find policy solutions to utilise this dissatisfaction for votes. There are widespread complaints that energy companies' profits are too large. The Prime Minister encourages us to look for a cheaper energy deal. Surely there could not be any clearer signals from the market and society that now is the time for suppliers to enter the energy market. But unfortunately this is not the case; a detriment to us all.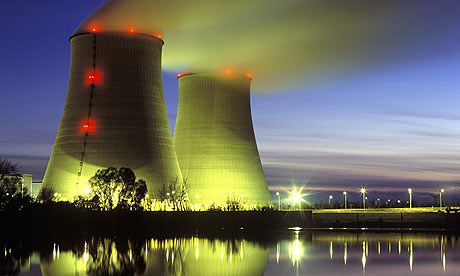 read more...»
Sunday, October 20, 2013
Air pollution is widely regarded as a negative externality arising from consumption and production. New research from the World Health Organisation finds that exposure to air pollution increases the risk of cancer - this 2 minute news report looks at their findings. You can find extensive revision notes on externalities and market failure by clicking this link.
read more...»
I just love the phrase 'irrational exuberance'. It's the title of book by Robert Shiller who has just won a Nobel Prize in Economics. But the phrase was coined by the US Federal Reserve Board Chairman, Alan Greenspan, in a speech given at the American Enterprise Institute during the Dot-com bubble of the 1990s.
I will make no attempt to tackle the complex issues that these top Economists were articulating, and instead give a few examples to convey the basics: it's just not safe to assume economic agents are always making rational choices based on transparent, accurate information.
read more...»
Tuesday, October 08, 2013
Here is an updated presentation on aspects of the natural resource trap or natural resource curse issue facing low (and also high) income countries
read more...»
Tuesday, September 24, 2013
There are lots of resources out there for students and teachers wanting to cover the debate about HS2 - here is a brief selection of video clips on the debate
read more...»
Monday, September 23, 2013
As soon as students encounter the idea of GDP they are guided towards thinking about the possible drawbacks to growth, especially for the environment.
read more...»
Sunday, September 15, 2013
Few places come close to matching the revenues from gambling generated by casino-led Macau as this Economist graphic illustrates! Macau is a special administrative region of China on the other side of the Pearl River Delta from Hong Kong. Jobs in casinos are easy to come by and unemployment is said to be little more than 2% of the labour force. But what are the economic risks and social costs of having a local economy chronically dependent on gambling for the bulk of jobs and incomes?
read more...»
Thursday, September 12, 2013
It occurred to me recently that the way the government tries to control the population, by encouraging and discouraging certain activities, is rather like the way in which I, as a parent, try to control my child.
For instance:
Legislation – Setting rules
Imprisonment – Grounding
Fines – Reducing pocket money
Providing information – Using examples from experience, educating
Subsidising – Helping towards payment
State Provision – Buying things for my children
For example, I don't want my daughter to smoke, drink or take drugs, so what do I do to prevent this? I will provide her with plenty of information as to why she shouldn't partake in these activities, should she do it anyway, I'll probably ban these products from my house and also reduce her pocket money in order to prevent her from buying them.
How does the Government try to prevent its citizens from smoking drinking and taking drugs? Well, it provides us with information, legislates against it, setting age limits and laws to try to prevent excessive consumption, and places large levies on alcohol and tobacco products to try to discourage consumption, something akin to what I am putting into place.
Will it work?
In some cases, yes, in others, no and the combination of controls will probably vary for each individual, but as a parent I only really get one chance to get it right for each child, the Government, however, can play the percentage game.
Bringing up children is not all about steering your child away from negativity, much as the Government also wants us to do positive things with our lives. For example:
I see education as quite important in a child's life and as such, I will try my best to ensure that my daughter takes advantage of the best education available to her and embraces it. How will I do that? I will insist that she goes to school, as will the Government. I will monitor her progress carefully, as will her schools. I will encourage her to work hard, as will her teachers, and I will provide information as to the positive future that will ensue from her hard work, as will Government initiatives.
So, all in all, I am my daughter's Government, trying to persuade her to make the correct decisions, in her own best interests. I'm sure that along the way, I'll make some horrendous mistakes, as I'm sure most students would agree, parents don't always know the best way to deal with situations, much as Governments don't, largely down to information failure! I'm sure Sophie will make some choices that I won't necessarily agree with, but as long as I look at the long term and have a clear direction, hopefully I'll raise a happy, positive individual, much as the Government wants to do with all of us.
read more...»
Tuesday, September 10, 2013
As part of our introduction to micro economics we have been looking at the shortage of housing in the UK. The chronic shortage of affordable and suitable housing raises many micro (and macro) issues and I find it a good example of an issue where different policy measures can be looked at in a non-technical way as a path into supply and demand analysis. It also covers the ground with topics such as scarcity, changing needs and wants, affordability, cost-benefit principles, opportunity cost and production possibilities.
read more...»
Monday, September 09, 2013
With a deep recession and persistently high rates of unemployment among younger people. fears are growing about a brain drain in Portugal as highly qualified university graduates leave the country in search of a better life. Peter Wise, Financial Times Lisbon correspondent, reports on what the trend means for the troubled Portuguese economy. Losing "the best of a generation" poses important long-term threats to the competitiveness of the Portuguese economy. Some are moving to Angola and Brazil, the UK has also attracted skilled workers in health care, banking and IT.
read more...»
Thursday, September 05, 2013
Channel 4 news investigates the impact of persistent and deep poverty on the lives and hopes of children in thousands of households. A potent and stark report that reminds us of the gulf in living standards and the challenges of meeting basic needs such as a decent diet that meets minimum nutritional standards.
read more...»
Tuesday, September 03, 2013
One of the greatest economists of the last 100 years has died at the ripe old age of 102. This blog entry will feature an updated listing of obituaries and other resources on Coase's work. Coase was awarded the 1991 Nobel in economics "for his discovery and clarification of the significance of transaction costs and property rights for the institutional structure and functioning of the economy." His final book, 'How China Became Capitalist,' was published last year, when he was 101.
read more...»
Sunday, September 01, 2013
In the United States many thousands of workers employed by fast-food businesses on low pay have launched a strike complaining against endemic low pay in their jobs. Workers want to be paid $15 (£10) an hour, the median wage [for service workers] is $9.08 an hour and the minimum wage is just $7.25 an hour - unchanged since 2009.
What are the main reasons why workers in these jobs are low paid? One contributory factor is the frequent absence of trade union representation when negotiating pay and conditions. Virtually all private sector fast food jobs in the United States are non-union.
To what extent might a higher minimum pay floor cost jobs? Or could it have the reverse effect and bring about higher productivity and employment? Would the profits of businesses such as McDonald's suffer if they were required to pay more? McDonald's profits totaled $5.47 billion in 2012 and the US fast-food industry each year generates revenues in excess of $200 billion.
read more...»
Saturday, August 31, 2013
The Office of Fair Trading is investigating potentially illegal pricing activities by six furniture retailers. It all relates to the use of price discounts.
read more...»
Thursday, August 01, 2013
Some useful data here on the depth of cigarette taxes by country
read more...»
Monday, July 29, 2013
As of today, any employee wishing to take their employer to an unfair dismissal, unequal pay or sexual discrimination tribunal will have to pay a fee. This fee will not be automatically refunded on a successful tribunal outcome meaning that employees who are making choices about such an action have to be aware of the potential financial cost of such an action.
The government argue that this removes some of the burden of tribunal costs away from tax payers and should also reduce the number of frivolous claims made (and thus reduce a further burden on businesses). As such, you could claim that the tribunal fee represents a supply-side policy by the government - an attempt to improve the efficiency of the operation of businesses by reducing some of the red-tape that can stop a business working effectively (particularly small businesses).
Trade Unions are unhappy about the fee introduction. They argue that it reduces the opportunity for poorer workers (or unemployed people who have lost a job) to seek justice for what may have been unfair treatment. An evaluative argument here, therefore, might suggest that the tribunal fee acts as a barrier to fair pay, particularly in cases of discrimination.
Follow this link for some details as illustrated by the New Statesman.
Saturday, July 27, 2013
A major news story this week has been the attack made on the pay-day lending industry by the Archbishop of Canterbury Justin Welby. He claimed that he wanted to compete the likes of Wonga out of existence by encouraging the Church of England to offer more support for credit unions. Whether this is likely is open to question.
The commercial pay day loans businesses have grown rapidly in recent years but concerns over some of their practices has led to an investigation into the industry by the Office of Fair Trading. Payday lenders have been accused of a variety of poor practices, including aggressive debt collection and failing to work out whether repayments are affordable.
Pay day loans industry by numbers (Telegraph)
read more...»
Saturday, July 13, 2013
Frustrated by the noise of trans-Atlantic airplanes flying low overhead, a school near London's Heathrow airport has come up with an innovative solution - superadobe structures originally designed for use in earthquake zones. This short news video from Reuters is a vivid reminder of the negative externalities created from jet aircraft - in this case disrupting lessons and playground activities.
read more...»
Friday, July 12, 2013
Okay, hands up, how many of you economics teachers use cigarettes as one of your primary examples of a demerit good? Well, it does fit the bill and it gives you the opportunity to give teenagers a bit of a lecture about healthy living (if only the Ofsted inspector was there for that lesson).
The government's announcement today that they are to postpone the introduction of standardised packaging for cigarettes is bound to meet with some criticism - many will claim that they are giving in to pressure from a tobacco industry which feels that it is already heavily regulated. The concept is that a standard, plain package will put some people off from purchasing cigarettes as there is some research that says that people are attracted to the branding. Personally, until they put the phrase 'don't listen to your peers, they smell' on the box I'm not convinced the plan would have much impact anyway.
What intrigued me more about this story, is the fact that the government have postponed the plan until the impact of standardised packaging has been more closely studied in Australia (where the policy already exists). So there you go, not only is this a story about cigarettes as a demerit good but it is also an example of the government attempting to avoid policy failure. The government argues that it shouldn't spend money on implementing policies and then policing the tobacco firms and retailers if the impact of the programme is minimal. In a sense, the government are arguing that taking its time over this plan may save money in the long run or enable it to spend its scarce resources on a policy that has more impact.
Thursday, July 11, 2013
If this research is accurate the results are truly shocking. Coal related air pollutants have been shown to reduce lifespans in China by over five years, according to a new study conducted by researchers at Massachusetts Institute of Technology and three other universities.
It is a compelling example of the human consequences of the externalities created by intense air pollution in one of the world's fastest-growing countries. Almost half of the world's coal is burnt in China - rapid development in the north of the country has increased the incidence of strokes and lung cancer, in part connected to the distribution of free coal for burning in millions of homes.
The Chinese government has announced plans for a new carbon emissions trading scheme as part of a strategy to lower pollution and achieve more sustainable development. It has ordered firms in heavy-polluting industries to cut emissions by 30% by 2017
read more...»
Friday, June 28, 2013
The Competition Commission is to launch a full-scale inquiry into the operation of payday loan companies. In the past three years, the payday loan industry has expanded rapidly from £90m to around £2.2bn - a reflection of the increasing financialisation of the British economy. The review will take over a year to complete and a range of actions are possible including caps on the sky-high interest rates that are charged on loans.
Average loan interest rates charged by Wonga, the UK's largest payday lender, are now 5,853 per cent (annual percentage rate). For more on this potentially important competition inquiry - Payday loans industry to face competition inquiry (BBC news)

read more...»
Tuesday, June 25, 2013
A super resource from the Economist. KAL, The Economist's resident cartoonist and animator, explains the dangerous history of bubbles.
A bubble is said to happen when the prices of securities or other assets rise so sharply and at such a sustained rate that they exceed valuations justified by fundamentals, making a sudden collapse likely (at which point the bubble "bursts"). Typically this is seen in property markets where housing valuations can rise to unsustainable levels relative to income or long-run average prices. Speculative demand driven by positive price expectations has the effect of amplifying market demand and driving prices higher - especially when supply is restricted and unresponsive to short-term price movements.
Bubbles are common in other asset markets such as for stocks and bonds. And increasingly we find that world commodity prices exhibit bubble tendencies with high levels of volatility in the prices of foodstuffs, oil and natural gas and metals.
The bursting of a bubble - such as a collapse in property prices - can have important demand-side effects on wealth, confidence and aggregate demand
read more...»
Monday, June 17, 2013
Here's a teaching resource suggested by one of our colleagues who attended the Wow Economics CPD event in Birmingham last week. We were discussing a resource called the Average Wage game (available as an individual download from this website) which asks students to categorise occupations into those jobs with pay above the national average and those below the national average (as per the latest available statistics from the Office of National Statistics, November 2012).
One delegate suggested that they had used a similar resource which starts by asking students to rank occupations in an order which reflects their relative value to society (ignoring, initially, any notion of wages or pay). Having ranked the occupations from the 'most' to the 'least' valuable, the teacher then shows the students the average wage paid to people working in those occupations and leads a discussion on how many of the most 'valued' occupations pay among the least wages.
This is a fantastic starter activity to initiate conversations about wage determination and equality of pay. You may also find this as a good discussion point over the coming weeks when introducing some A2 concepts to AS students.
Click on this link to download the Tutor2u version of this resource developed directly from our delegate's suggestion.
The Wow Economics event has its last airing this Wednesday in London. An all-new version of the resource-packed day will be advertised soon in time for the new academic year.
Wednesday, June 12, 2013
Miners made redundant from Maltby Colliery in Yorkshire many of whom with decades of experience faced years on the unemployment register when the mine closed earlier in 2013. But some have been thrown a lifeline with the rising demand for miners in the UK potash industry.

read more...»
Friday, June 07, 2013
The emergence of a competitor product can often send shock-waves through markets of established products where profits have been more or less guaranteed for decades. Will e-cigarettes have a similar effect on the tobacco industry? And is this an emerging industry in need of greater government regulation and taxation?

read more...»
As an example of collusion, this news article showing alleged price fixing by Canadian chocolate manufacturers and their wholesale distributors illustrates how highly-dominant firms can impact against the public interest.
Reading this article and admitting that chocolate is the closest product that I consume which exhibits addictive qualities (apart from coffee and salt-laden crisps that is) it struck me that this perhaps could be used as an evaluative argument when considering the case for legalisation of slightly stronger narcotics.
One argument for legalising cannabis is that tax revenue can be accrued and there would be a reduction in crime given the lowering of prices (and consequential drop in burglary and stealing to pay for the relatively expensive habit).
This reduction in price, it could be argued, might only occur if the newly formed legal market for cannabis is highly competitive and doesn't suffer from oligopolistic distribution conditions like chocolate does in Canada (or in the UK, for that matter).
Just a thought. Now, where's the other half of that Twirl?
Thursday, June 06, 2013
A new analysis of the allocation of carbon emissions between developed and emerging economies

read more...»
Wednesday, June 05, 2013
This morning's news stories include an implied threat to close MOSI (The Museum of Science and Industry) in Manchester, in order to keep the Science Museum in London open.
Should museums charge admissions fees or not? Is a museum a merit good or not? If entry is free, are you tempted to avoid placing money in the transparent collection box as you go in? If is free, how should the museum fund its activities - encouraging donations, marketing guidebooks, souvenirs, themed gifts, or reliance on government grants? This begs questions about how a government allocates scarce funds?
Florence's Uffizi Gallery does not charge children or pensioners, amongst others. Can you identify which museums have more price inelastic demand, and face a smaller drop in visitor numbers should charging be reintroduced? Why would visitors pay €18 to climb Pisa's famous leaning tower?
Bear in mind that AQA had set a question on this topic in 2004. "Using the data and your economic knowledge, assess the case for and against providing free entry to museums."

MOSI is supposed to be one of Manchester's biggest visitor attractions, but would there be a negative multiplier effect if it closed? Should the cultural heritage be preserved? This clip from Yes Minister helps focus a debate.
http://www.manchestereveningnews.co.uk/news/greater-manchester-news/closure-threat-museum-science-industry-4045651
http://www.nationalmuseums.org.uk/what-we-do/encouraging_investment/free-admission/