AS & A2 Economics - Intensive Exam Coaching & Revision Workshops: Book Now!
Stratford | Fulham | Bristol | Birmingham | Gateshead | Leeds | Manchester
---
Sunday, April 20, 2014
Revision resources on the topic of labour market failure
read more...»
Saturday, April 19, 2014
Here is an example of a product which has important market failure implications. BBC Newsnight investigates the open sale of legal highs - not approved for human consumption - but which are a growing presence even on mainstream high streets.
read more...»
Wednesday, April 16, 2014
Here are twelve more questions covering markets and market failure - test your understanding with this zondle-powered quiz!
read more...»
Here are some revision quizzes for students to check their understanding of market failure
read more...»
Thursday, April 10, 2014
Here's a good example of overlaps between market failure, government failure and the problem of asymmetric information contributing to these problems. The UK government spent £500m stockpiling the drug Tamiflu in the hope that it would help prevent serious side-effects from a feared flu epidemic. It turns out the drug would probably be no more helpful than paracetamol. But the bigger scandal is that Roche (who make the drug) broke no law by withholding vital information on how well its drug works (or doesn't).
read more...»
Wednesday, April 09, 2014
Here are some notes taken from the recent RES panel event on the African economy
read more...»
Tuesday, April 08, 2014
Anti-smoking measures, such as taxes and bans, eventually lead people to eat better and lose weight. That is the central conclusion of research by Luca Savorelli, Francesco Manaresi and Davide Dragone, to be presented at the Royal Economic Society's 2014 annual conference. The three economists overturn the conventional wisdom that kicking the smoking habit is healthy but results in weight gain.


read more...»
Friday, April 04, 2014
I'm sure that introducing the concept of normative statements is something that most Economics' teachers introduce early in the curriculum to show the dangers of expressing opinions without evidence. It's a tricky balancing act that we have to play - as students start to write longer, evaluative pieces we are keen for them to make reasoned arguments that don't sit on the fence but warn them of the dangers of starting to rant.
I thought that the two reports included on the document here might prove an interesting activity. The file contains two reports into a possible plan from the Welsh Assembly to introduce a ban on the smoking of E-cigarettes in public places (akin to the current ban on smoking of 'traditional' cigarettes) in Wales. The articles are interesting in their own right in explaining the reasons behind such a plan and as an example of Government intervention to solve a possible market failure (although one of the articles clearly identifies E Cigarettes as a solution to a market failure itself).
You could also ask students to read through the two articles and answer the following questions:
Which of the two articles appears to offer more opinion-based evidence than the other?
Highlight any words or phrases that indicate a value judgement rather than evidence-based reporting.
Based upon your own reading and picking up on journalistic styles, have a guess which newspaper each article was published in.
The answer to this final question is in the 'read more...' section of this blog.
read more...»
Wednesday, April 02, 2014
Climate change is back in the news, and continues to stir up heat, but not much light. It's proving fantastically difficult to come up with consistent and efficient policies to reduce CO2 emissions.
read more...»
According to the Guardian, Carpetright and four other flooring and furniture retailers have promised to clean up their pricing after reaching a settlement with the Office of Fair Trading (OFT). It looks like a good example of the potential for market failure arising out of asymmetric information.
read more...»
Monday, March 31, 2014
How should a public service broadcaster be funded? This excellent article from the BBC looks at the financing of state broadcasters across a range of countries. The BBC is largely funded by the licence fee but as the article makes clear, there are many other options. The funding links back to the nature of broadcasting and the public good characteristics of much of the BBC's output.
Have a read of the article and then test your understanding of public and private goods using our Zondle quiz!
read more...»
Friday, March 28, 2014
In 2007 a ban on smoking in enclosed public places was introduced in England - Scotland had introduced a similar measure a year earlier. Fresh evidence published in the medical journal The Lancet finds that enforced bans on smoking are now having a discernible effect on measures of public health.
read more...»
There seems little that is stopping the surge in London house prices at the moment but do you think the rapid acceleration of prices is good for either London or the wider UK economy?
read more...»
Thursday, March 27, 2014
You may be asking why what sounds like a politics question finds a place on the economics blog. The answer of course is that the issue of governance crops up a lot in economics. Governments have to address the challenges thrown up by market failure, and offer a fiscal framework that helps tackle macroeconomic problems. Regulators intervene in uncompetitive markets. Those of you looking at development economics don't get far before asking if poor quality government holds back the weakest economies.
Hence the question (above). All rich, developed, mature economies are democracies. Ricardo Hausmann offers and insight into why this might be so on the pages of Project Syndicate.
read more...»
Sunday, March 23, 2014
I thought it worthwhile sharing my resources which I have been collecting for students (and teachers alike). I have been promoting them on Twitter (@Economics_KSF) through scoop.it but for those of you not on there, the link for the scoop.it boards are here:
http://www.scoop.it/u/economics-kcsf
read more...»
Saturday, March 22, 2014
One type of market failure that contributes to inequality and unemployment is the geographical immobility of labour.
If the labour market really 'cleared' effectively, wages would equalise across the economy. Workers would drift away from regions with low wages and/or high unemployment towards areas where wages were higher and labour was scarce.
Instead, we see wide disparities in earnings and pockets of regional unemployment - at the same time as skills shortages and wage inflation elsewhere.
Why are people finding it hard to move across the UK in search of work?
read more...»
Wednesday, March 19, 2014
The development of India, or its non-development relative to China, is an interesting topic, and one that Bob Hindle has already been blogged about in relation to its tax system.
However, there are other aspects of the Indian economy that will also impede its ability to grow, notably its lack (or should that be 'lakh'?) of coal.
read more...»
Monday, March 17, 2014
Are skills shortages holding back the economic recovery? The Financial Times is running a video series looking at the problems businesses are having in recruiting people with technical skills. The apprenticeship programme is expanding but will it be enough to meet the growing gap between demand for and supply of engineers and other specialist jobs in industries surrounding precision engineering, nuclear power and many others?
According to an article in the Financial Times:
"Migrants are filling a fifth of jobs in industries such as oil and gas extraction, aerospace manufacturing and computer, electronic and optical engineering because of a lack of skilled British graduates."
read more...»
Inequality is an issue that remains firmly in the spotlight of the news media and also of policy makers in different countries.
read more...»
Pub economics often explains the plight of poor countries in terms of the problems posed by corruption. That approach might have some value, and to raise the quality of your analysis of this topic, it's helpful to say why and how it might arise, and the effects it might have. Rich countries are also vulnerable of course.
The Economist has a really helpful couple of articles on this topic, which it calls 'crony capitalism'.
read more...»
Monday, March 10, 2014
In this memorable Newsnight interview, Jeremy Paxman quizzes / interrogates a senior Coca Cola executive about the amount of sugar in Coca Cola drinks. Coca Cola wants to "make sure that the information is available" but if they did would students, cinema goers and millions of other consumers change their preferences?
read more...»
Saturday, February 15, 2014
This blog brings together some of our resources on information failures in markets.
Click below for:
Mo Tanweer's superb revision notes on aspects of information economics
Try our short Zondle revision quiz on information failure
read more...»
Friday, February 14, 2014
According to a report published by the Parliamentary Public Accounts Committee, the Government are currently underestimating how many students will actually pay back their university loans over the coming decades. Currently, the Government estimates that between 35 and 40% of loans to Higher Education students are never paid back - the Committee believes that the rate on non-repayment is much higher and reflects a weakness in the loan collection method. The primary reason for non-repayment is that student details get lost over a period of time particularly if the graduate moves and works abroad or was an EU citizen who has returned to their own country. The method of using the income tax registration process as a way of locating former students has been criticized for not being an effective method of collecting information. It is estimated that the shortfall could be as much as £80 million by 2042.
read more...»
Tuesday, February 04, 2014
This will be an excellent case study to use when you're discussing the issues around minimum prices to solve the problem of externalities.
read more...»
If you attended the recent tutor2u revision conferences for up-coming micro-economic exams (look out for the macro workshops and combined micro and macro to come in March) you will have seen how fuel-pricing was used as an example of market failure, government intervention strategies and government failure.
Fortunately, the energy market is a gift that keeps giving to us in the economics world (every cloud has a silver lining) as a report out today (see this link for the BBC version of the story) indicates that Parliament is about to intervene to try and stop the energy companies charging more to customers who pay by cash rather than by direct debit (£114 per year, according to the report).
read more...»
Wednesday, January 29, 2014
Here are somr revision resources on government intervention in markets. There are some revision notes, a streamed revision video from PJ Holden and then ten questions for students wanting to check their understanding on government intervention in markets
read more...»
Thursday, January 23, 2014
The NHS gives us so much value, as Economics teachers, as it serves as a great example of so many areas of theory. The story which heads up the BBC News site this morning is another useful one: NHS waiting time data for elective surgery has been found to be 'unreliable'
read more...»
Tuesday, January 14, 2014
The pharmaceutical (medicines) industry poses interesting questions for economists.
read more...»
Wednesday, January 08, 2014
Here's another weather blog. It's cold and atmospheric conditions are right for exceptionally severe local air pollution; smoke, micro particulates and sulphur dioxide combine into a greasy 'smog'. The health impact is severe. People start talking about a 'killer fog' and even an 'environmental disaster'. Thousands die over the next few days and weeks, many more face serious long term consequences.
Where am I describing?
read more...»
Proposing Government intervention strategies for dealing with externality market failure is a common enough exam question. Many of my students will concentrate on the use of indirect taxation, subsidies, pollution permits or regulation as a method of reducing consumption - often forgetting that the Government can use good, old-fashioned advice as a way of altering purchasing patterns.
read more...»
Tuesday, January 07, 2014
It's a weather blog. Rain and flooding can be a cue into the public goods debate. Why is it likely that most spending on flood defences will have to come from the public purse? The picture I've used above is described as what London would look like without the Thames Barrier. Here are a few more links:
read more...»
Monday, January 06, 2014
I put this together this morning, to help students understand where they need to revise for upcoming mocks, or for the real event in May. I hope some of you get some use out of it too.
read more...»
Sunday, January 05, 2014
Do consumers of carbonated soft drinks really know how much sugar is in their regular fix? This five minute Newsnight clip is ideal for showing when teaching aspects of the economics of information failure. Will "getting the information in people's hands" help them to adjust their lifestyles? What are the economic arguments for and against direct intervention in the market for carbonated drinks such as a tax on high sugar content products? What are the alternative options or should we simply let consumers make their own choices?
read more...»
Thursday, January 02, 2014
The NHS is part of the British establishment just as much as tea, talking about the weather and sarcasm. This view through rose-tinted spectacles has prevented serious debate and clouded our judgment. Foreign visitors are now being charged to use our A & E services, yet they can still see GP's for free. This ludicrous half measure is just one example that we are blinded by love for our NHS. A situation has arisen in which any attempt from politicians to discuss much needed improvements for the current healthcare system is political suicide. This is hindering development.
read more...»
Saturday, December 28, 2013
Most first year Economics students consider government intervention and government failure as key topics in their introductory microeconomics course. Finding compelling examples of state blunders is not that difficult but understanding how the complexity of the government apparatus lies behind failures of project and policy requires digging deeper.
read more...»
Tuesday, December 17, 2013
You may have seen news reports today about the Competition Commission announcing that it will continue its investigation into the car insurance market having decided that there are concerns to be addressed. The headlines concentrate on the market failure caused by the current system of non-fault claimants organising their own replacement vehicles (and then charging the at-fault insurers) but I thought it was just as interesting that the CC are looking at the relationship between the insurers and price comparison websites.
read more...»
Sunday, November 24, 2013
Here is a revision presentation on the economics of producer and consumer subsidies as forms of government intervention in markets. There are a number of up to date examples highlighted together with an evaluation of the benefits and costs of subsidy payments. This is designed as a revision aid for unit 1 students taking their microeconomics papers.
read more...»
Sunday, November 17, 2013
Long term youth unemployment is a persistent structural problem for the British economy - this BBC news article provides a ray of hope as Nestle announces extra investment in their training / apprenticeships schemes for younger workers. A more pro-active approach from larger businesses would be welcome - offering paid experience to help break the catch-22 of no job without experience, no experience without a job. Nearly one million young people (16-24) are unemployed in the UK, while youth unemployment in Ireland is 28 per cent with more than 65,000 young people out of work.
read more...»
Thursday, November 14, 2013
A currently fashionable pessimistic topic is the lifetime prospects of children born into the middle class. Graduate debt, lack of finance to buy homes and job insecurity after they graduate, the list goes on. Alan Milburn, the government's 'social mobility tsar', put the seal of approval on this prevailing angst last month. His Social Mobility and Child Poverty Commission pronounced that children from families with above-average incomes are now set to enjoy a worse standard of living as adults than their mothers and fathers.
read more...»
Friday, November 08, 2013
Here is an example of direct intervention in markets to address some of the information failures associated with the obesity epidemic. US food authorities have taken the first step towards banning artificial transfats, substances that are found in processed foods. They say it is a move that could prevent 20,000 heart attacks and 7,000 deaths a year. According to the BBC website
"Artificial trans fats are used both in processed food and in restaurants as a way to improve the shelf life or flavour of foods. The fats are created when hydrogen is added to vegetable oil, making it a solid."
read more...»
Sunday, November 03, 2013
The FT video clip below provides a short interview with Dame Ellen MacArthur - the former ocean yachtswoman - and her idea of building a circular economy - this idea might be a fruitful area for student exploration when studying environmental economics. To quote from the web site:L
"The linear 'take, make, dispose' model relies on large quantities of easily accessible resources and energy, and as such is increasingly unfit for the reality in which it operates. Working towards efficiency—a reduction of resources and fossil energy consumed per unit of manufacturing output—will not alter the finite nature of their stocks but can only delay the inevitable. A change of the entire operating system seems necessary"
read more...»
Wednesday, October 30, 2013
Suyash Raj Bhandari profiles the Founder of the Grameen Bank, Mohammad Yunus
read more...»
Friday, October 25, 2013
Here is an updated revision presentation covering aspects of the growth of microfinance and the role that it can play in driving development. We have also linked to some suggestions for background reading on the microfinance issue.
read more...»
Thursday, October 24, 2013
An autumnal hat tip to Jonathan Portes, Director of the National Institute of Economic and Social Research for spotting this textbook example culled from the Daily Mail of the problem of social cost and how application of the Coase theorem might be a solution! Click here for the article.
If you would like to know more about the Coase Theorem and the work of Ronald Coase who died earlier in 2013 at the ripe old age of 102 then click here for a superb blog entry from Mo Tanweer.
Energy prices are in the news. The recent actions of some of the energy companies can plausibly be described as provocative, no matter how well founded their decisions might be. They run the risk of provoking the ire of both the Opposition and the Government.
One interesting aspect of the debate is that it has become even clearer that decisions taken by Ed Miliband himself in the Brown government are partly to blame for our high energy bills. The plethora of green taxes and subsidies has become very expensive for consumers.
But how effective have such policies been? Not very much, seems to be the answer.
read more...»
Monday, October 21, 2013
UK nuclear energy is painfully burdened by regulation. Energy prices are at an all time high, so much so that politicians are desperately trying to find policy solutions to utilise this dissatisfaction for votes. There are widespread complaints that energy companies' profits are too large. The Prime Minister encourages us to look for a cheaper energy deal. Surely there could not be any clearer signals from the market and society that now is the time for suppliers to enter the energy market. But unfortunately this is not the case; a detriment to us all.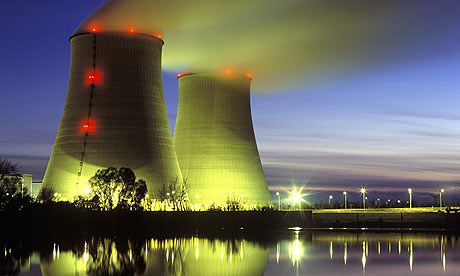 read more...»
Sunday, October 20, 2013
Air pollution is widely regarded as a negative externality arising from consumption and production. New research from the World Health Organisation finds that exposure to air pollution increases the risk of cancer - this 2 minute news report looks at their findings. You can find extensive revision notes on externalities and market failure by clicking this link.
read more...»
I just love the phrase 'irrational exuberance'. It's the title of book by Robert Shiller who has just won a Nobel Prize in Economics. But the phrase was coined by the US Federal Reserve Board Chairman, Alan Greenspan, in a speech given at the American Enterprise Institute during the Dot-com bubble of the 1990s.
I will make no attempt to tackle the complex issues that these top Economists were articulating, and instead give a few examples to convey the basics: it's just not safe to assume economic agents are always making rational choices based on transparent, accurate information.
read more...»
Tuesday, October 08, 2013
Here is an updated presentation on aspects of the natural resource trap or natural resource curse issue facing low (and also high) income countries
read more...»
Tuesday, September 24, 2013
There are lots of resources out there for students and teachers wanting to cover the debate about HS2 - here is a brief selection of video clips on the debate
read more...»