Economics CPD Courses Coming up this Term!- Book Your Places Now!
WOW! Economics 2015 | Quantitative Methods (New Spec)
---
Sunday, March 01, 2015
How much would you pay to hear your favourite band play live, to watch your team play at Wembley, or to see Benedict Cumberbatch play Hamlet at the Barbican Theatre? If you couldn't get tickets from the official sellers, would you be prepared to pay a premium to a ticket tout?
There is great scope here for students to assess the need, or otherwise, for government intervention, and the likely effects that intervention might have. Using the reports and video links provided in this blog, this might make a neat class role play, with groups of students representing the concert or event organisers, the performers, the fans, the touts and a regulator.
read more...»
Monday, October 27, 2014
Amazon comes in for some pretty severe criticisms from various quarters. So I enjoyed reading an article by Reihan Salam in Slate, who argues that "Jeff Bezos' company is not the problem with American capitalism. It's the solution to our economy's ills".
read more...»
Wednesday, September 24, 2014
Here's a couple of quick Crossword activities that you can set in class or as homework from the tutor2u team. They are:
AS Introductory Economics
A2 Theory of the Firm
Both come with 15 questions and you can even download the answers if you think you might need some help!
read more...»
Tuesday, August 12, 2014
An almost perfect example of price discrimination is evident in this market revealed on the BBC online news site - read this section carefully!
"Charges vary for some motorists, even if they are picking up the same vehicle from the same location and from the same hire company."
Then read through the article to find clues as to how some vehicle hire businesses have been able to segment the market and discriminate between drivers from different countries inside the EU.
The regulators are onto the issue - expect some action unless vehicle hire businesses adjust their pricing tactics!
read more...»
Sunday, July 20, 2014
Shareholder activism regarding executive pay is covered in this article from the Guardian. Note too the emergence of TNT Post as a competitor in the cities for final mile delivery of business and household mail - the mail market is becoming more contestable.
The Royal Mail's latest market report is an interesting read for those who want to study market dynamics in more details - for example the continued growth (but high contestability) in parcels contrasted with a trend decline in the volume of letters sent through the post - click here for the 2014 market overview: http://ar2013-14.royalmailgroup.com/overview/marke...
Friday, July 18, 2014
Today's announcement that the Competition and Markets Authority (CMA) are recommending that the High Street Banks' provision of current accounts should be investigated for lack of competition may not surprise many. The case study may be valuable when looking at competition in oligopolistic markets and a report can be found from this link. The BBC take on the story can be found from this link.
I also thought it offered a chance to do some calculations! Given my current theme of bringing the new levels of assessment of numeracy and quantitative methods in the 2015 specifications of A level economics ever increasingly to the attention of our teaching community, where better to do some number work than when looking at market share in the banking industry!
read more...»
The UK Financial Conduct Authority has announced direct interventions in the market for payday loans - the high cost short term loans market which has expanded rapidly in recent years led by businesses such as Wonga. The decision is the result of a detailed assessment of the industry which had flagged up a number of market failures.
read more...»
Wednesday, June 11, 2014
Technology always disrupts markets. It provides dynamic efficiency improvements, creates new markets, destroys old ones, and in some cases destroys monopolies and in others, creates new monopolies.
read more...»
Friday, May 30, 2014
An important judgement from the newly established Competition and Markets Authority (CMA). They believe that competition is best served by having three major cross-channel service operators - namely EuroTunnel (rail) and two ferry operators.
The CMA has ruled against EuroTunnel being able to cross-subsidise the loss-making MyFerryLink on the Dover to Calais service because in doing so, it is likely to lead to the market exit of a rival provider and ultimately cause higher prices for consumers.
read more...»
Saturday, May 24, 2014
What do prices mean and how are they set. A recent BBC World of Business podcast explored this and other issues.
read more...»
Friday, April 18, 2014
Investigating and understanding price fixing and collusion are an important part of analysing behaviour in oligopolistic markets. Not all of these corrupt practices are headline grabbers: most are in such unglamorous areas as ball-bearings and cargo rates, which go on unnoticed for years, quietly bumping up the end cost to consumers of all manner of goods and services.
What steps can be taken to undermine the incentives for business to engage in these illegal activities?
read more...»
Sunday, April 13, 2014
Here is a selection of key diagrams for the Unit 3 business economics course
read more...»
Friday, March 28, 2014
The big six energy firms in the UK - who account for more than ninety per cent of suppliers to UK household, commercial and industrial consumers - will be subject to another investigation by the competition authorities.
A report by regulator Ofgem has called for an investigation by the Competition and Markets Authority (CMA) which could take nearly two years to complete - effectively pushing the issue into the long grass well beyond the date of the next election.
read more...»
Sunday, March 23, 2014
I thought it worthwhile sharing my resources which I have been collecting for students (and teachers alike). I have been promoting them on Twitter (@Economics_KSF) through scoop.it but for those of you not on there, the link for the scoop.it boards are here:
http://www.scoop.it/u/economics-kcsf
read more...»
Tuesday, March 18, 2014
Elinor Ostrom was the first and so far only women to win a Nobel Prize in Economics (strictly speaking the Swedish bank prize) in 2009 for her work on commons. According to the biologist Garrett Hardin, in an example familiar to A level economic students, unowned or collectively owned resources, say a fishing ground, tend to get trashed because of over use.
The 'tragedy of the common' happens because people may over fish or destroy environments because of the free rider effect. One person who fishes less is discouraged from doing so because others may simply fish more, until the fish stocks run out. Ostrom looked at how local communities could organise to stop such over exploitation without government regulation. She found that instead of 'tragedy' sometimes the commons worked quite well.
read more...»
Thursday, March 13, 2014
There are two useful articles here for A2 economists about the news that Morrisons has made a £176m pre-tax loss for the year to February 2, and the strong impact that their plans to compete hard with the discount retailers has had on the stock market value of Tesco and Sainsburys.
We often cite the UK supermarket industry as an example of oligopoly, and today's news around Morrisons (Britain's 4th biggest supermarket) gives plenty of scope for students to use some stakeholder analysis to look at what is going on in that market - who wins and who loses?
read more...»
Tuesday, March 11, 2014
A mega merger is creating the world's largest banana company - it has been announced that Chiquita of the USA and Dublin-based Fyffes will be merging to form a giant banana distribution company.
read more...»
Friday, February 21, 2014
In a bold move in the continuing battle between Facebook and Google to dominate the next phase of digital / mobile growth, Mark Zuckerberg's listed business has agreed an £11bn acquisition of WhatsApp - a deal to be paid in a combination of cash and shares.
The total value of the deal is staggering high for a business that employs just over 50 people.
The price Facebook is paying for WhatsApp is more than ten times what Google spent on YouTube
It is more than 20 times what Facebook paid for Instagram
The $19bn paid for WhatsApp works out at $40 for each of its 450m users!

The $19bn deal to buy WhatsApp is more than 10% of the annual value of Ukranian GDP
What are some of the justifications for such a mega-priced deal?
read more...»
Tuesday, February 04, 2014
If you attended the recent tutor2u revision conferences for up-coming micro-economic exams (look out for the macro workshops and combined micro and macro to come in March) you will have seen how fuel-pricing was used as an example of market failure, government intervention strategies and government failure.
Fortunately, the energy market is a gift that keeps giving to us in the economics world (every cloud has a silver lining) as a report out today (see this link for the BBC version of the story) indicates that Parliament is about to intervene to try and stop the energy companies charging more to customers who pay by cash rather than by direct debit (£114 per year, according to the report).
read more...»
Monday, February 03, 2014
Here is a really well produced and clear visual explanation of the Hotelling model of spatial location. As two competitive cousins vie for ice-cream-selling domination on one small beach, discover how game theory and the Nash Equilibrium inform these retail hot-spots. A good short video to use when teaching or learning about game theory.
For more ....Tutor2u's Introduction to Game Theory
read more...»
Saturday, February 01, 2014
The cost of a thirty second advertising slot at the annual Superbowl final is immense. This year advertisers are paying $4 million dollars for a 30 second advertisement during America's largest televised event. But big hits on the social web often produced at a tiny fraction of the cost challenge the conventional view that mega bucks spent reaching a TV audience remains a viable way of using the marketing dollars. This short news video from the Financial Times is a useful reminder of the importance attached to brand advertising by some of America's biggest consumer products.
read more...»
Thursday, January 30, 2014
It was announced yesterday that the Government is planning to abandon its use of expensive software such as Microsoft Office (see article in the Guardian here) partly as a way of reducing costs but also as a means of breaking some of the software company's 'oligopolistic' stranglehold on the market.
As well as offering an example of Government policy to combat market failure, this story gives us a little insight into the issue of contestability in the software industry.
read more...»
Tuesday, January 14, 2014
The pharmaceutical (medicines) industry poses interesting questions for economists.
read more...»
Wednesday, January 08, 2014
Here are 12 questions (type the answer) on aspects of market structures for unit 3 economics
read more...»
Friday, January 03, 2014
Here are some examples of changes in the nature of non-price competition in the oligopolistic supermarket industry. The success of the My Waitrose card (now used by 3 million customers) has catapulted Waitrose into 2nd place for the largest retailer of hot tea and coffee drinks in the UK. They are now second only to McDonald's and some distance ahead of Costa, Starbucks and other well-known high street brands.
read more...»
Sunday, December 29, 2013
Event cinema is set to become big business both in fully digital cinemas in the UK. Cinemas that have invested in the very best digital screening technology can now harness their capacity to run non-conventional programming including live theatre, multi-player gaming and screening of live sporting events.
Tim Richards from Vue Cinemas (one of Tutor2u's major commercial partners) is interviewed here by the Economist about the opportunities of event cinema to serve a more diverse audience and leverage the assets of a cinema to improve profitability.
Vue has certainly been in the forefront of making huge investments in fully digital projection on huge screens - this is just one of the reasons we love hosting live Tutor2u events in some of the top Vue facilities in the UK.
Watch the six minute interview and consider some of the non-price factors that are important in winning the battle for market share in the cinema industry and in broadening the appeal of cinemas to a wider range of audiences and tastes.
read more...»
Tuesday, December 17, 2013
You may have seen news reports today about the Competition Commission announcing that it will continue its investigation into the car insurance market having decided that there are concerns to be addressed. The headlines concentrate on the market failure caused by the current system of non-fault claimants organising their own replacement vehicles (and then charging the at-fault insurers) but I thought it was just as interesting that the CC are looking at the relationship between the insurers and price comparison websites.
read more...»
Friday, November 29, 2013
The release of two major new iterations of games console including the PS4 is an opportune moment to take stock of the transformation of the oligopolistic computer gaming industry into one whose revenues now exceed films and where social gaming, connectivity and collaboration are features of an industry where dynamic efficiency is crucial. Paul Mason from Channel 4 news reports in this short clip.
read more...»
Price fixing and bid rigging by groups of firms in Europe are not solely the preserve of highly concentrated industries. According to research by Professor Stephan Davies and Dr Oindrila De, even industries with relatively large numbers of firms feature such anti-competitive practices – and they typically have a 'ringleader', which organises and enforces the cartel. Their study, published in the November 2013 issue of the Economic Journal, finds that roughly a quarter of the 89 cartels detected by the European Commission over the past two decades have a ringleader or ringleaders. In cartels with relatively large numbers of firms, the ringleader tends to be the dominant firm, acting aggressively to set prices and ensure that smaller firms fall in line.
read more...»
Sunday, November 24, 2013
The launch of Sony's PS4 alongside Microsoft's XBox One signals the beginning of a highly intense competitive battle in the oligopolistic games console market. With both the new consoles being launched in time for the crucial Christmas sales period, pricing strategy is crucial in order to gain maximum market share.
In the US, Sony has priced the PS4 at $399 (retail). Of course that is the retail price. Distributors will be wanting to make their margin on each unit sold. So how much does it cost Sony to make a new PS4?
read more...»
Tuesday, November 19, 2013
There has been lots of talk in the media recently about the supermarkets' Christmas advertising campaigns.
Sainsbury's have employed an Oscar winning director for their campaign, although he failed to spot the Co-op's own brand range in the background, Tesco stole a march on the others by starting their advertising campaign on a Friday, which makes a lot of sense, but Asda wanted to get maximum exposure by launching their campaign during X-Factor, the most watched program on commercial television. No doubt Morrison's will be launching their Christmas campaign sometime in late January….
read more...»
Thursday, November 07, 2013
The Edinburgh Fringe is widely regarded as one of the world's biggest launchpads for new creative arts talent. Artists whose careers have taken off at the Fringe have commented recently, however, that up-andcoming performers are being priced out of the market as oligopoly power has started to bite.
read more...»
Monday, October 21, 2013
UK nuclear energy is painfully burdened by regulation. Energy prices are at an all time high, so much so that politicians are desperately trying to find policy solutions to utilise this dissatisfaction for votes. There are widespread complaints that energy companies' profits are too large. The Prime Minister encourages us to look for a cheaper energy deal. Surely there could not be any clearer signals from the market and society that now is the time for suppliers to enter the energy market. But unfortunately this is not the case; a detriment to us all.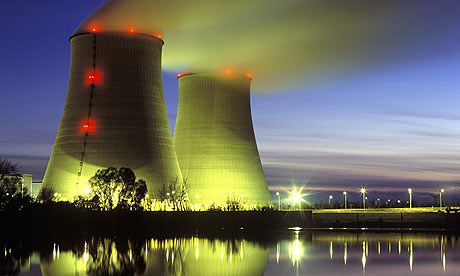 read more...»
Saturday, October 19, 2013
The market for retail gas supplies is mired in controversy and threats of direct government intervention to freeze prices should a new Labour government be elected in 2015. This week we have seen a classic example of the type of price leadership we expect to see in an oligopoly.
read more...»
Wednesday, October 02, 2013
Revision presentation on business growth, business integration and the factors affecting the shareholder returns from merger and takeover activity.
read more...»
Sunday, September 29, 2013
Ed Milliband's conference speech last week gave us one of those all-too-rare moments where we can illustrate a real (or potential) government policy with a standard economic diagram.
Mr Milliband clearly stated that, should the Labour Party win the next General Election (in 2015) they will cap the price of domestic fuel. His policy is aimed at restricting how much people would have to spend on energy so as to improve their general purchasing power as well as reducing business costs. The big losers would be the energy companies themselves who do not seem particularly keen on the policy. Mr Milliband argued that their profits were sufficiently high and, besides, they have been using the lack of competition within the market place to bolster their coffers.
Assuming that teachers have already covered the basics in Demand and Supply diagrams, this link will take you to a short (up to 10 minute) activity asking students to draw the 'Price-Cap' diagram and consider the economic arguments for and against the policy proposal.
Sunday, September 08, 2013
Tomorrow the UK will see its newest High Street bank open 631 branches. However, this new bank will be called the TSB (Trustee Savings Bank) which is a brand that was first created over 200 years ago. The creation of the bank comes from EU directives to split up the Lloyds TSB group and create greater competition in the banking market and counteract any advantage Lloyds TSB might have from being Government-owned.
This link will take you to a short Powerpoint stimulus presentation to be used in class. The presentation gives a brief explanation of the TSB story and has links to a few interesting video clips as well as the branch finder web page so that you can show your students where their nearest TSB is located.
Wednesday, August 14, 2013
The global smartphone market is brutally competitive as the executives at struggling phone company Blackberry are finding out. Sales of their phones have been hugely disappointing for some time and the re-launch of their devices seems to have done little for Blackberry as they compete against Apple and Samsung, the dominant players in the industry.
read more...»
Monday, July 29, 2013
BSkyB has announced record revenues and profits. Total revenue in the last year grew by 7% to reach £7,235m and operating profit was 9% higher at £1,330m. This gave the business an operating margin of 18.4% and helped the business to generate free cash flow of just over £1 billion. Revenue per subscriber increased by £29 to £577. BSkyB has 11.2 million customers.
Programming costs were 34% of sales revenue at £2,486m. Sky paid £59m in the last year for the right to offer live coverage of the Ryder Cup, the Lions Tour and Formula 1. It has also invested more than £55m this year in original comedy and drama.
The FT news video below provides a timely look at the UK battle between telecoms group BT and pay-TV operator BSkyB to provide both sports TV and broadband. BT Sport, with rights to some Premier League football matches, launches in August 2013. This is an excellent example to use of a contestable market with a dominant established player and a new entrant (BT) using their financial muscle to try to break into the live sports TV market. It is an expensive business - the average cost of each live game shown in the current auction period is now over £6 million.
read more...»
Friday, June 28, 2013
The Competition Commission is to launch a full-scale inquiry into the operation of payday loan companies. In the past three years, the payday loan industry has expanded rapidly from £90m to around £2.2bn - a reflection of the increasing financialisation of the British economy. The review will take over a year to complete and a range of actions are possible including caps on the sky-high interest rates that are charged on loans.
Average loan interest rates charged by Wonga, the UK's largest payday lender, are now 5,853 per cent (annual percentage rate). For more on this potentially important competition inquiry - Payday loans industry to face competition inquiry (BBC news)

read more...»
Sunday, June 23, 2013
Airbus is pushing Boeing for market leadership in the twin engine aircraft market. Andrew Parker reports from the Paris air show on why a price war might be in the offing -- which would be bad news for the two manufacturers, but good for airlines.This short Financial Times video considers the prospects for a price war emerging in an industry which is often used by teachers and students as a classic case of duopoly.

read more...»
Saturday, June 08, 2013
The political controversy over corporate tax avoidance from many of the world's biggest transnational businesses is unlikely to go away anytime soon. Google, Amazon and Starbucks and Apple have all come under intense scrutiny.

read more...»
Friday, June 07, 2013
As an example of collusion, this news article showing alleged price fixing by Canadian chocolate manufacturers and their wholesale distributors illustrates how highly-dominant firms can impact against the public interest.
Reading this article and admitting that chocolate is the closest product that I consume which exhibits addictive qualities (apart from coffee and salt-laden crisps that is) it struck me that this perhaps could be used as an evaluative argument when considering the case for legalisation of slightly stronger narcotics.
One argument for legalising cannabis is that tax revenue can be accrued and there would be a reduction in crime given the lowering of prices (and consequential drop in burglary and stealing to pay for the relatively expensive habit).
This reduction in price, it could be argued, might only occur if the newly formed legal market for cannabis is highly competitive and doesn't suffer from oligopolistic distribution conditions like chocolate does in Canada (or in the UK, for that matter).
Just a thought. Now, where's the other half of that Twirl?
Sunday, June 02, 2013
Mainly designed for A2 micro students taking exams in business economics
read more...»
Saturday, June 01, 2013
This revision presentation looks at aspects of intervention in utility industries in the UK
read more...»
Aspects of collusion between businesses in oligopolistic markets
read more...»
Streamed revision presentation on an oligopoly, the kinked demand curve and the importance of non-price competition
read more...»
Wednesday, May 08, 2013
An overnight flight to Hong Kong afforded me the luxury of reading the FT from cover to cover instead of the standard daily flick through ahead of a day of lessons. Here are some stories that caught my eye linked to relevant business/market/economic issues of the day! I have linked to some non-FT sources because of their pay-wall.
read more...»
Monday, April 22, 2013
This revision quiz has ten multiple-choice questions on imperfect markets:
Launch Revision Quiz: AS Economics: Imperfect Markets (1)
Friday, April 19, 2013
Some examples here of recent merger and acquisition activity - students might want to consider the types of business integration on display in these examples:
read more...»