Economics CPD Courses Coming up this Term!- Book Your Places Now!
WOW! Economics 2015 | Quantitative Methods (New Spec)
---
Wednesday, April 16, 2014
Here are some revision quizzes for students to check their understanding of market failure
read more...»
Friday, April 11, 2014
The government is relaxed about people cashing in their pension schemes to buy a Lamborghini. But the left-leaning liberal commentariat is certainly not. Abuse has been heaped onto George Osborne's Budget measure of removing the requirement for people to buy an annuity. The main thrust of the attacks is that individuals may act irresponsibly. They may take financial decisions that are not in their best interests.
read more...»
Wednesday, April 09, 2014
Here's a short but fun classroom starter to stimulate discussion about how the Government Spends its money.
Based upon information from a BBC article showing how Government spending has changed since 1953, the resource asks students to separate 'blocks' representing the percentage of overall spending on each department (e.g. health, defense) into those that they think represent spending in 1953 and those that represent 2013. Having separated the blocks, students must then re-arrange the blocks into perfect squares on the printable 'mats' provided as part of the resource.
As well as stimulating discussion about how the Government spends its money and changes in its priorities, it may provide a useful hook for getting your students to remember the proportion of spending the Government places on each of its department which they can use as evidence within their exam answers.
Click on this link to download the resource.
Click on this link to go to the original BBC article.
Tuesday, April 08, 2014
Anti-smoking measures, such as taxes and bans, eventually lead people to eat better and lose weight. That is the central conclusion of research by Luca Savorelli, Francesco Manaresi and Davide Dragone, to be presented at the Royal Economic Society's 2014 annual conference. The three economists overturn the conventional wisdom that kicking the smoking habit is healthy but results in weight gain.


read more...»
The introduction of a national minimum wage does not lead to job losses. That is the central finding of research by Peter Dolton and
Michael Stops, to be presented at the Royal Economic Society's 2014 conference.


read more...»
Wednesday, April 02, 2014
Climate change is back in the news, and continues to stir up heat, but not much light. It's proving fantastically difficult to come up with consistent and efficient policies to reduce CO2 emissions.
read more...»
Friday, March 28, 2014
The big six energy firms in the UK - who account for more than ninety per cent of suppliers to UK household, commercial and industrial consumers - will be subject to another investigation by the competition authorities.
A report by regulator Ofgem has called for an investigation by the Competition and Markets Authority (CMA) which could take nearly two years to complete - effectively pushing the issue into the long grass well beyond the date of the next election.
read more...»
In 2007 a ban on smoking in enclosed public places was introduced in England - Scotland had introduced a similar measure a year earlier. Fresh evidence published in the medical journal The Lancet finds that enforced bans on smoking are now having a discernible effect on measures of public health.
read more...»
Thursday, March 27, 2014
You may be asking why what sounds like a politics question finds a place on the economics blog. The answer of course is that the issue of governance crops up a lot in economics. Governments have to address the challenges thrown up by market failure, and offer a fiscal framework that helps tackle macroeconomic problems. Regulators intervene in uncompetitive markets. Those of you looking at development economics don't get far before asking if poor quality government holds back the weakest economies.
Hence the question (above). All rich, developed, mature economies are democracies. Ricardo Hausmann offers and insight into why this might be so on the pages of Project Syndicate.
read more...»
Sunday, March 23, 2014
I thought it worthwhile sharing my resources which I have been collecting for students (and teachers alike). I have been promoting them on Twitter (@Economics_KSF) through scoop.it but for those of you not on there, the link for the scoop.it boards are here:
http://www.scoop.it/u/economics-kcsf
read more...»
Tuesday, March 18, 2014
The government wants more new homes to be built, so too do hard-pressed home-buyers facing a continued problem of low property affordability. But cautious construction companies are reluctant to press ahead favouring share buy-backs (returning money to their shareholders) and only a limited expansion of new building.
read more...»
Monday, March 17, 2014
Inequality is an issue that remains firmly in the spotlight of the news media and also of policy makers in different countries.
read more...»
Thursday, March 13, 2014
For years the government has tried to lift research and development spending as a share of national income - but seemingly to no avail. The latest data finds that the UK is spending less on R&D than any other EU country. What might this mean for the supply-side competitiveness of the economy?
The data finds that
read more...»
Monday, March 10, 2014
In this memorable Newsnight interview, Jeremy Paxman quizzes / interrogates a senior Coca Cola executive about the amount of sugar in Coca Cola drinks. Coca Cola wants to "make sure that the information is available" but if they did would students, cinema goers and millions of other consumers change their preferences?
read more...»
Wednesday, March 05, 2014
Regulation of prices through price capping has been a feature of regulation of the utilities in the UK for many years – although this is now being phased out as most utility markets have become more competitive.
Price capping systems
Price capping is an alternative to rate-of-return regulation, in which utility businesses are allowed to achieve a given rate of return (or rate of profit) on capital.
In the UK, price capping has been known as "RPI-X". This takes the rate of inflation, measured by the Consumer Price Index and subtracts expected efficiency savings X. So for example, if inflation is 5% and X is 3% then an industry can raise their prices on average by only 2% per year
In the water industry, the formula is "RPI - X + K", where K is based on capital investment requirements designed to improve water quality and meet EU water quality standards. This has meant increases in the real cost of water bills for millions of households in the UK.
Advantages
Capping is an appropriate way to curtail the monopoly power of "natural monopolies" – preventing them from making excessive profits at the expense of consumers
Cuts in the real price levels are good for household and industrial consumers (leading to an increase in consumer surplus and higher real living standards in the long run).
Price capping helps to stimulate improvements in productive efficiency because lower costs are needed to increase a producer's profits.
The price capping system is a tool for controlling consumer price inflation in the UK.
Disadvantages
Price caps have led to large numbers of job losses in the utility industries
Setting different price capping regimes for each industry distorts the price mechanism
read more...»
Wednesday, February 26, 2014
Despite public calls for shareholders to get tough on executive pay, a new study of the UK's highest paid company directors reveals that shareholders are overwhelmingly inclined to approve the pay packets of top directors, just as they were before the crisis
read more...»
Saturday, February 22, 2014
Did you know that most train operating companies will refund 50% of your ticket for a delay of 30 minutes or more, and will double that if the delay is for an hour or longer? And that, if you are travelling by tube, Transport for London offers refunds if your journey is delayed by 15 minutes or more (although you won't get a refund if the delay is caused by a security alert, "third party action" such as a strike or bad weather)? Most probably you didn't, as a survey by the Office of Rail Regulation has found that more than 75% of rail passengers know "not very much" or "nothing at all" about what they are entitled to when services are disrupted.
The report also found that 74% of passengers felt that train companies do "not very much" or "nothing at all" to proactively provide information about compensation when there are delays. As Simon Gompertz found in this video report, there are plenty of ways in which the train operating companies could make the information available, whether through instructions on the back of the tickets and announcements on trains to apps.
read more...»
Saturday, February 15, 2014
These slides are from our January 2014 revision workshops for unit 3 microeconomics. They focus on some of the arguments surrounding the possible introduction of a £7 per hour national minimum wage in the UK
read more...»
This blog brings together some of our resources on information failures in markets.
Click below for:
Mo Tanweer's superb revision notes on aspects of information economics
Try our short Zondle revision quiz on information failure
read more...»
Friday, February 14, 2014
Boris Johnson, The Mayor of London, has been happy to extend the use of bicycles in London; and the pattern of use has thrown up some interesting points. There were 7.4 million cycle hire trips last year but an estimated 71% of cycling use was by men. Most of these journeys would have been made on foot (31%) or by public transport (47%). Coverage of the study published in the BMJ looked at the health effects is found here.. The notes in the article, provide good examples of the strengths and weaknesses of cost benefit analysis.
read more...»
According to a report published by the Parliamentary Public Accounts Committee, the Government are currently underestimating how many students will actually pay back their university loans over the coming decades. Currently, the Government estimates that between 35 and 40% of loans to Higher Education students are never paid back - the Committee believes that the rate on non-repayment is much higher and reflects a weakness in the loan collection method. The primary reason for non-repayment is that student details get lost over a period of time particularly if the graduate moves and works abroad or was an EU citizen who has returned to their own country. The method of using the income tax registration process as a way of locating former students has been criticized for not being an effective method of collecting information. It is estimated that the shortfall could be as much as £80 million by 2042.
read more...»
Friday, February 07, 2014
Cost benefit analysis, economies of scale, energy economics, regional development, economic growth, competitiveness ... there is a veritable a tidal wave of applied economics in this article from the Guardian on plans for Tidal Lagoon Power.
Tuesday, February 04, 2014
This will be an excellent case study to use when you're discussing the issues around minimum prices to solve the problem of externalities.
read more...»
If you attended the recent tutor2u revision conferences for up-coming micro-economic exams (look out for the macro workshops and combined micro and macro to come in March) you will have seen how fuel-pricing was used as an example of market failure, government intervention strategies and government failure.
Fortunately, the energy market is a gift that keeps giving to us in the economics world (every cloud has a silver lining) as a report out today (see this link for the BBC version of the story) indicates that Parliament is about to intervene to try and stop the energy companies charging more to customers who pay by cash rather than by direct debit (£114 per year, according to the report).
read more...»
Thursday, January 30, 2014
It was announced yesterday that the Government is planning to abandon its use of expensive software such as Microsoft Office (see article in the Guardian here) partly as a way of reducing costs but also as a means of breaking some of the software company's 'oligopolistic' stranglehold on the market.
As well as offering an example of Government policy to combat market failure, this story gives us a little insight into the issue of contestability in the software industry.
read more...»
Here is a short video on the challenges and opportunities facing cocoa producers across the world but especially in sub Saharan Africa which accounts for 70% of global production. Supply is struggling to keep pace with rising world demand and there have been some structural declines in production in several countries.
The FT's Emiko Terazono reports from Ghana on how chocolate manufacturers and traders are striving to boost cocoa supplies, which are coming under pressure from climate change and urbanisation amid growing demand for confectionery in emerging markets. Farmers are being encouraged to develop supplementary incomes and invest in sustainable production methods.
read more...»
Wednesday, January 29, 2014
Here are somr revision resources on government intervention in markets. There are some revision notes, a streamed revision video from PJ Holden and then ten questions for students wanting to check their understanding on government intervention in markets
read more...»
Friday, January 24, 2014
Capping seems to be all the rage at the moment. We read of capping electricity and gas prices, capping welfare payments for families ... and now a proposed cap on bonuses for bankers is being put forward by the EU and by the Labour Party.
In this article, Tim Harford cuts to the chase and highlights the contradictions in the EU blanket policy on capping bankers' bonuses. It is a good example of a policy where the unintended consequences include the probably that banking salaries would rise still further.
Under the EU proposal, a cap on rewards would limit payouts to banking executives to annual pay - or twice that only if shareholders approve.
Further reading:
BBC - banking bonuses - how much do they matter?
BBC Hard Talk: Adair Turner on the effect of a bonus cap on bank salaries
read more...»
Thursday, January 23, 2014
The NHS gives us so much value, as Economics teachers, as it serves as a great example of so many areas of theory. The story which heads up the BBC News site this morning is another useful one: NHS waiting time data for elective surgery has been found to be 'unreliable'
read more...»
Sunday, January 19, 2014
This report which the Public Accounts Committee published on Friday, entitled Supporting UK exporters overseas, gives a useful piece of background reading, as it marries up AS and A2 level theory, and micro and macro topics. It looks at the combined efforts of the Foreign and Commonwealth Office and UK Trade and Industry to help UK firms, particularly small and medium sized businesses, boost their exports and so contribute to UK GDP recovery. The summary of the report on the PAC website could be used by students to consider a couple of questions:
How many examples of government failure can you identify?
Given that the UK does not currently use monetary policy to influence the exchange rate, what mix of government policies might be used in order to meet the target of doubling exports by 2020?
Wednesday, January 08, 2014
Here's another weather blog. It's cold and atmospheric conditions are right for exceptionally severe local air pollution; smoke, micro particulates and sulphur dioxide combine into a greasy 'smog'. The health impact is severe. People start talking about a 'killer fog' and even an 'environmental disaster'. Thousands die over the next few days and weeks, many more face serious long term consequences.
Where am I describing?
read more...»
Proposing Government intervention strategies for dealing with externality market failure is a common enough exam question. Many of my students will concentrate on the use of indirect taxation, subsidies, pollution permits or regulation as a method of reducing consumption - often forgetting that the Government can use good, old-fashioned advice as a way of altering purchasing patterns.
read more...»
Monday, January 06, 2014
I put this together this morning, to help students understand where they need to revise for upcoming mocks, or for the real event in May. I hope some of you get some use out of it too.
read more...»
Thursday, January 02, 2014
The NHS is part of the British establishment just as much as tea, talking about the weather and sarcasm. This view through rose-tinted spectacles has prevented serious debate and clouded our judgment. Foreign visitors are now being charged to use our A & E services, yet they can still see GP's for free. This ludicrous half measure is just one example that we are blinded by love for our NHS. A situation has arisen in which any attempt from politicians to discuss much needed improvements for the current healthcare system is political suicide. This is hindering development.
read more...»
Saturday, December 28, 2013
Most first year Economics students consider government intervention and government failure as key topics in their introductory microeconomics course. Finding compelling examples of state blunders is not that difficult but understanding how the complexity of the government apparatus lies behind failures of project and policy requires digging deeper.
read more...»
Tuesday, December 17, 2013
You may have seen news reports today about the Competition Commission announcing that it will continue its investigation into the car insurance market having decided that there are concerns to be addressed. The headlines concentrate on the market failure caused by the current system of non-fault claimants organising their own replacement vehicles (and then charging the at-fault insurers) but I thought it was just as interesting that the CC are looking at the relationship between the insurers and price comparison websites.
read more...»
Tuesday, November 26, 2013
The cost of renting property in many parts of the UK continues to rise - would rent controls make any difference? Here is an updated Unit 1 economics revision presentation.
read more...»
Sunday, November 24, 2013
Here is a revision presentation on the economics of producer and consumer subsidies as forms of government intervention in markets. There are a number of up to date examples highlighted together with an evaluation of the benefits and costs of subsidy payments. This is designed as a revision aid for unit 1 students taking their microeconomics papers.
read more...»
Friday, November 08, 2013
Here is an example of direct intervention in markets to address some of the information failures associated with the obesity epidemic. US food authorities have taken the first step towards banning artificial transfats, substances that are found in processed foods. They say it is a move that could prevent 20,000 heart attacks and 7,000 deaths a year. According to the BBC website
"Artificial trans fats are used both in processed food and in restaurants as a way to improve the shelf life or flavour of foods. The fats are created when hydrogen is added to vegetable oil, making it a solid."
read more...»
Thursday, November 07, 2013
Ed Miliband's promise at the Labour Party conference to cap energy prices for 20 months if Labour were to win the next election, has raised many questions about what we pay for domestic energy, how it compares with other countries, and what the energy companies do with their profits. Pondering those points has led me to an over-riding question, which is whether the price paid by consumers is really the most important issue for government intervention in the energy market.
read more...»
Tuesday, November 05, 2013
Here is an updated revision presentation covering price volatility in commodity markets and the economics of buffer stock "price stabilisation" schemes. designed for unit 1 micro course
read more...»
UK immigrants who arrived since 2000 are less likely to receive benefits and less likely to live in social housing than UK natives. What's more, over the decade from 2001 to 2011, they made a considerable positive net contribution to the UK's fiscal system, and thus helped to relieve the fiscal burden on UK-born workers.
The positive contribution is particularly evident for UK immigrants from the European Economic Area (EEA – the European Union plus three small neighbours): they contributed about 34% more in taxes than they received in benefits over the period 2001-11.
These are the central findings of a comprehensive analysis of the fiscal consequences of immigration to the UK, published today by the Centre for Research and Analysis of Migration (CReAM) at University College London.
read more...»
Sunday, November 03, 2013
The FT video clip below provides a short interview with Dame Ellen MacArthur - the former ocean yachtswoman - and her idea of building a circular economy - this idea might be a fruitful area for student exploration when studying environmental economics. To quote from the web site:L
"The linear 'take, make, dispose' model relies on large quantities of easily accessible resources and energy, and as such is increasingly unfit for the reality in which it operates. Working towards efficiency—a reduction of resources and fossil energy consumed per unit of manufacturing output—will not alter the finite nature of their stocks but can only delay the inevitable. A change of the entire operating system seems necessary"
read more...»
Wednesday, October 30, 2013
In a recent assignment, A2 students were asked to write a 500 word profile on each of two development economists of their choice and to capture their key ideas and connect to one or more current issues in development. I will be adding some of their responses to the economics blog. Here Ben Evans focuses on the work of Daron Acemoglu
read more...»
Thursday, October 24, 2013
An autumnal hat tip to Jonathan Portes, Director of the National Institute of Economic and Social Research for spotting this textbook example culled from the Daily Mail of the problem of social cost and how application of the Coase theorem might be a solution! Click here for the article.
If you would like to know more about the Coase Theorem and the work of Ronald Coase who died earlier in 2013 at the ripe old age of 102 then click here for a superb blog entry from Mo Tanweer.
Energy prices are in the news. The recent actions of some of the energy companies can plausibly be described as provocative, no matter how well founded their decisions might be. They run the risk of provoking the ire of both the Opposition and the Government.
One interesting aspect of the debate is that it has become even clearer that decisions taken by Ed Miliband himself in the Brown government are partly to blame for our high energy bills. The plethora of green taxes and subsidies has become very expensive for consumers.
But how effective have such policies been? Not very much, seems to be the answer.
read more...»
Monday, October 21, 2013
UK nuclear energy is painfully burdened by regulation. Energy prices are at an all time high, so much so that politicians are desperately trying to find policy solutions to utilise this dissatisfaction for votes. There are widespread complaints that energy companies' profits are too large. The Prime Minister encourages us to look for a cheaper energy deal. Surely there could not be any clearer signals from the market and society that now is the time for suppliers to enter the energy market. But unfortunately this is not the case; a detriment to us all.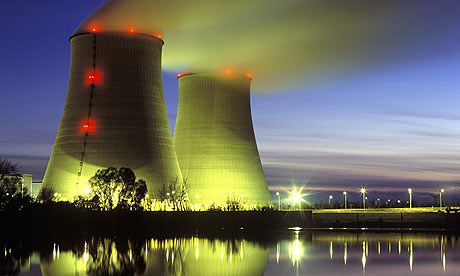 read more...»
A huge reminder about the shifts in economic power arrived with the news about the development of Hinkley C nuclear power station.
read more...»
Thursday, October 17, 2013
Young adults in England have scored almost the lowest result in the developed world in international literacy and numeracy tests. A study by the Organisation for Economic Co-operation and Development (OECD) shows how England's 16 to 24 year olds are falling behind their Asian and European counterparts. England is 22nd for literacy and 21st for numeracy out of 24 countries.
New Labour and the educational establishment harangued us for years about the stupendous success of the system, as record numbers of both passes and A-grades in GCSE and A-levels were registered year after year. The OECD study, by no means the first of its kind, confirms what many suspected. Grade inflation was rampant, and the statistics had as much meaning as the pronouncements about production levels made in the Soviet Union. Actually, that is unfair. When the Soviet Union said 10 million boots had been produced, they really had been. They might have been poor quality and all left-footed, but the boots did exist. It now turns out that many people with GCSE passes can barely read and are virtually unable to add up.
read more...»
Sunday, October 13, 2013
The entrepreneur is considered crucial in economics: so crucial that they are even described as a factor of production, listed alongside land, labour and capital. Supply side economic approaches often recommend policies that will encourage and support entrepreneurs, as a way of stimulating the economy.
read more...»