Economics CPD Courses Coming up this Term!- Book Your Places Now!
WOW! Economics 2015 | Quantitative Methods (New Spec)
---
Friday, December 05, 2014
Every so often I read an article and start to tot up the number of economic concepts being covered in just a few words. This occurred to me again this morning when reading this BBC news article on train fare rises. Train fares are pegged to July's inflation rate and, as inflation is quite low at the moment, this means that the average rise of 2.2% is also relatively low (although regular train users may still feel aggrieved).
Have a read yourself and see how many concepts crop up or give them same exercise to your A2 students. My thoughts are below:
read more...»
Monday, October 27, 2014
Amazon comes in for some pretty severe criticisms from various quarters. So I enjoyed reading an article by Reihan Salam in Slate, who argues that "Jeff Bezos' company is not the problem with American capitalism. It's the solution to our economy's ills".
read more...»
Wednesday, September 24, 2014
Here's a couple of quick Crossword activities that you can set in class or as homework from the tutor2u team. They are:
AS Introductory Economics
A2 Theory of the Firm
Both come with 15 questions and you can even download the answers if you think you might need some help!
read more...»
Tuesday, September 16, 2014
Here's a pleasant and short Powerpoint presentation on Perfect Competition that you may wish to include as part of any lesson on the subject. The presentation shows how price, supply and average and marginal revenue shifts as more firms enter the market and the impact that has on profits.
Click here to download the resource 'Perfect Competition'
Look out for more diagram testing resources as part of our upcoming Wow Economics CPD events. Regular blog contributor Virang Dal has created a Powerpoint resource called 'Diagram Dissection' that asks students to identify the 'body parts' of a series of 28 economic diagrams.
Sunday, September 07, 2014
A great example to start you off looking at how economists understand markets: after a run of rain-wrecked years, British farmers are bringing in the last of what looks like a bumper cereals harvest. 2014 could be the biggest yield ever for wheat. Good news. But for whom?
read more...»
Wednesday, September 03, 2014
Download this engaging teaching resource to test student awareness of the international competitiveness rankings!
You may have already seen Geoff's blog on the newly released International Competitiveness Index. The World Economic Forum annually release its table of competitiveness using a variety of data measures including economic performance, quality of education and labour efficiency. The UK has moved up to 9th in the World.
read more...»
Wednesday, August 13, 2014
Why do we get summer holiday blockbusters? They seem to matter more and more to Hollywood studios. According to one professor "the entertainment industry is moving more towards a winner-take-all-market". Yet it wasn't supposed to be like this. A best-selling 2008 book, The Long Tail, argued that the mainstream was going to be "shattered into a zillion different cultural shards," as fickle consumers "scattered to the winds" using the internet to find the books, films and songs that met their unique taste. So what might be going on?
read more...»
Wednesday, July 02, 2014
When the Channel Tunnel opened in May 1994 bosses of many ferry companies were glum. But it was the backers of the channel tunnel who lost a fortune: according to The Economist (the source of the graph above), the train through the tunnel was meant to carry 28m passengers a year by 2010. Ferries were expected to lose foot passengers, cars and lorries. Like many predictions in business, this soon came to seem wrong; now it seems wrong only in the timing. Now it looks like competition in the market may be about to collapse, with ferries coming under increasing pressure.
read more...»
Saturday, May 24, 2014
What do prices mean and how are they set. A recent BBC World of Business podcast explored this and other issues.
read more...»
Sunday, April 13, 2014
Here is a selection of key diagrams for the Unit 3 business economics course
read more...»
Wednesday, April 02, 2014
According to the Guardian, Carpetright and four other flooring and furniture retailers have promised to clean up their pricing after reaching a settlement with the Office of Fair Trading (OFT). It looks like a good example of the potential for market failure arising out of asymmetric information.
read more...»
Sunday, March 23, 2014
I thought it worthwhile sharing my resources which I have been collecting for students (and teachers alike). I have been promoting them on Twitter (@Economics_KSF) through scoop.it but for those of you not on there, the link for the scoop.it boards are here:
http://www.scoop.it/u/economics-kcsf
read more...»
Thursday, March 13, 2014
There are two useful articles here for A2 economists about the news that Morrisons has made a £176m pre-tax loss for the year to February 2, and the strong impact that their plans to compete hard with the discount retailers has had on the stock market value of Tesco and Sainsburys.
We often cite the UK supermarket industry as an example of oligopoly, and today's news around Morrisons (Britain's 4th biggest supermarket) gives plenty of scope for students to use some stakeholder analysis to look at what is going on in that market - who wins and who loses?
read more...»
Monday, February 10, 2014
A quick but informative guide on how to structure an essay evaluating perfect competition and monopoly. For more videos, click here
read more...»
Tuesday, February 04, 2014
If you attended the recent tutor2u revision conferences for up-coming micro-economic exams (look out for the macro workshops and combined micro and macro to come in March) you will have seen how fuel-pricing was used as an example of market failure, government intervention strategies and government failure.
Fortunately, the energy market is a gift that keeps giving to us in the economics world (every cloud has a silver lining) as a report out today (see this link for the BBC version of the story) indicates that Parliament is about to intervene to try and stop the energy companies charging more to customers who pay by cash rather than by direct debit (£114 per year, according to the report).
read more...»
Friday, January 31, 2014
Here is an updated revision presentation on aspects of perfect competition - A2 economics revision notes can be found here
read more...»
Thursday, January 30, 2014
Here are ten multiple choice revision questions covering the topic contestable markets
read more...»
It was announced yesterday that the Government is planning to abandon its use of expensive software such as Microsoft Office (see article in the Guardian here) partly as a way of reducing costs but also as a means of breaking some of the software company's 'oligopolistic' stranglehold on the market.
As well as offering an example of Government policy to combat market failure, this story gives us a little insight into the issue of contestability in the software industry.
read more...»
Sunday, January 19, 2014
What type of business integration is happening here? The announcement of Google's takeover of smart home-appliance maker Nest for $3.2bn is potentially hugely significant for Google.
read more...»
Wednesday, January 08, 2014
Here are 12 questions (type the answer) on aspects of market structures for unit 3 economics
read more...»
Tuesday, December 17, 2013
You may have seen news reports today about the Competition Commission announcing that it will continue its investigation into the car insurance market having decided that there are concerns to be addressed. The headlines concentrate on the market failure caused by the current system of non-fault claimants organising their own replacement vehicles (and then charging the at-fault insurers) but I thought it was just as interesting that the CC are looking at the relationship between the insurers and price comparison websites.
read more...»
Tuesday, November 26, 2013
I don't know the answer to the question I've just posed, but I think the recent news about RBS raises some interesting issues about the perceived zombie problem in the UK economy.
read more...»
Friday, November 08, 2013
Do consumer choice and competition between suppliers improve the quality of outcomes for consumers? The answer might seem so obvious that it is hardly worth asking. But a powerful strand of political opinion is building up to an attack on the concept.
read more...»
Thursday, November 07, 2013
Ed Miliband's promise at the Labour Party conference to cap energy prices for 20 months if Labour were to win the next election, has raised many questions about what we pay for domestic energy, how it compares with other countries, and what the energy companies do with their profits. Pondering those points has led me to an over-riding question, which is whether the price paid by consumers is really the most important issue for government intervention in the energy market.
read more...»
Monday, October 21, 2013
UK nuclear energy is painfully burdened by regulation. Energy prices are at an all time high, so much so that politicians are desperately trying to find policy solutions to utilise this dissatisfaction for votes. There are widespread complaints that energy companies' profits are too large. The Prime Minister encourages us to look for a cheaper energy deal. Surely there could not be any clearer signals from the market and society that now is the time for suppliers to enter the energy market. But unfortunately this is not the case; a detriment to us all.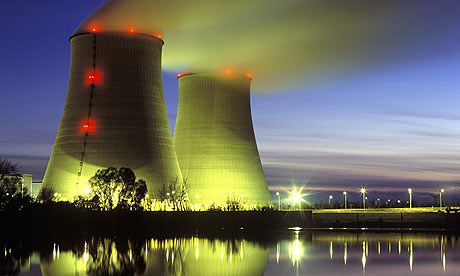 read more...»
This is an updated revision presentation on aspects of perfectly competitive markets. You can access revision notes on perfect competition by clicking here. Take a revision quiz on perfect competition by clicking on this link.
read more...»
Wednesday, October 02, 2013
Revision presentation on business growth, business integration and the factors affecting the shareholder returns from merger and takeover activity.
read more...»
Wednesday, September 25, 2013
You don't have to look very hard at the UK economy before finding evidence of oligopolistic market structures. I've had a good look through the T2U archive and found several articles on the topic over the years. If you've already seen Geoff's excellent presentations - Unit 3 Micro: Oligopoly - The Basics and Unit 3 Micro: Oligopoly and Game Theory you'll perhaps be ready to use your grasp of theory to analyse the UK banking market.
read more...»
Wednesday, August 14, 2013
The global smartphone market is brutally competitive as the executives at struggling phone company Blackberry are finding out. Sales of their phones have been hugely disappointing for some time and the re-launch of their devices seems to have done little for Blackberry as they compete against Apple and Samsung, the dominant players in the industry.
read more...»
Thursday, July 11, 2013
Virgin Cola was set up during the early 1990s and after a hugely successful launch sales started to out-strip established mega brands such as Coca Cola. An aggressive response from Coca Cola included attempts to drive Virgin Cola from the supermarket shelves and the brand never recovered. In this short interview from the Wall Street Journal, Richard Branson discusses some of the key lessons from the Virgin Cola story. It is a commonly used example when discussing barriers to entry in concentrated markets.
read more...»
Friday, June 07, 2013
As an example of collusion, this news article showing alleged price fixing by Canadian chocolate manufacturers and their wholesale distributors illustrates how highly-dominant firms can impact against the public interest.
Reading this article and admitting that chocolate is the closest product that I consume which exhibits addictive qualities (apart from coffee and salt-laden crisps that is) it struck me that this perhaps could be used as an evaluative argument when considering the case for legalisation of slightly stronger narcotics.
One argument for legalising cannabis is that tax revenue can be accrued and there would be a reduction in crime given the lowering of prices (and consequential drop in burglary and stealing to pay for the relatively expensive habit).
This reduction in price, it could be argued, might only occur if the newly formed legal market for cannabis is highly competitive and doesn't suffer from oligopolistic distribution conditions like chocolate does in Canada (or in the UK, for that matter).
Just a thought. Now, where's the other half of that Twirl?
Sunday, June 02, 2013
Mainly designed for A2 micro students taking exams in business economics
read more...»
Saturday, June 01, 2013
A streamed revision presentation on aspects of market power and business pricing in markets
read more...»
Tuesday, May 14, 2013
Firstly, I hope the first AS exam went well, whether that was macro (OCR), micro, and whether for the first time or a retake. I also hope that in amongst the revision you're in the market for a more random blogpost…

This one's a topic on which Paul Ormerod would have something to say. On NPR's Planet Money radio show/podcast, they're launching a T-shirt, and using this as a stimulus for a whole set of reporting on its genesis, from cotton subsidies to its design. The latest podcast investigated the colour of their T-shirts. "What's the economics in that?", I hear you cry…
read more...»
Thursday, April 04, 2013
This 10-question revision quiz focuses on the model of perfect competition.
Launch Revision Quiz: A2 Economics: Perfect Competition (1)
Saturday, January 19, 2013
Mark Johnston provides this introduction to behavioural finance. As with behavioural economics, the conventional view of finance assumes that markets are efficient and that the price of shares, bonds and other financial instruments are a reflection of the fundamental economic values that they represent. Behavioural finance is all about understanding why and how financial markets are inefficient. If there is a difference between the market price of a share or bond and its fundamental value then in conventional economics no one can make money in financial markets by exploiting the difference.
read more...»
Tuesday, January 08, 2013
This Scoop It Board is curated daily to add new content and commentary on market and industry news relevant to A2 micro unit 3 students.
read more...»
Thursday, January 03, 2013
Here is my current Business Economics glossary designed for the EdExcel unit 3 economics paper
read more...»
Monday, November 12, 2012
Matt Smith has been curating a Scoop-It collection of news stories connected to unit 3 microeconomics and specifically the economics of market structures. Click here to view it.
The #econ3 hashtag is a great way for A2 students to follow a growing number of teachers who post ideas, links and advice on Twitter. Likewise use #econ4 for tweets focused on A2 macroeconomics.
Friday, November 02, 2012
Now, tutor2U is an organisation dedicated to supporting and building communities for teachers and lecturers. So, if I post a blog that criticises the report released today by Ofqual which suggests that some teachers over-graded coursework (particularly in English) during this summer's GCSE assessments you might accuse me of bias. To paraphrase Jeremy Clarkson: "You would say that - you drive a Citroen Picasso." However, in my never-ending pursuit of trying to find examples that resonate with young students of economics, is it possible to draw parallels with what happened during the GCSE assessment this year, and the mistakes made within the banking industry that lead to the current recession?
read more...»
Sunday, October 21, 2012
I was told off this week by my students for using McDonald's as an example to illustrate my point yet again. In fact it was the second week on the trot that I was reprimanded as they told me previously that I was always peppering my conversation with Latin phrases "'cos it makes you sound more clever."
"No I don't," I replied - I've told my students a million times not to exaggerate. The offending example came as I was attempting to explain how fatty foods (especially those from the exalted temple of the Golden Arches) were a demerit good. I thought about it for a little while and realised that two weeks ago I'd told them about the use of 'stars' to motivate McDonald's staff and their extensive training programmes when we discussed labour productivity. I'd also mentioned them when we discussed possible issues relating to economies of scale and the fact that a homogenised world can lead to less choice (a weak argument in their view - a McDonald's in every town sounded like a wonderful idea) and discussed the use of persuasive advertising as an example of non-price competition. They were right, I seemed to be talking about McDonald's all the time - and I'm a vegetarian!
"Mea culpa," I confessed.
read more...»
Saturday, October 20, 2012
An autumnal hat tip to Ralph Bostock at the Royal Grammar School Clitheroe for spotting this excellent article from BBC news on the growing use of dynamic ticket pricing by professionals sports clubs. Dynamic pricing to increase revenue - also known as yield management - has long been a common feature of pricing strategies among airlines and bus, coach and train operating companies. Now we find it occurring more frequently for tickets to football clubs many of whom have been struggling to fill their grounds on match day. The Football League has regulations governing ticket prices but Derby County has been given the go-ahead for a trial of dynamic pricing - is it working to boost the gate?
Here is the link to the article
Wednesday, October 03, 2012
Every cloud has a silver lining! News reports out today confirmed that the original decision to award the next 15 year franchise of the West Coast Rail line to FirstGroup instead of the incumbent Virgin Rail has been rescinded and the bidding process re-opened at a potential wasted cost of £40 million (by the way, have they fixed that leaky roof at your school yet?). This may seem like a fiasco to train users and the general public alike but to us Economics teachers it's a super example of government failing to intervene correctly in a market.
read more...»
Thursday, September 20, 2012
Apple's iPhone5 has already smashed sales records. The first day on which consumers could make purchases over the web, more than 2 million online orders were placed. Little wonder that JP Morgan has estimated that sales of the iPhone5 could add as much as 0.5 per cent to American GDP. These numbers have attracted criticism. If consumers simply buy iPhones instead of other products, it is hard to see how output could be boosted by such an amount.
read more...»
Monday, July 02, 2012
A potentially important moment for the contestability of the tablet market. Technology giant Microsoft has unveiled its touchpad tablet computer. The "Surface" will face tough competition from Apple's iPad and many other devices including those made by Samsung. These video resources provide some background. The Surface tablet computer will not be available until the Autumn on 2012.
read more...»
Thursday, May 24, 2012
BMW have been fined SFr156m ($163m) by Swiss Competition Authorities for restricting the supply of BMW and MINI cars to Swiss purchasers.
read more...»
Tuesday, May 08, 2012
How long can China keep its comparative advantage of cheap production for manufacturing goods? We are aware of rising inflation in China which is eroding their advantage, and here is an article about a UK firm which manufactures cushions, some from a factory in Kirkby on Merseyside and some from his factory in the Zhejiang province in China. The story comes from a programme 'The Town taking on China' to be shown on BBC2 at 8pm tonight - and subsequently on i-player.
read more...»
Tuesday, April 17, 2012
Here is a revision download containing some key theory diagrams and accompanying explanation for topics in business economics / theory of the firm / market structures.
Key_Diagrams_A2_Business_Economics.pdf
read more...»
Sunday, April 08, 2012
This blog links to an updated revision presentation on the economics of contestable markets.
read more...»
Monday, April 02, 2012
As the Royal Mail moves towards an initial public offering the business is searching for as many ways as possible of expanding their revenue base to maintain the viability of hundreds of local post offices. One service is the lucrative market for passport and driving licence photos - a product that I suspect has a fairly low price elasticity of demand, I paid £5 for 5 photos in a train station the other week! This Channel 4 news video looks at the battle between the Post Office and independent private sector photo retailers who claim the government is skewing the market against independent shops by giving the Post Office a contract to renew driving licences and threatening to do the same for passports.
read more...»