Join us for WOW! Business 2015 - the UK's Best Business Studies CPD


Wednesday, July 01, 2009
Objectives play a key role in business management. They provide the measurable statements of what a business wants to achieve, from the top (corporate) level of the firm right down to the detailed functional activities of the business.
read more...»
The government is taking the East Coast rail line that runs from London to Edinburgh and which has been operated by National Express into public ownership. National Express has struggled with falling revenues and higher costs that have contributed to rising losses on the line. In a press release, National Express said that higher hedged fuel costs added £11 million of cost in the first half of 2009, while increased pension costs cost the business a further £3 million.
read more...»
First it was the banks. Now it is strategic transport businesses. The government has this morning nationalised the East Coast raiway line, previously operated by National Express.
read more...»
The research theme for students taking AQA A2 Business Studies Unit 4 (BUSS4) in January 2010 has been announced. The theme is…Emerging Markets.
read more...»
Tuesday, June 30, 2009

The ten small businesses which are being followed by the BBC month-by-month throughout 2009 are remaining defiantly optimistic, with most of them reporting confidence 'marks out of ten' at the same level as May, and three of them more optimistic this month. Many seem to benefit from being in a niche market with very specialised products meaning they can really focus on their customers. They talk of expanding sales and taking on more staff, and some increased interest in UK products and producers. The hotel on the Isle of Wight is benefitting from sterling's weakness this year causing an increase in holidays in the UK.
Several have changed their cost structures and looked for ways to strengthen their cash flow, for example by reducing reliance on credit for payments, and are hanging on and managing to break even while they hope for increased business in the near future, and there are concerns about how they will cope when interest rates rise again. There is still difficulty for those businesses which are related to the housing market, as solicitors or suppliers of joinery, and the most consistent worries remain those related to finance – lack of credit from the banks, lack of mortgages available to potential buyers, and poor credit ratings given to any relatively new small business regardless of their history.
Tonight's edition of the Money Programme looks worth watching, or recording – on at 22.00 on BBC2 (unless Wimbledon overruns by two and a half hours again, presumably!).
'Recession bites into our eating habits' looks at the changes in supermarket and food spending over the last year, as food prices have risen by 8% and consumers seems to be cutting back on luxuries and shifting to inferior goods – a good illustration of income elasticity of demand, and the effects of falling consumer confidence.
read more...»
Sunday, June 28, 2009
Six thousand complaints within a week has forced Masterfoods to do a U-turn on its decision to use ingredients which contain traces of animal enzymes.
Is this a business responding to the wishes consumers?
read more...»
The latest edition of The Biz Quiz, our weekly quiz on the business news, is now available.
Launch interactive version of The Biz Quiz - 29 June 2009
Download printable (pdf) version with answers at the back
Saturday, June 27, 2009
Do you know your dongs from your ringgits? And what currency do they use in Belarus? Try this starter quiz to test your knowledge on foreign currencies.
read more...»
Friday, June 26, 2009
Deliberate Creativity is one of the topics on Edexcel's new GCSE Business Specifications (Unit 1 Section 2) that many of us won't have taught before. However, I think it's one of the most exciting topics because it can be used to engage the students in thinking, which is why I intend to start the course by delivering that section.
Professor Dennis Sherwood believes that people can be taught to be creative by using the technique of deliberate creativity. The idea is quite simple - look at what you know, and think about how it could be changed.
TV quizzes are an excellent example of how this has led to the development of new quiz shows. When ITV launched "Who Wants To Be A Millionaire?" how did the BBC respond to it's success?
read more...»
Many thanks to Patrick Neill at Bideford College for providing an example of a terrific enterprise activity that has worked really well with his students…
read more...»
Thursday, June 25, 2009
Many thanks to Alison Elmes for sharing this experience in the classroom last week…
read more...»
Wednesday, June 24, 2009
The Times 'Ideas at Work' section has a feature today about how to build a winning team in business. The first point questions whether you actually need a team, or simply a group of individuals working on separate tasks but reporting to the same supervisor. On the assumption that the business needs something a bit more than that, much of the advice centres on long term strategic planning, which should be a central part of human resource management – allowing time for team dynamics and bonding to evolve, having a team which is small enough to be co-ordinated and setting clearly defined roles with a decisive leader. There are two vital aspects of recruitment that reflect points made by Mike Southon, the Beermat Entrepreneur, at last week's Business Studies National Teacher Conference; getting a mix of people and talents rather than several matching talents, and bringing in a 'deviant' – someone who is prepared to take a different view and question the normal status quo, but without acting as a 'team destroyer'. To quote Lynda Gratton, Professor of Management Practice at London Business School, "You want people to challenge each other, but you don't want winners and losers — people stop talking to each other."
A big hat tip to Mark Mitchell for showcasing this classic Hale & Pace clip as a way of introducing the topic of customer service…
read more...»
This business remains one of the biggest in the world and you could (if you really wanted) do a whole Business course just looking at the automotive industry. The problem for me is keeping up with the current rate of change – I still can't quite believe that General Motors (GM) has gone bankrupt.
read more...»

Will King, the CEO of King of Shaves who spoke about his battle to break into the shaving products market at the Economics conference last week, was on BBC Radio 5's Wake up to Money yesterday – you can listen to the programme or download the podcast from here. King of Shaves is raising a further £5m capital to fund its growth plans – as Geoff reported on the Economics blog last week, King of Shaves is launching successfully in Japan and now looking towards the United States. However at this time when all the news is full of stories of businesses which cannot raise money from the banking system, Will King has come up with a different approach which follows his hugely successful strategy of using the web and viral marketing.
read more...»
Tuesday, June 23, 2009
We're hard at work on a new series of resources to support the new GCSE Business units.
read more...»
Monday, June 22, 2009
An indepth video from BBC Newsnight (8mins) looks at the decline of the local newspaper. Changing trends in media consumption, the recession and the growing dominance of the BBC are all highlighted as potential reasons why local newspapers may struggle to survive. Packed full of excellent material for more experienced business students - how can the local newspapers respond?
View Newsnight video on the local newspaper industry
Teen-Trepreneur is the new board game launched last week by Sabirul Islam - the young entrepreneur featured at our Business Teacher National Conference. Sabirul told some of the story behind the new game, which has been designed with the help of young business and enterprise students.
Teen-Trepreneur retails for £24.99 (including VAT) looks terrific and you can now order the game directly from Sabirul via this online form:
A player's guide to Teen-Trepreneur can also be downloaded in pdf format here:
We just managed to squeeze in a Biz Quiz picture quiz at the Business Teacher National Conference today. Here is the puzzle - can your students name the people featured?
Here are the answers:
From left to right:
Top row: Dick Fuld (Lehman Bros) | Robert Peston (BBC) | Andy Hornsby (Halifax Bank) | Declan Curry (BBC Working Lunch)
Bottom row: Yasmina Siadatan (The Apprentice 2009) | Michelle Mone (Ultimo Bras) | Claire Robertson (Wellworths) | Mary Portas (Queen of Shops)
Students often think of entrepreneurs as people who have set up their own successful business. Perhaps that's because many of us use well-known entrepreneurs, who happen to run their own business as examples. This may be understandable, since it helps students to relate to what entrepreneurship is about, but is it accurate?
The new specifications are quite clear about the sort of skills and qualities that are usually found in entrepreneurs, and they don't mention "business owner" as one of them.
This begs the question "can employed staff be entrepreneurs?".
read more...»
Sainsbury's continue to seek ways to improve their green credentials, and to cut the amount of wasteful packaging on their goods. The Sunday Times reported that they introduced 'milk-in-a-bag' – polythene bags containing 2 litres of milk which can be transferred to a jug-style holder, and which have 75% less packaging than the rigid plastic bottles. Their next move has been to take some own-brand cereal out of cardboard boxes, and on Friday they introduced their own brand of Rice Pops in recyclable plastic packets similar to those used for crisps.
Kelloggs say they are considering doing the same, although Nestle have no plans to do so at present. A problem with the plastic bag for cereal is keeping it from being crushed either on the way to the supermarket or on the way home – but we manage to do this with packets of crisps, so presumably we can manage it for cereals as well. Reducing the volume of packaging is certainly to the advantage of the supermarkets, as it cuts the space used per pack in it's delivery lorries so fewer lorries are needed, cutting both their costs and their carbon emissions.
read more...»
Sunday, June 21, 2009
Fresh off the digital presses - the latest edition of the Biz Quiz
Download printable pdf version
Rachel Bridge (Enterprise Editor of the Sunday Times) joined us at the Business Teacher conference on Friday and briefly described her new series which is tracking three new business start-ups…
read more...»
Friday, June 19, 2009
BT is following the lead of several other employers in an attempt to find ways to keep staff on the books even though they are not needed during the downturn. Their creative solution is to 'lend' their staff to competitors rather than make them redundant. This is part of a much wider cost cutting scheme, and involves offering 'placements' outside the company, initially on a voluntary basis, but BT have not ruled out making them compulsory if too few people volunteer. While the new company would pay their salary, staff remain members of the BT pension scheme. The scheme seems to mirror the way that a Premiership football club will lend players to other clubs for all or part of the season as part if the player's 'career development' – the new club pays the wage, but there is an understanding that the player is expected to return to the 'parent' club at the end of the period.
read more...»
Last year it was Fraser Doherty. This year, its Sabirul Islam. Two young (very young) entrepreneurs who captivated and inspired our wonderful audience of Business teachers at the British Library.
read more...»
Some current affairs questions from the last seven days for Business students around the world…
read more...»
Wednesday, June 17, 2009
EU legislation can be a difficult topic to deliver to a GCSE Business class, but it remains an important element of the new Edexcel specifications.
I recently came across this useful BBC article which got a great discussion going about The Working Time Directive.
read more...»
If you've been looking at motivation in the workplace this year, chances are you've talked about Elton Mayo, who is best remembered for writing about experiments done in a telephone parts factory in the 1920s and 30s. The results of the Hawthorne study lead to an extremely influential idea: that the very act of being experimented upon changes subjects' behaviour. However, new analysis of the experimental data suggests this may be the wrong conclusion.
read more...»
Some interesting changes seem to be taking place in the "market" for GCSE Business courses…
read more...»
There are some excellent examples of businesses that are significantly exposed to a downturn in demand from business travellers - British Airways is perhaps the best. However, you can now add Whitbread to that list…
read more...»
Tuesday, June 16, 2009
This story is a must to use with A2 students looking for a relevant, topical strategy case…
read more...»
Students who attended the BUS6 business strategy workshop in April spent an hour or so looking at the strategy of EMI, in the "Taking a Boardroom Approach" opening session. We looked at the strategic rationale for Guy Hands and Terra Firma deciding to buy EMI and at some of the cultural and commercial issues he faced when trying to turn the business around.
When students turned their BUS6 papers over today the chosen case study was…
read more...»
How many students would go to work for free?
Well bosses of British Airways will be hoping that non-financial motivation exists, as they have asked staff to volunteer to work for free (or take unpaid leave) for up to a month, in an attempt to ensure that the firm can win the fight for survival.
This BBC article could be tied in with two topics on the new Edexcel Specifications:
read more...»
Monday, June 15, 2009
I don't know. In my day you were happy with a bit of fizzy pop, some charging about, a tantrum and being sent home with a piece of cake wrapped up in a tissue. As with weddings, part of modern life is the raised expectations – and spending on - social get-togethers. A BBC article explains how the children's party business shows little sign of the impact of the recession.
read more...»
Sunday, June 14, 2009
A somewhat quiet week for business news…but the Biz Quiz features all the big stories (and a couple of minor ones too!)
Launch interactive version of The Biz Quiz - 13 June 2009
Download printable version (including answers at the back)
Friday, June 12, 2009
A fascinating case study of how to invest in a popular tourist destination. The new visitor centre at the summit of Snowdon has been built at a cost of £8.4m, but not without a huge effort by the people involved and despite opposition from some stakeholder groups…
read more...»
There's a battle going on in the chocolate rabbit world which could provide an interesting example of how businesses try to protect their products and ideas.
The products in question are shown in the picture below which is on the Guardian website.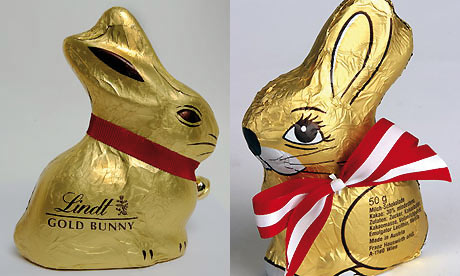 Could consumers be confused?
read more...»
Thursday, June 11, 2009
Some current affairs questions from the last seven days for Business and/or Economics students around the world…
read more...»
Wednesday, June 10, 2009
Realistic data to illustrate how firms add value is not always easy to come across. After all many firms don't want us to know how much mark-up they place on their products.
This data from the Daily Mail perhaps explains why manufacturers are so keen for us not to find out!
read more...»
Jeff Jarvis provides an excellent insight into the new paradigm in promotion. The growth of user-generated content and viral marketing is overtaking more traditional promotional methods. Read his article here
Manchester United Football Club has secured a new shirts sponsor for the 2010-2011 season. Why would a sponsor pay £80 million over four years to have their name on MUFC football shirts? Does sponsorship really work?
read more...»
A very interesting and potentially explosive article in The Times today highlights the problems faced by British Airways as it seeks to reduce its operating costs…
read more...»
Many thanks to Phil Wheeler from Thomas Alleyne School for letting me know about his post-AS exam project for business students.
read more...»

Margaret Mountford's announcement that she will not be part of the next series of The Apprentice is getting a far higher profile than Siralan's choice of Yasmina rather than Katie on Sunday night. Some of Margaret's memorable lines from this series:
"Never before in the history of car washing have so few cars been washed by so many people in such a long time"
"Alex, you stepped so far back from it you were practically out of the room"
"One's enough, thank you" on tasting one team's chocolates
What would be the main features of a person specification and job description for her successor?
read more...»

Sustainability, ethics and corporate social responsibility all feature heavily in the news about bluefin tuna this week, as does the theory of Porter's Five Forces in shaping business strategy. The bluefin is the victim of consumer trends – the explosion in the demand for sushi and for fresh tuna steaks to barbecue, as well as successful campaigns to persuade us to eat a more omega 3-rich diet to protect us from heart disease (and even to prevent eye disease, according to this report on Monday). But it is being over-fished to a critical point at which stocks are becoming completely unsustainable. A film which premiered in the UK on Monday makes the point very clearly - The End of the Line, a documentary based on a book by journalist Charles Clover, examines the mismanagement of bluefin fisheries as a microcosm of how we are hoovering the seas of their fish to the point at which species cannot be sustained and risk dying out altogether. It is generating much publicity for the issue, such as this article from the Times, in order to give it a higher profile.
read more...»
A big hat tip to Keir Williams (Wrotham School) for highlighting the excellent new series featuring retail guru Mary Portas. In her new programme, Mary attempts to bring the charity shop sector kicking and screaming into the 21st century. Some superb materals in each episode on retailing skills, and plenty of stimulus material on management styles and motivation too:
The series is available to download using BBC iPlayer
Tuesday, June 09, 2009
Setanta have failed to attract enough customers to justify their huge outlay on securing the rights to broadcast a number of Premier League games over the course of the past two seasons and the forthcoming one. Their experience allows us to consider concepts such as break-even analysis, income elasticity of demand and the impact of the recession.
read more...»
According to figures in The Economist, from a high point of £5 billion in 2001, spending on plants, tools and garden furniture has fallen every year since then, to around £3 billion in 2008. The arrival of recession only deepened the gloom, yet the latest figures from the Horticultural Trades Association (HTA) suggest a bumper year for garden-related expenditure is in the making.
read more...»
It can be a challenge to think of examples for the topic of "Thinking in Opposites", or "What if…?" once the obvious ones of Marmite, Muller and Yorkie have been used.
However, Kleenex's decision to rebrand it's "Kleenex For Men" to "Kleenex Mansize" was coupled with a decision to change the size of the box. What motivated this move?
read more...»