Four final chances to join us for TBBLE 2014! Resource-packed CPD for Business!!
BIRMINGHAM | LONDON | MANCHESTER | BELFAST


Monday, June 22, 2009
We just managed to squeeze in a Biz Quiz picture quiz at the Business Teacher National Conference today. Here is the puzzle - can your students name the people featured?
Here are the answers:
From left to right:
Top row: Dick Fuld (Lehman Bros) | Robert Peston (BBC) | Andy Hornsby (Halifax Bank) | Declan Curry (BBC Working Lunch)
Bottom row: Yasmina Siadatan (The Apprentice 2009) | Michelle Mone (Ultimo Bras) | Claire Robertson (Wellworths) | Mary Portas (Queen of Shops)
Students often think of entrepreneurs as people who have set up their own successful business. Perhaps that's because many of us use well-known entrepreneurs, who happen to run their own business as examples. This may be understandable, since it helps students to relate to what entrepreneurship is about, but is it accurate?
The new specifications are quite clear about the sort of skills and qualities that are usually found in entrepreneurs, and they don't mention "business owner" as one of them.
This begs the question "can employed staff be entrepreneurs?".
read more...»
Sainsbury's continue to seek ways to improve their green credentials, and to cut the amount of wasteful packaging on their goods. The Sunday Times reported that they introduced 'milk-in-a-bag' – polythene bags containing 2 litres of milk which can be transferred to a jug-style holder, and which have 75% less packaging than the rigid plastic bottles. Their next move has been to take some own-brand cereal out of cardboard boxes, and on Friday they introduced their own brand of Rice Pops in recyclable plastic packets similar to those used for crisps.
Kelloggs say they are considering doing the same, although Nestle have no plans to do so at present. A problem with the plastic bag for cereal is keeping it from being crushed either on the way to the supermarket or on the way home – but we manage to do this with packets of crisps, so presumably we can manage it for cereals as well. Reducing the volume of packaging is certainly to the advantage of the supermarkets, as it cuts the space used per pack in it's delivery lorries so fewer lorries are needed, cutting both their costs and their carbon emissions.
read more...»
Sunday, June 21, 2009
Fresh off the digital presses - the latest edition of the Biz Quiz
Download printable pdf version
Rachel Bridge (Enterprise Editor of the Sunday Times) joined us at the Business Teacher conference on Friday and briefly described her new series which is tracking three new business start-ups…
read more...»
Friday, June 19, 2009
BT is following the lead of several other employers in an attempt to find ways to keep staff on the books even though they are not needed during the downturn. Their creative solution is to 'lend' their staff to competitors rather than make them redundant. This is part of a much wider cost cutting scheme, and involves offering 'placements' outside the company, initially on a voluntary basis, but BT have not ruled out making them compulsory if too few people volunteer. While the new company would pay their salary, staff remain members of the BT pension scheme. The scheme seems to mirror the way that a Premiership football club will lend players to other clubs for all or part of the season as part if the player's 'career development' – the new club pays the wage, but there is an understanding that the player is expected to return to the 'parent' club at the end of the period.
read more...»
Last year it was Fraser Doherty. This year, its Sabirul Islam. Two young (very young) entrepreneurs who captivated and inspired our wonderful audience of Business teachers at the British Library.
read more...»
Some current affairs questions from the last seven days for Business students around the world…
read more...»
Wednesday, June 17, 2009
EU legislation can be a difficult topic to deliver to a GCSE Business class, but it remains an important element of the new Edexcel specifications.
I recently came across this useful BBC article which got a great discussion going about The Working Time Directive.
read more...»
If you've been looking at motivation in the workplace this year, chances are you've talked about Elton Mayo, who is best remembered for writing about experiments done in a telephone parts factory in the 1920s and 30s. The results of the Hawthorne study lead to an extremely influential idea: that the very act of being experimented upon changes subjects' behaviour. However, new analysis of the experimental data suggests this may be the wrong conclusion.
read more...»
Some interesting changes seem to be taking place in the "market" for GCSE Business courses…
read more...»
There are some excellent examples of businesses that are significantly exposed to a downturn in demand from business travellers - British Airways is perhaps the best. However, you can now add Whitbread to that list…
read more...»
Tuesday, June 16, 2009
This story is a must to use with A2 students looking for a relevant, topical strategy case…
read more...»
Students who attended the BUS6 business strategy workshop in April spent an hour or so looking at the strategy of EMI, in the "Taking a Boardroom Approach" opening session. We looked at the strategic rationale for Guy Hands and Terra Firma deciding to buy EMI and at some of the cultural and commercial issues he faced when trying to turn the business around.
When students turned their BUS6 papers over today the chosen case study was…
read more...»
How many students would go to work for free?
Well bosses of British Airways will be hoping that non-financial motivation exists, as they have asked staff to volunteer to work for free (or take unpaid leave) for up to a month, in an attempt to ensure that the firm can win the fight for survival.
This BBC article could be tied in with two topics on the new Edexcel Specifications:
read more...»
Monday, June 15, 2009
I don't know. In my day you were happy with a bit of fizzy pop, some charging about, a tantrum and being sent home with a piece of cake wrapped up in a tissue. As with weddings, part of modern life is the raised expectations – and spending on - social get-togethers. A BBC article explains how the children's party business shows little sign of the impact of the recession.
read more...»
Sunday, June 14, 2009
A somewhat quiet week for business news…but the Biz Quiz features all the big stories (and a couple of minor ones too!)
Launch interactive version of The Biz Quiz - 13 June 2009
Download printable version (including answers at the back)
Friday, June 12, 2009
A fascinating case study of how to invest in a popular tourist destination. The new visitor centre at the summit of Snowdon has been built at a cost of £8.4m, but not without a huge effort by the people involved and despite opposition from some stakeholder groups…
read more...»
There's a battle going on in the chocolate rabbit world which could provide an interesting example of how businesses try to protect their products and ideas.
The products in question are shown in the picture below which is on the Guardian website.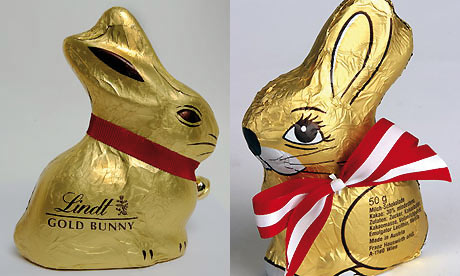 Could consumers be confused?
read more...»
Thursday, June 11, 2009
Some current affairs questions from the last seven days for Business and/or Economics students around the world…
read more...»
Wednesday, June 10, 2009
Realistic data to illustrate how firms add value is not always easy to come across. After all many firms don't want us to know how much mark-up they place on their products.
This data from the Daily Mail perhaps explains why manufacturers are so keen for us not to find out!
read more...»
Jeff Jarvis provides an excellent insight into the new paradigm in promotion. The growth of user-generated content and viral marketing is overtaking more traditional promotional methods. Read his article here
Manchester United Football Club has secured a new shirts sponsor for the 2010-2011 season. Why would a sponsor pay £80 million over four years to have their name on MUFC football shirts? Does sponsorship really work?
read more...»
A very interesting and potentially explosive article in The Times today highlights the problems faced by British Airways as it seeks to reduce its operating costs…
read more...»
Many thanks to Phil Wheeler from Thomas Alleyne School for letting me know about his post-AS exam project for business students.
read more...»

Margaret Mountford's announcement that she will not be part of the next series of The Apprentice is getting a far higher profile than Siralan's choice of Yasmina rather than Katie on Sunday night. Some of Margaret's memorable lines from this series:
"Never before in the history of car washing have so few cars been washed by so many people in such a long time"
"Alex, you stepped so far back from it you were practically out of the room"
"One's enough, thank you" on tasting one team's chocolates
What would be the main features of a person specification and job description for her successor?
read more...»

Sustainability, ethics and corporate social responsibility all feature heavily in the news about bluefin tuna this week, as does the theory of Porter's Five Forces in shaping business strategy. The bluefin is the victim of consumer trends – the explosion in the demand for sushi and for fresh tuna steaks to barbecue, as well as successful campaigns to persuade us to eat a more omega 3-rich diet to protect us from heart disease (and even to prevent eye disease, according to this report on Monday). But it is being over-fished to a critical point at which stocks are becoming completely unsustainable. A film which premiered in the UK on Monday makes the point very clearly - The End of the Line, a documentary based on a book by journalist Charles Clover, examines the mismanagement of bluefin fisheries as a microcosm of how we are hoovering the seas of their fish to the point at which species cannot be sustained and risk dying out altogether. It is generating much publicity for the issue, such as this article from the Times, in order to give it a higher profile.
read more...»
A big hat tip to Keir Williams (Wrotham School) for highlighting the excellent new series featuring retail guru Mary Portas. In her new programme, Mary attempts to bring the charity shop sector kicking and screaming into the 21st century. Some superb materals in each episode on retailing skills, and plenty of stimulus material on management styles and motivation too:
The series is available to download using BBC iPlayer
Tuesday, June 09, 2009
Setanta have failed to attract enough customers to justify their huge outlay on securing the rights to broadcast a number of Premier League games over the course of the past two seasons and the forthcoming one. Their experience allows us to consider concepts such as break-even analysis, income elasticity of demand and the impact of the recession.
read more...»
According to figures in The Economist, from a high point of £5 billion in 2001, spending on plants, tools and garden furniture has fallen every year since then, to around £3 billion in 2008. The arrival of recession only deepened the gloom, yet the latest figures from the Horticultural Trades Association (HTA) suggest a bumper year for garden-related expenditure is in the making.
read more...»
It can be a challenge to think of examples for the topic of "Thinking in Opposites", or "What if…?" once the obvious ones of Marmite, Muller and Yorkie have been used.
However, Kleenex's decision to rebrand it's "Kleenex For Men" to "Kleenex Mansize" was coupled with a decision to change the size of the box. What motivated this move?
read more...»
Friday, June 05, 2009
Some time later tonight or early tomorrow morning (Saturday 6 June), we'll hit the 10 million page visit mark on the new tutor2u subject blogs. That's a testament to the tremendous support that tutor2u has from the teaching community, and to our ever-increasing group of blog authors. I'd like to record a big thanks to everyone who has supported the subject blogs - either by writing, reading or recommending these pages to colleagues.
You will notice some further developments on the subject blogs over the next few days and weeks. Six new blog authors have kindly agreed to get involved today alone. We're launching a dedicated blog for Cambridge Pre-U to sit alongside the excellent new blogs recently launched for IB Diploma, Sociology, RS, Law and GCSE Economics. Over 12,000 colleagues now get the regular resource updates from the subject blogs. Fingers crossed that we can continue to build these resources and make our contribution to the teaching community in our featured subjects.
April 2007: Gordon Brown offers 'new seriousness' and an end of celebrity culture in politics
June 2009: Gordon Brown appoints Alan Sugar as 'enterprise czar'
What do you make of it all?! Multimillionaire businessman Sir Alan Sugar has been made 'enterprise czar' in Gordon Brown's cabinet reshuffle. According to the BBC, Sir Alan is set to be nominated for a seat in the House of Lords in order for him to join the government. Having made his fortune through television set-top box maker Amstrad, his profile has rocketed through his starring role in BBC's The Apprentice.
Expect to read more on the blog about his performance in this new role!
A great BBC article and videoclip for those following the finances of English football. The Premier League saw its revenues soar by 26% in the 2007/08 season to nearly £2bn with the revenues of Premier league English sides were £1.93bn. Despite the downturn, 11 of the 20 top league clubs made an operating profit in 2007/08, from eight a year before. Astonishingly, salary costs topped £1bn for the first time, and the clubs' total net debt was £3.1bn.
read more...»
The Biz Quiz returns from its exam-break with the first of six more weekly quizzes until the end of the summer term!
Launch interactive version of The Biz Quiz
Download printable version (including answers)
Sir Alan Sugar may be about to choose his next apprentice - but he is unlikely to be impressed with the owners of the Bridge Cafe. It is the cafe used by the losing team to lick their wounds before doing battle in the board room, but according to…
read more...»
Thursday, June 04, 2009
The Business Teacher National Conference on Friday 19 June 2009 provides a great opportunity to meet and listen to some of the best speakers on enterprise and entrepreneurship around….
read more...»
A fascinating, in-depth and intensely personal interview with Sir Stuart Rose - highly recommended.
A rare example of a form of business organisation that used to feature regularly in business textbooks has entered insolvency…
read more...»
Now this is sneeky! The retail price of Mars and Snickers bars has stayed the same. But the weight of the bars has been reduced!
read more...»
I'm struggling to come up with a strong business studies angle to this video, but there must be one in there somewhere
read more...»
Wednesday, June 03, 2009
A nice short article here about how to get your invention noticed.
"To qualify for a patent, your idea has to be new and it has to be innovative - that is, not obvious," explains Graham Jones OBE, Vice President of the Institute of Patentees and Inventors.
read more...»
Michelle and I are putting the final touches to some new teaching resources for the AQA A2 Business Unit 3 INSET days in London and Manchester next week. One of the areas of focus will be Marketing analysis where the BUSS3 specification poses some new teaching challenges…
read more...»
Whatever your views on Big Brother, whether you're glued to it or can't stand it, your students are likely to be talking about it.
That makes it a useful tool to get students talking about product life-cycles.
As Channel 4 release pictures of the inside of the house it's clear that once again they are looking to prevent the show going into decline with a number of twists.
read more...»
Monday, June 01, 2009
The traditional way to achieve a flatter organisational structure is through de-layering. De-layering involves removing one or more levels of hierarchy from the organisational structure.
read more...»
This video clip is a great way of highlighting one way in which a strategy of growth through acquisition can lead to some significant changes in a product portfolio...
read more...»
I'm still bemused about how the Great British Public didnt proclaim Stavros Flatley as the winner of Britain's Got Talent…
read more...»
During the good years – up to 2008 – firms were making more and more of their ethical stance. Corporate Social Responsibility (CSR) got taken more seriously, but there were always doubts: businesses were keen to be seen as well behaved, but would this last when times got tougher?
Now, deep into a worldwide recession, it's been a good time to revisit an old blog and see if firms are shedding some of their goodness in these chillier times.
read more...»
You don't need me to tell you that Dragon's Den is a great teaching resource for the new specifications. It covers risk, potential rewards, potential failure,aspects of finance, marketing and any number of other topics. Have you ever wondered where you can find out more about some of the products that have been featured?
read more...»
Looking for a suitable product extension for the humble ice-cream, Del Monte have come up with something that will probably appeal mainly to female customers…
read more...»