Attend a CPD Teacher Briefing on the BUSS4 Theme | Order the BUSS4 Research Theme Toolkit | Book places on the BUSS4 Revision Workshops

Sunday, March 01, 2015
To paraphrase Graham, this video is 17 minutes of "Pure Leadership Gold Dust!". Simon Sinek's "Start with Why" TED talk is the third most popular of all time and a must for BUSS4 students. Whilst managing to define the key attribute of successful leaders (he uses Apple, Martin Luther King and the Wright brothers as examples), he also covers the following topics:
The diffusion of Innovation
Mission Statements
Product success and failure
Product diversification
Customer and employee loyalty
The effects of leadership on all functional areas
In addition to its obvious relevance to Business Studies, it's essential viewing for any teacher who strives to the get the best out of every student they teach.
To accompany the talk, I've created a worksheet which refers to some of brands students may be studying in anticipation for the big exam!
Tuesday, February 10, 2015
An intriguing concept that seems to be catching on; Zappos (and now Amazon) give their new recruits "the offer"; telling the new workers that the company will pay them over $2000 to quit if they're not sure they'll be happy at the company.
Whilst it initially seems open to abuse, it's actually a strategic masterpiece in which the advantages far outweigh the drawbacks. Thus far less than 3% of newbies have taken the offer, and so $2000 is a small price to pay to weed out the employees who are only there for the money. By contrast, those who decline the offer show that they are bought-in to the Zappos culture, which has led to Fortune ranking them amongst the best 100 companies to work for.
Attached is a research task that asks students to evaluate the above strategy and gives great infographics and articles which demonstrate the importance of culture and a happy workforce.
A fantastic concept for students to discuss and an amazing business to research.
Friday, February 06, 2015
Since 1937, Dowty Rotol have been building propellers for aircraft at its plant in Gloucestershire. Its output was for aircraft powered by Rolls Royce or Bristol aero engines. Earlier this week a huge fire destroyed much of its Staverton factory.
read more...»
Thursday, February 05, 2015
Does it make sense for a business to pay its staff as little as possible, in order to cut costs and be able to compete, or to raise wages in order to stimulate greater motivation, and gain employee loyalty? In part one of The Price on Inequality on Tuesday, Robert Peston was looking at the widening gap between the highest income earners and the rest of us, arguing that while income and wealth inequality was seen as 'almost a good thing in the 1980's', it is now being seen as almost the greatest economic problem facing us. An article in The New Yorker, 'The Return of Fair Wages', examines a similar theme, looking at a decision by an American company to substantially raise the wages of their lowest-paid employees. Since 2000, 'real' wages in the US have hardly changed, while many US employers are making decent profits and the incomes of the top 1% have risen by nearly 60%. Mark Bertolini, CEO of Aetna (a medical insurance company) has announced that the company's lowest-paid workers will get a substantial raise—from twelve to sixteen dollars an hour, in some cases—as well as improved medical coverage. This article offers some interesting comment on why it is worth while paying employees a little more.
read more...»
Thursday, January 08, 2015
Headlines about Tesco's latest price cuts and trading figures (down by 0.2% on like for like sales) mask some other significant actions.
read more...»
Monday, December 22, 2014
The run up to Christmas has been seen as a good time to bury bad financial news, however Tesco's auditors, Price WaterhouseCoopers now face an inquiry over the preparation and auditing of Tesco accounts from 2012 onwards. The Financial Reporting Council is the independent disciplinary body for UK accountants and actuaries.
It is possible that this inquiry could lead to pressure to break up the oligopolistic nature of auditing, currently dominated by 'The Big Four', viz. Deloittes, Ernst & Young, KPMG and PWC. Ultimately it is up to the politicians to decide that this sector needs to be shaken up.
2014 has been a particularly grim year for Tesco, and it's new CEO, Dave Lewis, still faces the challenge of restoring shareholder and customer confidence.
Thursday, November 20, 2014
Would free food make you work harder? Google think that it would, and so do many other employers. Is it true that Google have a rule that no employee should ever be more than 150 feet from a food outlet in the office? There is the story in this article, of an employee in California who practically moved into the office, sleeping in his car just outside and living on the perks and extras available in the building, which he managed to do for a full 60 weeks.
read more...»
Sunday, November 02, 2014
The strategic challenges facing Royal Mail and its renowned CEO Moya Greene are explored in this superb FT video report (below) from Andrew Hill which takes a look at Royal Mail just a year after the business was privatised.
read more...»
Tuesday, September 23, 2014
Tesco's share price slid again today, although the firm has announced that the new Finance Director Alan Stewart started work three months earlier than expected.
read more...»
Monday, September 22, 2014
News about Tesco's troubles comes thick and fast, today's bad news about overstating profits has wiped off 11.59% of the share price. It fell by 26 pence to £2.03.
read more...»
Monday, September 08, 2014
The story of Apple, from inception up until 2011, is told beautifully in this 50 minute BBC documentary (available on Netflix or via this link) and literally covers all 15 sections in the BUSS1 specification (and quite a few from BUSS2 too). As an added bonus, I've created this 30-question worksheet to keep students focused.
A fantastic insight into one of the biggest companies in the world, a ready-made lesson... and chance for you to put your feet up for an hour!
Hope it helps!
Sunday, August 10, 2014
A superb article here from The Economist that should be essential reading for all students required to develop their understanding of corporate social responsibility ("CSR") and, specifically, the concept of sustainability.
read more...»
Monday, August 04, 2014
This updated and extended revision presentation introduces the concept of business ethics. The distinction between ethical and legal behaviour is examined as are the potential benefits and drawbacks of ethical behaviour. Some topical examples of business ethics in action are also provided.
read more...»
Sunday, August 03, 2014
If business students are looking for a different example of how effective leadership can drive successful change, then they should add Sergio Marchionne to their research.
Sergio Marchionne was initially best-known for leading the turnaround of the Italian automotive group Fiat. More recently, Marchionne has led the transformation of US automotive group Chrysler, taking Chrysler from the brink of bankruptcy at the lowest point of the financial crisis in 2008/9 to profitability.
Marchionne took over as CEO of Fiat in 2004 and was able to return the struggling Italian car manufacturer to profitability with two years. He first connected with Chrysler when a strategic alliance was formed between Chrysler and Fiat (who took a 20% shareholding) as part of a US government-backed rescue of Chrysler as it tried to avoid bankruptcy. When Chrysler was able to pay off various US government loans in 2011, Fiat was left with a stake of over 50%. Since then, Fiat have been negotiating with a Chrysler employee trust in the US (which holds a substantial remainder of the shares in Chrysler) to complete a full takeover. A deal was finally agreed in early 2014 with the formalities now being completed.
read more...»
Tuesday, July 29, 2014
This will be a dynamic business story that will be essential for business students to follow closely over the coming months. Tesco has announced the appointment of Dave Lewis to replace Philip Clarke as CEO with effect from 1 October 2014.
This decision is significant for many reasons, not the least that Dave Lewis has never been a retailer, nor has he ever been a CEO. Nevertheless, Lewis was the man that Tesco wanted (he was headhunted) and he has a superb track record at Unilever, one of the world's leading multinationals in the FMCG sector ("fast-moving consumer goods").
read more...»
Saturday, June 07, 2014
Has it all gone horribly wrong for UK-based global pharmaceutical giant GSK? Profits might be rising, but there still seems to be a nasty smell about the way GSK does business.
That's bad news for GSK shareholders and stakeholders, but good news for business students. GSK has quickly become one of the very best examples of the potential costs and reputational damage that can arise when business ethics are seemingly ignored by parts of a complex multinational organisation.
read more...»
This is a terrific article from BusinessWeek on the growth strategy of Xiaomi, a Chinese business that is fast-becoming one of the countries best-known global brands.
Lots in the article (and the related video which I have added further below) for business students to note - I have jotted down some of the things I spotted below.
We've written before about Xiaomi and it is certainly an important business to watch - take a look at the other business blog articles on Xiaomi.
read more...»
Sunday, May 25, 2014
The key problems in changing organisational culture are outlined in this brief revision note:
read more...»
In this revision note, we summarise some key points that students might consider when looking at ways of changing organisational culture:
read more...»
We've summarised below some key points that students should consider when revising the reasons for changes in organisational culture:
read more...»
This revision note summarises some of the key points that students should consider when looking at the impact of organisational culture on business strategies and performance:
read more...»
We've summarised below some key points that students should consider when revising the the factors influencing the culture of an organisation and cultural differences within an organisation:
read more...»
If students are looking for a research example of a business that is truly built around a deliberate attempt to create and nurture a strong organisational culture, they need look no further than online shoe retailer Zappos.
Tony Hsieh - the founder of Zappos (bought by Amazon in 2009) wanted to build a business based around a simple idea. That it - if you get the organisational culture right - then everything else that you need to be successful will fall into place.
Is he right?
read more...»
Tuesday, April 29, 2014
So it seems two great passions - football and Business Studies - can be combined for Unit 4...at least something good came out of Moyes' reign!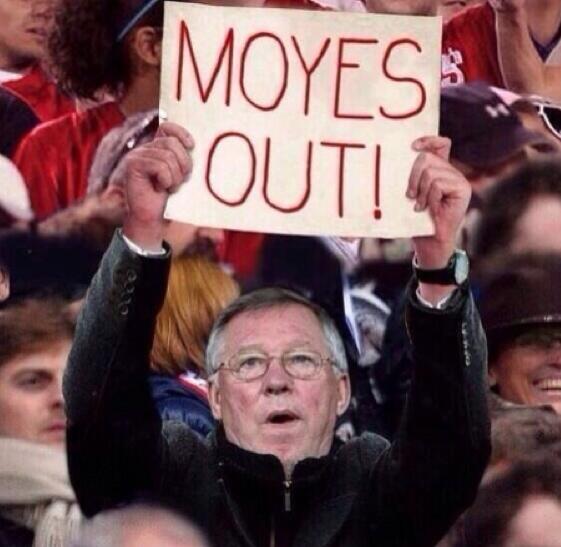 read more...»
Thursday, April 24, 2014
An item on the BBC website looks like a good source of revision about entrepreneurs and what drives them, and how they respond to failure. Eight high profile entrepreneurs, including Richard Branson, Richard Reed, Liz Earle and angel investor Dale Murray, talk about their biggest failures, and what they have learned from those - so offer plenty of opportunities for the vital Application which students can add to their exam answers. This could be useful for students sitting all four of the BUSS papers, as the examples cover a wide range of business topics, from dealing with suppliers to the risks of entering new markets, and from aspects of leadership to the best way of exiting a business.
The written article uses extracts from an edition of 'On the Money' which was broadcast on Radio 5 on Sunday - and available to listen to on i-player until Sunday 27th April.
Wednesday, April 16, 2014
No doubt like many of you, the bulk of this week (and last) has been spent attempting to get on top of my workload and capitalise upon the opportunity the Easter break has presented. Having said that, work and revision for the June papers is only optimised when effectively combined with an appropriate amount of rest and relaxation. For me that has mainly consisted of over-dosing on the hit TV series Breaking Bad.
read more...»
Thursday, April 10, 2014
Students attending our BUSS4 exam coaching workshops will know that I'm a big fan of Harriet Green, the CEO who has done so much to lead the turnaround of Thomas Cook. In fact, I'd almost go as far as to say that Harriet Green is my favourite CEO. Except, of course, that there is Howard Schultz of Starbucks who has long held that position in my mind!
Nevertheless I highly recommend that business students take some time to learn more about the leadership and management style of Harriet Green who was awarded the Leader of the Year accolade at the 2013 National Business Awards.
Here are two articles which I think are pretty accessible to students wanting to undertake this research.
read more...»
Monday, April 07, 2014
Following on from Jim's blog updating us on Starbucks strategy, here is another great 4 minute CNN video interview with Howard Schultz in which he talks about his app that allows customers to order on-line. The factors leading to this are the rise in internet shopping and subsequent reduction in footfall in shopping centres, but will online-ordering reduce the impact of this? Schultz talks about the need for all retail businesses to completely transform the way they do business, and as always, Starbucks seem to be ahead of the curve.
He explains the benefit of technology and data to help him better meet the needs of the customers (and ultimately shareholders), but is adamant that robots will never serve the coffee as this will detract from the customer experience instead of enhance it.
Another gem of a video that covers strategic planning, innovation, technology and customer service.
Sunday, March 23, 2014
A combination of excellent news articles from last week have helped my students and I to fully understand the size and scope of Alibaba. Former teacher (and self-confessed technophobe) Jack Ma's online company has experienced exponential growth and led to fear and envy from some of China's (and the world's) biggest companies. However, in his modesty he has described himself as "a blind man riding on a blind tiger", giving him instant legend-status in our eyes!
The attached presentation has videos, hyperlinks and infographics that allow students to focus on the various elements that have led to Alibaba's potential $150bn valuation. Each slide focuses on a different section from the BUSS4 specification thus giving information on leadership, strategy, competition, diversification and the economic (electronic) environment.
Hope it helps.
Monday, March 17, 2014
I talk way too much in lessons, I can't help it. So, to reduce my word emissions, my students and I collated a handful of concise quotes from artist, sportsman, writers, leaders and businessmen on the topics below. Some are great, many are cheesy, but they make for a good display and help students find links between business studies, entrepreneurship and the other subjects they are studying.
Monday, March 10, 2014
In 2012 Anthony Jenkins (nicknamed "Saint Anthony") succeeded Bob Diamond and promised to clean up Barclays and eradicate the worst excesses of the banking industry. Speaking to those who received huge bonuses for unscrupulous behaviour, he said "my message is simple: Barclays is not the place for you. The rules have changed. You won't feel comfortable at Barclays and, to be frank, we won't feel comfortable with you as colleagues".
Despite this, profit dropping 32% to £5.2bn, and making 3,700 jobs cuts last year:
Jenkin's himself pocketed just under £5m in shares
Staff paid over £1m increased from 428 to 481.
The bonus pool increased 10% to 2.4b
The justification for this? Many senior traders have left, or threatened to do so, and to keep hold of the top earners, he had to offer top pay. Had he not, the investment wing of Barclays would have plunged into a "death spiral", with staff and high-value customers going elsewhere.
This is part of the bigger issue regarding European Commission's rule to reduce banking bonuses, how George Osborne is fighting the decision and why, it would seem, he really didn't need to as bosses of RBS (81% owned by tax payers) and HSBC also side-stepped the rule by giving large "fixed pay allowances" in the form of shares.
This story always provides great impetus for emotive debate on BUSS4 topics such as government intervention, culture, pay and leadership.
Friday, February 14, 2014
What do Kanye West, a Flappy Bird and American footballers have in common?
I had no idea either, but it was interesting to have a go. I saw these three news stories this week and they seemed to cover the full gamut from money, sport, culture, fashion, business and (most importantly for the students) trainers.
read more...»
Monday, February 03, 2014
Does the combination of Apple's falling sharing price and market share, their perceived lack of innovation post-Jobs and Samsung's cross-licensing deal with Google spell trouble for Apple?
Attached is a 10 slide PowerPoint (Apple_V_Samsung_Research.ppt ) with infographics, hyperlinks, videos and questions that can be used to help students research the two tech giants.
As with the "Will Google rule the world" post, the lesson covers most of the following BUSS4 topics:
Mission statements & corporate objectives
Globalisation and emerging markets
Technological change
Leadership
Culture
Hope it helps!
Friday, January 31, 2014
Google's $3.2 billion purchase of Nest and current shopping spree into all things futuristic has made for an excellent BUSS4 case study. Attached is a 10 slide PowerPoint (Google_mergers_and_acquisitions.pptx) with videos, articles, hyper links and questions that can either be used as a homework task to start students on the road of research, a lesson in which students work independently and focus on the sections they find most interesting, or a catalyst for discussion about the similarities of Google, 1984 and Brave New World.
Whilst it focuses on acquisitions, by the end of the lesson all students were able to analyse Google in relation to the following BUSS4 topics:
Mission statements, corporate aims and strategy
Globalisation
Government intervention (or Google's intervention with the government)
CSR
Growth
Leadership
Culture
Managing change
Most amusing is the Daily Mash's vision of a world run by Google... as if we have a choice!
Saturday, January 18, 2014
These two pieces of video evidence on South Korean multinational giant Samsung are pure business studies gold - particularly for students preparing their evidence for AQA BUSS4.
Samsung is a highly diversified multinational that is the most significant firm in the South Korean economy. It has achieved a strong record of improved profitability, quarter after quarter, as demand for its product portfolio has grown, particularly mobile devices. However, in January 2014 it announced that it expected to suffer a fall in profits, It expects to make an operating profit of 8.3 trillion won ($7.8bn; £4.8bn) for the last quarter of 2013, down 18% from the previous three months.
read more...»
Thursday, January 16, 2014
There's just been a terrific book review in The Economist picking up on a great topic: corporate culture. The term is on everybody's lips at the moment, helped by the current Leonardo DiCaprio movie 'Wolves of Wall Street', which is said to present a damning picture of the behaviour of some US banks.
read more...»
Wednesday, January 01, 2014
A terrific example here of how a return to core, basic retailing skills has enabled fashion retailer Bonmarche to turn around its performance and future.
read more...»
Wednesday, November 27, 2013
The recent trouble at the Co-Op Bank Group highlight numerous weaknesses amongst the management which have damaged its ethical reputation and USP. "Friendly" banks – that is, a wide variety of types owned by members and customers rather than shareholders – are hugely popular around the world, with an estimated 20 per cent of the market for deposits and loans in Europe alone.
read more...»
Thursday, November 21, 2013
How far is corporate culture a source of strength and weakness?
Last week The Queen and the Duke of Edinburgh visited One Angel Square in Manchester to open the world's "greenest" office, the new £100 m 14-storey headquarters of The Co-Operative Group. Yet within 72 hours, celebrations turned to dismay when The Mail on Sunday printed a story linking The Reverend Paul Flowers, a former Co-Op Bank Chairman with illicit drug use.
read more...»
Wednesday, October 16, 2013
Entrepreneurship, finance, research, corporate culture, marketing, product development, changing management structures are all part of the ingredients in this BBC entrepreneurship feature about the development of Charlie Bingham's Foods.
read more...»
Saturday, October 12, 2013
"The 20th Century was about dozens of markets of millions of consumers. The 21st Century is about millions of markets of dozens of consumers."
So said Joe Kraus, founder of a search engine called Excite in the middle of the 1990s. Never heard of it? That's not surprising; in 1999 it was a $6.7bn enterprise with hundreds of employees, but a year later the dot-com bubble burst and it disappeared from the market place. But this quote is one of in an article about Peter Day's Radio 4 Archive programme to be broadcast tonight, and already recommended by Michael Owen in his blog below; forgive me for this repetition, but this is such a brilliant article that it really merits a second look, and hopefully between us we will convince you of that!
read more...»
Monday, September 23, 2013
I think it is always hard for students to remember which of the motivation theories is which - whose was the one with the two factors, who was that one with the lightbulbs, and who was the one with the triangle? This article about Maslow might help a bit, as it gives some interesting background on the man and his theory, and adds a bit of Application in the form of business examples for each of the five layers, and also the results of Maslow's own research into people who he viewed as 'self-actualisers'.
There is even an accompanying 30-minute programme, broadcast on Radio 4's 'Health Check' series during the summer, which includes interviews with some of those who worked with the man himself at Brandeis University outside Boston, where Maslow was founding Professor of Psychology.
Could Ryanair be about to make a concerted effort to change its organisational culture? Can the low-cost airline soften its corporate image and improve its customer service performance at the same time?
That appears to be the plan following comments made by Michael O'Leary, Ryanair's controversial Founder and CEO, at the recent Ryanair AGM.
read more...»
Sunday, September 22, 2013
Say the word e-commerce in the US, UK and many other developed economies and one word usually comes to mind – Amazon. The Seattle-based multinational claims to be the world's largest online retailer. It has highly diversified operations that have taken the business well beyond the original proposition - selling books online. CEO and Founder Jeff Bezos launched Amazon.com in 1995 and over the next two decades Amazon has expanded its retail websites to dominate the market in Canada, the UK, France, Germany and elsewhere.
However, in China, say e-commerce and a different "A" word is on everyone's lips. Alibaba is a private Chinese company that is now the largest business-to-business and consumer-to-consumer company in the world. Amazon might dominate global business-to-consumer online retailing. But, in China, Amazon has a very small market share and it is Alibaba that dominates.
In fact, Alibaba can legitimately claim to be the world's leading e-commerce business. Reports suggest that Alibaba handled total sales of $170 billion in 2012 – which is more than the transaction value handled by Amazon ($96bn) and eBay ($75bn) combined!
After more than eight years of effort, Amazon has less than 1 per cent of China's $196bn e-commerce market. Alibaba is estimated to have a market share of nearer 75 per cent.
To put this into perspective, China's e-commerce market is already the largest in the world and by 2020 is forecast to be bigger than the existing markets in the USA, UK, Japan, Germany and France combined. So Alibaba's market share of over 70% makes it a very big player indeed.
read more...»
Tuesday, September 03, 2013
It's all over for Nokia CEO Stephen Elop and his 32,000 employees in the core of Nokia - their mobile phones (handset) business. After several years of struggling to turn the business around in the face of intensive competition from Apple, Samsung, Google, Huawei and others, Elop has decided the best option is to sell the business to Microsoft.
read more...»
Saturday, August 31, 2013
This short BBC clip is an excellent introduction to some of the key skills and abilities that are required to be the leader of a complex business.
read more...»
Sunday, August 25, 2013
Over the summer I've kept spotting reference to an article that appeared in The Economist that has caused me to smile and reflect. With a busy term coming up, the advice seems very welcome: the biggest problem in the business world is too many distractions and interruptions, too many things done for the sake of form, and altogether too much busy-ness.
I'm well aware of my own time wasting habits, and I see plenty of it going on around me too. Here are some of the key points that are raised:
read more...»
Friday, August 23, 2013
Microsoft has announced that its CEO Steve Ballmer will retire from the business within the next 12 months. The Microsoft share price rose 9% on news of the announcement which might tell you something about how investors feel about how Ballmer has performed as CEO in recent years!
Lots will be written about Ballmer's time at Microsoft and the resulting strategic review which the business will inevitably conduct when a new CEO is appointed.
However, for now, enjoy a selection of videos which show Steve Ballmer in action! He has certainly attracted lots of attention for his unusual leadership style!
read more...»
Thursday, August 22, 2013
I highly recommend teachers and students reading this new profile of Apple CEO Tim Cook. It is packed with insights into the leadership challenges faced by Cook, his leadership style and the link with organisational culture change at Apple.
read more...»
Saturday, July 06, 2013
This 5 minute video from the excellent Andrew Hill of the FT should be required viewing for every advanced business student.
With an increasing number of companies refocusing their priorities beyond profit and towards the welfare of their suppliers, employees and the planet, Andrew Hill, management editor of the FT, asks what the repercussions are for business. Superb.
read more...»