Attend a CPD Teacher Briefing on the BUSS4 Theme | Order the BUSS4 Research Theme Toolkit | Book places on the BUSS4 Revision Workshops

Sunday, February 15, 2015
Since 1937, Dowty have been building propellers for aircraft at its plant in Gloucestershire. However, a huge fire has destroyed much of its factory at Staverton, this unexpected event, highlights the need for contingency planning, and media management, but also represents a new opportunity to re-assess the operations side of production.
read more...»
Friday, February 06, 2015
Since 1937, Dowty Rotol have been building propellers for aircraft at its plant in Gloucestershire. Its output was for aircraft powered by Rolls Royce or Bristol aero engines. Earlier this week a huge fire destroyed much of its Staverton factory.
read more...»
Saturday, January 17, 2015
A perfect (yet ridiculous) starter to introduce supermarket competitiveness. This Daily Mash mock-news-article lampoons the ironic concept of the "loyalty" card and highlights the desperate situation that the Big 4 are facing due to the unstoppable growth of the loyalty-card-less Aldi and Lidl.
It can be used as a spring board for discussions on customer loyalty, Unique Selling Points (or lack thereof), reliability of sources and strategies in the face of increasing competition.
To ensure students don't quote the above article in their BUSS4 exam, below are some more serious ones from a reputable source!
Enjoy
BBC Sainsbury's sales fall further
BBC Tesco to close 43 stores in the UK
BBC Morrison's introduce club card
Thursday, January 08, 2015
Headlines about Tesco's latest price cuts and trading figures (down by 0.2% on like for like sales) mask some other significant actions.
read more...»
Sunday, December 14, 2014
The race to produce the best driverless car is on! Most of the automotive "big boys" are working on their versions, but it's interesting to see the varied approaches taken by Google and Audi. Attached is a PowerPoint task that ask students to watch the 2 car "adverts" and analyse the risks and rewards of the different strategies.
Google are playing it safe, perhaps heeding the Harris Poll of 2,039 adults, in which 88 percent said they would be worried about riding in an autonomous, driverless car. Their car is round, cute, friendly and slow.
Audi have chosen another path… a much faster path! Their "piloted" car achieved speeds of 149mph and completed a lap of the Hockenheim F1 track a few seconds faster than the manned car.
Intriguing stuff that is certain to create great debate.
Have a fantastic Christmas!
Sunday, November 30, 2014
A fantastic documentary for the Section A Research Theme (bullets 2, 4 & 5), that also ticks a great many boxes for the BUSS1, 2 & 3 specifications.
Channel 4's Inside Rolls Royce charts the production of the Celestial (a one-off showpiece car that has more bling than Liberace, as well as an optional £20,000 picnic hamper!). It covers many topics within Human Resources, Operations, and Marketing, but my highlights are as follows:
The front of house manager who checks the length of the grass
The relentless quality control that almost breaks a man
The marketing of the new Rolls Royce Wraith in Abu Dhabi, which includes hand selected movers-and-shakers from the city getting to test drive it around the formula 1 track
The documentary is available via this link (if you don't have a C4 account, it takes only 2 minutes to register) and I've created a worksheet with 29 questions (numbers correspond to the minutes) intended to promote discussion about a brand synonymous with British excellence.
Hope it helps
Sunday, November 02, 2014
The strategic challenges facing Royal Mail and its renowned CEO Moya Greene are explored in this superb FT video report (below) from Andrew Hill which takes a look at Royal Mail just a year after the business was privatised.
read more...»
Tuesday, September 23, 2014
Tesco's share price slid again today, although the firm has announced that the new Finance Director Alan Stewart started work three months earlier than expected.
read more...»
Monday, September 22, 2014
News about Tesco's troubles comes thick and fast, today's bad news about overstating profits has wiped off 11.59% of the share price. It fell by 26 pence to £2.03.
read more...»
Saturday, August 30, 2014
Which airline boss has said for many years that "an airplane is nothing more than a bus with wings on"?
Of course, the answer is Michael O'Leary, the CEO of Ryanair - Europe's biggest budget airline.
But, as Ryanair's passenger figures show that 25% of their customers are actually travelling on business, they have decided that now is the time to introduce a 'Business Class' service.
read more...»
Sunday, August 03, 2014
If business students are looking for a different example of how effective leadership can drive successful change, then they should add Sergio Marchionne to their research.
Sergio Marchionne was initially best-known for leading the turnaround of the Italian automotive group Fiat. More recently, Marchionne has led the transformation of US automotive group Chrysler, taking Chrysler from the brink of bankruptcy at the lowest point of the financial crisis in 2008/9 to profitability.
Marchionne took over as CEO of Fiat in 2004 and was able to return the struggling Italian car manufacturer to profitability with two years. He first connected with Chrysler when a strategic alliance was formed between Chrysler and Fiat (who took a 20% shareholding) as part of a US government-backed rescue of Chrysler as it tried to avoid bankruptcy. When Chrysler was able to pay off various US government loans in 2011, Fiat was left with a stake of over 50%. Since then, Fiat have been negotiating with a Chrysler employee trust in the US (which holds a substantial remainder of the shares in Chrysler) to complete a full takeover. A deal was finally agreed in early 2014 with the formalities now being completed.
read more...»
Friday, May 16, 2014
2 perfectly contrasting and counter-intuitive articles that show how "the markets" can favour retrenchment over growth.
Barclays announced it was slashing 19,000 jobs and reducing the size of its Investment bank. The immediate result? Share price surged 8%.
Carphone Warehouse announce a £3.8bn merger with Dixons that will "create a seamless experience" for their customers. The result? Dixons share price closed 10% down and Carphone Warehouse's dropped by 8%.
By comparing and contrasting the 2 strategies (and the reasons for the resultant change in share price) students can show good analysis of the benefits of retrenchment.
Anthony Jenkins, in an interview in the Sunday Times, said it best by echoing/paraphrasing/plagiarising Howard Schultz after he closed almost 1000 Starbucks stores in the US - "Growth is not a strategy, it's the by-product of good strategy".
I hope the revision is going well!
Tuesday, April 29, 2014
So it seems two great passions - football and Business Studies - can be combined for Unit 4...at least something good came out of Moyes' reign!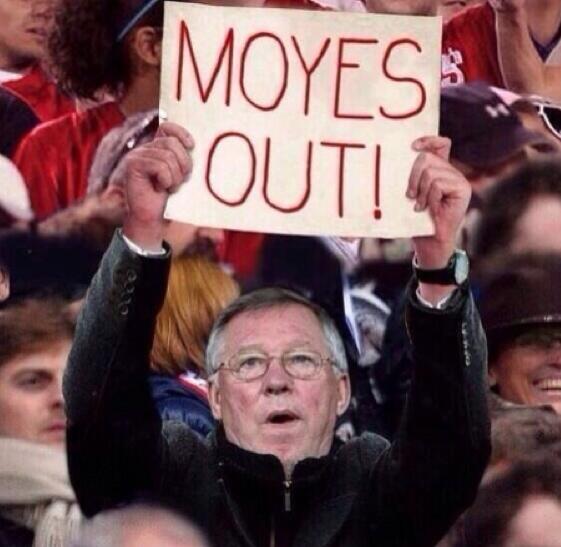 read more...»
Wednesday, April 16, 2014
No doubt like many of you, the bulk of this week (and last) has been spent attempting to get on top of my workload and capitalise upon the opportunity the Easter break has presented. Having said that, work and revision for the June papers is only optimised when effectively combined with an appropriate amount of rest and relaxation. For me that has mainly consisted of over-dosing on the hit TV series Breaking Bad.
read more...»
Wednesday, February 26, 2014
This article about Mothercare asks whether it can be reborn, following a series of errors and decisions which have gone wrong. So it makes a very good case study from which students can identify decisions which were made, and turned out to be mistakes, and also actions which were not taken, and probably should have been. Their sales have been falling for years, they have restructured and reduced staffing, they issued a profits warning in January which led to £112mn being knocked off their share value, and now their Chief Executive has resigned - and yet they have a well-respected brand and the nature of their market means that their products are in constant demand.
read more...»
Tuesday, February 25, 2014
My students were particularly interested in Facebook's acquisition of WhatsApp for the ridiculously high $19billion. We used the previous blog, then delved deeper and found a few great related articles; one explaining why it was a good price ($42 dollars for each of the 450m customers) but bad strategy and the other predicting that WhatsApp will not help them succeed in China. To summarise the two:
WhatsApp is pro-privacy and data-free
WhatsApp CEO Jan Kuom is sticking to his "ad-ban"
WeChat – China's domestic messenger service already has 300m customers and better functionality
WeChat helps China's economy and is subject to Chinese law (meaning "they" can keep tabs on the content).
Chinese government banned Facebook, linked them with an act of terrorism and state media claimed that "80 percent of China's net users felt Facebook should be punished"
The government don't want Facebook siphoning money and talent away from China's domestic social media industry, most notably Weibo (China's Twitter), whose profits have just jumped from $2.4m to $44.5m!
Segueing seamlessly to a social networking firm that seems to have secured a way into China; LinkedIn is trialing it's Chinese language site via joint ventures with Sequoia China, China Broadband Capital and the aforementioned Weibo and WeChat!
Chief Executive Jeff Weiner said the deal has raised "difficult questions" for him, and has been forced to make various concessions in order to adhere to the Chinese Government's censorship requirements, but believes that "LinkedIn's absence in China would deny Chinese professionals a means to connect with others on our global platform,"
Overall, these combined articles give students relevant ammunition for each of the research "bullets" as it covers success, failure, methods of operation and ethical implications of entering the Chinese market.
It would appear that social network firms need to network with Chinese social network firms if they want to become social network firms that operate in China. Simple really.
Monday, February 03, 2014
Does the combination of Apple's falling sharing price and market share, their perceived lack of innovation post-Jobs and Samsung's cross-licensing deal with Google spell trouble for Apple?
Attached is a 10 slide PowerPoint (Apple_V_Samsung_Research.ppt ) with infographics, hyperlinks, videos and questions that can be used to help students research the two tech giants.
As with the "Will Google rule the world" post, the lesson covers most of the following BUSS4 topics:
Mission statements & corporate objectives
Globalisation and emerging markets
Technological change
Leadership
Culture
Hope it helps!
Friday, January 31, 2014
Google's $3.2 billion purchase of Nest and current shopping spree into all things futuristic has made for an excellent BUSS4 case study. Attached is a 10 slide PowerPoint (Google_mergers_and_acquisitions.pptx) with videos, articles, hyper links and questions that can either be used as a homework task to start students on the road of research, a lesson in which students work independently and focus on the sections they find most interesting, or a catalyst for discussion about the similarities of Google, 1984 and Brave New World.
Whilst it focuses on acquisitions, by the end of the lesson all students were able to analyse Google in relation to the following BUSS4 topics:
Mission statements, corporate aims and strategy
Globalisation
Government intervention (or Google's intervention with the government)
CSR
Growth
Leadership
Culture
Managing change
Most amusing is the Daily Mash's vision of a world run by Google... as if we have a choice!
Saturday, January 18, 2014
Retailing is a dynamic market, and firms which have been slow to adapt to changing technologies, falling real incomes, and different patterns of consumer behaviour have been losers rather than winners.
Tom White covered some of these topics in his excellent recent blog post for tutor2u on the retailers' Christmas results. Reasons for these changes are covered in this BBC news clip.
read more...»
Thursday, January 16, 2014
Here's a great Guardian article to bring you up-to-date: Seasonal trading news from Britain's biggest retailers have underlined the many radical changes that are taking place in the way we shop and buy.
read more...»
Wednesday, November 27, 2013
The recent trouble at the Co-Op Bank Group highlight numerous weaknesses amongst the management which have damaged its ethical reputation and USP. "Friendly" banks – that is, a wide variety of types owned by members and customers rather than shareholders – are hugely popular around the world, with an estimated 20 per cent of the market for deposits and loans in Europe alone.
read more...»
Saturday, October 12, 2013
"The 20th Century was about dozens of markets of millions of consumers. The 21st Century is about millions of markets of dozens of consumers."
So said Joe Kraus, founder of a search engine called Excite in the middle of the 1990s. Never heard of it? That's not surprising; in 1999 it was a $6.7bn enterprise with hundreds of employees, but a year later the dot-com bubble burst and it disappeared from the market place. But this quote is one of in an article about Peter Day's Radio 4 Archive programme to be broadcast tonight, and already recommended by Michael Owen in his blog below; forgive me for this repetition, but this is such a brilliant article that it really merits a second look, and hopefully between us we will convince you of that!
read more...»
Thursday, June 20, 2013
This is a long running story, in which Royal Mail is (probably) preparing to leave the public sector and become a private company - a process known as privatisation. Recently, rising profits at the business had made its privatisation seem more likely, but Royal Mail workers have just voted overwhelmingly against the government's controversial plan to sell off the 497-year-old postal service.
read more...»
Sunday, May 26, 2013
The Co-Op has keen to highlight their ethical credentials as a key part of its marketing and positioning strategies. Supporters claimed that its mutuality was a more desirable form of ownership than PLCs.
The Banking Division has run into difficulties, and there have been significant changes in personnel within the last few weeks, in part as a response to major financial problems. On Friday there were reports that it had stopped offering loans to new business customers, and today The Independent on Sunday reported that The Co-Op Group's Finance Director Steve Humes had resigned. This followed the recent resignation of Brian Tootell after Moody's downgraded the Bank's bonds.
Mr Humes The Group Finance Director for the last two years, had been involved in managing the Co-Ops food operations, and may have had insufficient experience of its banking operations. Euan Sutherland the Co-Op's new CEO who was appointed in May, could be about to make significant changes in other key management positions.
The decision to stop lending to new business customer may imply that the there may be insufficient capital to support current obligations let alone new loans. The ethical bank may be about to meet its most serious crisis.

Tuesday, May 21, 2013
"Our strategy is delivering. The transformation of Royal Mail is well underway".
That's the view of Moya Greene, CEO of Royal Mail, as she announced the full year results for Royal Mail to 31 March 2013 today.
As students who attended our BUSS4 Exam Coaching Workshops will recall, I think that Royal Mail is one of the very best research case studies to use for both Section A (organisational culture) and Section B essays in the BUSS4 exam.
The latest financial results of Royal Mail Group are packed full with useful insights and data which could be used effectively to support paragraph points in a BUSS4 essay.
Here are just a few examples:
read more...»
Thursday, May 16, 2013
How far did the management style of Roberto Mancini contribute to his removal after the FA Cup defeat?
Mancini was the most successful manager of Manchester City's 23 managers hired after the retirement of Joe Mercer in 1971. He took the club to 2 FA Cup Finals, and City thrashed Manchester United 6-1 on the way to winning the Premier League with almost the last kick of the 2011-12 season.
read more...»
Wednesday, May 01, 2013
For Sony's CEO Kazou Hirai - a promise is a promise.
Back in April 2012, when Kazou Hirai took over as CEO from Sir Howard Stringer, he pledged to restore Sony's troubled Consumer Electronics division to profitability within one year.
In a significant programme of retrenchment, Sony has shed over 10,000 jobs (about 6% of the workforce), sold off major property assets and substantially cut production at the heavily loss-making Sony Television business (which is a significant part of the Consumer Electronics division). The result is expected to be Sony's first corporate profit for five years when it reports final result for the year to 31 March 2013 in May. However, the Consumer Electronics division remains unprofitable - Sony has not met its objective.
The reaction by Hirai? It is reported that forty of Sony's top executives, including Hirai, are to give up bonuses worth between 30 and 50 per cent of their pay. The decision will save Sony around $10m, which is not particularly significant in financial terms.
read more...»
Sunday, March 17, 2013
This week's edition of The Bottom Line, hosted by Evan Davis on Radio 4, is about business turnarounds. The three guests this week have all been involved in rescuing companies and they share their experiences, in which the culture of the organisation feature heavily. For those who are picking up on the tutor2u 10 companies to study, it is particularly useful as the first of these is Adam Crozier, Chief Executive of ITV (and former CEO of Royal Mail). Different scale is offered by James Eden, Chief Executive and owner of clothing brand Private White VC, and Nick Sanders, Head of Portfolio at private equity firm Better Capital. Well worth getting students to listen and to write some compare-and-contrast notes.

Thursday, March 14, 2013
Royal Mail is fast becoming a must-cover case study for advanced business students. Royal Mail is now well into a significant transformation programme under the leadership of CEO Moya Green. The business is preparing for and approaching privatisation and faces intense competition in the profitable parcels business.
So I thought I'd dig out a few links which might help students get started with exploring the Royal Mail case study.
read more...»
Monday, February 25, 2013
A good update here from the ever-excellent Andrew Hill at the FT on the strategic progress being made by Stephen Elop at Nokia.
Is it really two years since Stephen Elop issued his infamous "burning platform" memo to the employees and management of Nokia which explained the dire strategic position the business was in?
Days later Elop announced his decision to partner with Steve Ballmer's Microsoft to use the Windows mobile operating platform. Tens of thousands of Nokia employees have lost their jobs since as Elop has pursued a dual strategy of aggressive operational retrenchment, closing 200 of its 500 locations worldwide.
The Nokia organisation structure has been significantly streamlined to encourage more effective teamwork and collaboration. The share price has risen strongly in the last 6-9 months (after sharp falls in early 2012) and Nokia's new product ranges seem to be better received.
I sense a turning of the tide for Nokia - and for business students it remains one to watch closely.
Monday, February 11, 2013
A brief interview here with Stephen Elop in January 2013 which will be useful for teachers & students following the progress of Elop's turnaround strategy for Nokia.
Nokia is currently going through a significant change programme. Elop explains how the firm has focused Nokia employees on three key behaviours that are expected to drive the change in culture that Nokia needs: accountability (taking responsibility), urgency (doing things quicker) and empathy (being less arrogant).
Elop also explains briefly how the external environment is providing increasing threats to Nokia which needs increased planning and thinking.
read more...»
Friday, February 08, 2013
If you had lasagne last night you might be wondering if it was the last remains of the non-running hurdler "100% Pure Beef". Findus have a major problem to resolve after tests showed that their lasagne had been made from horsemeat.
read more...»
Sunday, February 03, 2013
I had been guilty of listening to radio 1 in the past on my cycle in, very useful to get starter ideas or discussion points for GCSE business-Recent changes in the radio 1 product strategy has meant I have switched back to radio 4 (I wish 5 live was on FM!) so good news for my economics class, not so good for my GCSE class! In the Daily mirror today, was a very accessible rport on audience figures- I plan to use it for GCSE to consider segmentation and product extension, for As to support marketing and A2 to support strategy -In the document which I have had put onto TES I have also included some questions on the data to give A level students (and the quicker GCSE students) a chance to number crunch.
Answer are on the final page- Please check before use!
Thursday, January 31, 2013
Koninklijke Philips Electronics N.V appointed Frans van Houten as Chief Executive in April 2011. The new CEO has reviewed the group's operations, and has taken decisions to reshape the firm.
read more...»
Tuesday, January 22, 2013
My students know that I love the radio. Many a spare half an hour can be whiled away with a podcast of The Bottom Line (which returns on Thursday/Saturday this week), or More or Less, or Peter Day's World of Business. And the great thing about this form of learning is that it can overlap with other tasks – there's no opportunity cost! Listen to a business/economics podcast whilst at the gym, going for a run, doing the washing-up, whatever…
But whilst Radio 4 is well-scouted territory, but one students might not be so familiar with is NPR's Planet Money. This show, from America's public radio, is quite close in style to R4's More or Less with a more of a business focus. 2 fifteen minute shows are podcasted a week.
This edition is a great place to start.
read more...»
Saturday, January 19, 2013
Is it possible for a new CEO to achieve significant change in the culture of an organisation? Managers and employees at Barclays are about to find out!
read more...»
Thursday, January 17, 2013
I adapted the title for this blog from an article and video clip I came across in the Telegraph, which contains the observation that "consumers forgot that Blockbusters still existed". I don't really think its demise was very hard to predict, and I think most of you will have seen this coming for some time.
But with the decline of Blockbusters - and so much other bad news on the High Street - I've decided to bundle together a lot of ideas and links to encourage students to work independently on this topic, to see if they can understand some of the forces putting pressure on our High Streets at the moment.
read more...»
Tuesday, January 15, 2013
A lot of people will be saddened - but probably not shocked - by the news that HMV looks like it may be the latest casualty amongst big-name retailers. There's a lot of coverage of this story, so I've put together several links and questions to encourage you to consider some independent research on what's gone wrong, and what may be the way forwards from here.

I'm enjoying using Storify at the moment, and the links and suggestions for the HMV story are all posted here.

Thursday, January 10, 2013
Do I sense a few green shoots emerging from Finland - the home of Nokia which recently lost its position as the world's largest maker of mobile phones (a position it had held for 14 years).
Readers of the business blog will be familiar with the story of Nokia in recent times. The arrival of a new CEO Stephen Elop and his famous "burning platform" speech which set out this new strategic direction for Nokia. We've documented the resulting strategy of retrenchment which led to the loss of 000's of jobs at Nokia around the world and Elop's decision to enter into a strategic partnership with Microsoft as he chose Windows 8 as the mobile operating system ("ecosystem") for Nokia's new range of smartphones.
2012 was a pretty bad year for Nokia in total. However, there is is some evidence that the launch of the Lumia smartphones may have heralded a change in fortunes for the business. The Guardian reports here about very strong sales for the Lumia phone over the crucial Christmas trading period. And in the short video interview with Stephen Elop below, you can sense the emergence of a quiet confidence that things might be getting better.
read more...»
Wednesday, January 09, 2013
This afternoon The High Court appointed PricewaterhouseCoopers as Administrators of Jessops the high street camera retailer. The company has debts of £80m.
read more...»
Monday, November 26, 2012
Royal Mail has reported a huge increase in half-year profits as growth in parcel deliveries made up for a continued fall in the number of letters being sent. This is something of a surprise to many as the business had looked to be in long term decline. The chief executive has summed up the way in which the firm has found success: "Royal Mail has experienced the negative impact of e-substitution, which is driving the structural decline in the traditional letters market. Conversely, we are seeing the positive impact that online retailing is having on our parcel volumes".
Now that operations are in profit, this might speed up the business' move from the public sector and into the private sector – a move referred to as privatisation. A future for the Royal Mail in the private sector was referred to in a previous blog. Here's an update, and a reminder of some of the strategic issues at stake.
read more...»
Monday, October 08, 2012
As the October 10th deadline approaches, the board of BAE face significant difficulties to complete the proposed merger with EADS.

read more...»
Friday, October 05, 2012
This article from todays technology pages on the BBC make for excellent reading about leadership by looking at Apple a year on from Steve Jobs' death..
read more...»
Tuesday, October 02, 2012
This isn't meant to be depressing, just a possible stimulus for a discussion about businesses that have failed already this year.
read more...»
The BAE EADS merger proposal ought to help pupils attempt develop analytical skills using PESTLE, SWOT or stakeholder models. Can you use these management tools to develop your analysis and evaluation and go beyond application and understanding?

read more...»
Sunday, September 16, 2012
If you're looking to use the new iPhone 5 as a good example of an extension strategy for a product life-cycle, it's worth remembering that another technology heavyweight is about to launch a re-imagining of a classic product. In November 2012, Nintendo are launching their new version of the Wii games console - imaginatively named the Wii U. However, whilst iPhone 4 users are looking to dust-down their eBay accounts to help subsidise the latest must-have gadget, the Wii U brings an extension strategy with a difference.....
read more...»
Wednesday, September 12, 2012
British Aerospace (BAE Systems) and EADS announced that they are discussing a merger.

read more...»
Tuesday, September 11, 2012
This new revision quiz provides 10 questions on change management each time it is launched. The questions will change each time.
Launch Revision Quiz - Change Management

Friday, August 10, 2012
​An interesting evaluation point here for students who need to consider the potential for new leadership to achieve strategic change. Will a new CEO be given enough time to develop a successful, sustainable long-term strategy?
read more...»
Tuesday, July 03, 2012
The allegations of price fixing of Barclay's LIBOR rates have led to the resignation of The Chairman Marcus Aegis on Sunday night, politicians, and journalists wondered if Bob Diamond, The Chief Executive ought to be on his way out instead.
read more...»