Join us for WOW! Business 2015 - the UK's Best Business Studies CPD


Thursday, June 19, 2014
As far as I know, Pot Noodles don't usually feature as a typically Brazilian dish, but they are just one of the products jumping on the World Cup bandwagon.
There are plenty of other examples to add - Domino's have new Fiesta and Rio pizzas, Tilda have 'sweet and spicy' rice and Lucozade have a new Brazilian variety. These and others all feature in an article about the range of Brazilian-themed products appearing in the supermarkets.
read more...»
Tuesday, June 17, 2014
I suddenly realised that, whilst we've featured Ikea prominently in our exam coaching workshops for a couple of years, we haven't linked to the wealth of resources that are out there to help tell & explain Ikea's strategy!
Here is a selection of the best - certainly contains everything you need to gather relevant evidence for why Ikea is such a timeless case study.
read more...»
Sunday, June 15, 2014
This streamed revision presentation examines the problems of takeovers and mergers including difficulties integrating businesses successfully
read more...»
This streamed revision presentation outlines some evidence of the impact on, and reaction of, stakeholders to takeovers and mergers
read more...»
This streamed revision presentation looks at the impact of takeovers andmergers on the performance of the businesses involved.
read more...»
This streamed revision presentation considers the factors influencing the success of takeovers and mergers
read more...»
This streamed revision presentation considers the motives for takeovers and mergers and how these link with corporate strategy
read more...»
Friday, June 13, 2014
How on earth is Starbucks making a success of its push into China? China is a tea-drinking nation. In fact, China has the world's oldest and largest tea-drinking culture. Chinese people hate coffee – they say it tastes so bitter it is like tasting medicine.
But, look at the evidence. Starbucks has been in China for 13 years, with an initial presence in the major tier 1 cities Beijing, Shanghai and Guangzhou. Starbucks expects China to become its second-largest market by 2014 aiming to have 1,500 outlets throughout China by 2015. The number of staff employed by Starbucks in China is forecast to rise from 12,000 to 30,000.
According to the latest Euromonitor report, Starbucks has a 60 per cent share of China's emerging coffee house market, well above its closest competitor.
That sounds like a success story. So how has it done it?
read more...»
Saturday, June 07, 2014
Has it all gone horribly wrong for UK-based global pharmaceutical giant GSK? Profits might be rising, but there still seems to be a nasty smell about the way GSK does business.
That's bad news for GSK shareholders and stakeholders, but good news for business students. GSK has quickly become one of the very best examples of the potential costs and reputational damage that can arise when business ethics are seemingly ignored by parts of a complex multinational organisation.
read more...»
This is a terrific article from BusinessWeek on the growth strategy of Xiaomi, a Chinese business that is fast-becoming one of the countries best-known global brands.
Lots in the article (and the related video which I have added further below) for business students to note - I have jotted down some of the things I spotted below.
We've written before about Xiaomi and it is certainly an important business to watch - take a look at the other business blog articles on Xiaomi.
read more...»
Saturday, May 31, 2014
The China-Britain Business Council (CBBC) partners with UKTI to promote trade between the two countries. Their mission is "...to help UK companies of all sizes and sectors, whether new entrants or established operations, access the full potential of the fastest growing market in the world."
They publish a regular magazine called Focus, and I have been through a few recent editions looking for nuggets of information to add to the files of research for BUSS4 Section A answers. Here is a summary of what I have found – I hope that some of it is useful:
read more...»
Friday, May 30, 2014
There was a great radio programme on today, For all the TV in China. As Chinese consumers become TV owners, there is a vast market for entertainment shows, and as this is one of the UK's biggest exports (see this recent report from the UK's Department of Culture, Media and Sport which sets out how creative industries are worth a whopping £8million per hour to the UK economy), there are plenty of UK production companies who are keen to sell their products to China.
It turns out that the Chinese can't get enought of shows like Take Me Out, and there are plenty of ways of adapting their formats so that they reflect Chinese tastes and cultural sensitivities. The programme is 28 minutes of BUSS4 gold dust, with a good sprinkling of cultural awareness scattered over it as well.
Thursday, May 29, 2014
My students and I invariably use Tesco as our shining example of failure in China (and failure after the departure of a long-term leader, and failure due to over-diversification, and failure due to neglect of their core market, and failure due to complacency over smaller competitors). However, Tesco today finalised the deal with China Resource Enterprise which gives them 20% of the largest food retailer in China. This BBC article could be used as a nice evaluation point to show that in the long term, Tesco could still be winners in China.
Tesco have kept a healthy foothold in the world's largest food market, and due to China's efforts to rebalance the economy towards consumption, the market is due to grow by 50% over the next three years.
More interestingly, Tesco appear to have learnt from their error and won't try to "go it alone" in India. They have announced a joint venture with JLR's parent company Tata Group to initially open 12 stores. From what we know of Tata (and the Indian market's rapid growth forecast), it seems possible that Tesco may still recover from their recent slump.
Sunday, May 25, 2014
The key problems in changing organisational culture are outlined in this brief revision note:
read more...»
In this revision note, we summarise some key points that students might consider when looking at ways of changing organisational culture:
read more...»
We've summarised below some key points that students should consider when revising the reasons for changes in organisational culture:
read more...»
This revision note summarises some of the key points that students should consider when looking at the impact of organisational culture on business strategies and performance:
read more...»
We've summarised below some key points that students should consider when revising the the factors influencing the culture of an organisation and cultural differences within an organisation:
read more...»
If students are looking for a research example of a business that is truly built around a deliberate attempt to create and nurture a strong organisational culture, they need look no further than online shoe retailer Zappos.
Tony Hsieh - the founder of Zappos (bought by Amazon in 2009) wanted to build a business based around a simple idea. That it - if you get the organisational culture right - then everything else that you need to be successful will fall into place.
Is he right?
read more...»
Friday, May 16, 2014
2 perfectly contrasting and counter-intuitive articles that show how "the markets" can favour retrenchment over growth.
Barclays announced it was slashing 19,000 jobs and reducing the size of its Investment bank. The immediate result? Share price surged 8%.
Carphone Warehouse announce a £3.8bn merger with Dixons that will "create a seamless experience" for their customers. The result? Dixons share price closed 10% down and Carphone Warehouse's dropped by 8%.
By comparing and contrasting the 2 strategies (and the reasons for the resultant change in share price) students can show good analysis of the benefits of retrenchment.
Anthony Jenkins, in an interview in the Sunday Times, said it best by echoing/paraphrasing/plagiarising Howard Schultz after he closed almost 1000 Starbucks stores in the US - "Growth is not a strategy, it's the by-product of good strategy".
I hope the revision is going well!
Thursday, May 15, 2014
It's official - women are better at shopping than men. I have just finished listening to a brilliant edition of Peter Day's 'In Business' called Price Conscious, and one of the revelations was that men can be fooled into thinking they are getting a bargain simply by using red price stickers, whereas women are much more analytical about pricing and can look beyond the colour used on a label. Far be it from me to comment on this any further.....
read more...»
There is plenty of concern about the slowdown in China's growth, and what this might mean for businesses looking at expansion via China. To what extent should those businesses be worried about slower growth? The issues here are very relevant to the external environment in China, and could be useful for bullet points 1 and 6:
read more...»
Monday, May 12, 2014
In true tutor2u style, here we have an adapted resource that asks students to decide whether the annual sales ($bn, 2013) of one major global brand is 'higher' or 'lower' than another. The original resource was an economics activity comparing the GDP growth of different countries (available from this link).
This resource has been compiled by Paul Hoang, using data from Fortunes Top 100 companies. It is an interactive Powerpoint game that asks students to string together as long a sequence of correct answers as possible (the highest possible score is 36). The screen shows one business and its annual sales revenue for last year and then shows the name of a second business. The student has to say whether they think the annual sales revenue of the second company is higher or lower then that of the first business. Answer correctly they are offered another business to compare. Answer incorrectly, the student is 'out' and someone else can be invited to play.
This is a fun, interactive resource that gives students an insight into the relative sales figures of some of the world's major companies.
Click this link to download the resource.
Sunday, May 11, 2014
The strategy of retrenchment is covered in this revision quiz
Launch Revision Quiz - Retrenchment

To update your knowledge and understanding of retrenchment, have a look through this revision presentation
Test your knowledge and understanding of Porter's Five Forces model with this ten-question revision quiz:
Launch Revision Quiz - Porter's Five Forces Model

You can update your studies of this important model by looking through these support resources:
Revision presentation on Porter's Five Forces Model
Study note on Porter's Five Forces Model

Here are 15 multiple-choice questions that test your knowledge and understanding of the key strategy models used in A2 business
Launch Revision Quiz - Strategy Models

Try these revision questions on the environmental issues facing business
Launch Revision Quiz - Environmental Issues
This revision quiz provides 10 questions on Business Ethics.
Launch Revision Quiz - Business Ethics

Saturday, May 10, 2014
Try these ten MCQs on the topic of globalisation.
Launch Revision Quiz - Globalisation

Monday, May 05, 2014
Virgin Galactic is Richard Branson's dream to provide suborbital space flights to space tourists by 2015, and it provides a wealth of Business Studies concepts for AS and A2.
Firstly, the premium price of £150,000 to £250,000 (the cost of decent Rolls Royce to you or me) means it has a very specific target market; over 700 space tourists have signed up, with one third from America (the other two thirds come from over 50 different countries), most are millionaire men in their 50s and are definitely not risk-averse. Akin to Branson, many stated the moon landing of 1969 as the reason for their purchase.
Lady Gaga
In her quest for a new USP, Lady Gaga will be swapping her meat suit for a space one and be first earthling to sing live from space, ensuring that she maintains her outlandish, cutting edge image.
JLR & Virgin
These 2 iconic British brands are expanding the empire, and for BUSS4 students, the long-term partnership between JLR and Virgin, with their "shared vision of pioneering spirit, technological innovation and sense of adventure", provides information for almost every section of the specification.
The CNBC article focuses on the technological innovations in JLRs new concept SUV.
In this short video, Richard Branson discusses his dream and vision, how JLR will aid Virgin in creating a completely new market and, to show that it's not all about profit and pride, he hopes it will inspire future generations to pursue careers in engineering and science.
Abu Dhabi and beyond
Finally, Abu Dhabi state-controlled investment fund paid $280 million for a 32% stake in the business, in return for "regional rights to launch Virgin Galactic tourism and scientific research space flights from the United Arab Emirates capital". It sees this as an Investment opportunity to progress from an international tourism hub, to an inter-galactic one, with this article suggesting Virgin space hotels in galaxies far far away!
Friday, May 02, 2014
A quickie but a goodie for the revision of price, supply and demand.
Get students to guess the price paid for the garages in the picture above (click here for mind blowing answer). I suggest you offer a big prize for the right answer as none will guess correctly!
Ask them to rank the many factors that influenced it (quality, location, competition, PED and economic environment all come into play),
Get students to read the Metro Article and get them to decide on best method to ensure that the investment is a profitable one.
Hope it helps!
Thursday, May 01, 2014
Boston Consulting Group have produced a fascinating new report which investigates the competitiveness of the world's top 25 goods exporting nations. Their press release highlights significant changes in the world order over the last decade. The newly-minted BCG Global Manufacturing Cost-Competitiveness Index incorporates four factors: energy costs, productivity, wages and exchange rates. That analysis shows that Mexico now has lower manufacturing costs than China, while Brazil is now one of the highest-cost countries, and the UK is the cheapest location in western Europe.
read more...»
Tuesday, April 29, 2014
So it seems two great passions - football and Business Studies - can be combined for Unit 4...at least something good came out of Moyes' reign!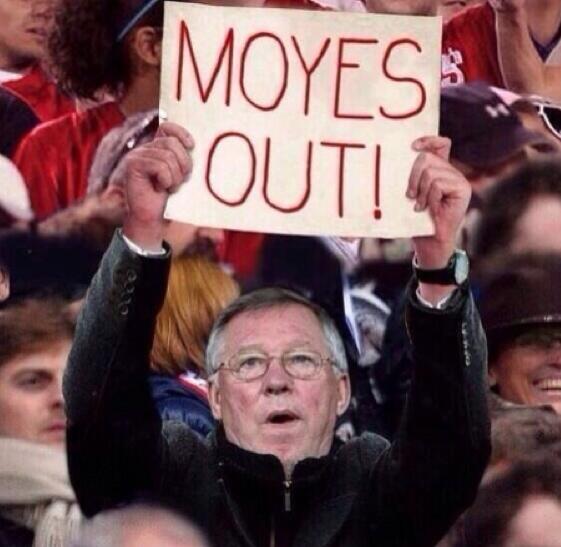 read more...»
Friday, April 25, 2014
Hostile government, the threat of a financial meltdown, slowing growth, higher wages and an ageing population. Is China still the best option for foreign investment?
Compare this to India's younger, cheaper workforce, more welcoming government and forecasted largest middle-class population by 2030.

To allow students to analyse and evaluate the benefits and drawbacks of investment in China , I've attached a research task based on India that gives key economic and demographic information, and looks at the "Indian strategies" for the following Tutor2u BUSS4 Top Ten businesses: JLR, Starbucks, KFC, Apple, Samsung and Ikea.
Good luck with the revision this term!
Thursday, April 24, 2014
An item on the BBC website looks like a good source of revision about entrepreneurs and what drives them, and how they respond to failure. Eight high profile entrepreneurs, including Richard Branson, Richard Reed, Liz Earle and angel investor Dale Murray, talk about their biggest failures, and what they have learned from those - so offer plenty of opportunities for the vital Application which students can add to their exam answers. This could be useful for students sitting all four of the BUSS papers, as the examples cover a wide range of business topics, from dealing with suppliers to the risks of entering new markets, and from aspects of leadership to the best way of exiting a business.
The written article uses extracts from an edition of 'On the Money' which was broadcast on Radio 5 on Sunday - and available to listen to on i-player until Sunday 27th April.
Wednesday, April 16, 2014
No doubt like many of you, the bulk of this week (and last) has been spent attempting to get on top of my workload and capitalise upon the opportunity the Easter break has presented. Having said that, work and revision for the June papers is only optimised when effectively combined with an appropriate amount of rest and relaxation. For me that has mainly consisted of over-dosing on the hit TV series Breaking Bad.
read more...»
Sunday, April 13, 2014
Here is a Zondle-powered topic which tests knowledge and understanding of the basics of breakeven analysis. The topic quiz keeps setting you the questions until you get them all right! Give it a go!
read more...»
Thursday, April 10, 2014
Students attending our BUSS4 exam coaching workshops will know that I'm a big fan of Harriet Green, the CEO who has done so much to lead the turnaround of Thomas Cook. In fact, I'd almost go as far as to say that Harriet Green is my favourite CEO. Except, of course, that there is Howard Schultz of Starbucks who has long held that position in my mind!
Nevertheless I highly recommend that business students take some time to learn more about the leadership and management style of Harriet Green who was awarded the Leader of the Year accolade at the 2013 National Business Awards.
Here are two articles which I think are pretty accessible to students wanting to undertake this research.
read more...»
What does it take for businesses outside China to now succeed in China given the substantial changes that have taken place in recent years in the competitive environment there?
This short opinion piece from Dr Edward Tse in the South China Morning Post suggests that arrogance (on behalf of Western multinationals) might be one of the most significant impediments to success.
read more...»
This article on Bloomberg Business about Xiaomi is perfectly timed for teachers and students wanting to update and extend their research on one of the fastest-growing consumer electronics brands in the world.
Back in September 2013 we wrote at some length about the growth strategy at Xiaomi which many in the media have labelled the "Apple" of China (and its founder and CEO Lei Jun the "Steve Jobs of China"). That's a label he rejects, by the way
Earlier this year we reported on how Lei Jun had set quite a challenging new corporate objective for Xiaomi - to sell 40 million smartphones during 2014.
The Bloomberg article suggests that Xiaomi may already be well on the way to achieving and possibly exceeding the 40 million phone objective, particularly as it has started to sell very well outside of China (a recent launch in Singapore sold out in just minutes). There is talk of trying to sell 100 million phones in 2015! Now Lei Jun's sights are set on nearby emerging markets such as Thailand, Malaysia, Indonesia and Vietnam.
Why is Xiaomi succeeding against strong competition?
The article argues that the attraction of the Xiaomi product is both from a design AND price perspective:
"Xiaomi's appeal: It offers the technology and style of Apple or Samsung at less than half the cost." it claims, and this is supported by some comments from Xiaomi customers.
The article also provides some important background information on Lei Jun who is described as being "a world-class entrepreneur with vision, leadership and ambition to really build up a global company".
The comparison towards the end of the article between Xiaomi and Apple is also well worth a read - top evidence for a compare and contrast point for BUSS4 students.
Monday, April 07, 2014
A great BBC article and video highlighting why China's domestic mobile phone companies are now the greatest threat to Apple and Samsung's success.
The extracts below will add weight to any argument that foreign mobile companies will struggle to succeed in the Chinese market.
Shenzhen, once a fishing village is now referred to as China's Silicon Valley. It is home to Huawei, Lenovo and ZTE (three of the five largest mobile handset companies in the world) and a further 6000 handset manufacturers.
China produces more than half of the 2.5 billion phones sold around the world annually.
China now spends around $300bn (£182bn) a year on R&D, compared with a US spend of $450bn, and it is estimated to surpass Europe by 2018 and the US by 2022.
In the interview with Shi Lirong, Global President of ZTE (now the most innovative company in the world, filing 50,000 international patents last year), he lays out his three-pronged strategy of customer-focused innovation, recruitment of the best staff from around the world and the development of business partnerships.
Very impressive stuff!
read more...»
Following on from Jim's blog updating us on Starbucks strategy, here is another great 4 minute CNN video interview with Howard Schultz in which he talks about his app that allows customers to order on-line. The factors leading to this are the rise in internet shopping and subsequent reduction in footfall in shopping centres, but will online-ordering reduce the impact of this? Schultz talks about the need for all retail businesses to completely transform the way they do business, and as always, Starbucks seem to be ahead of the curve.
He explains the benefit of technology and data to help him better meet the needs of the customers (and ultimately shareholders), but is adamant that robots will never serve the coffee as this will detract from the customer experience instead of enhance it.
Another gem of a video that covers strategic planning, innovation, technology and customer service.
Saturday, April 05, 2014
Starbucks - always one of the best BUSS4 research examples - continues to be a source of inspiration for business teachers and students. I picked up on this excellent Q&A interview between CEO Howard Schultz and Bloomberg Businessweek which is packed with useful research insights.
Here is the article - well worth a read.
read more...»
The global watch business is estimated to be worth around $22bn per year. It is still a big market, but the market leaders face some significant competitive threats from substitute products.
Can mechanical watchmakers compete effectively with the big smartphone brands? They need to find a way to do this soon unless their products are to be consigned to targeting a niche segment of older, wealthy customers.
read more...»
Wednesday, April 02, 2014
Two very interesting stories regarding Google's intentions of world domination (in a nice way) via innovation, product and market development.
Firstly, in an effort to "de-dorkify" the Google-Glass and appeal to a wider audience, Google have struck a deal with Luxottica (the makers of Ray-Bans and Oakley sunglasses) to design the wearable device. The deal looks promising and Luxottica's share price increased 4% after the deal. At the same time, Google founder Sergey Brin has been denigrating mobile phones saying that they are socially isolating, with "people walking around hunched up, looking down, rubbing a featureless piece of glass". This is a great example of how Google are trying to push what they hope is their next rising star by challenging accepted norms about how we currently interact.
Secondly, to "connect the two-thirds of the world's population which does not have affordable net connections", Google has launched Project Loons, which consists of floating balloons laden with 3G equipment into the skies over lesser developed countries. The driving force behind this is of course altruistic, with an ancillary benefit being that billions more people will use Google services. Moved by this act of philanthropy, Facebook intend to do the same, but using solar-powered drones instead!
Perfect stimulus for discussions for Ansoff's Matrix, Boston Matrix, Innovation, Competition, Overcoming barriers, CSR and Strategic planning.
Monday, March 31, 2014
A topic that is yet to be examined in the BUSS4 paper and one of the sections in the fantastic BUSS4 Revision Workshops is Retrenchment.
This 9 minute clip show the highlights of Ali and Foreman's Rumble in the Jungle, and demonstrates the risks of over expansion, the necessity of retrenchment and the benefits of focus. It serves as a potential introduction to Retrenchment strategy and can be followed by research on Thomas Cook's Harriot Green or Royal Mail's Moya Green (two ladies who demonstrate Ali-esque strategic thinking). In the video, Muhammad Ali shows:
Aggressive Attack
Ali believed that he could beat the market leader with an aggressive attack in the first 2 round. He was wrong! It led only to him expending lots of energy (money) and aggrevating his more powerful opponent.
Retrenchment (the rope-a-dope)
Ali went against the rope for the subsequent 5 rounds. Whilst this was a risky strategy, it allowed him to refocus and conserve vital energy (whilst Foreman went on the attack and expended most of his energy/funds). Despite being on the defensive, Ali still used his marketing/mind games to get the crowd on side and frustrate Foreman.
Focus and Success
In the 8th round, having regained his stregth and knowing that his opponent had lost his, Ali invested in a short, focused but powerful attack that floored Foreman and allowed him to achieve his objective of Champion of the world/market leader!
Friday, March 28, 2014
I am cross-posting this from the Economics blog as I think it should be useful for BUSS4 students; in a rather low key report on the BBC website this week, I found the shock news that China had a trade deficit of $23bn in February. This is alongside the HSBC Purchasing Managers' Index (PMI) which focuses on small privately owned businesses, and which gave a reading of 48.1 for March, compared to 48.5 in February - with any figure below 50 indicating a contraction in manufacturing activity. And today there is a forecast of the 'official' PMI, which looks at the larger state-owned factories; although this is slightly over the 'expansion' measure of 50, it is only predicted to come in at 50.3 - and is subject to a 0.3 downwards correction to allow for seasonal patterns, according to Louis Kuijs, chief China economist at the Royal Bank of Scotland.
read more...»
Wednesday, March 26, 2014
Are you optimistically content or in long-term despair? This BBC article is a must for any students taking both Business Studies and Politics.
Pollsters Populous have created a test to tap into the mindset of voters, understanding that the traditional demographics such as age and postcode are too vague.
It segments the electorate into 6 categories and demonstrates the percentage of voters for each political party, stating that this will enable them to "craft TV ads, speeches and photo ops that appeal to the groups they need to win over."
Students can take the 3 minute test and evaluate the usefulness of this method of psychological market segmentation and suggest the messages that leaders must use to expand their voter/customer base.
Sunday, March 23, 2014
A combination of excellent news articles from last week have helped my students and I to fully understand the size and scope of Alibaba. Former teacher (and self-confessed technophobe) Jack Ma's online company has experienced exponential growth and led to fear and envy from some of China's (and the world's) biggest companies. However, in his modesty he has described himself as "a blind man riding on a blind tiger", giving him instant legend-status in our eyes!
The attached presentation has videos, hyperlinks and infographics that allow students to focus on the various elements that have led to Alibaba's potential $150bn valuation. Each slide focuses on a different section from the BUSS4 specification thus giving information on leadership, strategy, competition, diversification and the economic (electronic) environment.
Hope it helps.
Friday, March 21, 2014
Here's a nice little example of Samsung's customer-focus (no pun intended) and technological innovation.
Possibly inspired by 2013's Word of the Year, Ellen DeGeneres' most re-tweeted tweet, or just our general obsession with ourselves, the new Samsung NX mini camera has a rotating screen and is wink-activated, meaning the best selfie since the last selfie!