Attend a CPD Teacher Briefing on the BUSS4 Theme | Order the BUSS4 Research Theme Toolkit | Book places on the BUSS4 Revision Workshops

Sunday, August 03, 2014
If business students are looking for a different example of how effective leadership can drive successful change, then they should add Sergio Marchionne to their research.
Sergio Marchionne was initially best-known for leading the turnaround of the Italian automotive group Fiat. More recently, Marchionne has led the transformation of US automotive group Chrysler, taking Chrysler from the brink of bankruptcy at the lowest point of the financial crisis in 2008/9 to profitability.
Marchionne took over as CEO of Fiat in 2004 and was able to return the struggling Italian car manufacturer to profitability with two years. He first connected with Chrysler when a strategic alliance was formed between Chrysler and Fiat (who took a 20% shareholding) as part of a US government-backed rescue of Chrysler as it tried to avoid bankruptcy. When Chrysler was able to pay off various US government loans in 2011, Fiat was left with a stake of over 50%. Since then, Fiat have been negotiating with a Chrysler employee trust in the US (which holds a substantial remainder of the shares in Chrysler) to complete a full takeover. A deal was finally agreed in early 2014 with the formalities now being completed.
read more...»
Thursday, July 31, 2014
The world's largest multinationals are in a constant search for revenue and profit growth, with many targeting emerging markets as the best source of growth that will satisfy their shareholders.
read more...»
Wednesday, July 30, 2014
The headline above from the FT really caught my eye this morning. Tata Group, perhaps best known in the UK for its ownership of Jaguar Land Rover (JLR) and Corus, has set out ambitious plans to invest $35bn in capital spending over the next three years as part of its vision for the next 10 years.
read more...»
There is a huge amount of business studies in this news story from the BBC in which a senior executive from private healthcare provider Bupa suggests that the whole industry in the UK has set its prices too high.
read more...»
"Nowadays every business is a digital business" claims the FT's Jonathan Moules in this useful video clip about the importance of fast broadband speed for UK business.
However, not every business has access to fast broadband and there is evidence presented here that the lack of acceptable bandwidth is reducing the competitiveness of businesses who rely on access to the Internet.
read more...»
Foxconn, the Taiwanese electronics manufacturer best known for building Apple products, is increasingly adopting a strategy of diversification in response to rising labour costs in China.
read more...»
Tuesday, July 29, 2014
We're all big fans and users of Dropbox here at tutor2u - and the story of how Dropbox has developed into a hugely valuable business is a great example of how failure can inform and inspire successful entrepreneurial activity.
read more...»
Here is a small, but good example of vertical integration in action with a takeover by Sky of the production company behind the likes of Great British Bake-Off and Benefits Street.
Vertical integration arises when a firm buys a business at an earlier or later stage of the supply chain. In this case, Sky is undertaking "backwards vertical integration" - by investing in a controlling stake in one of the many television production companies that provide programming for Sky and other channels.
It looks like there may be some significant revenue synergies available to Sky as a result of its investment. For example we are told that "Sky's distribution business, Sky Vision, will promote Love Production's formats and programmes to networks overseas.".
This will be a dynamic business story that will be essential for business students to follow closely over the coming months. Tesco has announced the appointment of Dave Lewis to replace Philip Clarke as CEO with effect from 1 October 2014.
This decision is significant for many reasons, not the least that Dave Lewis has never been a retailer, nor has he ever been a CEO. Nevertheless, Lewis was the man that Tesco wanted (he was headhunted) and he has a superb track record at Unilever, one of the world's leading multinationals in the FMCG sector ("fast-moving consumer goods").
read more...»
Satya Nadella, the new CEO of Microsoft who has taken over from Steve Ballmer, has announced that 18,000 jobs will be cut by 2015. These are the largest job losses in Microsoft's history and represents around 14% of Microsoft's total workforce. This is the classic action of a new CEO opting for a strategy of retrenchment as a way of imposing his/her views on the appropriate strategic direction.
read more...»
Tuesday, July 22, 2014
Some news in the same week as Philip Clarke's high profile departure from Tesco, is that Karl Albrecht, who founded German discount supermarket chain Aldi with his brother Theo, has died. The success and growth of Aldi (an abbreviation of Albrecht discount) is one of the thorns in the side of Tesco, and one reason for the profits warning that they announced yesterday, along with several other problems that Clarke inherited when he took over from Sir Terry Leahy three years ago. There is plenty to analyse in the criticism of Tesco's strategy, but also worth considering what it is that has enabled Aldi to break into the market, and how they have moved to a position of having 19% of those in the AB socio-economic catergory shopping in their stores.
read more...»
Here is an article which might be worth hanging on to for the start of next term, when new students start on their Business Studies course. The BBC has spoken to three venture capitalists - not the well-know Dragons, but some different names: the founder of Google Ventures, and managing partners of two funds based in India and in New York. They compare what they look for in a startup, what they avoid, and the best way for businesses to approach them.
read more...»
Tuesday, July 08, 2014
This could be an excellent starter activity for a group discussion September?
Ask students to consider whether this is a good idea? Is it worth the price? What is its USP? Wonderful for getting students who havent studied business before (and those who have) to start thinking about many business concepts. I find that students tend to engage well with the concept of enterprise when they find the idea interesting?! And who doesnt love pizza???
read more...»
Monday, June 30, 2014
"Entering the entrepreneurial world, this independent professional is ready for the next big pitch. Her "smartphone," tablet and briefcase are always by her side."
Sounds like one of the contestants to take part in the next series of The Apprentice? Actually no, it's the latest Barbie doll - Entrepreneur Barbie.
read more...»
Thursday, June 19, 2014
As far as I know, Pot Noodles don't usually feature as a typically Brazilian dish, but they are just one of the products jumping on the World Cup bandwagon.
There are plenty of other examples to add - Domino's have new Fiesta and Rio pizzas, Tilda have 'sweet and spicy' rice and Lucozade have a new Brazilian variety. These and others all feature in an article about the range of Brazilian-themed products appearing in the supermarkets.
read more...»
Tuesday, June 17, 2014
I suddenly realised that, whilst we've featured Ikea prominently in our exam coaching workshops for a couple of years, we haven't linked to the wealth of resources that are out there to help tell & explain Ikea's strategy!
Here is a selection of the best - certainly contains everything you need to gather relevant evidence for why Ikea is such a timeless case study.
read more...»
Sunday, June 15, 2014
This streamed revision presentation examines the problems of takeovers and mergers including difficulties integrating businesses successfully
read more...»
This streamed revision presentation outlines some evidence of the impact on, and reaction of, stakeholders to takeovers and mergers
read more...»
This streamed revision presentation looks at the impact of takeovers andmergers on the performance of the businesses involved.
read more...»
This streamed revision presentation considers the factors influencing the success of takeovers and mergers
read more...»
This streamed revision presentation considers the motives for takeovers and mergers and how these link with corporate strategy
read more...»
Friday, June 13, 2014
How on earth is Starbucks making a success of its push into China? China is a tea-drinking nation. In fact, China has the world's oldest and largest tea-drinking culture. Chinese people hate coffee – they say it tastes so bitter it is like tasting medicine.
But, look at the evidence. Starbucks has been in China for 13 years, with an initial presence in the major tier 1 cities Beijing, Shanghai and Guangzhou. Starbucks expects China to become its second-largest market by 2014 aiming to have 1,500 outlets throughout China by 2015. The number of staff employed by Starbucks in China is forecast to rise from 12,000 to 30,000.
According to the latest Euromonitor report, Starbucks has a 60 per cent share of China's emerging coffee house market, well above its closest competitor.
That sounds like a success story. So how has it done it?
read more...»
Saturday, June 07, 2014
Has it all gone horribly wrong for UK-based global pharmaceutical giant GSK? Profits might be rising, but there still seems to be a nasty smell about the way GSK does business.
That's bad news for GSK shareholders and stakeholders, but good news for business students. GSK has quickly become one of the very best examples of the potential costs and reputational damage that can arise when business ethics are seemingly ignored by parts of a complex multinational organisation.
read more...»
This is a terrific article from BusinessWeek on the growth strategy of Xiaomi, a Chinese business that is fast-becoming one of the countries best-known global brands.
Lots in the article (and the related video which I have added further below) for business students to note - I have jotted down some of the things I spotted below.
We've written before about Xiaomi and it is certainly an important business to watch - take a look at the other business blog articles on Xiaomi.
read more...»
Saturday, May 31, 2014
The China-Britain Business Council (CBBC) partners with UKTI to promote trade between the two countries. Their mission is "...to help UK companies of all sizes and sectors, whether new entrants or established operations, access the full potential of the fastest growing market in the world."
They publish a regular magazine called Focus, and I have been through a few recent editions looking for nuggets of information to add to the files of research for BUSS4 Section A answers. Here is a summary of what I have found – I hope that some of it is useful:
read more...»
Friday, May 30, 2014
There was a great radio programme on today, For all the TV in China. As Chinese consumers become TV owners, there is a vast market for entertainment shows, and as this is one of the UK's biggest exports (see this recent report from the UK's Department of Culture, Media and Sport which sets out how creative industries are worth a whopping £8million per hour to the UK economy), there are plenty of UK production companies who are keen to sell their products to China.
It turns out that the Chinese can't get enought of shows like Take Me Out, and there are plenty of ways of adapting their formats so that they reflect Chinese tastes and cultural sensitivities. The programme is 28 minutes of BUSS4 gold dust, with a good sprinkling of cultural awareness scattered over it as well.
Thursday, May 29, 2014
My students and I invariably use Tesco as our shining example of failure in China (and failure after the departure of a long-term leader, and failure due to over-diversification, and failure due to neglect of their core market, and failure due to complacency over smaller competitors). However, Tesco today finalised the deal with China Resource Enterprise which gives them 20% of the largest food retailer in China. This BBC article could be used as a nice evaluation point to show that in the long term, Tesco could still be winners in China.
Tesco have kept a healthy foothold in the world's largest food market, and due to China's efforts to rebalance the economy towards consumption, the market is due to grow by 50% over the next three years.
More interestingly, Tesco appear to have learnt from their error and won't try to "go it alone" in India. They have announced a joint venture with JLR's parent company Tata Group to initially open 12 stores. From what we know of Tata (and the Indian market's rapid growth forecast), it seems possible that Tesco may still recover from their recent slump.
Sunday, May 25, 2014
The key problems in changing organisational culture are outlined in this brief revision note:
read more...»
In this revision note, we summarise some key points that students might consider when looking at ways of changing organisational culture:
read more...»
We've summarised below some key points that students should consider when revising the reasons for changes in organisational culture:
read more...»
This revision note summarises some of the key points that students should consider when looking at the impact of organisational culture on business strategies and performance:
read more...»
We've summarised below some key points that students should consider when revising the the factors influencing the culture of an organisation and cultural differences within an organisation:
read more...»
If students are looking for a research example of a business that is truly built around a deliberate attempt to create and nurture a strong organisational culture, they need look no further than online shoe retailer Zappos.
Tony Hsieh - the founder of Zappos (bought by Amazon in 2009) wanted to build a business based around a simple idea. That it - if you get the organisational culture right - then everything else that you need to be successful will fall into place.
Is he right?
read more...»
Friday, May 16, 2014
2 perfectly contrasting and counter-intuitive articles that show how "the markets" can favour retrenchment over growth.
Barclays announced it was slashing 19,000 jobs and reducing the size of its Investment bank. The immediate result? Share price surged 8%.
Carphone Warehouse announce a £3.8bn merger with Dixons that will "create a seamless experience" for their customers. The result? Dixons share price closed 10% down and Carphone Warehouse's dropped by 8%.
By comparing and contrasting the 2 strategies (and the reasons for the resultant change in share price) students can show good analysis of the benefits of retrenchment.
Anthony Jenkins, in an interview in the Sunday Times, said it best by echoing/paraphrasing/plagiarising Howard Schultz after he closed almost 1000 Starbucks stores in the US - "Growth is not a strategy, it's the by-product of good strategy".
I hope the revision is going well!
Thursday, May 15, 2014
It's official - women are better at shopping than men. I have just finished listening to a brilliant edition of Peter Day's 'In Business' called Price Conscious, and one of the revelations was that men can be fooled into thinking they are getting a bargain simply by using red price stickers, whereas women are much more analytical about pricing and can look beyond the colour used on a label. Far be it from me to comment on this any further.....
read more...»
There is plenty of concern about the slowdown in China's growth, and what this might mean for businesses looking at expansion via China. To what extent should those businesses be worried about slower growth? The issues here are very relevant to the external environment in China, and could be useful for bullet points 1 and 6:
read more...»
Monday, May 12, 2014
In true tutor2u style, here we have an adapted resource that asks students to decide whether the annual sales ($bn, 2013) of one major global brand is 'higher' or 'lower' than another. The original resource was an economics activity comparing the GDP growth of different countries (available from this link).
This resource has been compiled by Paul Hoang, using data from Fortunes Top 100 companies. It is an interactive Powerpoint game that asks students to string together as long a sequence of correct answers as possible (the highest possible score is 36). The screen shows one business and its annual sales revenue for last year and then shows the name of a second business. The student has to say whether they think the annual sales revenue of the second company is higher or lower then that of the first business. Answer correctly they are offered another business to compare. Answer incorrectly, the student is 'out' and someone else can be invited to play.
This is a fun, interactive resource that gives students an insight into the relative sales figures of some of the world's major companies.
Click this link to download the resource.
Sunday, May 11, 2014
The strategy of retrenchment is covered in this revision quiz
Launch Revision Quiz - Retrenchment

To update your knowledge and understanding of retrenchment, have a look through this revision presentation
Test your knowledge and understanding of Porter's Five Forces model with this ten-question revision quiz:
Launch Revision Quiz - Porter's Five Forces Model

You can update your studies of this important model by looking through these support resources:
Revision presentation on Porter's Five Forces Model
Study note on Porter's Five Forces Model

Here are 15 multiple-choice questions that test your knowledge and understanding of the key strategy models used in A2 business
Launch Revision Quiz - Strategy Models

Try these revision questions on the environmental issues facing business
Launch Revision Quiz - Environmental Issues
This revision quiz provides 10 questions on Business Ethics.
Launch Revision Quiz - Business Ethics

Saturday, May 10, 2014
Try these ten MCQs on the topic of globalisation.
Launch Revision Quiz - Globalisation

Monday, May 05, 2014
Virgin Galactic is Richard Branson's dream to provide suborbital space flights to space tourists by 2015, and it provides a wealth of Business Studies concepts for AS and A2.
Firstly, the premium price of £150,000 to £250,000 (the cost of decent Rolls Royce to you or me) means it has a very specific target market; over 700 space tourists have signed up, with one third from America (the other two thirds come from over 50 different countries), most are millionaire men in their 50s and are definitely not risk-averse. Akin to Branson, many stated the moon landing of 1969 as the reason for their purchase.
Lady Gaga
In her quest for a new USP, Lady Gaga will be swapping her meat suit for a space one and be first earthling to sing live from space, ensuring that she maintains her outlandish, cutting edge image.
JLR & Virgin
These 2 iconic British brands are expanding the empire, and for BUSS4 students, the long-term partnership between JLR and Virgin, with their "shared vision of pioneering spirit, technological innovation and sense of adventure", provides information for almost every section of the specification.
The CNBC article focuses on the technological innovations in JLRs new concept SUV.
In this short video, Richard Branson discusses his dream and vision, how JLR will aid Virgin in creating a completely new market and, to show that it's not all about profit and pride, he hopes it will inspire future generations to pursue careers in engineering and science.
Abu Dhabi and beyond
Finally, Abu Dhabi state-controlled investment fund paid $280 million for a 32% stake in the business, in return for "regional rights to launch Virgin Galactic tourism and scientific research space flights from the United Arab Emirates capital". It sees this as an Investment opportunity to progress from an international tourism hub, to an inter-galactic one, with this article suggesting Virgin space hotels in galaxies far far away!
Friday, May 02, 2014
A quickie but a goodie for the revision of price, supply and demand.
Get students to guess the price paid for the garages in the picture above (click here for mind blowing answer). I suggest you offer a big prize for the right answer as none will guess correctly!
Ask them to rank the many factors that influenced it (quality, location, competition, PED and economic environment all come into play),
Get students to read the Metro Article and get them to decide on best method to ensure that the investment is a profitable one.
Hope it helps!
Thursday, May 01, 2014
Boston Consulting Group have produced a fascinating new report which investigates the competitiveness of the world's top 25 goods exporting nations. Their press release highlights significant changes in the world order over the last decade. The newly-minted BCG Global Manufacturing Cost-Competitiveness Index incorporates four factors: energy costs, productivity, wages and exchange rates. That analysis shows that Mexico now has lower manufacturing costs than China, while Brazil is now one of the highest-cost countries, and the UK is the cheapest location in western Europe.
read more...»
Tuesday, April 29, 2014
So it seems two great passions - football and Business Studies - can be combined for Unit 4...at least something good came out of Moyes' reign!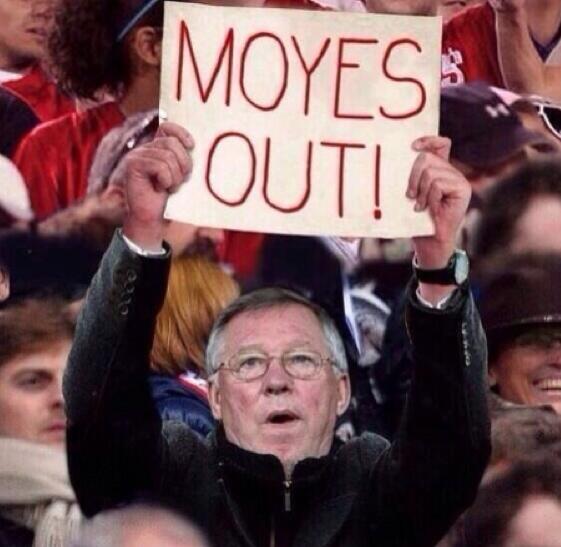 read more...»
Friday, April 25, 2014
Hostile government, the threat of a financial meltdown, slowing growth, higher wages and an ageing population. Is China still the best option for foreign investment?
Compare this to India's younger, cheaper workforce, more welcoming government and forecasted largest middle-class population by 2030.

To allow students to analyse and evaluate the benefits and drawbacks of investment in China , I've attached a research task based on India that gives key economic and demographic information, and looks at the "Indian strategies" for the following Tutor2u BUSS4 Top Ten businesses: JLR, Starbucks, KFC, Apple, Samsung and Ikea.
Good luck with the revision this term!
Thursday, April 24, 2014
An item on the BBC website looks like a good source of revision about entrepreneurs and what drives them, and how they respond to failure. Eight high profile entrepreneurs, including Richard Branson, Richard Reed, Liz Earle and angel investor Dale Murray, talk about their biggest failures, and what they have learned from those - so offer plenty of opportunities for the vital Application which students can add to their exam answers. This could be useful for students sitting all four of the BUSS papers, as the examples cover a wide range of business topics, from dealing with suppliers to the risks of entering new markets, and from aspects of leadership to the best way of exiting a business.
The written article uses extracts from an edition of 'On the Money' which was broadcast on Radio 5 on Sunday - and available to listen to on i-player until Sunday 27th April.
Wednesday, April 16, 2014
No doubt like many of you, the bulk of this week (and last) has been spent attempting to get on top of my workload and capitalise upon the opportunity the Easter break has presented. Having said that, work and revision for the June papers is only optimised when effectively combined with an appropriate amount of rest and relaxation. For me that has mainly consisted of over-dosing on the hit TV series Breaking Bad.
read more...»